04/05/2022 12:32 PM
Decorative fencing commonly consists of fence panels which have been designed with a unique feature or style that creates a standout aspect within a garden.
What is decorative fencing?
Decorative fence panels are usually chosen by homeowners and garden designers who want the fence panels to become a main feature within the garden. Sometimes, fence panels are there only to frame or mark the boundary of the garden, so simpler designs are chosen. Or, if planting is the main feature, a less decorative fence panel can be chosen to not deter or distract from the decorative borders.
Are there different types of decorative fencing?
Yes, different decorative fencing and designs can be decided by the end user, however, some styles of fencing are designed to be more decorative than others. Different styles will offer various characteristics, for example, you can get decorative fencing for privacy or just for aesthetics.
Why choose decorative fencing
To add character and interest to your garden. Use decorative fence panels to create a focal point
Choose decorative fencing to suit the style of your home
To have fencing which looks great but still provides privacy and security
What different styles of decorative fencing does Jacksons Fencing offer?
Arched topped decorative fence panels
Arches offer an elegant decorative touch which is different to the standard flat top many fence panels have.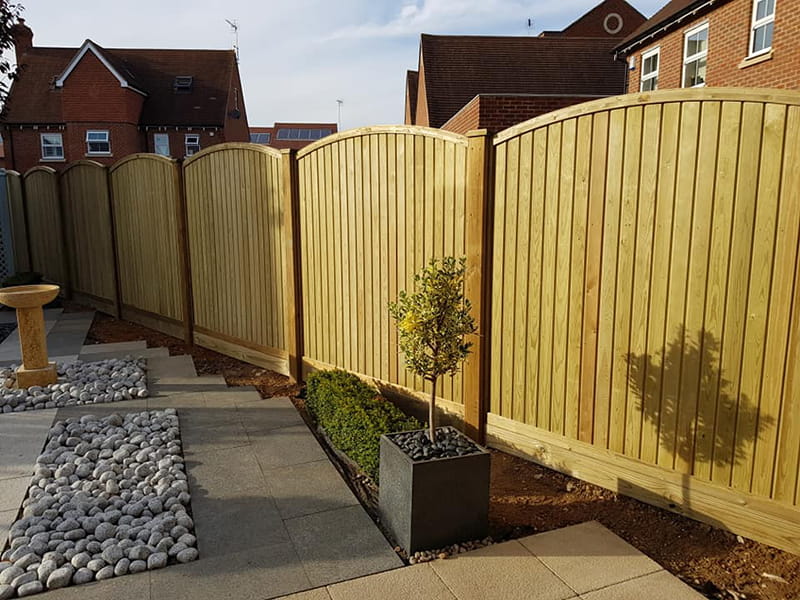 Convex Tongue and Groove Effect
Convex Tongue and Groove Effect fence panels have a decorative arched top, which creates gentle flowing lines that act as focal points along the run of fencing. Creating focal points in your garden draws attention and directs the eye which helps to create a sense of flow, and is especially important for small to medium sized gardens.
Contemporary solid style panels
Provides high levels of privacy and security
Morticed and tenoned frame for extra strength
Convex Tongue and Groove
Available in two different heights of 1.52m and 1.83m with matching gates also available.
Scalloped fence panels
Convex Featherboard
Featherboard fencing is known widely for its versatility and popularity and the arched top variation, Convex Featherboard, is a popular decorative fence panel. The decorative arches offer a unique addition to a fence panel commonly seen in gardens across the country.
Concave Featherboard
Also available with a downward arch or scalloped edge, Concave Featherboard offers slightly less privacy than its upward arching counterpart but still the same decorative style.

Concave and Convex Featherboard panels
Featherboard fence panels can be combined with any type of our post caps to add the perfect finishing touch to any garden fence.
Slatted decorative fence panels
Slatted fencing is an attractive modern style of decorative fence panel that has grown in popularity very quickly. Partially obscuring views but not creating any kind of obstruction, it is a versatile and multi-use fence panel that when used correctly does not ruin the flow or design of your garden.
Slatted fence panels are commonly used as decorative screens to frame seating areas or provide a backdrop to planting. Made up of narrow, planed wooden slats, our Venetian and Metro fence panels are contemporary in style and complement modern garden aesthetics.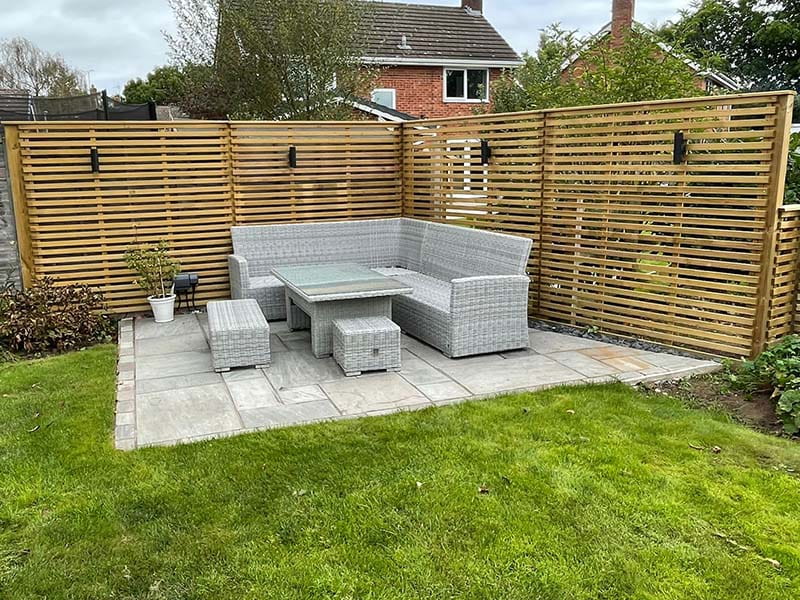 Venetian Metro fence panels
Modern and contemporary design
Great as garden screens
Posts are installed behind so slats have a continuous slatted look
Allows light and air to pass through
Slatted fence panels can be combined with other panels to create a decorative style of fence panel. Venetian fence panels are great as fence topper panels and allow light and air to flow through into a garden whilst giving it a contemporary decorative touch.
Venetian Metro
Slatted decorative fence panels with privacy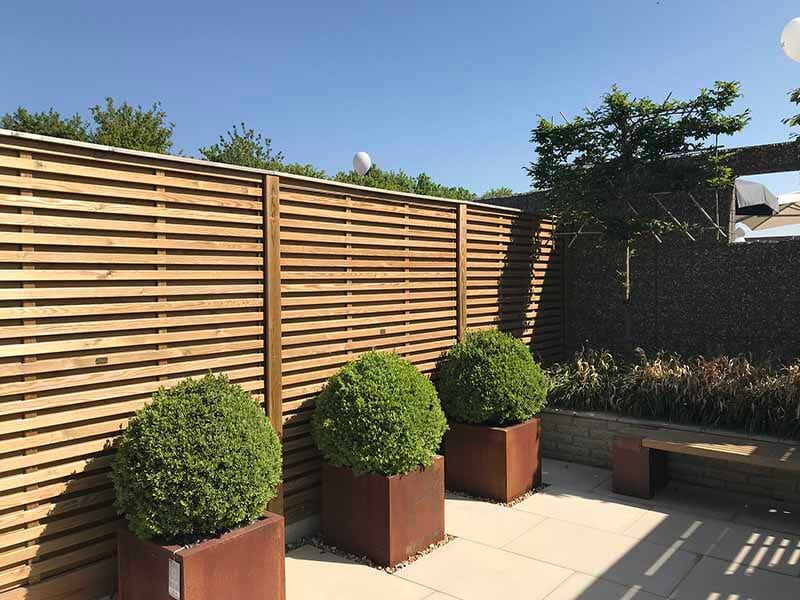 Venetian Hit and Miss
A variation of the classic slatted Venetian fence panel, Venetian Hit and Miss is a contemporary fence panel popular in suburban and traditional style gardens, and a favourite of many a garden designer. With more slats compared to Venetian which are present on both the back and front, rails are hidden between, making this panel look good both sides while allowing air and light to pass through, and still providing high levels of privacy.
Venetian Hit & Miss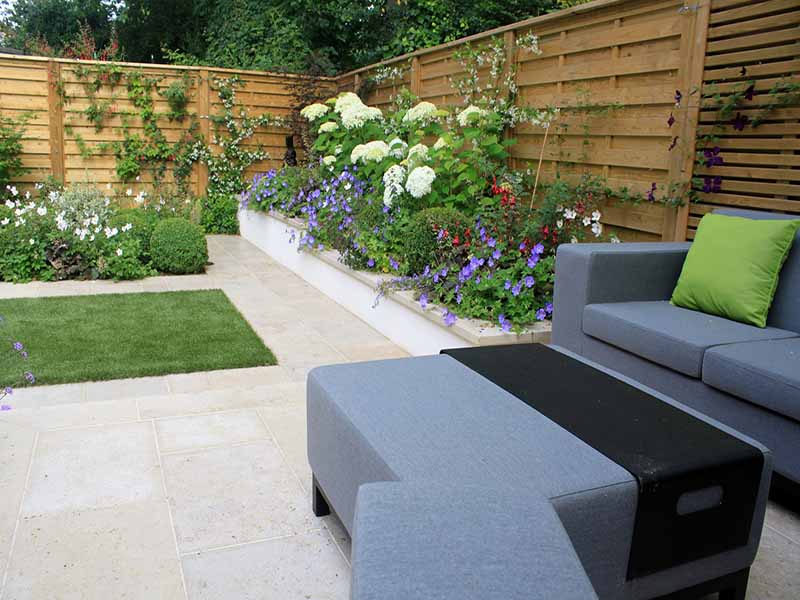 Horizontal Hit and Miss fence panels
Similar to Venetian Hit and Miss but with wider boards, Hit and Miss fencing provides a distinct and decorative boundary. Made using alternating timber boards fixed to both the front and back of the panel, a beautiful hit and miss design is created. Hit and Miss fence panels are ideal for decorative boundary fencing, as the line of sight through the panel is obscured and only gained when looking up or down into the panel making privacy levels high, while improving wind resistance.
Available in horizontal or vertical styles
Looks good both sides
Combines style and privacy
Allows light and air to flow, reducing wind resistance
Horizontal Hit And Miss
Vertical Hit And Miss
Decorative Trellis panels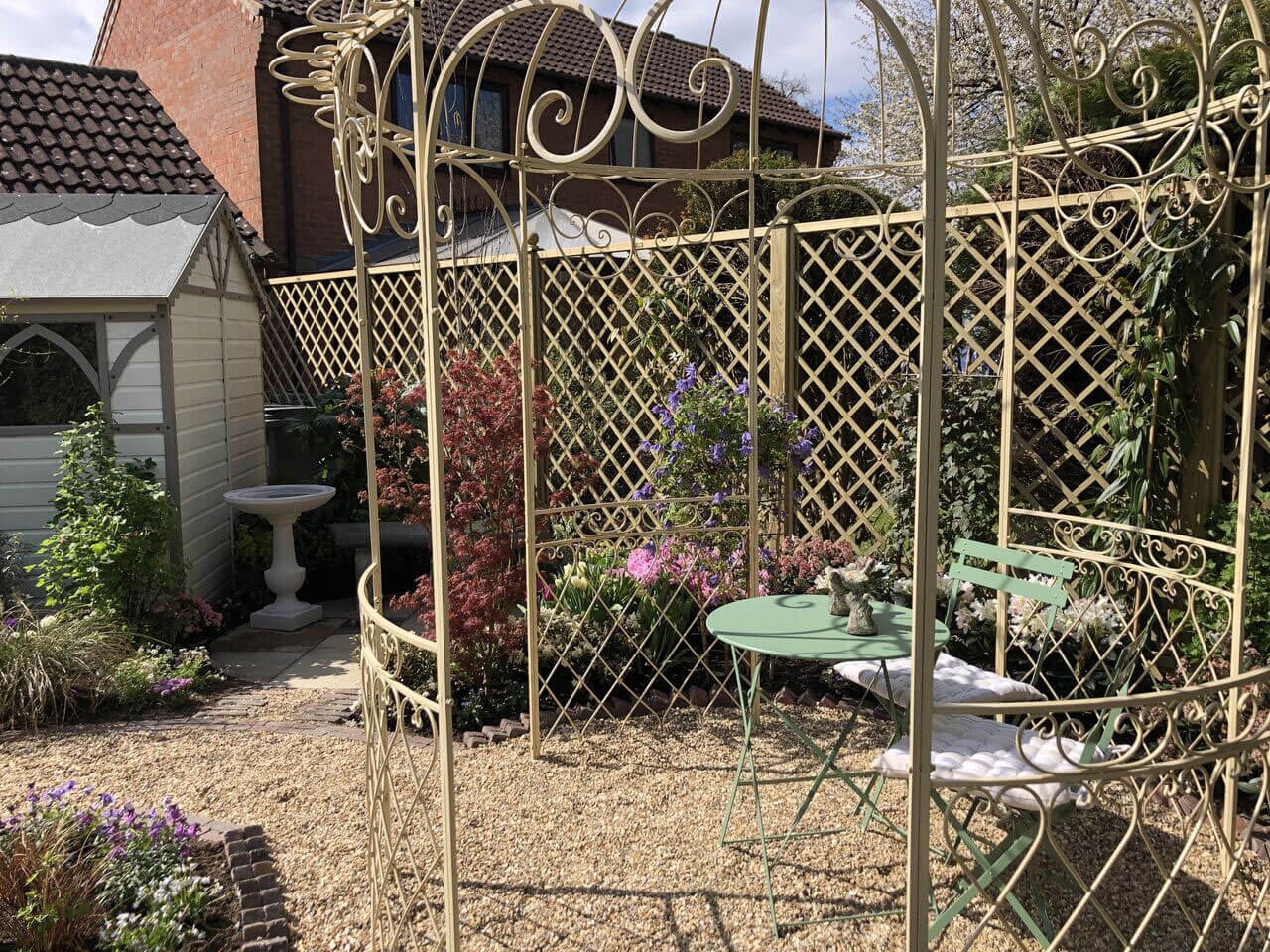 Premier diamond trellis panels
Trellis is arguably the most decorative fence panel, as it's designed with the exact function to be decorative. Not offering any privacy it is unlikely trellis would be chosen for any other reason than as a decorative feature in a garden and to increase the height of walls or existing fencing in a way that does not block light.
Similar to slatted fencing, trellis is ideal for screening, framing seating areas or being used with planting. Trellis is also one of the most popular types of fence panel that is combined with fencing to create a decorative fence.
Ideal for climbing plants and open borders
Useful for creating partitions or as garden screens to hide objects/areas
Create custom structures or backdrops that are open, light, and airy
Premier Diamond Trellis Panels
Decorative Topper Fence Panels
The easiest way to create a decorative fence panel that is to your style and taste, is to create your own. You can do this by combining two fence panels together. Most commonly trellis is combined with a solid fence panel to offer privacy and decoration.
The most common size for a fence topper is 0.30m, combined with a 1.52m high panel and a 150mm gravel board to give an overall fence height of 1.97m.
Create unique designs
Utilise characteristics of multiple fence panels
Create additional fence height with style
Increase security of the fence panel
Convex curved framed trellis combined with Convex Tongue and Groove Effect fence panels.
Here are some of our favourite fence panel and topper panel combinations:
Tongue and Groove with Diamond Trellis (as shown below)
Chilham and metal Railing topper or Roman Topper
Featherboard with Square Trellis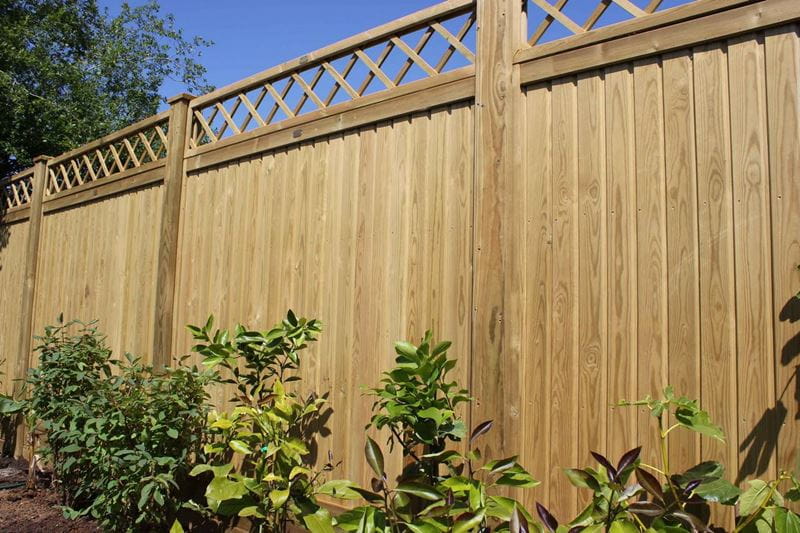 Flat Top Tongue and Groove Effect fence panels combined with a Diamond Trellis Topper, is an immensely popular choice as the two panels offer both privacy and style in one.
To explore our fence topper panels, visit our fence toppers page.
Ornate metal fencing with decorative finish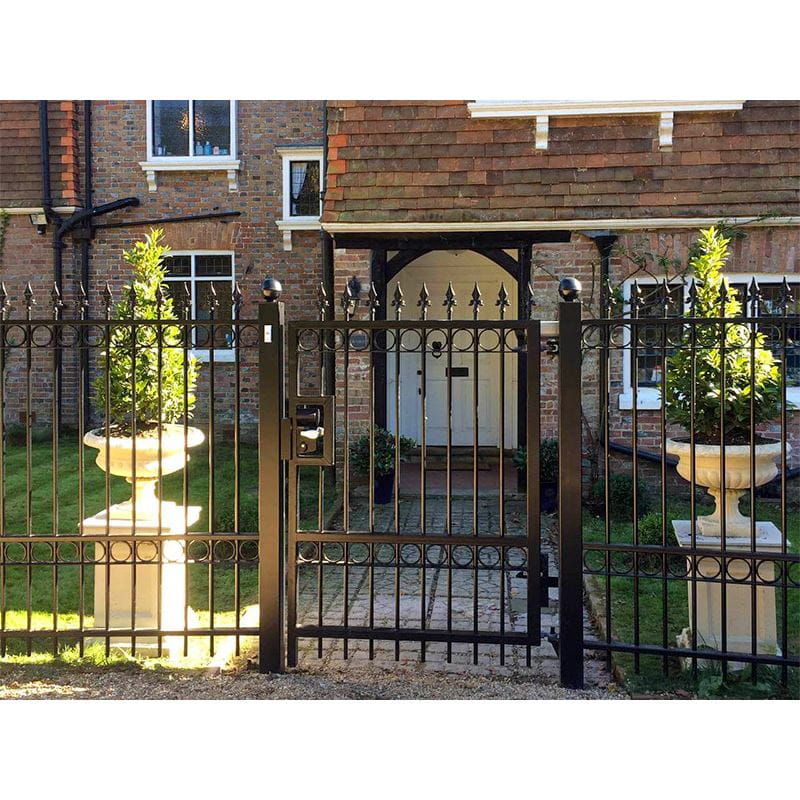 Ornamental Railings with decorative finials and rings
Our metal residential fencing range includes styles such as Estate railings, Ornamental railings, Bow Top and differing types of vertical bar/railings with many distinct types of finials and style options to choose from, including our Barbican® residential railings.
High durability
Security that is visible but not intrusive or fortress-like
Aesthetic design that does not compromise security
Can be more Eco-friendly if they are able to be recycled
Barbican Residential Railings offer an aesthetically pleasing metal railing design with slender tubular pales. Barbican Residential Railings are a great decorative front garden fence as well as across larger residential developments. With multiple decorative finials to choose from you can customise the fence to give a more personalised design.
Ornamental railings offer a traditional decorative design. They combine the design and form of traditional wrought iron railings with the durability and strength of galvanised steel, and powder coating is also available. We also offer a larger number of styles for this type of metal fencing, with varying rings and finials.
Metal Residential Fencing
Adding the finishing decorative touches to your fencing

Capping Rails, Post Caps and Railing Topper Panels
Capping rails provide a finishing frame to your fence that stretches from post to post. Post caps are added on top of fence posts as a decorative feature. Available in four different styles, ball & collar, acorn, chamfered, and half round, there is a design to suit any decorative fence. Post caps can be added to both standard and slotted fence post to add elegant finishing decorative touch in the style of your choosing.
These small additions can add a decorative touch when installing fencing, but that does not mean you cannot use these decorative fencing extras to add a little something to your existing fence.
With the many options available for decorative fencing panels why not take a look at our Decorative Fencing page for more information and inspiration.