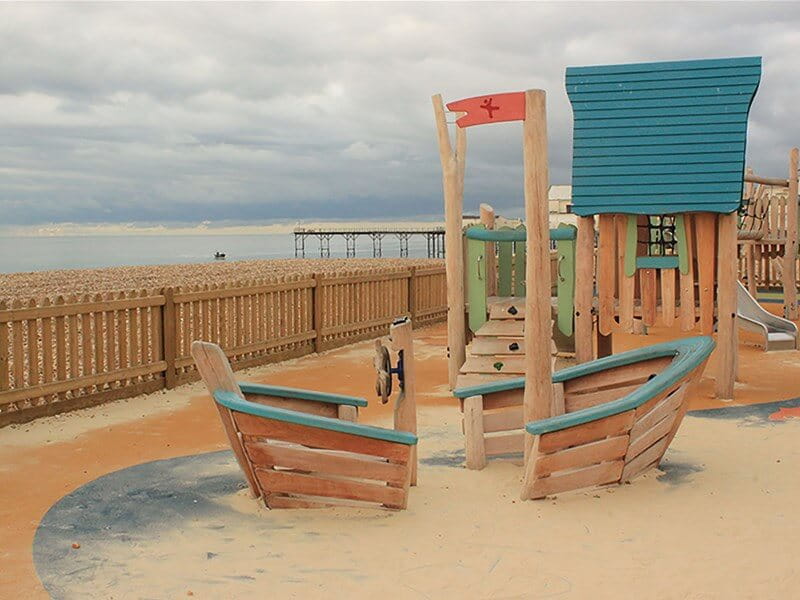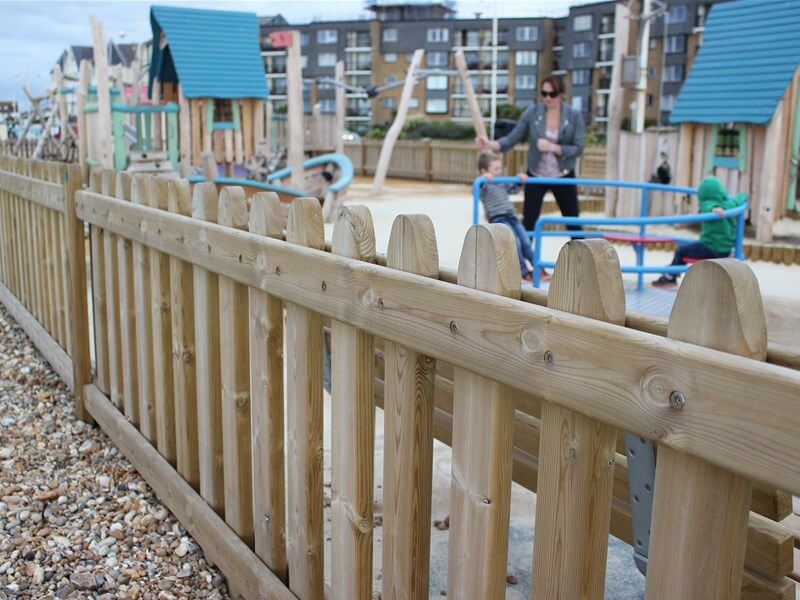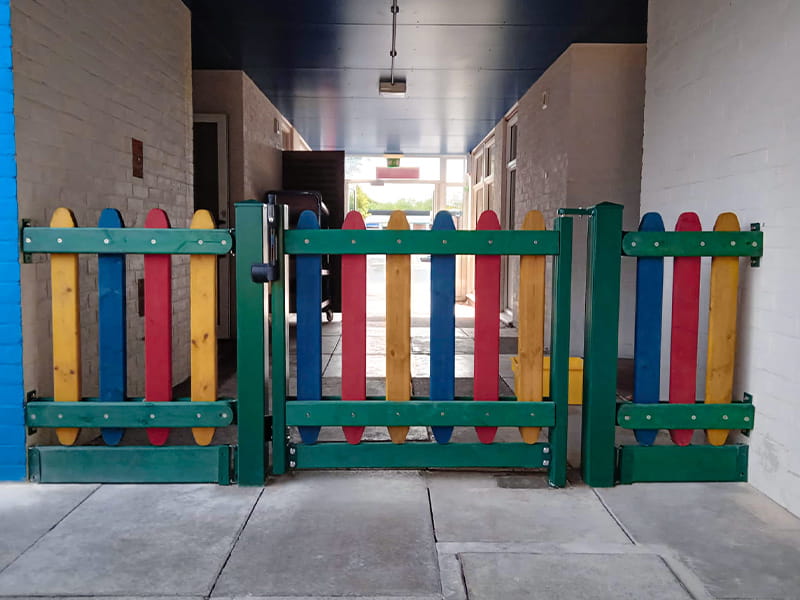 Wooden Playground Fencing
Timber Playground Fencing
Easy to install
Used in playgrounds, parks, nurseries, schools and even gardens
All fixings stainless steel or galvanised
Designed and manufactured to keep children safe
25 year guarantee
Matching Gates
Conforms to BS EN 1176
Delivery
Our lead times on some products may have been extended.
Due to unprecedented demand, our lead times may have increased meaning you may have to wait longer for some products to be delivered. We recommend you do not plan your installation date until the product has arrived. We will inform you of the estimated delivery week/ lead time when we have processed your order or for our latest lead times, please call.
See the Jacksons Difference
Timber Playground Fencing
Easy to install protection for play areas
The Wooden Playtime Playground Fence is Jacksons' answer to providing comprehensive protection for children's play areas. Protection against dog fouling, vandalism and unwanted intrusion, coupled with ease of installation and maintenance-free durability with both the RoSPA approved fence and gates.
25 Year Guarantee
Playtime fencing has not just been popular (as the name indicates) in play areas, parks, nurseries and primary schools but has also been popular in residential situations also. As a front garden fence, its appearance being somewhat similar to a very robust version of palisade or picket fencing, and also as a perimeter fence in gardens where children play.
Playtime timber fencing is made from planed Jakcure® pressure treated timber which gives it a 25 year guarantee against rot and insect attack.
Highest quality finishes and colours of your choice
Playtime Timber Fencing is available in natural Jakcure® treatment finish, or Jakcure® treated with your personal choice of colour coatings, supplied in made-up panels with gravel boards for attaching to posts and rail connectors.
Matching self-closing gates are available with galvanised metal frames with polyester powder coating Green Ral 6005, timber clad.
Designed and manufactured to keep children safe
The design also ensures that no children can get either their necks or limbs trapped between pales or pale tops. The pales are sandwiched between two pairs of strong rails, and double posts hold gravel boards and rail connectors together.
All components are specifically designed with gently rounded edges that present no sharp surfaces for extra safety, this goes for the galvanised fixings as well as the timber.
Technical details
Height: 1050mm nominal and 1090mm can be achieved with a 45mm gap under the gravel board.
Post centres: 3000mm
Pale spacing 75mm, Panel Width 3135mm. (18 Pales per panel)
Timber :All timber is planed finish. Prior to vacuum and pressure treatment by the Jakcure process it is dried below 30% moisture content.
Colours:as illustrated, Jakcure treated or Jakcured with decorative coatings to colours of your choice. Delivered already coated needing only minimum retouching on site.
Posts: 125 x 125mm allowing 800mm in the ground (nominal sizes)
Post length: 1800mm to allow for 0.75 in the ground
Rails: 100 x 38mm (nominal sizes)
Pales: 100 x 38mm (nominal sizes)
Gravel boards: 150 x 38mm (nominal sizes)
Gate: Steel frame with self closing hinge, galvanised or galvanised with polyester powder coating (nominal sizes), timber clad to match panels.
Half Panel also available as standard (9 Pales per panel)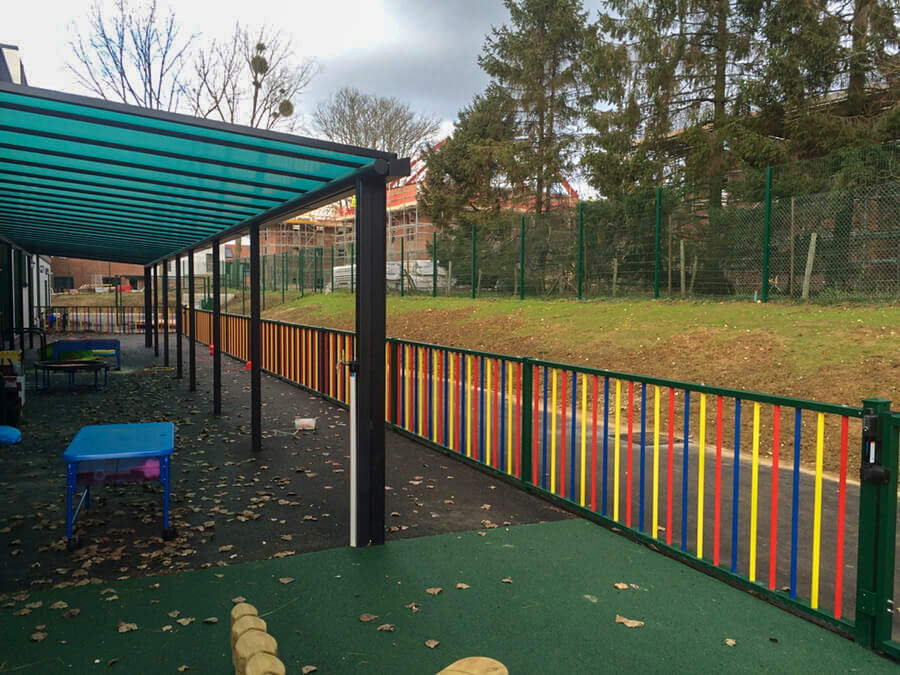 Multi Coloured Metal Playtime
Next generation Metal Playtime is perfect for playgrounds and much more
These attractive panels differ from our standard metal Playtime fencing in several ways; the pales sit in a frame and do not go through the top and bottom rail. The pales pass through internal side of the rails and are fixed with a unique non-welded assembly system fitted with a rubber strip to prevent movement and rattling.
The panel rails are powder coated in green (RAL 6005). The pale configuration is as standard Metal Playtime with pales alternately coloured in blue (RAL 5010), yellow (RAL 1018) and red (RAL 3020) giving the fence a cheerful appearance suitable for playgrounds. (Other colours are also available). Gate can be supplied to match.
Please note: multi-coloured version is a bespoke order and is available at additional cost.
Technical details
Height: 1.01m nominal
Rails: 60 x 40mm rectangular hollow section
Pales: 25mm x 25mm
Posts: 60mm x 60mm
Post Centres: 3.0m
Gate posts: 80mm x 80mm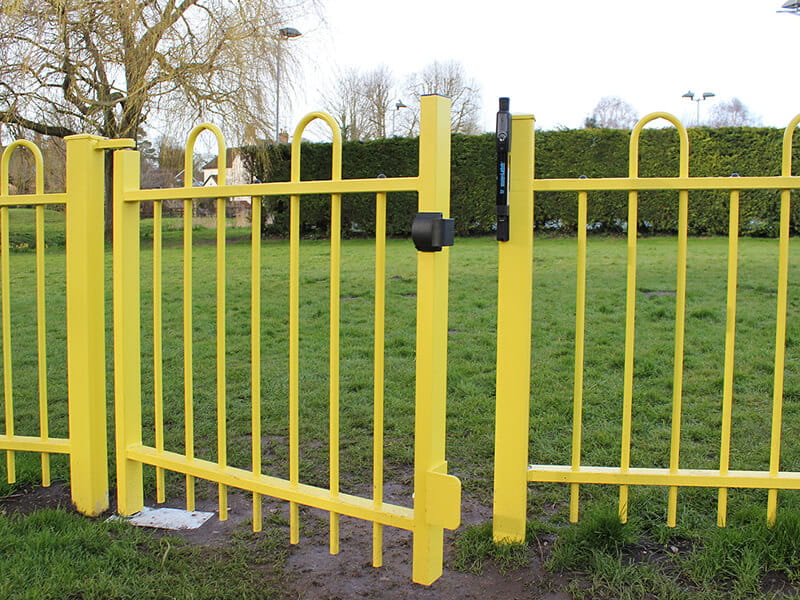 Self-Closing Gate
RoSPA approved self-closing gate is ideal for schools and play areas
The intelligent design of this self-closing gate matches the new safer Anti-Trap bow Top fencing overleaf, not just in looks but with it's improved safety factors. The integral hinge at floor level ensures it always returns to a closed position every time it is opened. Limbs can not be trapped between the hanging stile and the posts, or the hoops above the top rail of the gate. The speed of the closing mechanism can be altered to between 1 - 60 seconds, and it also has a soft close feature to prevent slamming or trapping fingers. The gates are available with a high visibility coating to distinguish access in line with RoSPA recommendations. (Other colours are available).
Also available with a dog grid to prevent animal access to play areas.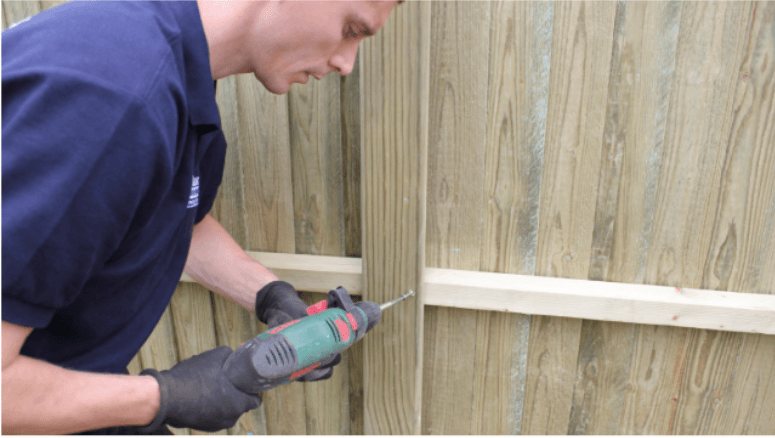 Delivering an exceptional fence installation service
Approved Installers Network
Our network of Approved Installers are high skilled, carefully selected, reputable fence installers who we trust to install our high quality timber products to the highest installation standards. If you are interested in installation by one of our Approved Installers please click "Add installation to basket" below. We will be in touch shortly after processing your order to discuss installation.
Related Products
Jacksons Fencing have a large range of related products, all complete with our 25 year guarantee. If you cannot find the item you are looking for, please do not hesitate to call our friendly sales team.
Shopping with us
We offer the longest guarantee in the industry for manufactured timber products.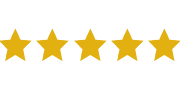 QUALITY, SERVICE AND VALUE
Established for over 70 years, our staff are ready to help with a wealth of knowledge and expertise
Find out more

Guaranteed peace of mind
Find out more about our market leading 25 year guarantees for service and timber treatment
Read more

Apps & online planning tools
Use our online tools to plan and price your Fencing, Gate or Decking project.
Get Started
Featherboard Fence Calculator
Enter the run length and height, to calculate the items required:
Calculate
You will need bays consisting of posts, pales, rails and Gravelboard(s).