15/10/2014 03:37 PM
Reports this year claim that UK homes are shrinking, leaving families with half the amount of living space they had 90 years ago. So it goes without saying that any space, inside or out is more precious than ever, fuelling interest in the whole 'small gardens' concept.
This is good news for those of us with limited space as gardening experts and garden designers focus their attention on small gardens. We've all seen features in home and garden magazines showing innovative ways of making the most of a little patch; there's plenty of inspiration out there for the small garden owner!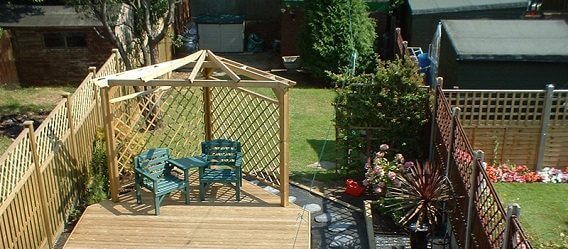 How To Make The Most Of Small Gardens
Here are seven tips to help you make the most of a small garden:
Up Up Up

– focus attention on drawing the eye upwards just as you would when trying to create a sense of space in a small room in the house. The garden has literally 'no ceiling' so you can feature a selection of striking tall plants growing in beds or in mounted baskets, window boxes or wall mangers.

Colour me bigger

– the colour of plants and garden features will influence perceptions of the outdoor space. Brighter colours can help lighten up and enhance the size of an outside space.

Keep out

– smaller gardens can suffer from a lack of privacy as a result of close proximity to neighbours or potentially from surrounding overpowering buildings. Inject some privacy into your garden by adding an elegant Railing Topper to a Tongue & Groove fence, creating instant additional height and a dash of designer style. Alternatively think about installing a

Pergola

which when covered with trailing clematis or honeysuckle can provide a private sanctuary within the garden.

Create rooms

– designers have long extolled the virtues of creating 'rooms' within the garden by designing in zones which have different uses e.g. the entertainment zone, the play zone, the private zone. Even though you are working with a small space, try and design in specific areas using arches / screens / planting etc. so that it is not possible to take in the whole garden view immediately.

Don't go straight

- Curved edges will help increase the amount of planting space rather than straight lines so if you have limited room, consider circular or mandala designs.

Clear that clutter

– the smaller the space, the more important it is to reduce any unnecessary clutter so a dedicated storage area can be really useful. Choose garden furniture which can be folded up and put away when not in use – this will also help keep the furniture in good working condition for longer.

Optical illusion

– A small bathroom will look bigger if you use large tiles to unify the walls and the floor resulting in a less claustrophobic effect. Apply the same rule to the garden by selecting hard landscaping on a larger scale and making it blend with any boundaries, pots, planters, furniture and floor tiles.
What creative strategies do you use in your garden to help maximise your available space? Share your thoughts on small gardens on our Facebook page or tweet us #smallgardens!