27/03/2017 12:00 AM
Garden fencing is fantastic for creating boundaries and offering security and a sense of privacy, but the downside is that it sometimes can look a bit bare or stark, it can also block light from entering your garden
Climbing plants are the ideal solution for breathing a bit of life and colour into your garden fence panels, blending them with their natural surroundings.
In today's post, creative gardening expert Clive Harris helps you choose the correct plants that can transform your humble garden perimeter into a living fence that will add colour, dimension and diversity to your garden.
A few points to consider before choosing your plants
Some climbers and creepers require a lot of attention, so bear this in mind when choosing climbing plants for your garden fencing. Self-clinging creepers need less work, whereas other species will need a support and a time-consuming tying-in regime.
One way to help the plants grow up the fencing is to attach trellis panels or wires to the fence panels, this provides extra structures for tendrils to wrap around and cling to, making your climbers more manageable and easier to maintain.
You should also contemplate the aspect of your fencing and how much light the area gets. Some climbing plants prefer shade or semi-shade, whereas others thrive in full sun.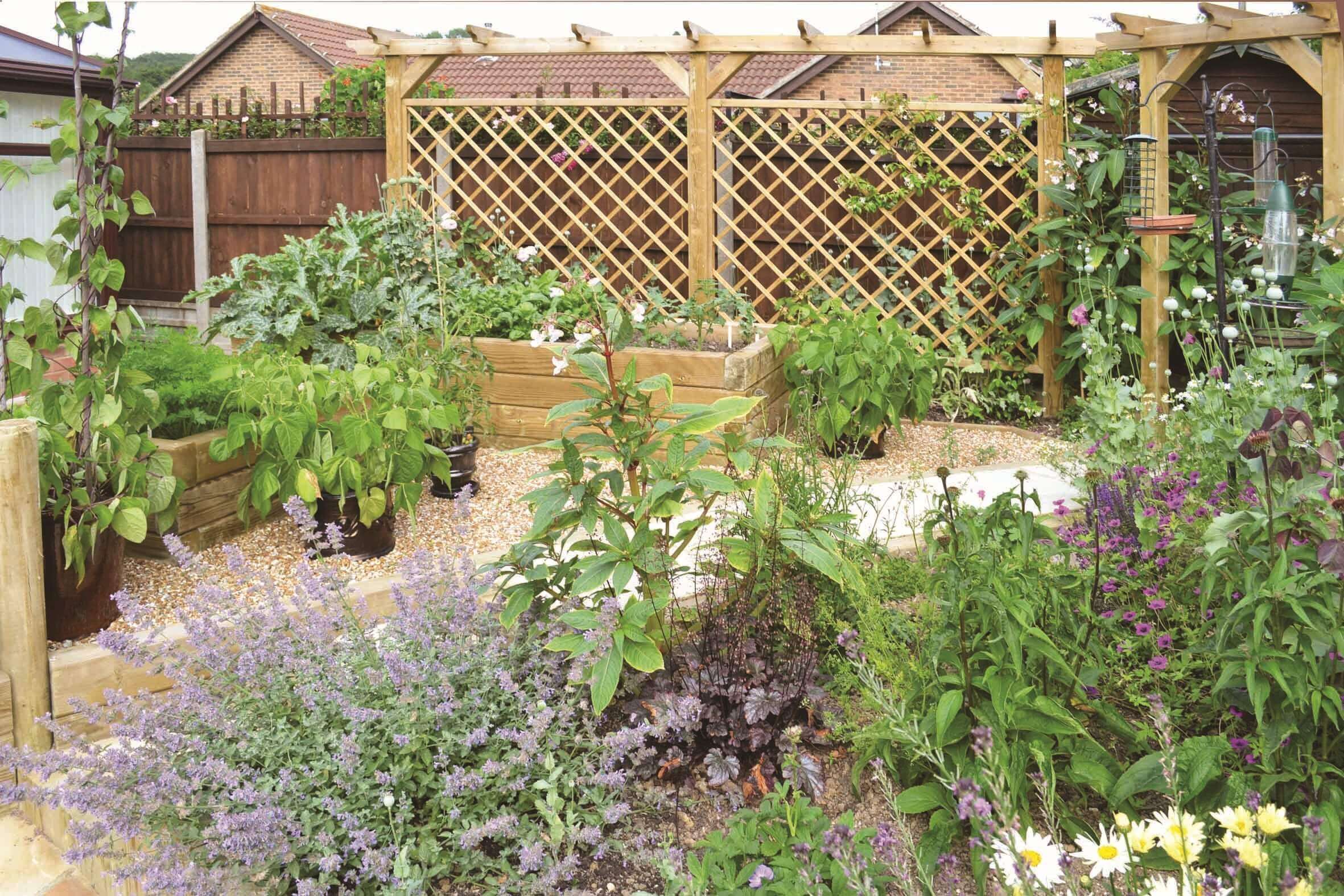 Some traditional style fence panels like close board or featherboard are solid, which totally blocks light out, so you may want to consider installing semi-solid panels like the contemporary slatted panels seen in more modern or designer gardens. These have gaps between the pales, which not only allow more light and air through, but they also are great for encouraging plants to grow through them and twine in and out of them.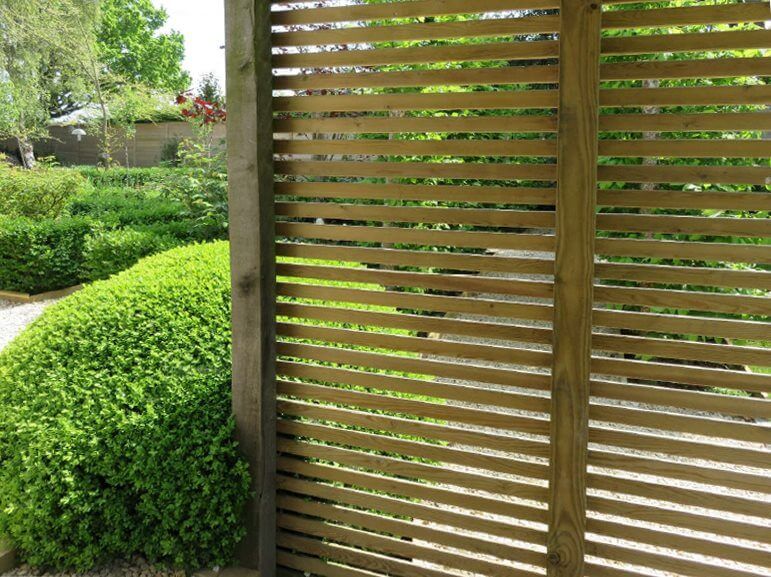 Another option that encourages more light and plant growth is to have a solid 4 foot fence panel with a 2 foot trellis topper panel on the top. Alternatively this Canterbury Combi fence panel has a built in Venetian slatted style top built into the panel, which gives you the best of both worlds.
Perennials or annuals
The choice is yours! However, be aware that although perennials climbers bloom year after year, they tend to be rapid growing and rampant, so need regular pruning and care.
Climbers for North and East facing fences
Plants that prefer shaded conditions do well on north and east facing fences, although you should be mindful of what you introduce on your east facing veneer as the strong morning sun can damage frozen buds and leaves in winter. Evergreens are particularly vulnerable here and can easily become withered and browned.
Given that the north and east perimeter is the darkest, coldest part of the garden, it may be tempting to just cover it with a blanket layer of ivy for easy maintenance. However, adding a few vibrant flowering plants such as honeysuckle and scrambling clematis will not only lift the dreariest corner, but will also attract birds and wildlife for an extra burst of life whilst brightening up your garden fence panels.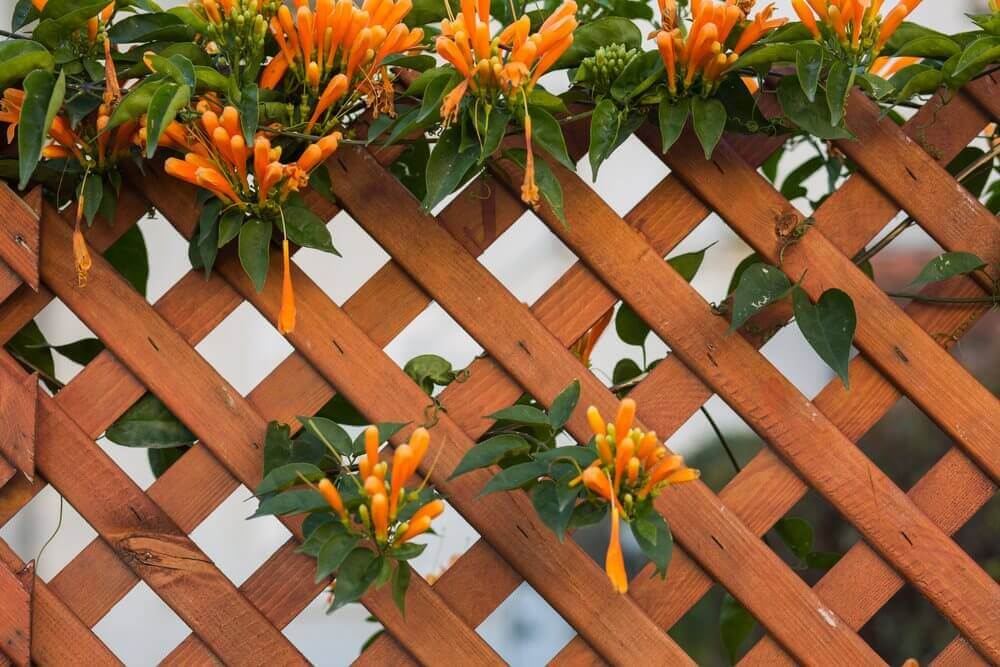 Some of the more popular shade loving climbers include:
Ivy, Chocolate Vine, Honeysuckle, Climbing Hydrangea, certain Clematis varieties, Japanese Quince, Virginia Creeper, Flame Nasturtium, certain Rose varieties, Mahonia Japonica.
Climbers for South and West facing fences
The south or west perimeter is perfect for sun lovers and heat seekers. As the brightest side of your garden, you may already have an abundance of vivacious bloomers planted in beds. If this is the case, you may want to consider sticking to something monotone but interesting to look at, such as hollyleaf sweetspire. Virginia creeper will also create a wonderful backdrop for any blossoms flourishing in the foreground.
Another option for the sunny side of your garden would be to cultivate an edible wall along your fence. Fruit bushes and trees can be trained to climb and will produce a spectacular feature in contrast to any flowers in beds or planters below. Although this is a more work intensive and time consuming option, the benefits are obvious and you will literally reap the fruits of your labour for many years to come.
Common climbers for the South and West of your garden include:
Flowering Maple, Butterfly Bush, White Forsythia, Honeysuckle, Grape Vine, Wisteria, Passion Fruit, Virginia Creeper, Hollyleaf Sweetspire, Rose, Everlasting Sweet Pea, Nectarines, Figs, Apples, Cherries, Peaches, Apricots.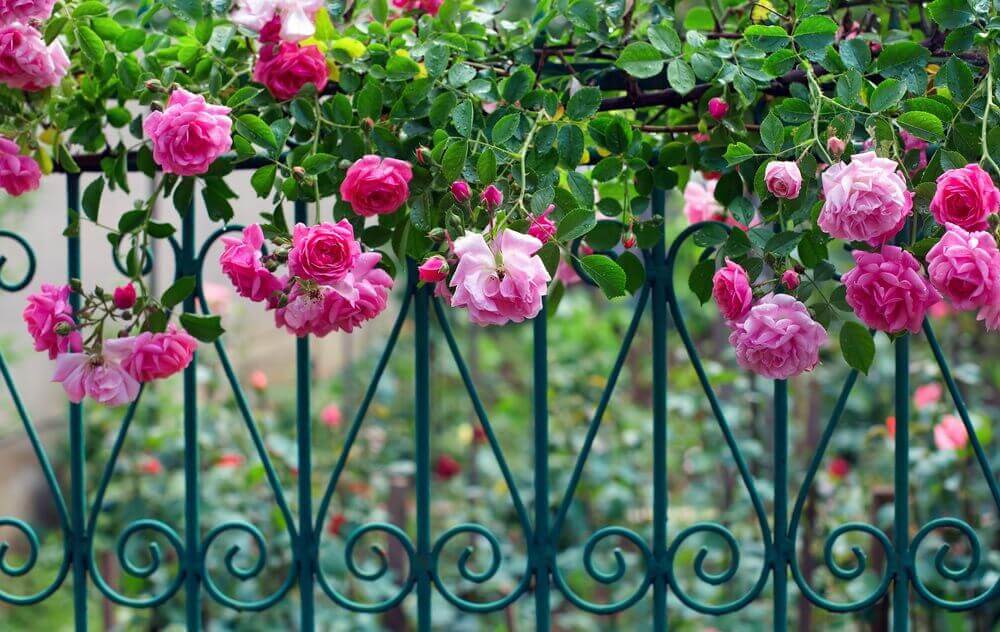 Planting and maintaining your climbers
Before planting, you should ensure that you have supports in place. Whether you are using wire, trellis or some other form of support, it should be secured at least 2 inches from the surface of the fence. This will allow your plants the space to breathe and grow. You should leave an 18-inch gap between the fence and where you plant to give your creeper room for root development and ensure that it catches the rain.
Plants should be pruned each season after flowering. Pruning climbing plants involves tying in new growth, trimming back long shoots and removing any dead shoots. If necessary, you can then trim back excess growth to keep the plant tidy. After pruning, mulch and feed your plants. It is important to prune at the right time, otherwise your plant may fail to bloom and thrive the following year.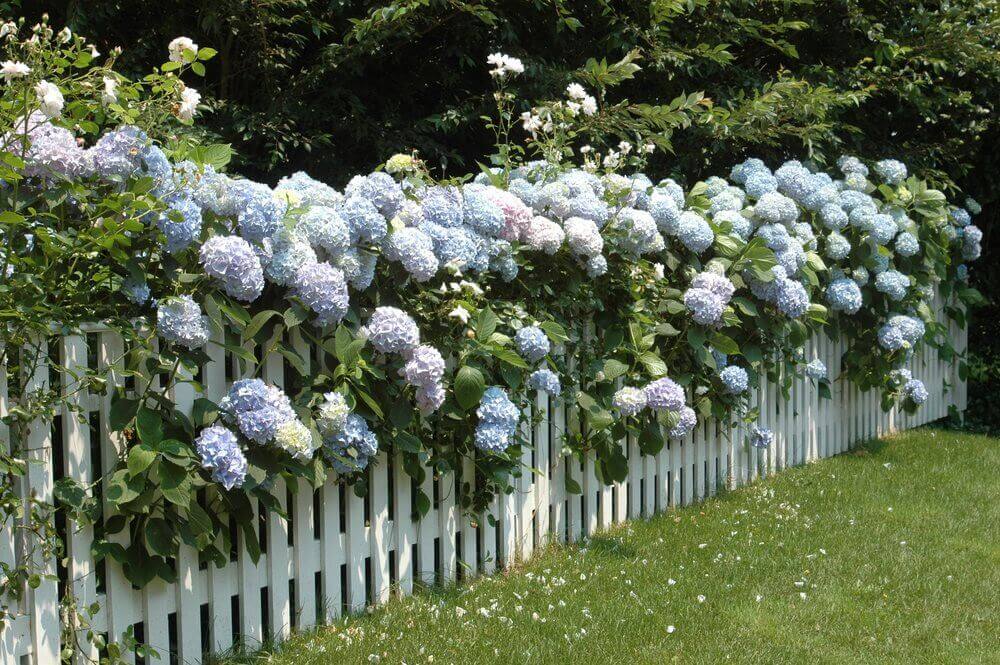 Keep an eye out for any diseases or infestations, and treat accordingly to minimise damage. Climbers are prone to root diseases as well as powdery mildew and aphid/scale insect invasions.
Although the initial planting and training may seem like a lot of effort, the results are definitely worth it. Most climbers are rapid-growing so you get fast gratification for your exertions. Take care of your climbing plants and you will have many years of enjoyment in return!
Guest blogger DIY Gardener, Clive Harris, creative gardening expert and writer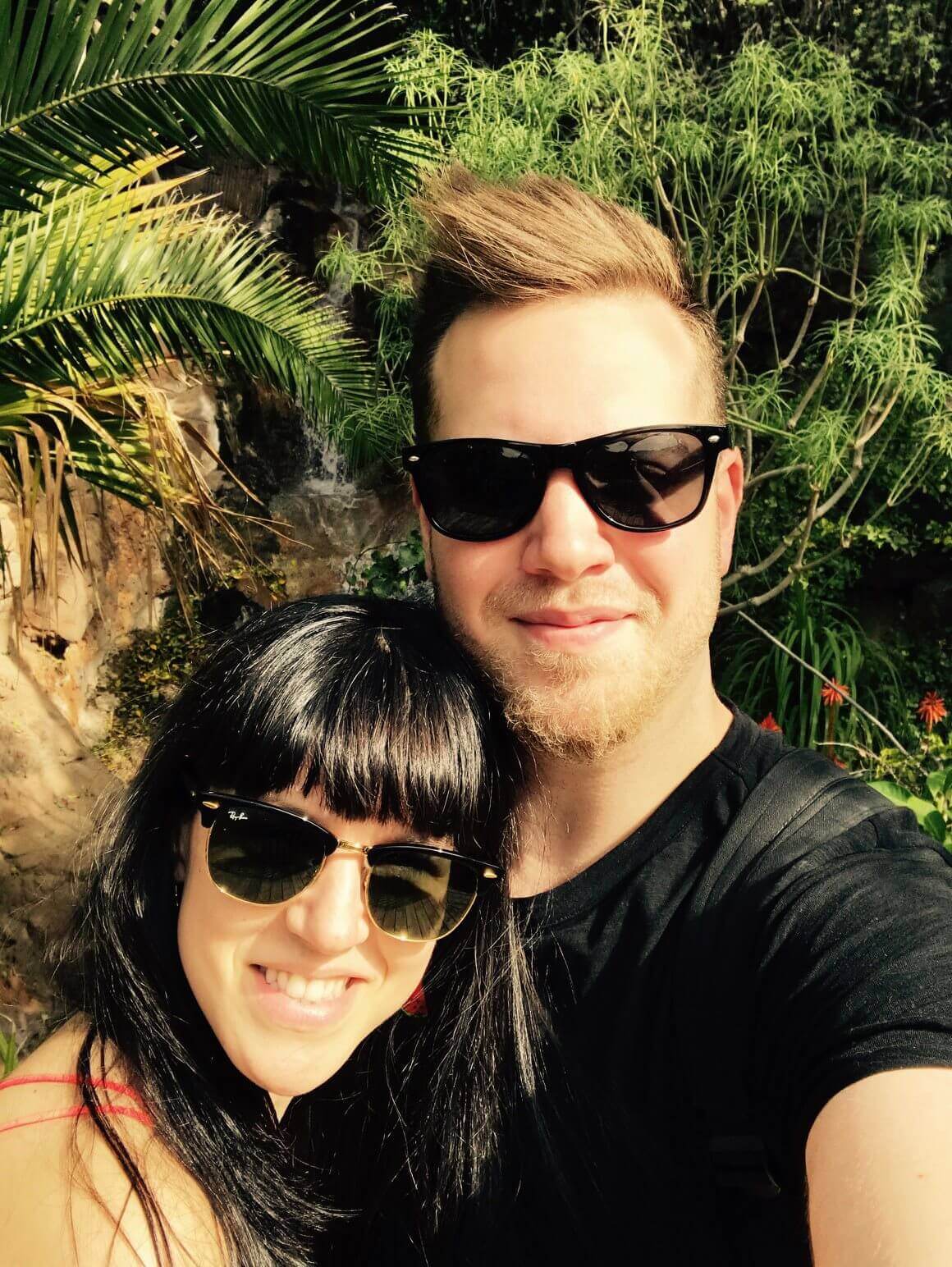 Having loved the great outdoors since he was a kid, Clive has always enjoyed being creative in the garden. This and a passion for writing helped bring DIY Garden to life; his own personal gardening blog to share ideas and inspire others. He lives just outside of London with his beautiful wife Tamara and cute little troublemaker Zack!