07/02/2020 10:09 AM
A pergola is an outdoor timber framework traditionally forming a shaded walkway or seating area consisting of timber posts, cross-beams and a roofing grid, often combined with climbing plants. Popular during the Italian Renaissance, the simple structure is designed to add height and interest to any garden and help to frame perspective. Many people add potted plants, statues, artwork and water features to really make the most of their pergola.
A pergola can be freestanding or attached to a house, and is commonly installed over pathways, patios, or decking. If you're looking for ideas to add a pergola to your garden but you're not sure how to begin, we've come up with our favourite pergola ideas, illustrated with photos from some of our best customer projects to help you get started.
Install a pergola over a path to create a tunnel or walkway
One of the more traditional uses for pergolas is the idea to install the timber structure over a pathway. When built over a garden path, it encourages movement, inviting people to continue through it and into another part of the garden. Suddenly a walk to the garden shed to retrieve the lawnmower becomes a more appealing task. You can also add lighting to your pergola, creating an illuminated route through the garden.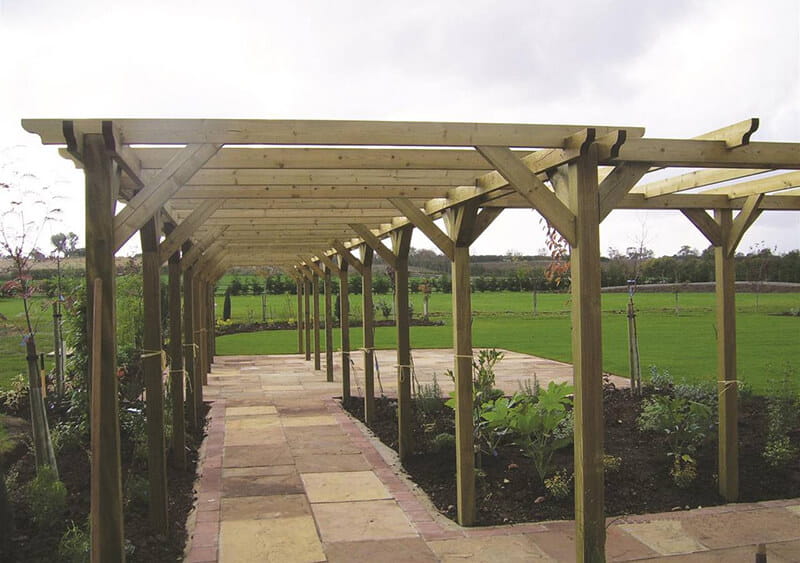 Create inviting entrances to gardens with a pergola
Here, our double pergola has been used to create an inviting entrance to a sunny pub garden. Combined with the concave palisade fence panels and gates, it creates a lovely enclosure that instantly welcomes visitors into a seemingly private area. This pergola idea has a cosy effect, even in winter.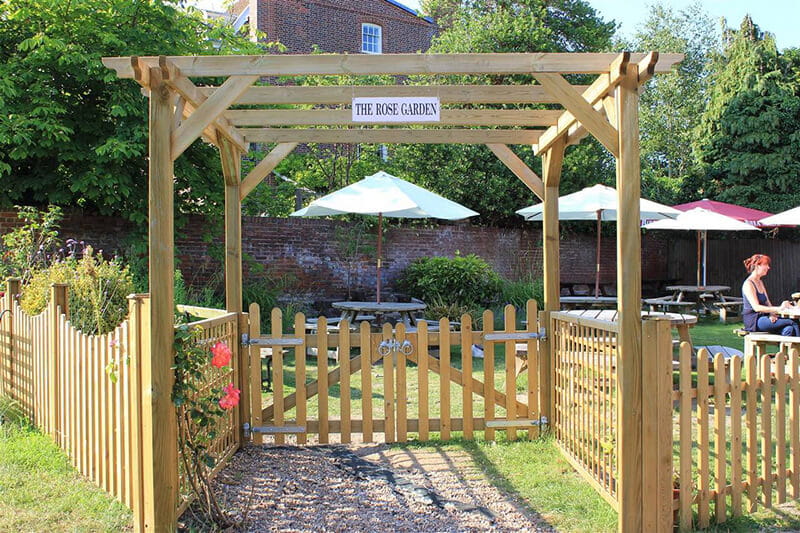 Create sheltered seating areas using a pergola
Built on patio or decking, a seating area can be improved by the addition of a pergola to add shelter. When intertwined with vines or additional materials to create a roof, in the height of summer, they can offer shade, and in the winter, a break from the harsh elements.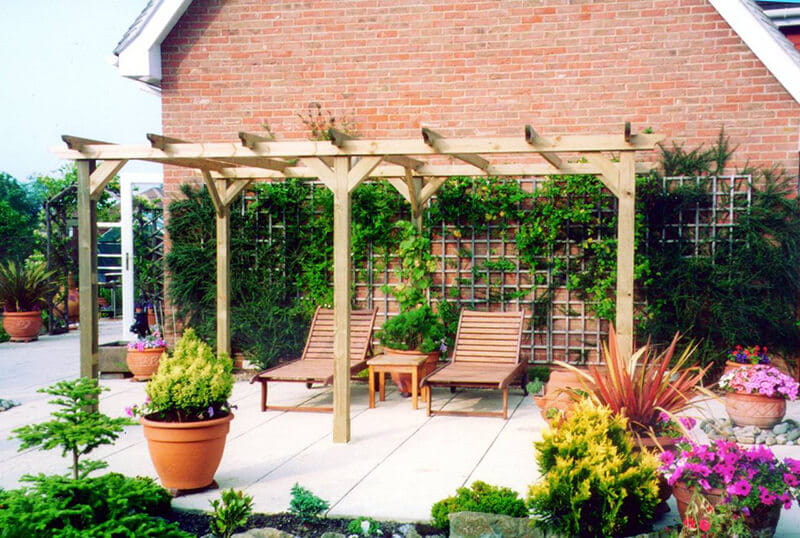 Add additional height and interest to fences
We were inspired by this idea for using a pergola to add height to a fence. Check if you need planning permission before going ahead with this one, but we just love the effect that it brings to the whole property, especially as the single pergola covers the gate; creating an intriguing entrance.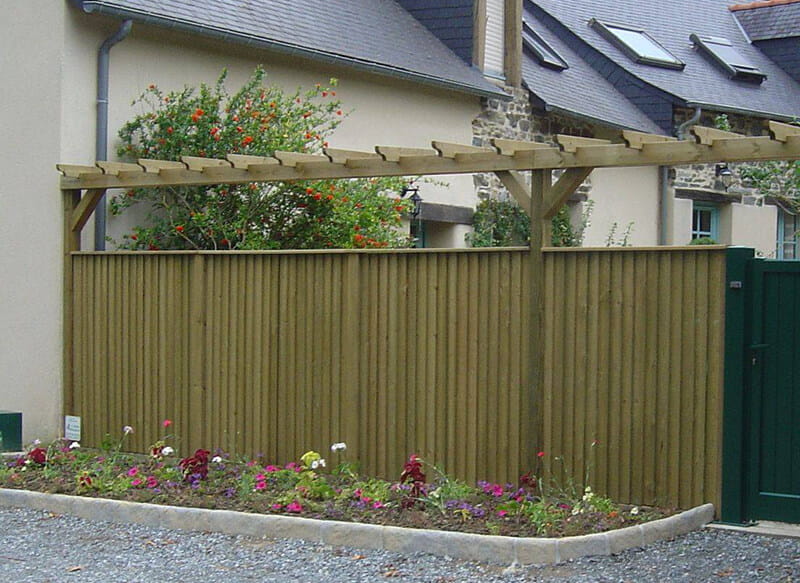 Combine pergolas with trellis to provide support for climbing plants
This customer used raised beds and diamond trellis panels to create a green retreat in the corner of their garden full of beautiful plants and flowers that are just beginning to use the structure to grow. This area of the garden promotes wildlife and adds colour and activity that follows seasonal change, adding another form of interest.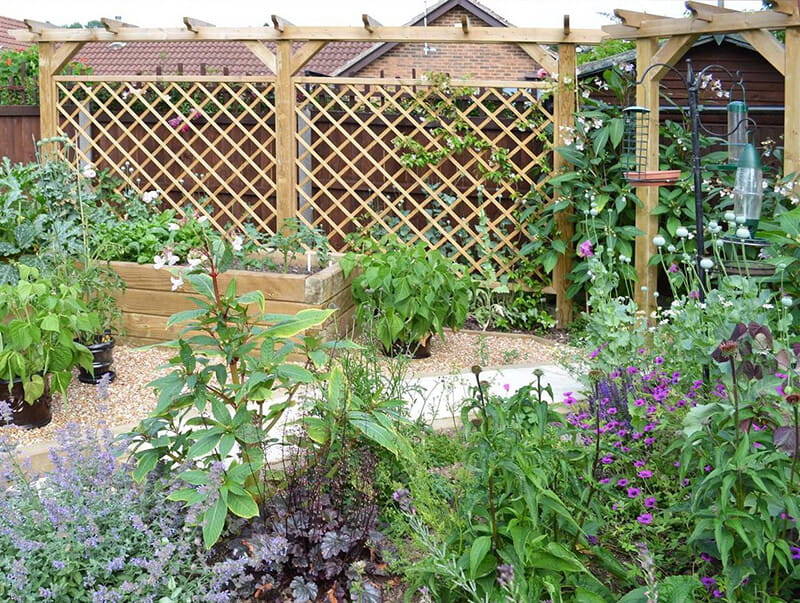 Add wires to a single pergola to create growing structures
Single pergolas are more of a wall or fence like structure that can be used to create partitions. Vine eyes paired with steel wire are a great idea to help climbing plants grow around your pergola and in due course, this will create a green screen that provides intimacy to a seating or dining space. The timber used for our pergolas like in all of our products eventually fades to a unique silver colour, which blends well with the surrounding environment and can be contrasted beautifully with various flowers.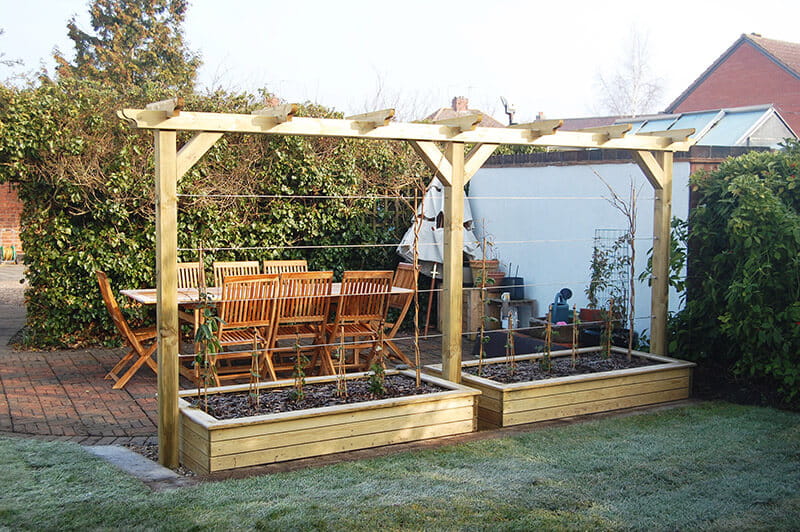 Build outdoor rooms for dining and entertaining
Impress your dinner guests by extending your interior dining space outside with this pergola idea. Covering a patio or decking area that you regularly dine on creates a protected, intimate dining space that still allows you to enjoy dining al fresco while adding a luxurious feel.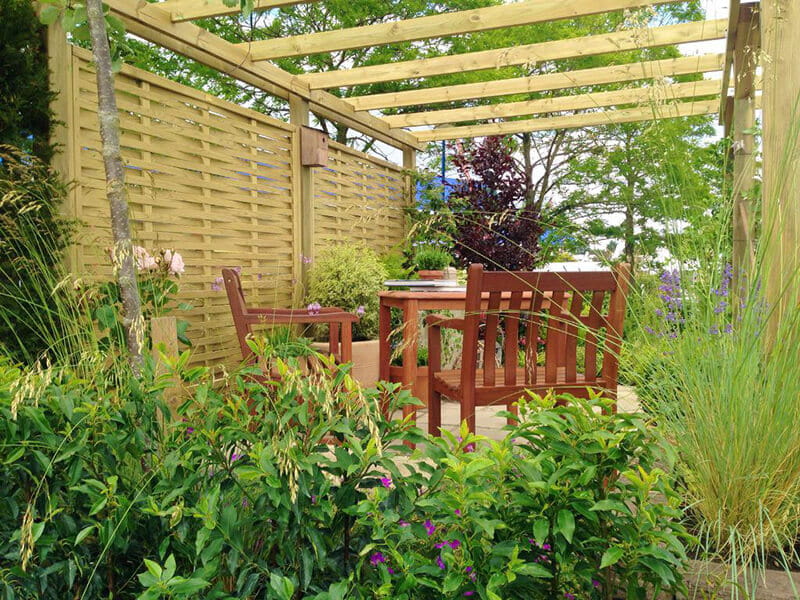 You could go one step further with this pergola idea, by adding a solid roof of some sort, such as this Perspex roof on a double pergola attached to a house. This is a cheaper way to achieve a conservatory style, as the heat from the sun through the roof will encourage greenhouse plants to grow, while the open sides allow plants to grow freely from outdoors to in, and contribute a gentle breeze. This is particularly useful in areas renowned for wet weather, as you can still have a garden space whilst being protected from the rain.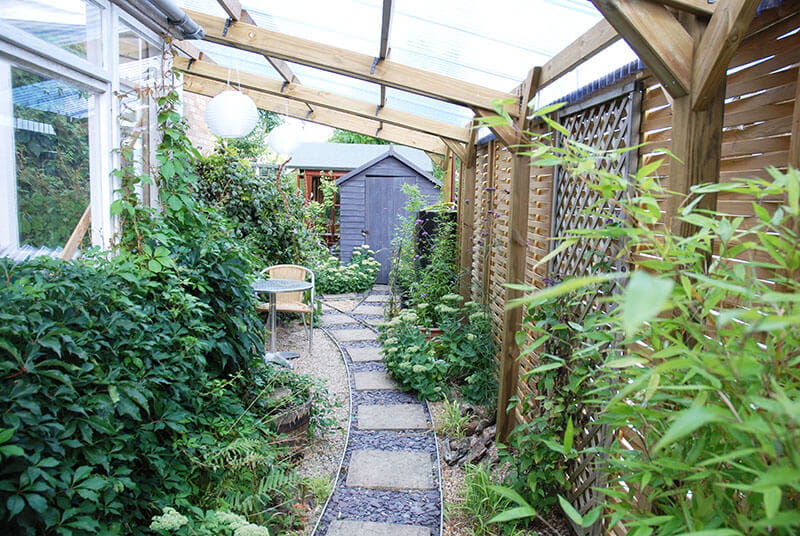 If you want to read more about how to incorporate a pergola into your garden design, then click below to read one of our customer projects:
By painting their pergola black, this South African family created a garden that better suited their personality; making the most of the space so they could continue their outdoor lifestyle.
Additional resources
Perfect Pergolas Add Style To Garden Dining Area
Funky Black Pergola Idea For Your Garden