01/08/2017 11:00 PM
The Department of Environment Food & Rural Affairs recently reported that UK households produce over 25 million tonnes of waste every year. In 2017, Blue Planet 2 highlighted the effect that plastic is having on the planet. As a result of this, recycling has become essential, therefore directly impacting how rubbish is stored in the UK.
Gone are the simple days of having just one rubbish bin. Households now require different bins for food, rubbish, recycling and more. Although this is great for the environment, it can make a home appear cluttered.
How can I organise my wheelie bins?
We suggest using a wheelie bin store to disguise bins in your garden or front entrance. Using a wheelie bin store results in a cleaner, organised storage system which is easy to use and allows you to get the most from your garden space. Preferably, bins are best kept in the garden to avoid negative impressions at the front of the house, but sometimes this isn't always possible. Wheelie bin stores disguise bad odours and clutter, whether it's at the front or back of your house.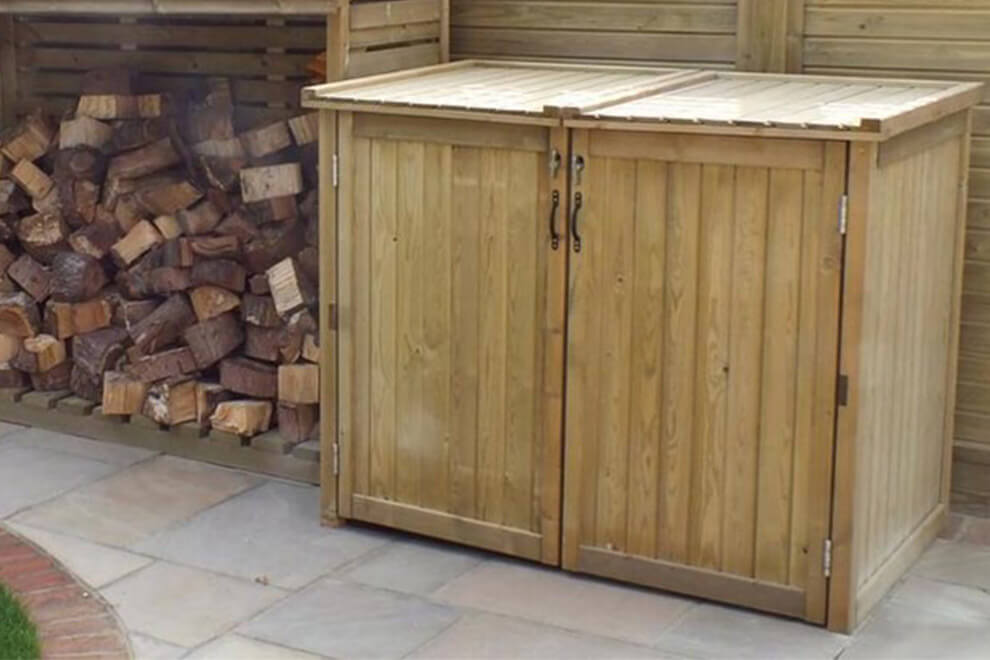 What size should I buy?
A common misconception is that only food waste is increasing, however, glass, textiles and shoes, batteries and other miscellaneous items are on the increase. We often throw batteries and clothes into general waste which more often than not could be recycled. Jacksons have engineered standard stores for two bins, and triple wheelie bin stores that have extra space and shelves for smaller bins, giving you peace of mind that you're doing your bit for the environment.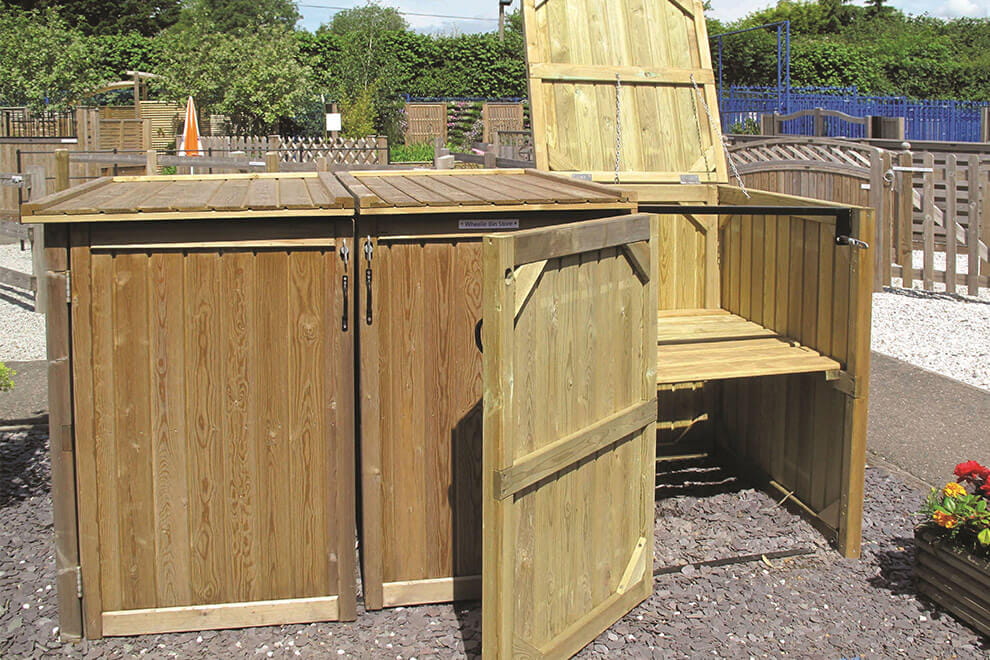 | | | | | |
| --- | --- | --- | --- | --- |
| DOUBLE BIN STORE DIMENSIONS | | OUTSIDE | | INSIDE |
| Height | | 1200mm | | 1120mm |
| Depth | | 950mm | | 800mm |
| Width | | 1500mm | | 1350mm |
| | | | | |
| --- | --- | --- | --- | --- |
| ADDITIONAL UNIT DIMENSIONS | | OUTSIDE | | INSIDE |
| Height | | 1200mm | | 1120mm |
| Depth | | 950mm | | 800mm |
| Width | | 750mm | | 680mm |
Stay safe from wind and pests
A huge benefit of bin storage is the reassurance that your wheelie bins won't blow over, because they are safely contained in a storage shed. This also stops animals and insects from tackling your bins, and provides you with peace of mind during stormy weather.
Why buying bin storage is wise
Enclosing rubbish bins highlights a clear level of pride and care for your outdoor space. Wheelie bin stores are a modern method of organising your waste, and all of Jacksons' bin stores have been carefully designed using Jakcure® treated softwood, with attractive Tongue & Groove effect boards which are exceptionally strong and of course guaranteed for 25 years.
View the range of wheelie bin stores here.
Download our Good Fencing Guide Brochure