06/07/2018 03:49 PM
Which side of the garden fence belongs to me?
Before looking into a new garden fence, it's important to make sure you are 100% sure you know which side of the garden fence belongs to you to avoid problems with neighbours. People believe that the left side of the fence as you're looking at the house from the street belongs to you, however this is not always the case and it's important to check the house deeds first as you may find boundary agreements have previously been made. If no agreements exist, then it's definitely a good idea to create one - this can be done between you and your neighbour. If you are unable to come to an agreement with your neighbour then an external authority are able to do this for you, however you will need to submit a case to the court.
For more information visit our blog Boundary Disputes – Knowing Where to Draw the Line, for in-depth advice on the subject.
Are concrete fence posts better than wood?
A common question asked when deciding on a fence is whether to opt for concrete or wooden fence posts, both have advantages and disadvantages, however one aspect many people consider is the design and how aesthetically pleasing you want your fence to look and the garden look you are trying to achieve. For example for a contemporary garden with softer features e.g. raised flower beds and grass, concrete fence posts and gravel boards may not look right, and may darken the garden design. However a garden with lots of hard landscaping such as paving or stone may suit well to concrete posts and gravel boards. It all depends on your personal preference.
The most obvious benefit of using concrete fence posts is that they are sturdier and more robust, nevertheless timber fence posts and gravel boards are more attractive and have the ability to last just as long as concrete, if bought from a reputable supplier that offers a long guarantee. All Jackson's timber products are guaranteed for 25 years. Jackson's fence posts and gravel boards are made from a special timber species which have been designed for in ground contact.
For more advice on which fence posts to choose visit our blog – Concrete or Wooden Fence Posts?
Traditional vs. contemporary fencing, which is right for your garden?
There are a wide variety of fencing styles available on the market and the choice will depend on your garden style and individual needs. A family with young children or a household with pets may opt for a traditional style of fencing because their main concerns may be ensuring the garden is safe. In this instance, Featherboard fencing is a popular choice. However for garden enthusiasts and designers, contemporary fencing may be the perfect way to frame your outdoor space. Venetian fencing features slatted pales which are known for making gardens look longer; this is the perfect choice for those trying to enhance their gardens. While the contemporary Hit & Miss style offers a unique twist to your garden. The Jacksons garden fencing range is diverse and has been developed for over 70 years, meaning we manufacture fencing for every style.
If you're still unsure whether traditional or contemporary fencing is a better fit for you, visit our blog. – Traditional vs. Contemporary fencing: which is right for your garden?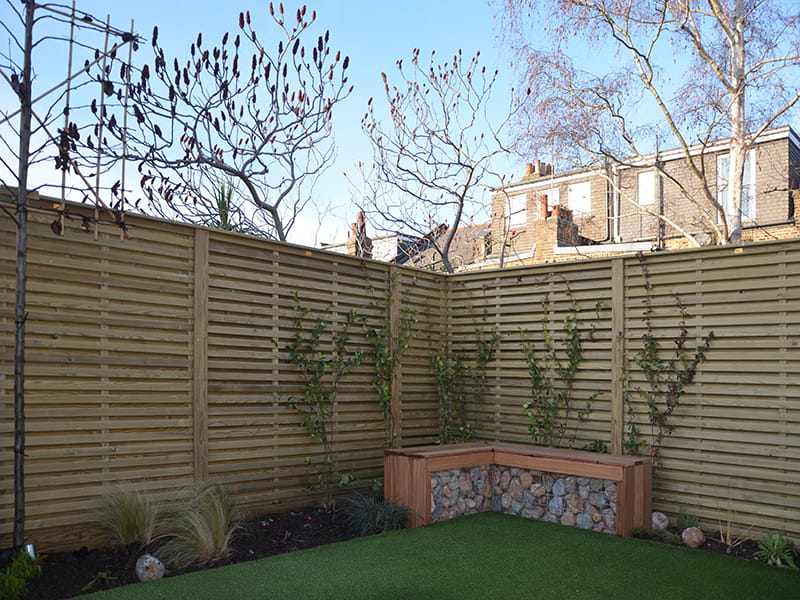 Best climbing plants for fencing?
One of the most popular garden trends for 2018 was unquestionably the 'green wall', which involves creating a structure either within a fence panel or a trellis run and encouraging climbing plants to blossom. We've found that people still frequently ask us which climbing plants are best for fencing, so we've included our helpful blog. A native flower wall not only looks beautiful, but it will encourage wildlife into the garden. The best climbing plants for fencing that will also encourage wildlife are Honeysuckle, Ivy, Star Jasmine and Clematis. When considering where to create a flower wall it's important to take into consideration which areas of your garden receive the most sun and which receive the most shade, this will then depend on which types of plants can be grown in which areas in order for them to flourish. For more information on this, visit our guest blog post from DIY gardener Clive Harris. – The best climbing plants for fencing.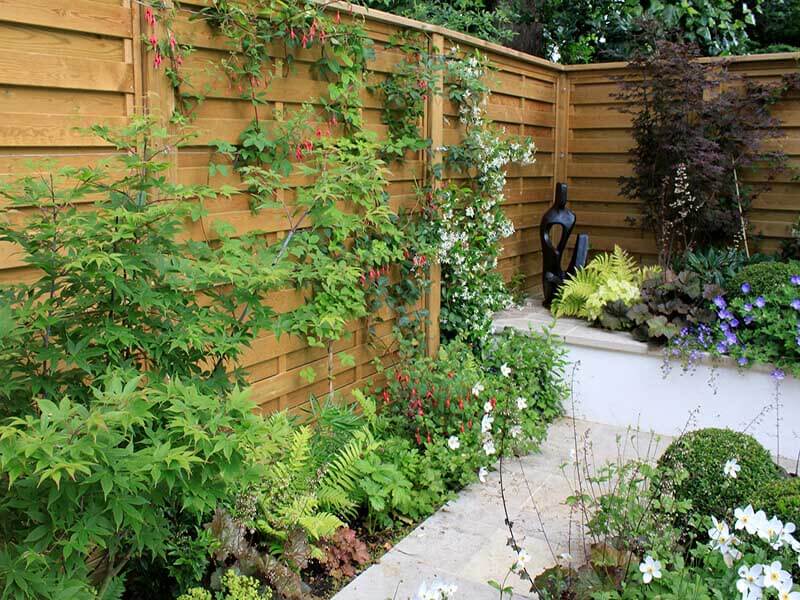 Fence Panel Heights & Widths
Understanding fence panel heights and widths can often be a daunting prospect and one you most definitely won't want to get wrong, due to the cost and time it takes to manufacture. The standard height of a fence can be up to 6ft, anything higher will require planning permission. The maximum height of our fence panels is 1.83m; this allows space for a gravel board to be inserted at the bottom of the panel in contact with the ground. For front garden fencing different rules apply, the height of the fence cannot exceed 4ft if next to a road used by vehicles or a footpath. For more information on fence panel heights and widths and to view our handy conversion table click here.
How to install a garden gate?
If you're installing a garden gate yourself, it's important to research the subject to ensure you are aware of the process from start to finish. A reputable company will always have installation instructions available to make the process straightforward. Whether you're hanging a garden gate from a wall or attaching it to a garden fence, it's important to use high quality fixings such as galvanised latches and gate hinges, this will ensure a longer life for your gate. For detailed instructions on how to hang a garden gate, read our guide for more information.
Garden Storage Ideas
Looking to create outdoor storage? Our wheelie bin stores are an excellent way to hide your bins and the quality grooved boards used to construct the stores look amazing and won't spoil your garden landscape. If you're looking for outdoor storage ideas for smaller spaces then why not consider a single fence panel installed to create a garden screen. This is a simple and inexpensive option to disguise clutter in the garden and hide objects you would prefer your guests not to see. In this instance, semi-solid panels such as Venetian or Trellis work best because they provide a screen while still being open enough to not make your garden feel smaller. For more ideas visit our blog. - Top 5 Screening and storage solutions for the garden.
Will quality fencing add value to my home?
Some of the top considerations people have when buying new fencing is what type to go for and how much to spend. We think of fencing as a long-term investment in many ways. Firstly, the 25 year guarantee means you don't have to replace it or repair it as often, so although the initial upfront cost may be higher, you get a better deal in the long-run. Furthermore, you may actually be able to get a higher valuation on your home, which is beneficial whether you are looking to move or not. We explore this topic in depth here.
Fence Comparison Tool
Compare all the different types of fence panels we offer using our handy comparison tool.