02/02/2018 04:01 PM
Thinking about installing a garden gate at home? If you're looking to take additional security measures in your garden whilst maintaining a sophisticated garden decor then maybe it's time to consider installing one of Jacksons' premium handmade garden gates, designed and manufactured at our workshop.

Whether it's keeping intruders out or keeping an impertinent canine in, Jacksons have the solution. We offer a selection of modern and traditional concepts that can be used to compliment a large range of garden fencing, or as a standalone addition to an existing fence or wall. Once you've made your selection, we recommend contacting an Approved Installer to undertake installation of the gate for you to ensure the highest quality standards are maintained. However, if you are giving thought to hanging a garden gate yourself, here's our useful guide on how to successfully hang your garden gate.
Prior to installation
First read our page on how to Measure for a Garden Gate.
When hanging a garden gate, ensure that your gate frame has been sufficiently secured to your existing garden fence or wall and precise measurements have been taken to make certain that you acquire accurate size specifications.
At Jacksons we recommend that your gate frame is approximately 20mm wider than your gate to allow a wooden gate the space to expand and retract during differing weather conditions without inhibiting the gates functionality. If you need any assistance choosing the appropriately sized gate, a Jacksons sales expert can assist you with any specification requirements.
What you'll need:
Screws
Gate
Hinges
Gate latch
Security bolt
Cabin hook
Tape measure
Spirit level
Pencil
(In the interest of safety, please ensure that you are confident in using all of the above tools before you attempt to use them for DIY purposes.)
Step 1: Preparing the frame
Before you begin to hang the gate, you must secure a mounting frame. If you are mounting your gate onto a brick wall, we recommend using our 50mm or 75mm timber wall plates to allow a secure strong frame and also the wall plates allow for shutting strips to be fitted easily. It is wise to ensure that the frame is level by using a spirit level and adjusting the posts accordingly, otherwise, the gate may not fit into the mounting frame. Standard square posts can be used or even a end Jakpost but it may be worth speaking to our sales advisors if you plan on hanging a gate of a slotted end post.
Step 2: Fixings the hinges to the gate and mounting post

It's now time to secure the hinges on to the gate and mounting post, most of Jacksons gates are supplied with heavy galvanised hinges and fittings already. If the gate doesn't have fittings; check the gate's diagonal cross brace beam is running from the top-left corner to the bottom-right corner then the hinges should be placed on the right side of the gate, and vice versa (see diagram below). If there are two diagonal cross braces then the hinges can be placed either side, depending on what is more aesthetically or logistically appropriate. We recommend using our galvanised adjustable Hook and Band hinges that should measure roughly a third of the gate width in length. Once you have your hinges arranged, you should screw each hinge in the centre of each supporting beam at the top and the bottom of the gate. View our hinge instructions on our instructions page:
Remember, an incorrectly hanging gate will likely need replacing due to unnecessary strain causing wear and tear on the components.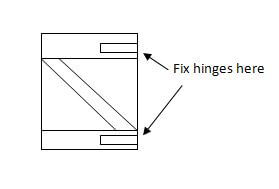 Step 3: Securing the shutting strips and latch
Now your gate is securely hung onto the mounting frame, we recommend closing the gate and fitting the piece of timber baton supplied with Jacksons gates onto the gate frame at the opposite side of the hinges, leaving a 1mm gap between the baton and the gate to provide a rebate, stopping the gate from swinging too far against the hinges once it has been fixed to the frame. When it comes to selecting a latch, it is wise to pick a Closing latch for smaller garden gates or a Ring latch for larger installations. Again, Jacksons standard garden gates come complete with a heavy galvanised ring latch fitted. If you have an unfitted gate, the latch can be placed in a position of personal preference but, for a side security gate, we advise securing the latch in the centre rather than at the top, making it harder for intruders to reach.
For added security and convenience, affix a Brenton bolt at the bottom of the gate to ensure the gate cannot be opened from the outside when locked, followed by a Cabin Hook to allow the gate to be propped open when needed.
Step 4: Enjoy your new gate!
Now the hard work is finished, sit back, relax and enjoy your newly installed stylish garden gate, keeping your property secure and looking great with the reassurance of a 25 year treatment guarantee.
Download our Good Fencing Guide Brochure
Gate Comparison Tool
Compare all the different types of garden gates we offer using our handy comparison tool.