13/05/2019 09:39 AM
Pressure treated or dip treated fencing?
Every year we are contacted by thousands of people who are worried and anxious because their fencing has fallen down in last nights storm. When they approach us, their first concern is to re-secure the area with a new boundary fence. Often broken fencing is old, poorly installed and rotten from the inside out because it was not pressure treated.
Many expect fencing to be covered by their home insurance, but fencing is often excluded and this is commonly a reason that someone will pay more knowing that it will last.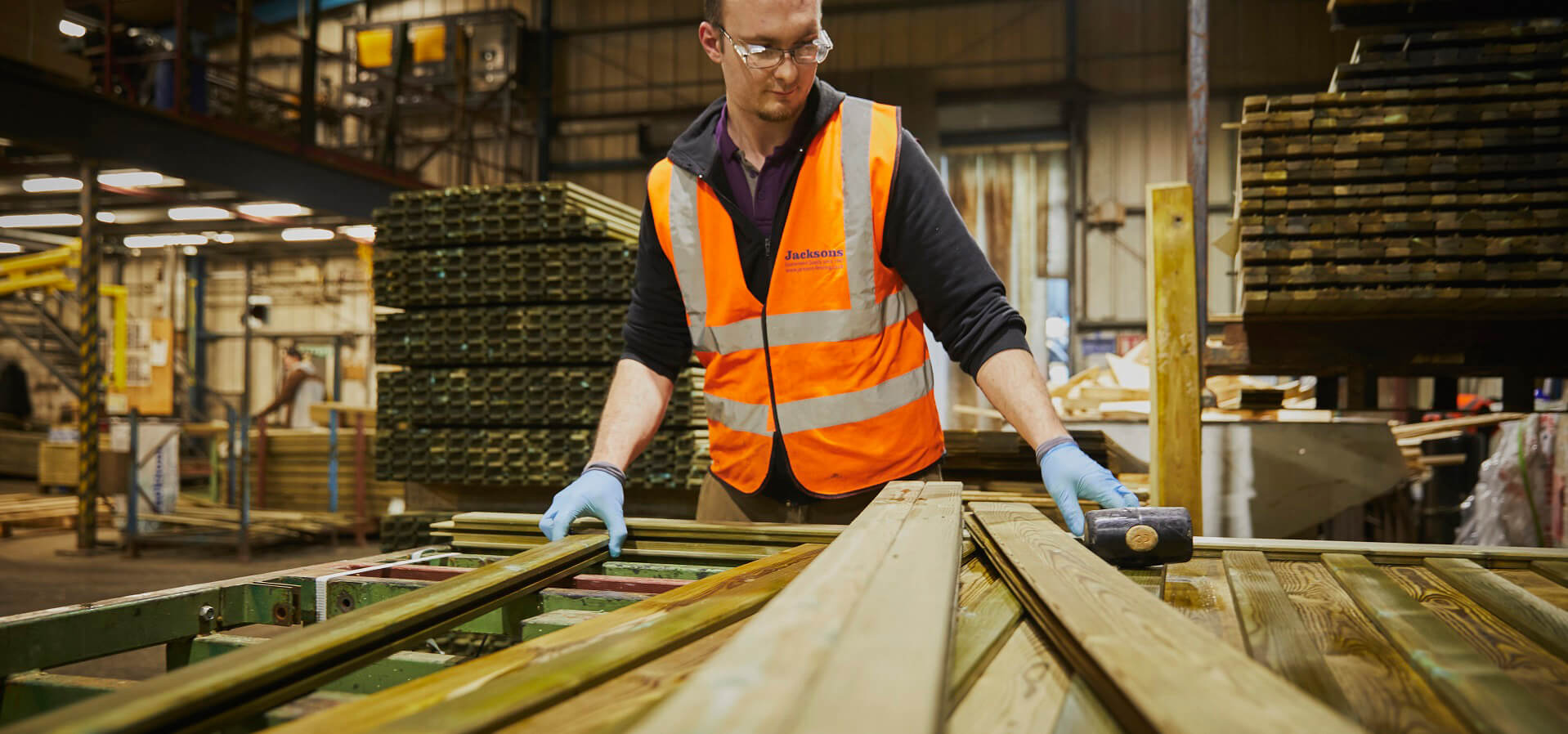 What is dip treated fencing
Untreated species of softwoods are highly susceptible to plant rot, insect attack and wet rot. Traditionally, the remedy of brushing or dipping the timber into creosote or other preservatives has been one of the most widely used methods to help protect the timber from rot, though dip treatment only protects the outer surface of the wood, known as sapwood. Sapwood is the soft outer layers of recently formed wood between the heartwood and the bark and dip treatment provides a layer of protection on the sapwood.

During the dip treatment process the timber fence panels are thoroughly submerged into a tank of treatment concentrate for a period of time, then left to drip dry. During this process no treatment ever penetrates deep into the timber, the deeper parts of the sapwood and reaching the heartwood (to help mitigate against wet rot attack). Over time the effectiveness of the dip treatment will likely decline due to weathering because for dip treatment to remain effective, it needs to be repeated frequently.

It should be noted the majority of manufacturers recommend annual repeat treatments to comply with their guarantee to meet their terms and conditions. The treatment cannot be reapplied to reach the timber parts already installed into the ground like fence posts.
The biggest selling point for dip treated vs pressure treated fencing is the initial investment - they are cheaper to purchase and widely available due to the dip treatment process incurring lower labour and storage costs. There is a caveat though: re-treatment is necessary, meaning the cost will increase year after year along with the time to maintain the fence.


What is pressure treated fencing?
Pressure treatment is the process of adding timber to a large tank of treatment and then adding pressure to force the preservative into the timber. This is much more thorough than dip treating but will often not treat all of the sapwood. This will increase the manufacturers guarantee of the product from 5-10 or 15 years.



What is better than pressure treatment?
Our unique Jakcure treated timber goes through additional steps compared to the pressure treatment process whereby all softwood is specially selected for strength, aesthetics and also less heartwood. We then employ processes designed to reduce the moisture content through kiln drying, as excess moisture within the timber prevents absorption of the preservative concentrate.

Next, the preservative is forced by vacuum/pressure through the outer sapwood deep into the timber inside a large chamber, where it forms an insoluble compound allowing for longstanding protection against rot and insect attack. It is important to ensure that the correct amount of preservative is actually forced into the timber.

More detailed information about our unique Jakcure process can be found in our Timber Treatment Guide.
While more labour intensive, in the interest of adopting a responsible approach to timber treatment, it is advisable to adapt the loading of chemicals according to the desired usage and species of timber.
Did you know:
Heartwood is wood that as a result of a naturally occurring chemical transformation process has become more resistant to decay. Sapwood is the younger, outermost wood on the tree which is essential for carrying water and sugars from the roots to the leaves.
Is our unique Jakcure process more expensive?
The simple answer is no, if you adopt a long-term view, the cost of pressure treated timber fence represents a low lifetime cost. Though the initial investment may be slightly higher compared to a dip treated fence, over a 5, 10 or even 20+ year period pressure treatment represents excellent value for money.

If you factor in the cost of having to replace rotted timber and possibly the posts as well, in addition to the cost of the labour involved in a new install, it is far more economical to invest in better quality, longer lasting fencing in the first place. We recently produced a guide whereby we discuss our recommendations about How To Choose The Best Garden Fence for you and what you should consider before taking any action.


How long will dip treated timber fencing last?
This is a difficult question to answer with absolute certainty, however it is predicted 4-8 years (possibly less) dependent upon the species of timber, location of install, quality of installation and weather conditions.

Replacing timber fencing can be an expensive project, especially if you're doing so every 4-8 years due to poor quality dip treated timber so, lets explore how you can save money by installing pressure treated timber fencing and why we believe this to be a more cost effective solution.


How long will pressure treated fencing last?
The average lifespan of pressure treated fencing is between 10-15 years.


How long will our Jakcure pressure treated fencing last?
At Jacksons our unique pressure treatment process guarantees our garden fencing, gates and accessories for 25 years but are known to last much longer.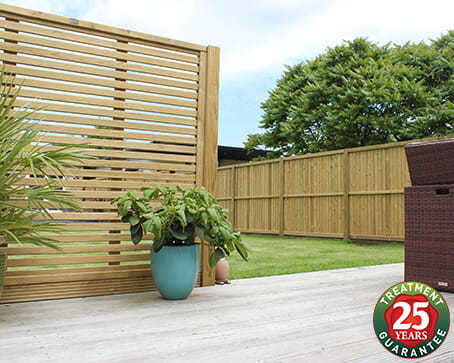 Which is the best option?
To summarise, all versions of timber fence treatment have their advantages and disadvantages and while we advocate our own unique Jakcure treatment process for a multitude of reasons, we would always recommend you weigh up the relevant details that are important to you but make sure you understand What Makes a Good Fence. The initial investment costs against the length of time you expect the timber fencing to last, why are you having it installed and how much work are you prepared maintain it?


Jakcure treated wood fence panels
• Longer lifespan than pressure treated fencing
• No maintenance required
• More expensive but guaranteed for much longer
Pressure treated wood fence panels
• Longer lifespan than dip treated fencing
• Less maintenance required
• More expensive but guaranteed for longer
Dip-treated wood fence panels
• Cheaper alternative to pressure treated fencing
• Readily available from retailers
• Requires additional maintenance
• Shorter lifespan
Additional resources
Fence Panel Heights and Widths