08/08/2017 12:00 AM
Renewing or replacing a fence can be a difficult tiresome task with planning, finding the materials needed, the quantity and ultimately where the fence will run. Once you then know these factors you have to decide on a type of fencing.
Secondly, installing the fencing is the next step, which is not a simple task either and these factors don't even include the cost or time taken for the whole venture.
Before getting further into this helpful blog designed to help you choose the right type of fencing with tips on how to get the best results, there are 5 main types of timber fencing:
Solid boarded fencing

Semi solid fencing

Pale fencing

Slatted fencing

Traditional panel fencing
We have also created an in depth piece covering different fencing types.
5 tips for choosing and installing fencing and how to get the best results:
Using our Fence Builder Calculator App: available to help you calculate the price of Jacksons garden fence panels and trellis panels with the aim to help you make informed decisions about the quantity of fence panels, posts and accessories required for your project before you start.
The quality of materials used: using quality, well engineered, pressure treated timber will ensure a long life span of the fence and help to avoid rot.


Buy pressure treated timber to ensure your fence lasts a long time.

The integrity of the materials and construction of the fence should be done to a professional standard otherwise the fence will not stand the test of time.


Choose the right fence for the your requirements: picking a slatted fence style with gaps when you want privacy in your garden obviously does not fit your requirements whereas a fence with a solid board construct does achieve privacy.


Proven, quality, skilled installation: how well your fencing is installed has a direct impact on how long it can last. Only use professionals.


Here are the above points in greater detail that could help your project run on-time, within budget and improve the longevity of the new fence you've paid handsomely for:
1. The quality of the material
Usually, if the materials used to build fence are of high quality, then the overall fence will not only stand the test of time but have greater aesthetic appeal. After all, you've probably paid good money for your shiny new fence, you want it to be a strong feature in your garden.

At Jacksons Fencing we source all of our materials using specialist buyers who have worked for many years in the fencing industry with all of our timber derived from three main species; Radiata, Redwoods and Corsican Pine because these trees are fast-growing and absorb our unique timber treatment extremely well as they are softwoods. Not only does this benefit the environment from a lower carbon footprint point of view but enables us to offer our unparalleled 25-year guarantee.
2. The expected length of life
Budget is often the greatest blockage and outweighs the life span of fencing when the all important purchasing decision is made. Everyone looks for a bargain but in the long run, replacing a cheap and cheerful fence two, three even four times works out a great deal more expensive than choosing a superior timber fence in the first instance. One of the most important factors which increases the life span of a fence is the treatment of the timber. If a fence has not been treated well, then it becomes susceptible to rot and may dwindle very quickly and break.
3. The integrity and the construction of the materials used
If a fence panel or gate is constructed using thin pales or weak support battens/rails, substandard posts then the fence is unlikely to last weathering over a sustained period, even a mild storm has been known to blow fencing over with relative ease.
Recently we produced a best practice buyers guide to garden gates which discusses the import elements to consider when choosing a garden gate. For example using galvanised fixtures and fittings ensures rust doesn't become a problem by weakening your garden gate or fencing over time.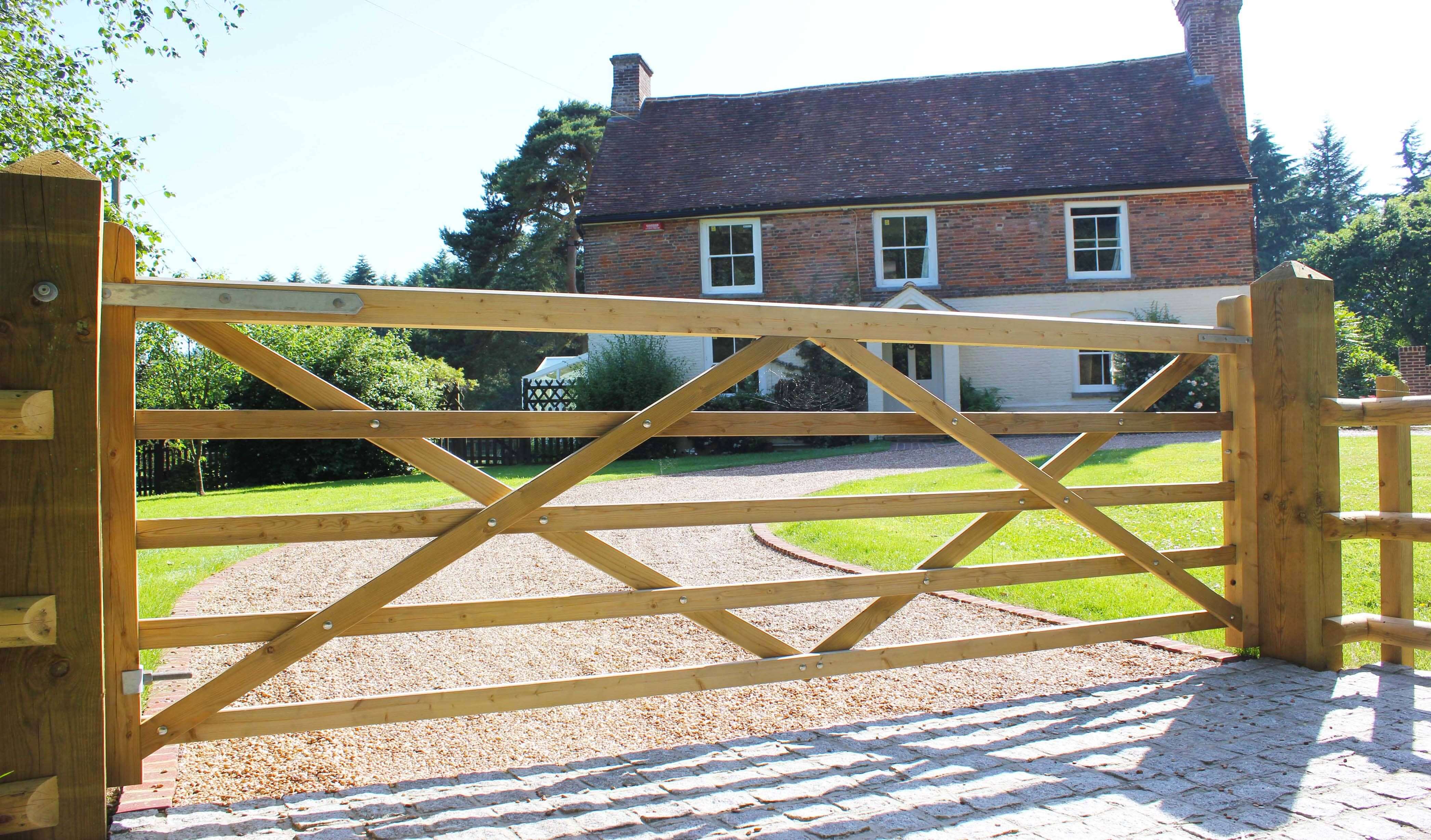 4. Choosing the right fencing for the right job
Choosing the right fence or garden gate plays an important role in helping to achieve your desired goal whether its improving home security or improving your garden with some contemporary fencing. When you've decided which type of fence is required, its then worth researching the different styles. One example could be, the installation of a garden fence in an area exposed to strong wind and the best style of fence for the job; Hit and Miss or Tongue and Groove Effect if privacy is needed, or our Venetian fence panels if privacy is not an issue.
Jacksons offer a variety of handmade contemporary fence panels built by our experts on-site, in Ashford.
5. The fence Installation
Do you pay for a skilled labourer which costs money, or do-it-yourself? It doesn't matter as long as the installation is carried out by a trained professional with the necessary skills and knowledge. Remember no matter the quality of the fence, quality of materials, it needs to be installed professionally to withstand the elements. Ensure when digging holes these are deep enough using postcrete / cement to hold posts in place or using shorter posts than required as all these shortcuts will be more hassle in the long run than to do the job well at the first attempt.