09/07/2016 11:00 PM
It doesn't seem a year since we were sweltering in the heat of the July sun last year at the RHS Hampton Court Flower Show in our Silver Gilt medal winning 'Jacksons Secret Garden Party' show garden.
It's a very different picture with the weather for this year's show, the show build up has been plagued by rain and today it is rather overcast and threatening show-goers with yet more rain.
This year we returned to the show to report on a major feature that Jacksons are supporting; earlier this year BBC Local Radio and the RHS ran a competition for amateur and aspiring garden designers to design a 'Feel Good Front Garden' inspired by their local area. The four winning designs from Kent, Bristol, Manchester and Cornwall have been built at the RHS Hampton Court Flower Show this July.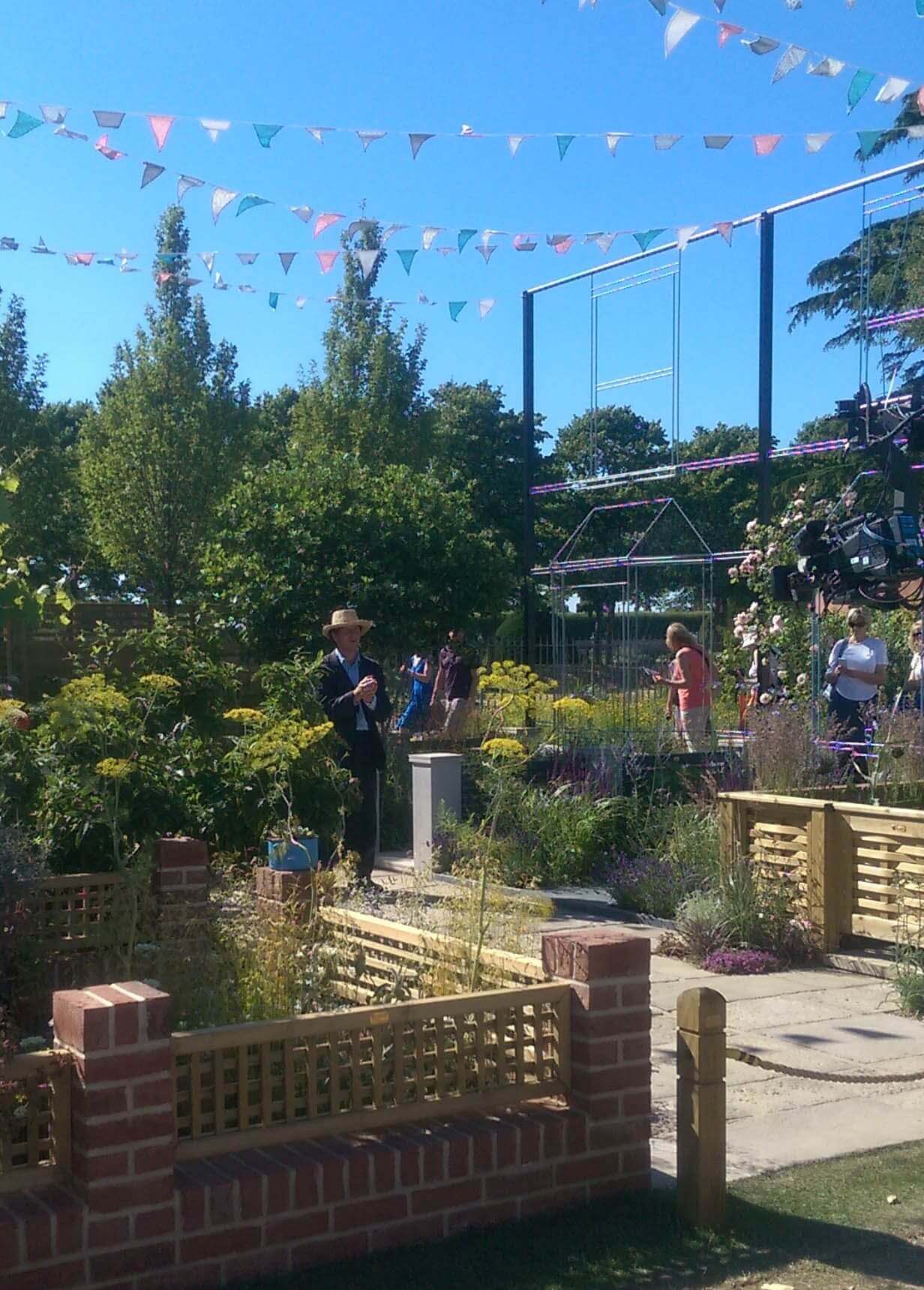 So why and how are Jacksons supporting this project? Last autumn we were delighted to be contacted by Dave Green, the show manager for RHS Hampton Court Palace Flower Show. He was keen to know what had happened to the steelwork house front facades that we had in our show garden last year.
The Jacksons Secret Garden Party was one big show garden made up of six front gardens and our facades were how we represented the two rows of three houses within the garden. If at all possible the RHS were very keen to reuse them to do the same job for the four winning front garden designs at this year's show.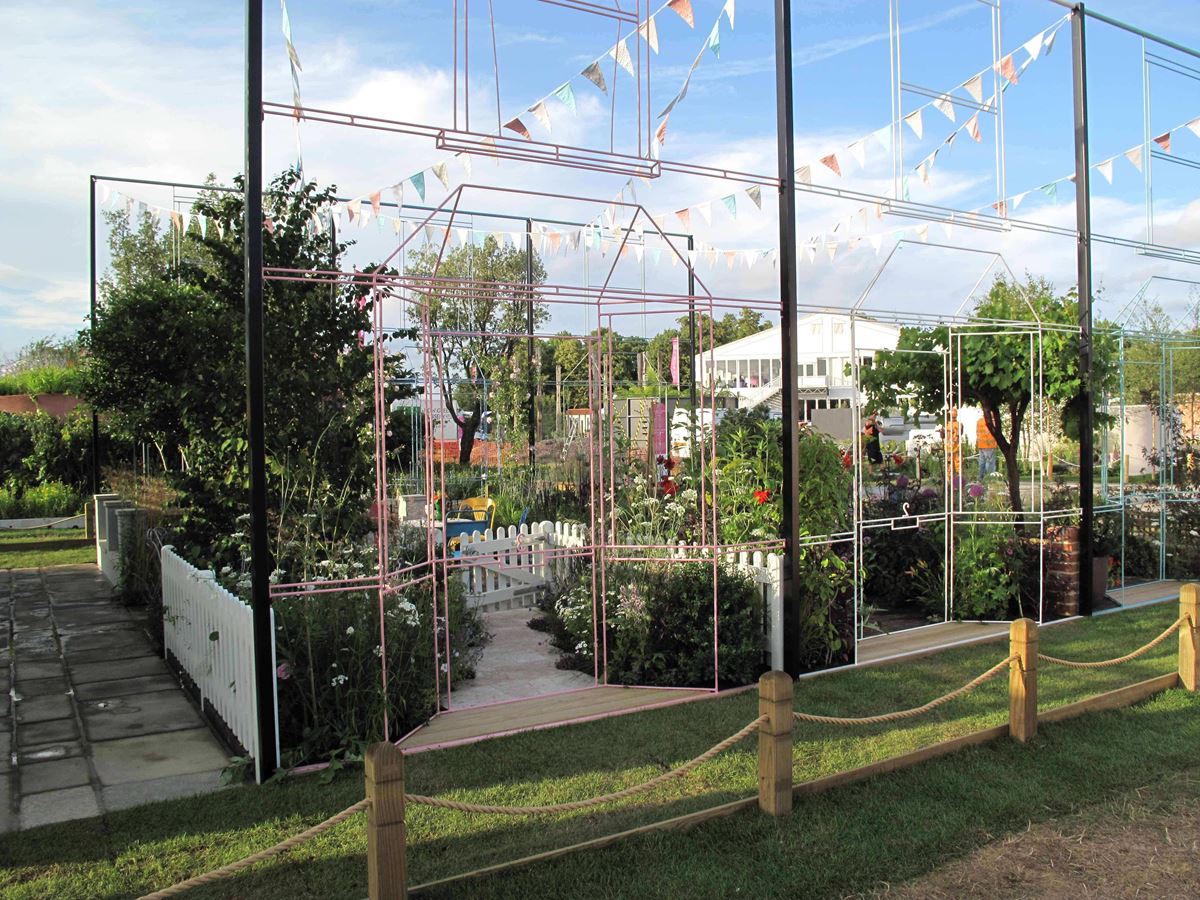 We were more than happy to help and offered more support in the shape of Jacksons fencing and other products to be used in the individual gardens, should the designers wish to use them.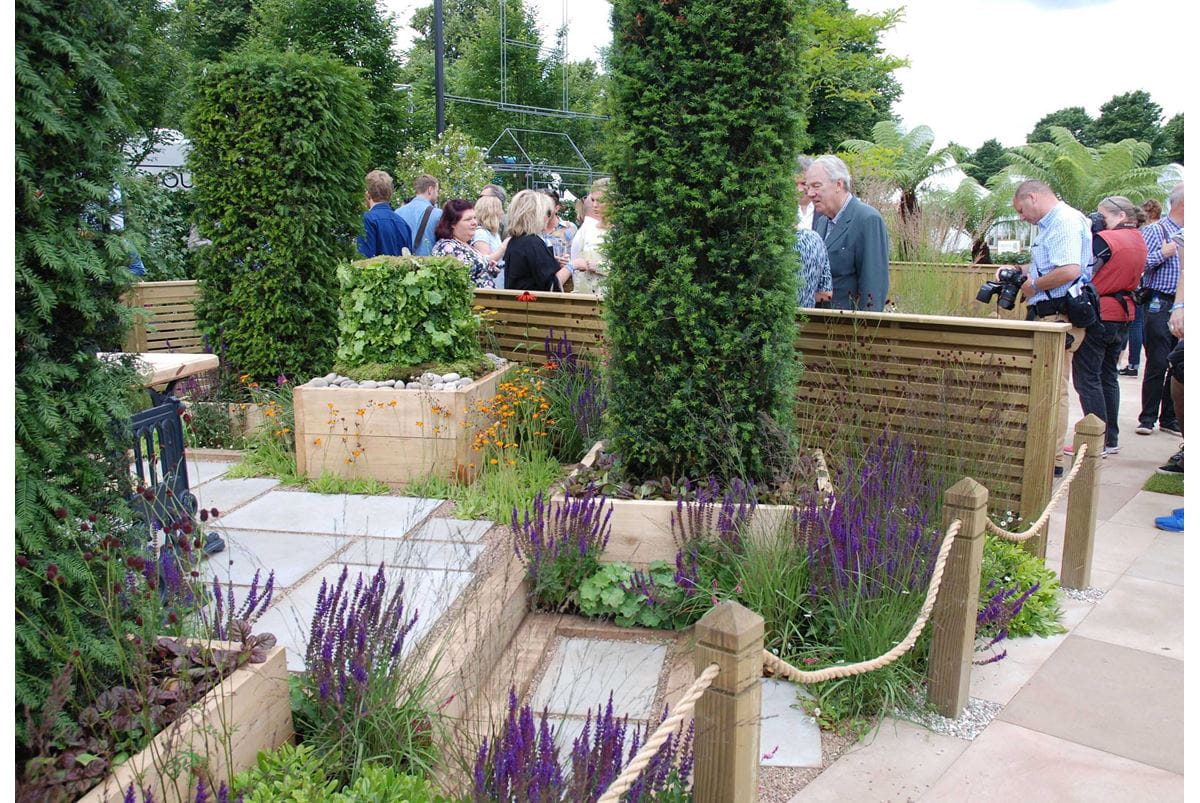 It felt quite odd being back at the show this year, after spending so much time there last year, whilst we built the show garden and then during the week of the show. I remember it being boiling hot, with almost wall to wall sunshine, and it was pretty stressful at times, so arriving on the Monday – which was Press Day and walking through the show as things started to get going, was odd… much less stressful, as you might imagine, the build was over and it wasn't my responsibility – phew!
Seeing the BBC Local Radio Feel Good Front Gardens was strangely reminiscent of the Jacksons Secret Garden Party of last year – whereas ours was six front gardens each one with a different personality, with a façade at the back – here was a row of four front gardens, all with a distinct personality or character with a façade at the back.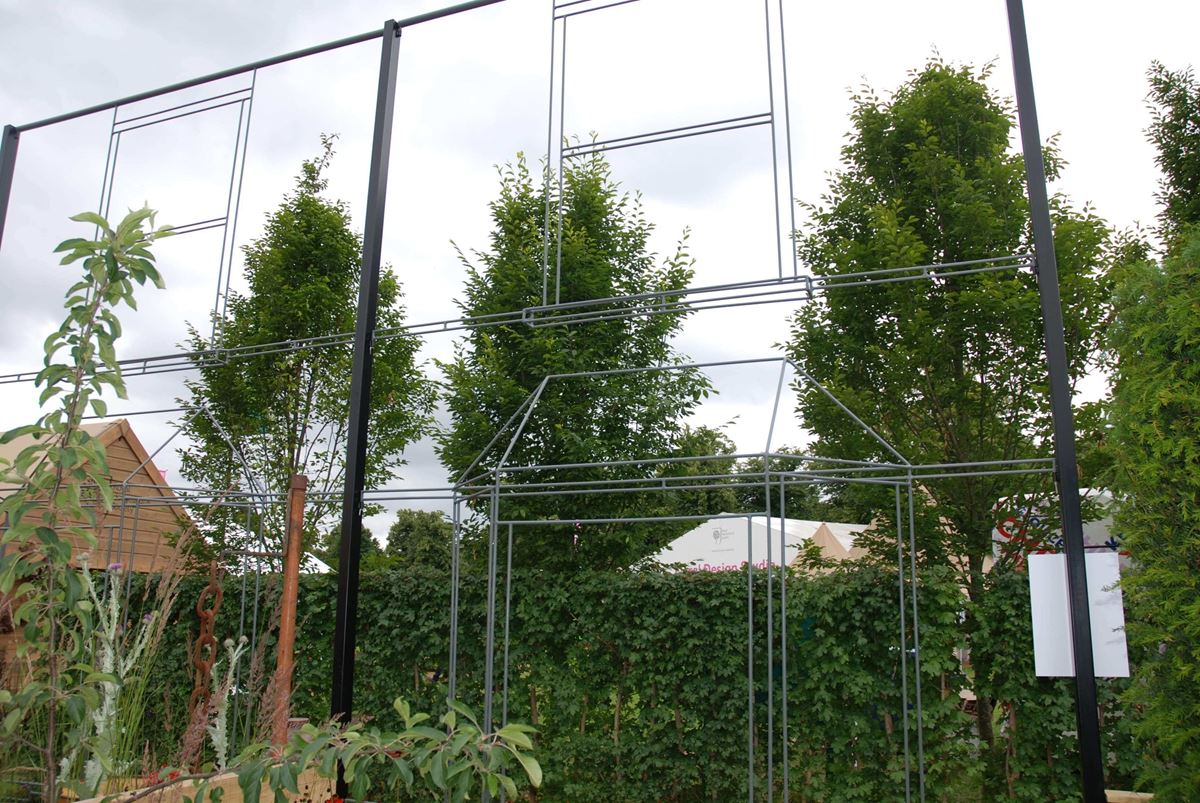 Each of the gardens, inspired by the local area that the winning designers are from, were absolutely superb, and although they were designed by amateurs, I didn't think there was a hint of anything being amiss or not well thought out.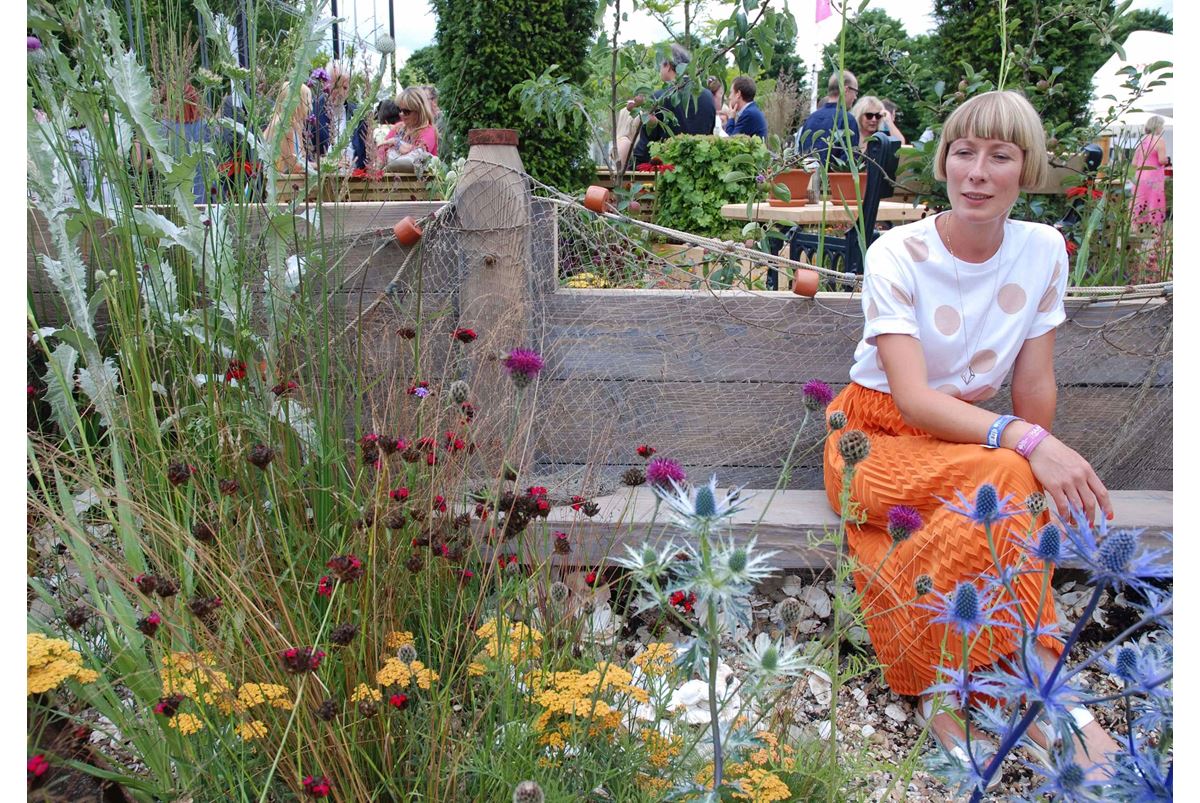 The Kent Winner: Sarah Morgan's Beachscape Oyster garden was inspired by Whitstable on the North East Kent coast, the garden was a feast of glorious detail: oyster shell piles, pebbles, fishing nets and aged timber sleepers fashioned into a bench.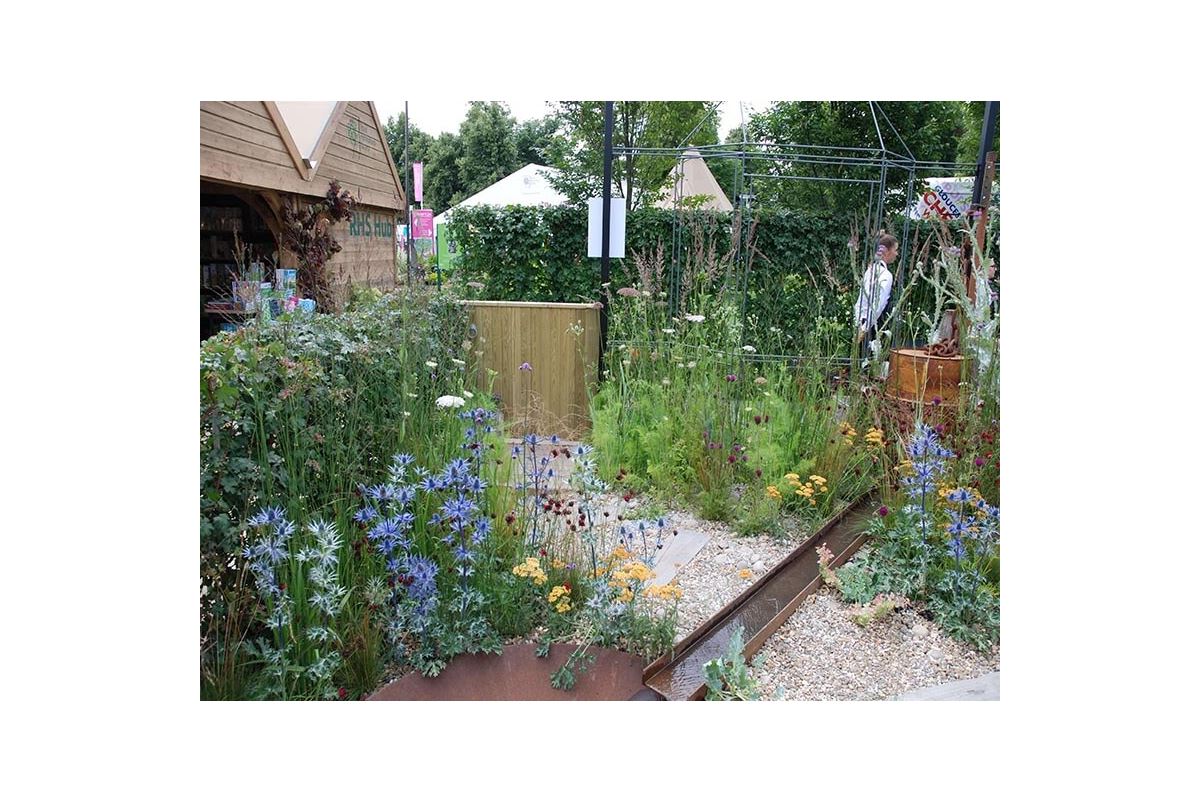 With a riot of plants that grow by the shore's edge, more planting in the shape of pretty succulents nestled into the gabions that form the front boundary of the garden, with a rusting rill and water feature, that fitted in perfectly with the beach scene. All imaginatively and beautifully put together.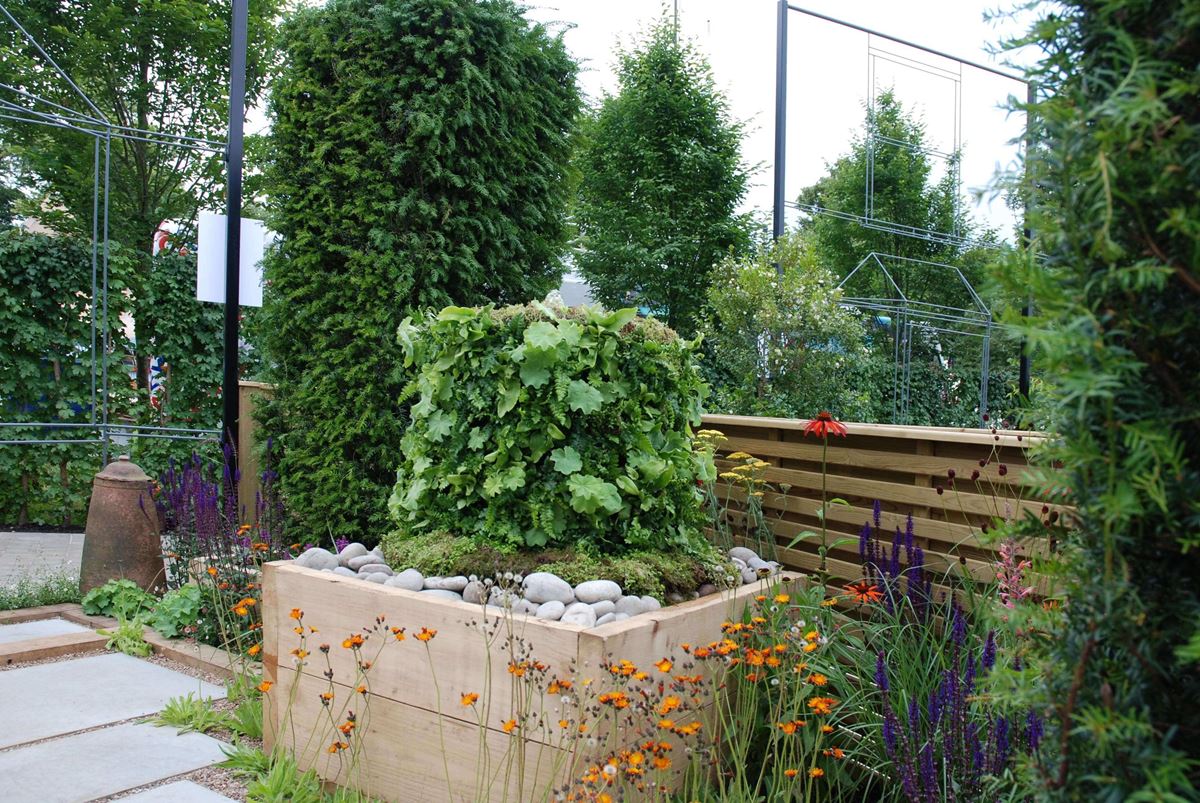 Simon Judge's Bristol Fashion garden was inspired by a well-known city Landmark, SS Great Britain designed by Brunel. This famous steel ship was a revolutionary transatlantic vessel of its time.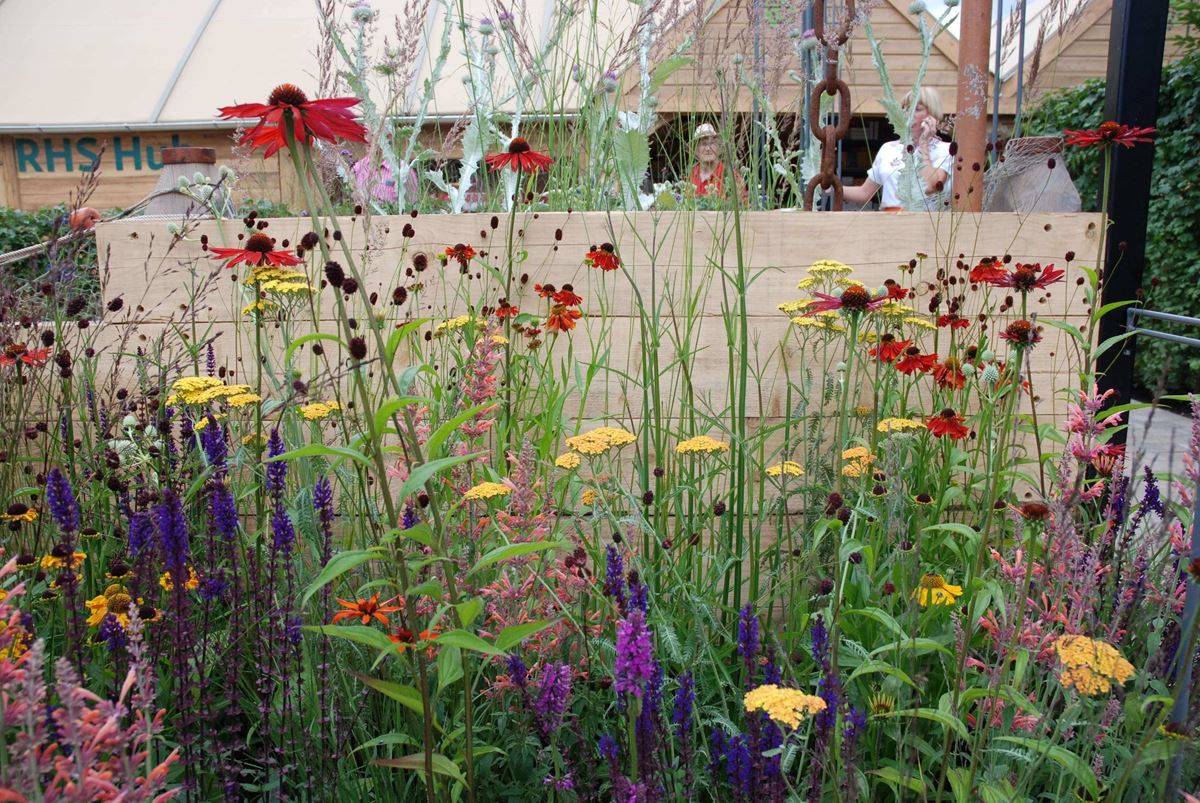 The apple trees and Yews are a nod to the formal planting the Victorians were fond of, which contrast very nicely with softer colourful perennials; Achillea, Echinacea, Salvias and bobbly Sanguisorba 'Raspberry Coulis' which stand out beautifully against the pale golden timber of the Venetian Hit and Miss panels and the timber of the raised beds, that are reminiscent of the wooden cargo crates that were used on-board the ship.
Another nice touch is the heavy Gothic iron 'pew' that has been matched with an iron table to make a seating set that references the steel of the mighty ship the garden is inspired by.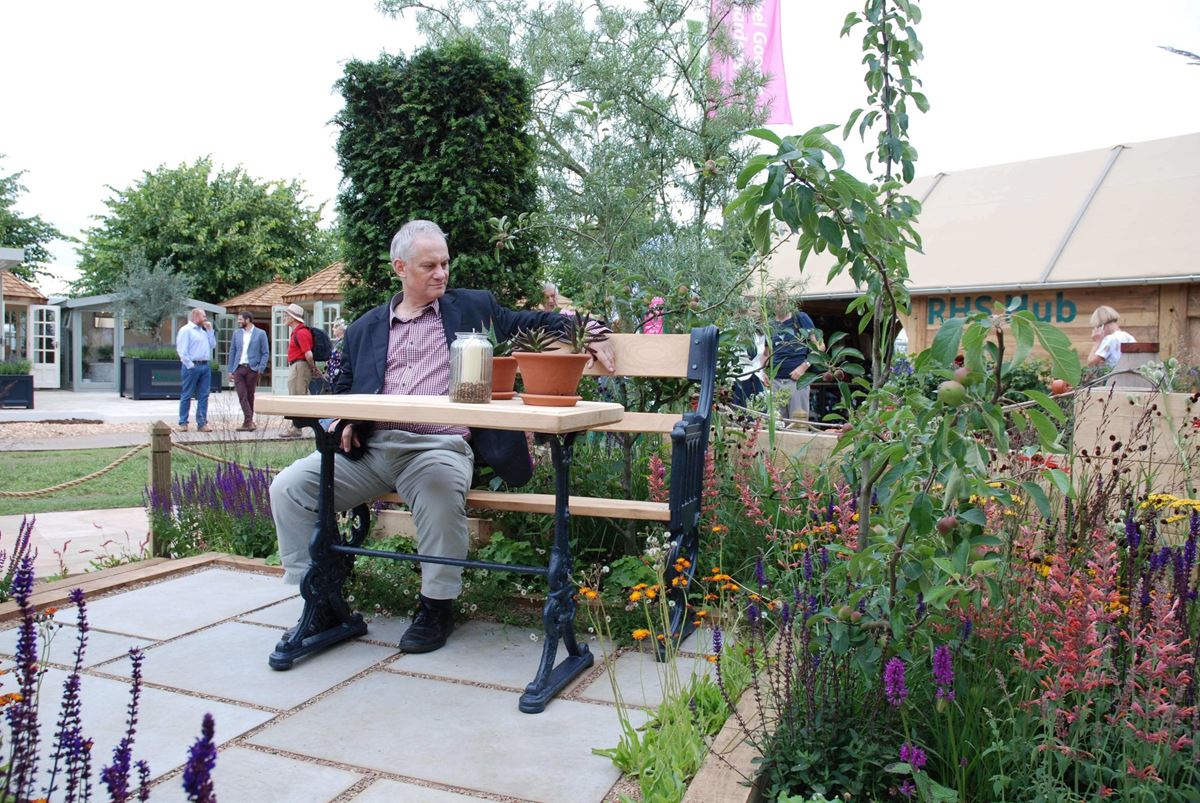 Fancy a brew? Take a pew is a wonderfully welcoming scene conjured up by the Manchester winner Lee Burkhill.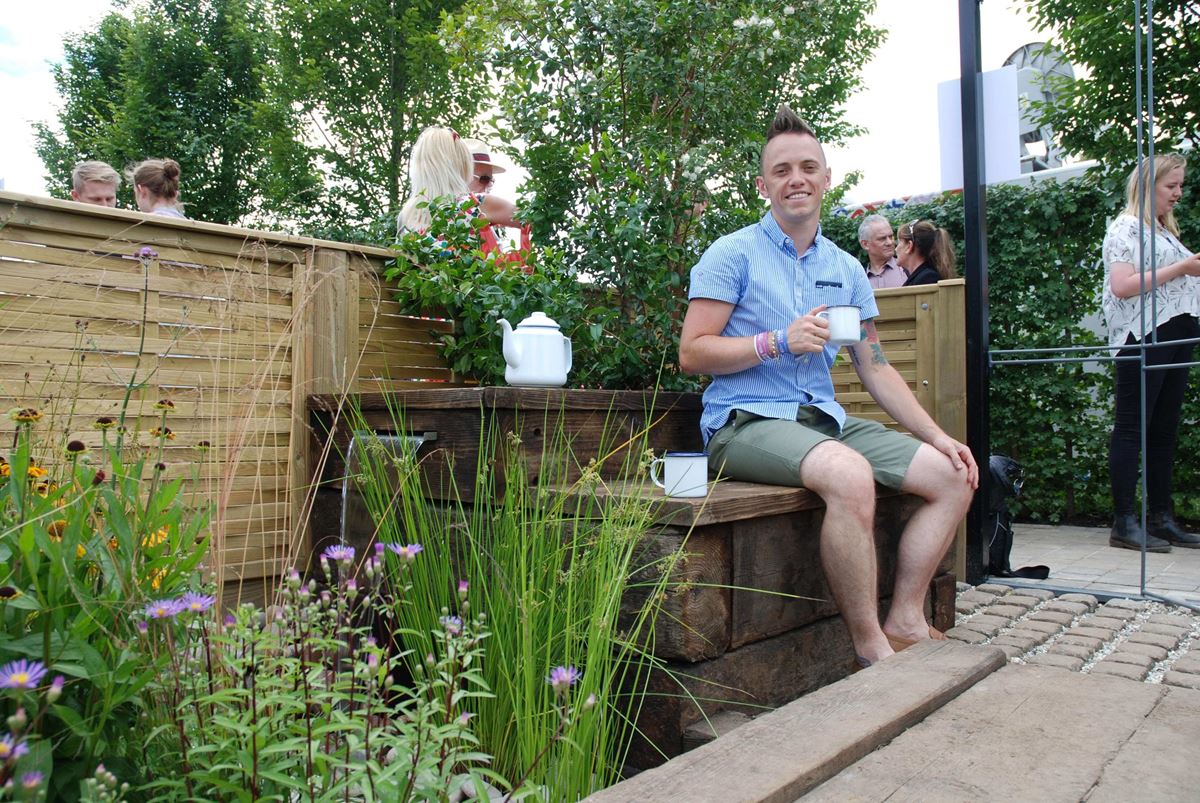 Sleepers form a seating area complete with enamel teapot and mugs that immediately invite you to take a pew and have a cuppa – a symbol of well-known northern sociability.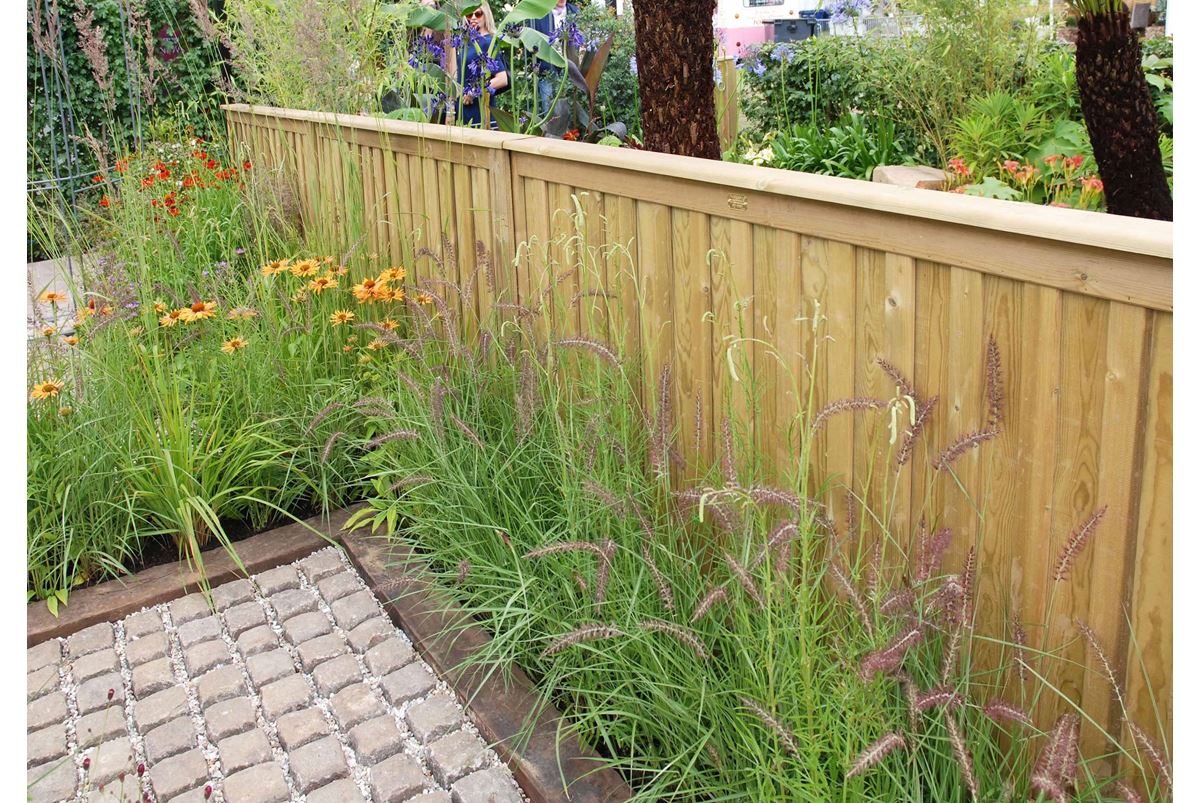 A cobbled path, so familiar in the area, leads through the garden to the front door, surrounded by informal and fluffy planting that set off the two beautiful boundaries that are Jacksons Chilham and Woven panels. Lee told me he was delighted with the fact that he had the best of both worlds, having two of Jacksons' most beautiful fences in his garden.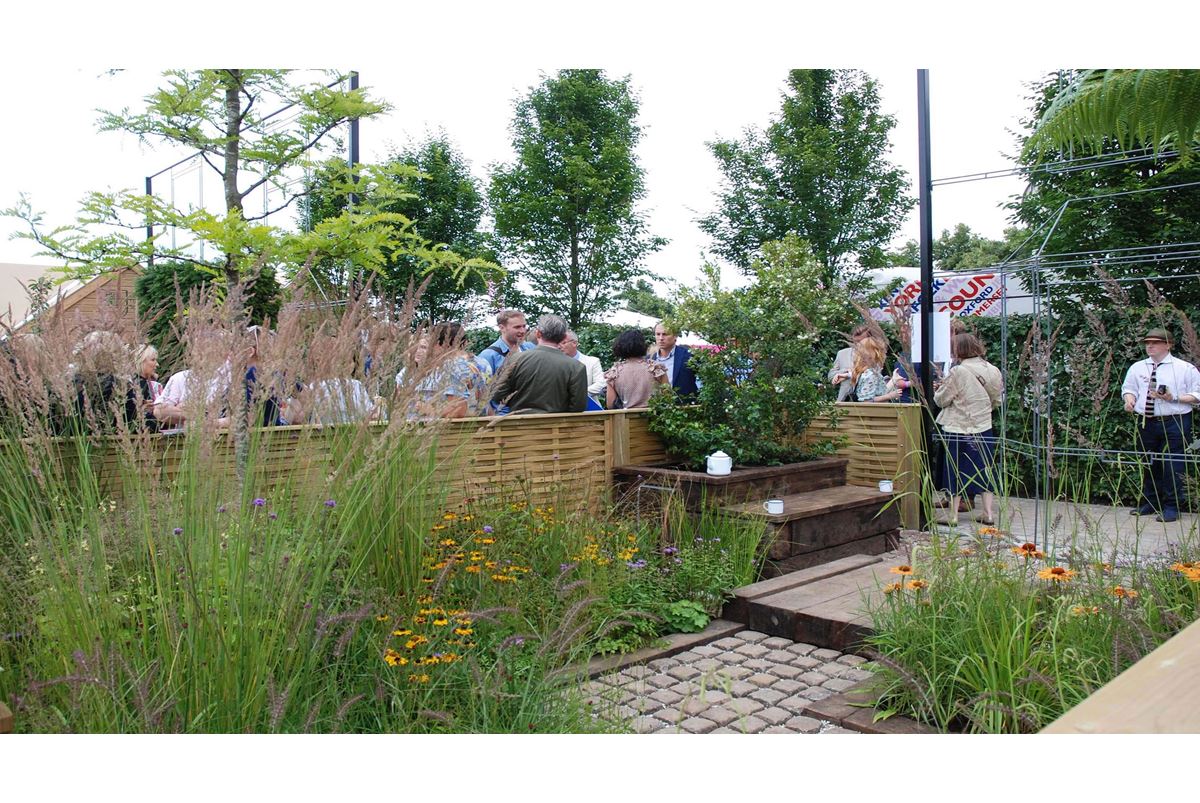 The last of the four gardens is collaboration between four designers from the Eden project learning centre: Jenny Booty, Lizz Dobinson, Nicky Shellis and Tim Walker.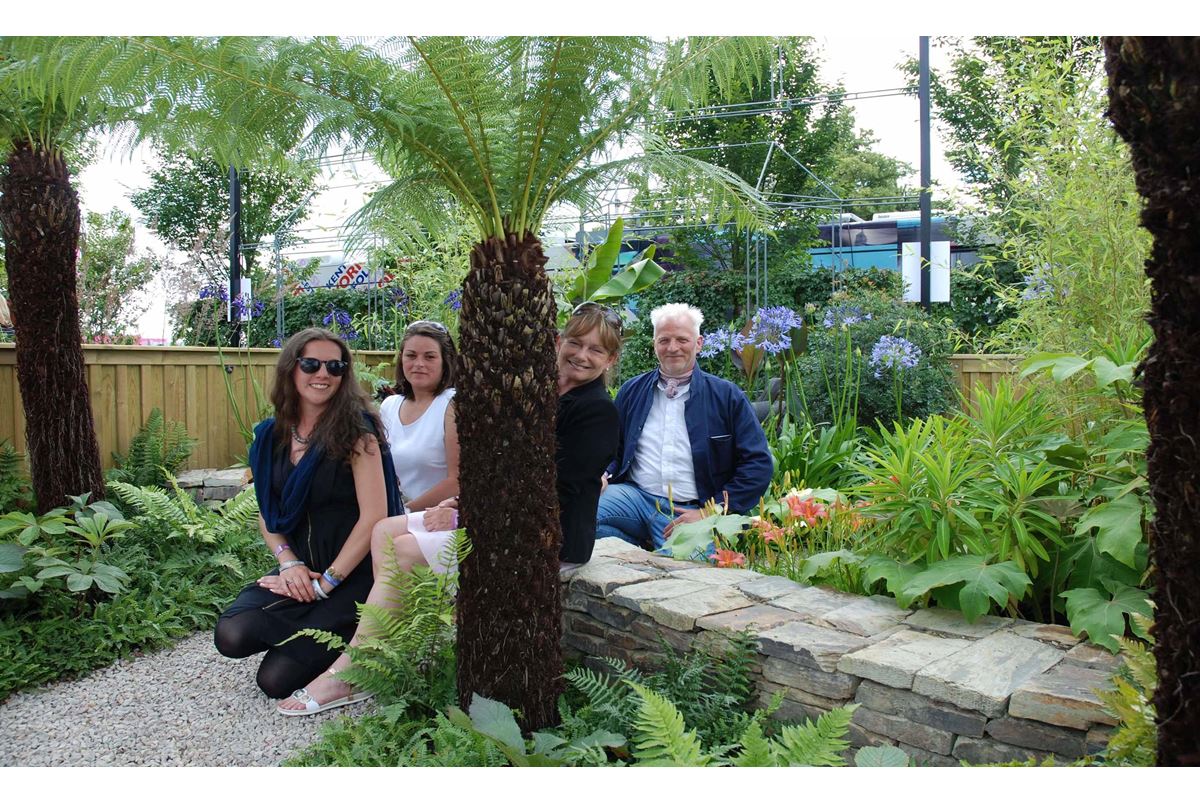 Tre Wostiwedh (Home at last) is a design inspired by Cornwall's tin mining history. It tips its hat to the miners who worked long hours with no view of the outside world, deprived of the lovely Cornish landscape. A plight that could almost be echoed by the hours modern day workers spend cooped up in offices and in front of computers - here's a garden that should be enjoyed when the worker is liberated from their toils as they relax in their garden. It's a wonderful tableau of exotic Tree Ferns and tropical planting native to Cornwall, a veritable garden sanctuary to relax and enjoy leisure time in.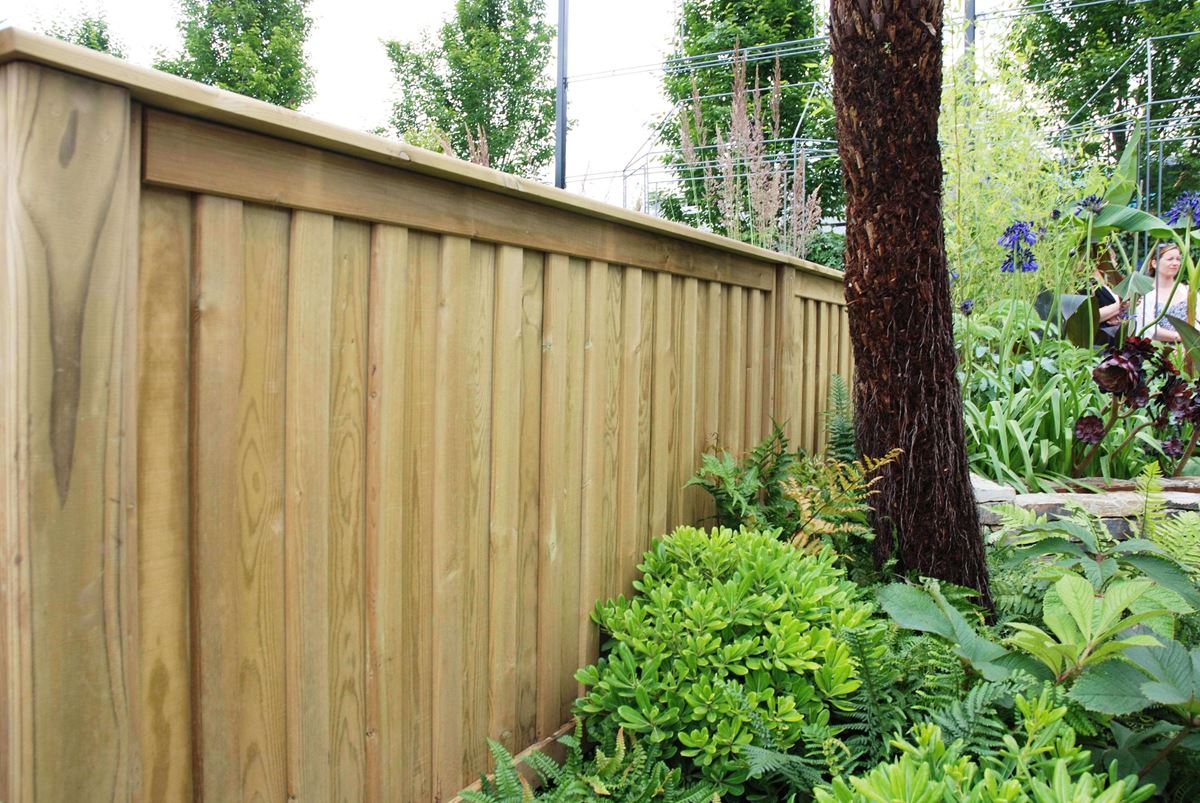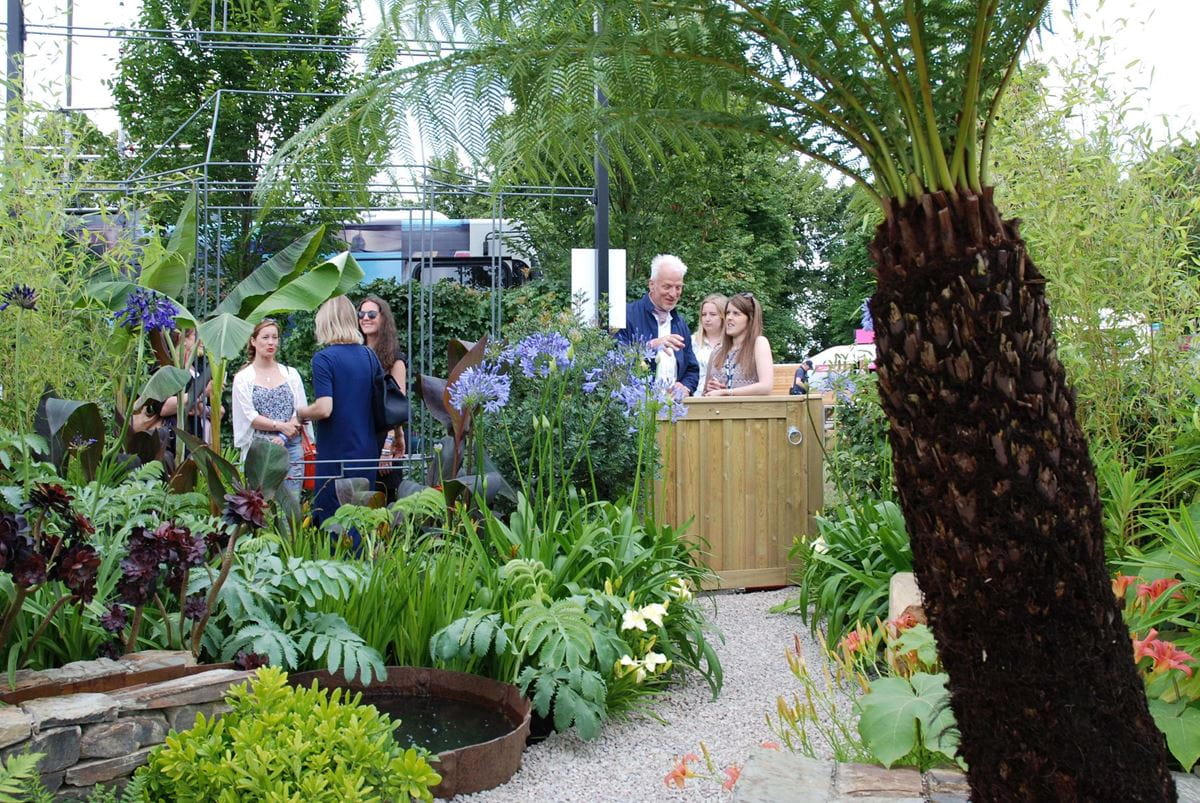 You can see all the Feel Good Front Gardens photos in the RHS Hampton Court photo gallery, which will also link with the four individual winning gardens as well.
Or go straight to each garden here:
Kent winner: Sarah Morgan's Beachscape Oyster Garden
Bristol winner: Simon Judge's Bristol Fashion garden
Manchester winner: Lee Burkhill
Fancy a Bew? Take a pew
Cornwall winner: Jenny Booty, Lizz Dobinson, Nicky Shellis and Tim Walker. Tre Wostiwedh (Home at last)
Also here is a link to the BBC iPlayer RHS Hampton Show coverage where Adam Frost takes a good look at each of the four Feel Good Front Gardens, as show on Friday evening on BBC2 (8.7.16.) Coverage of the Front Gardens starts at about 36.49 minutes into the programme.