20/05/2015 11:00 PM
The RHS Chelsea Flower Show is now in full flow and as the pundits gush effusively over the very latest triumphs in garden design, some of us mere mortals with 'distinctly average' gardens may despair at the patently 'un-designer' state of affairs currently on show in our own outside space.
However, the good news is that you don't necessarily need to employ a top designer to fashion a super stylish outdoor landscape. Here's a few top tips on how to inject a touch of Chelsea Flower Show glamour to create a truly gorgeous garden.
Seamless indoor / outdoor living
If the interior of your home is a tribute to English country house chic à la Cath Kidston genre, then introducing the very latest in contemporary living into the garden space is simply not going to work. Similarly, if you are slave to all things ultra modern in terms of interior décor, a quaint cottage garden with blousy blooms and meandering pathways represents a total mismatch when trying to encourage a seamless journey from indoors to outdoors. Designing your garden to complement the look and feel of the home will result in an outside zone that offers a natural extension to your day-to-day living accommodation.
Go for the big bold statement
Be brave and be bold! If you want your garden to have standout qualities, you need to be prepared to go for a dramatic design statement. A striking architectural feature, a wall painted in a vibrant colour, a wow factor water display, an unexpected and totally original example of up cycling such as a tree trunk carved into a chunky garden chair or discarded coloured wine bottles artistically presented to build a 'bottle tree' – these are all examples of how to establish a memorable focal point, but the world is truly your oyster! Take a look these – and many other great ideas on Pinterest
Eyes up
Even if you have a postage stamp sized garden, the trick is to always opt for some large plants that concentrate the view on the vertical – rather than the horizontal. The upright giant purple globe that is so often selected for show gardens – the Allium globemaster - is in truth a humble ornamental onion, but packs a powerful punch in any garden setting. Espaliered trees or plants create the same illusion of space. Kill two birds with one stone by introducing a memorable visual feature combined with a nod towards self sufficiency, by training apple, pear or quince trees to grow on a wall or fence.
Fashionable fencing
Traditionally viewed purely for its ability to deliver a secure boundary to a garden, fencing has moved on in the fashion stakes to become an impressive design feature in its own right. Elegant Venetian boasts horizontal pales that produce bands of light and shade; beautifully crafted Woven has panels that are easy on the eye regardless of what side of the fence you are exposed to, or smart Canterbury Combi's, horizontal tongue and groove effect with a Venetian topping to allow the sun to filter through – these are just some of the wealth of stylish options to consider.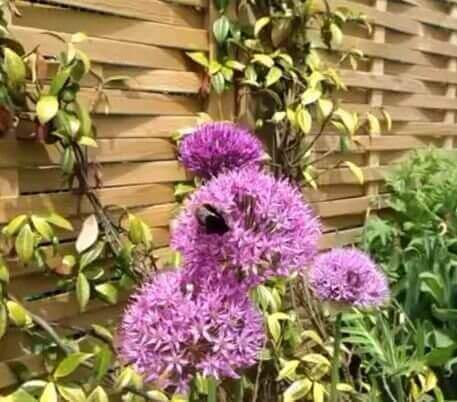 Visit the show garden gallery on the Jacksons website for more inspiration: www.jacksons-fencing.co.uk/show-gardens
We'd love to hear about any of your own Chelsea inspired design ideas, tweet us your photos at #designergardens