23/03/2018 11:34 AM
Brief - the clients wanted to be able to use the garden more for relaxing, dining, entertaining and ultimately to have an enticing view from the kitchen window.
Products - Jacksons Canterbury Combi fencing and matching garden gate.
Rachel comments: The client needed new fencing and also wanted to screen out the new development seen at the rear, as well as have raised planting beds in front of which some seating/ sofas could be placed for dining and relaxing.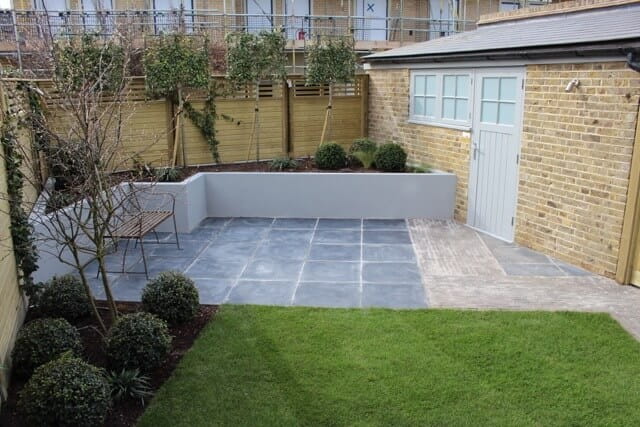 There is a garage at the right hand corner with access to a shared driveway so the clients wanted to have a path way linking in from their kitchen and steps to the paved seating area. Initially I came up with a plan with it all being linear but this was not so interesting so I experimented with putting the plan on an angle making sure there was enough paved area for 2 sofas and a table and also a different material for the path - the clay pavers which lend themselves to the directional paving.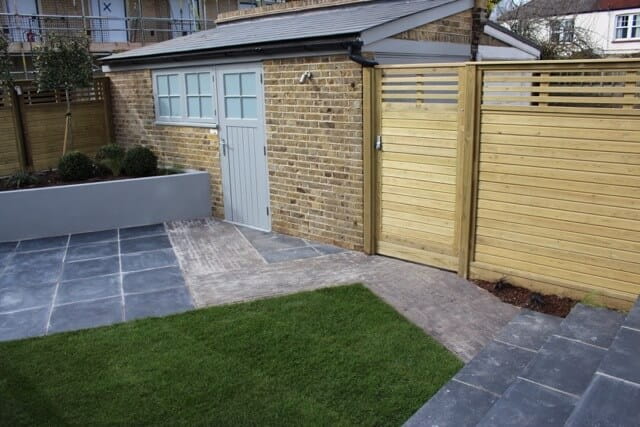 We put in spike spot lights and wall lights on a dimmer and on different circuits so it can be enjoyed at night time. The planting is a mix of structure planting, the pleached trees being eleagnus ebbingei evergreen for privacy and a multi stemmed amelanchier among osmanthus clipped balls and also star jasmine and ilex balls with ferns, grasses and perennials for all year round interest. The landscaper Mike from Garden Gurus put in black limestone paving and 'anthracite' pavers and painted the rendered wall and garaged door and window of the garage the same grey so that it all tied in. I love Jacksons fencing as I know its good quality and the Canterbury Combi has a lovely contemporary look having the lovely battens at the top. I know my clients are delighted with their new garden!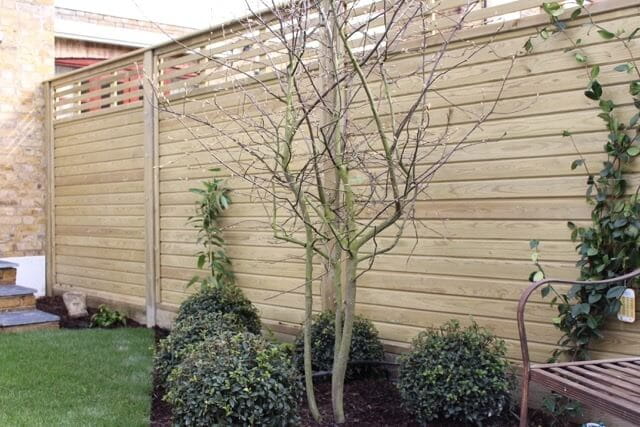 Thank you to Rachel for sending in these beautiful images of a recent garden re-design, every aspect of the garden looks amazing! Rachel Hartley trained at the English Gardening School based at the Chelsea Physic Garden in 2002 and has been designing gardens ever since, Rachel is based in South London. http://rachelhartleydesign.co.uk/