03/08/2022 12:30 PM
A family home set on a steep hilltop in the village of Bearsted, Kent had a very uneven garden, most of which was unusable due to the steep terrain. The steep garden was in desperate need of renovation so that the family could finally enjoy the garden they'd always wanted.
Kent based Approved Installer, Cowen Landscapes were chosen to reconstruct the unlevel steep garden. This project was a mix of both hard and soft landscaping and took advantage of key techniques to create a functional family garden. Hard landscaping consists of anything hard like surfaces or materials while soft landscaping consists of planting flowers and shrubs etc.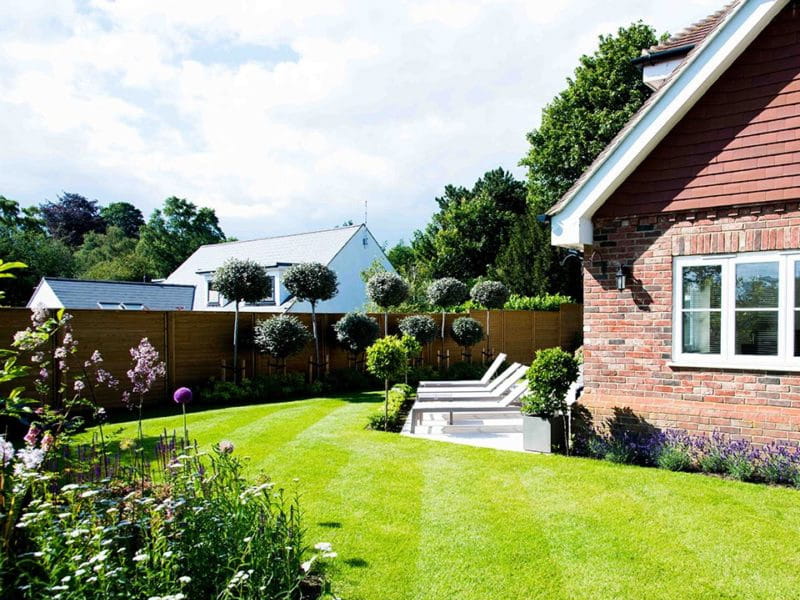 How to landscape a steep garden
Often used in steep sloping gardens, retaining walls are frequently installed to level out certain areas, and create functional spaces that were previously impractical and wasted.
For this project, a lower retaining wall was constructed with hollow concrete blocks and soil from the top of the garden. Retaining walls are a great solution to utilise excess soil instead of having to pay to remove it. If you don't have lots of excess soil, raised beds offer a solution to hold small amounts of soil. You can learn how to build your own raised beds in our blog - how to build a raised garden bed with sleepers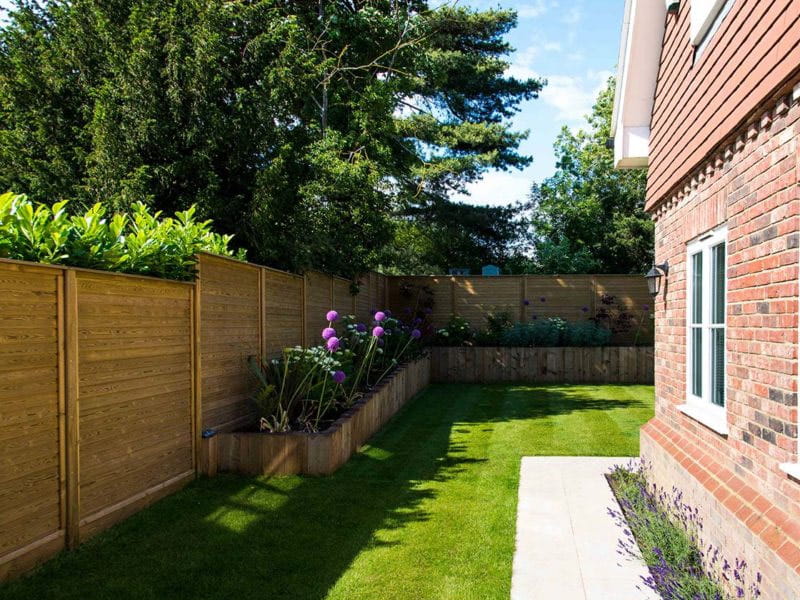 Timber sleepers are popular to use as retaining walls. They provide a natural appearance that complements other timber elements within a garden, like fence panels. They should be treated to ensure they are suited to life in the ground and won't succumb to rot and insect attack.
To utilise the elevated space created by the retaining wall, the top was covered in colourful plants that added interest and a decorative touch to the garden.
As a family home, the customer wanted the garden to be both visually stunning and practical for family life. By including raised beds, instead of borders around the outside of the garden, it created a large flat area to host garden activities. A popular activity such as football will no longer ruin the vibrant borders which in the raised beds creates a barrier to stop balls that have strayed in the wrong direction.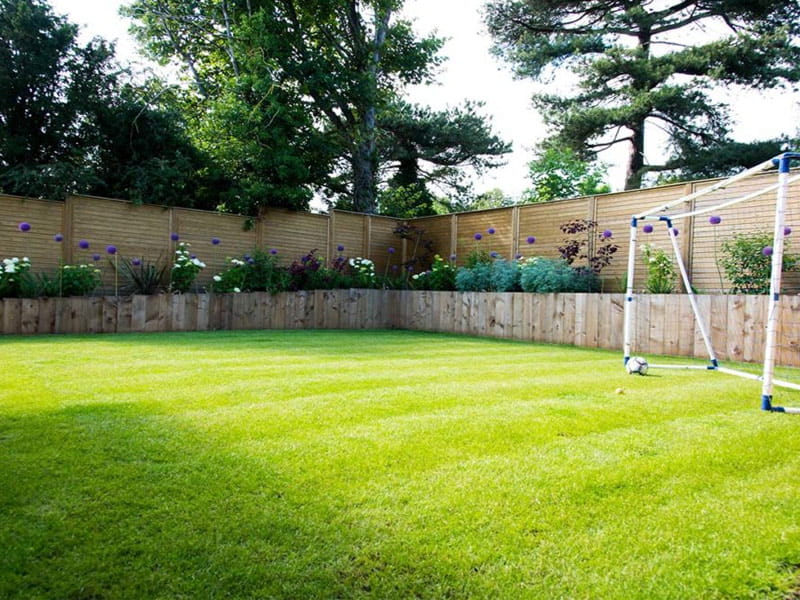 Originally, the clients wanted to use red cedar to fence the garden, but after doing some research and finding a substantial increase in price and difficulty sourcing the wood itself, Cowen Landscapes suggested they look at Jacksons Fencing for premium quality fencing instead. Our timber fencing is made from high quality softwood which is responsibly sourced from well managed forests. Cedar is also a type of softwood, however, it takes a lot longer to grow than the types of timber we use for our fence panels. Cedar is mainly grown in the United States and Canada and due to timber demand, prices have significantly increased over the last few years.
The main design element desired from the fence panels were horizontal lines, to add a contemporary touch to the garden, as well as drawing the eye across the beautiful borders.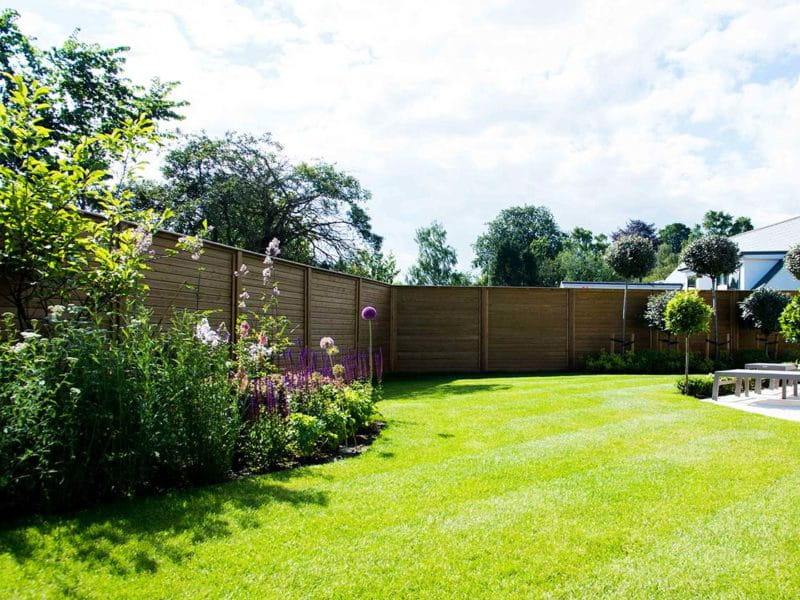 We have a number of horizontal fence panels in our range including, Venetian, Venetian Hit and Miss, and Horizontal Tongue and Groove. Due to privacy requirements, Horizontal Tongue and Groove Effect fence panels - a completely solid and therefore high privacy option - were chosen.
Installed with the rails on the outside, the garden benefitted from the full aesthetic value of the fence panel. We usually recommend rails face the inside of your property, but each owner can evaluate the security risks in the surrounding area.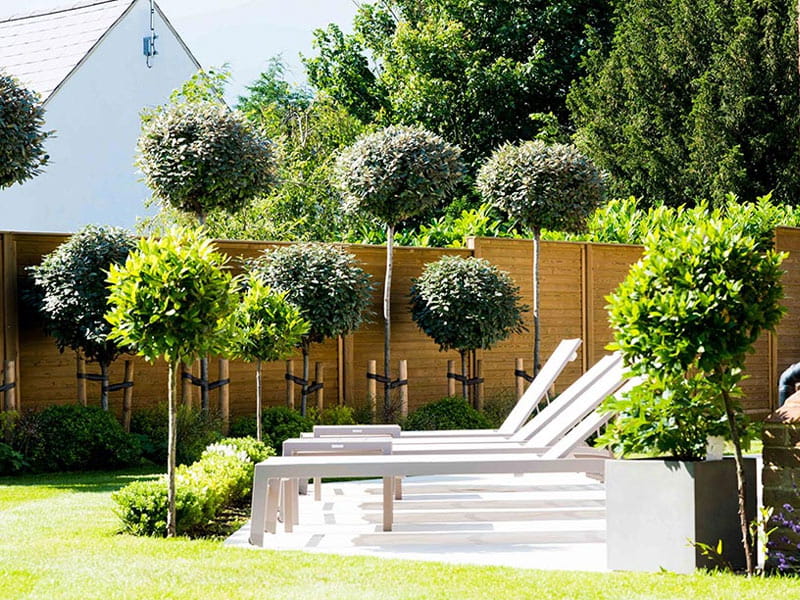 The garden wraps around the house, and not all sides needed to benefit from a high privacy fence panel. Instead to keep light flowing, add a line of sight onto the driveway, and add another design element, Venetian fence panels were installed onto one side of the garden. Both fence panels are made up of horizontal pales or boards which work well together.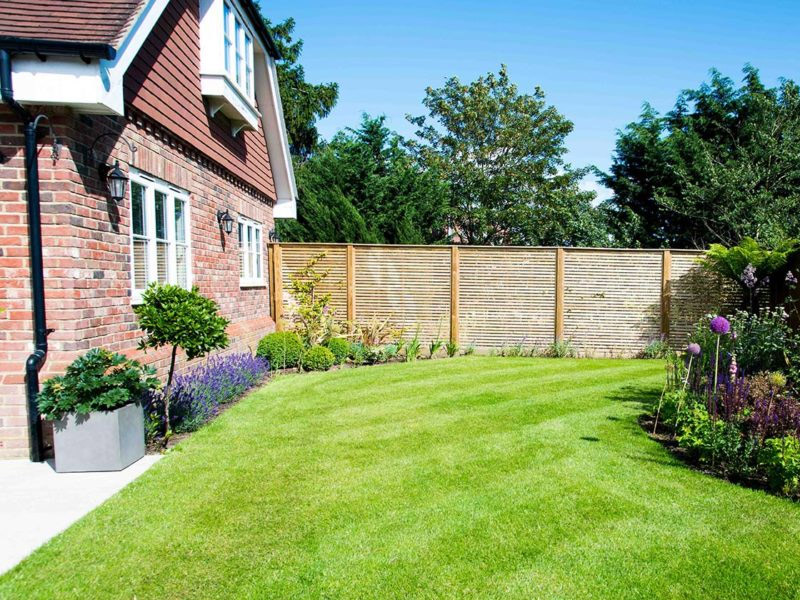 All our timber fencing benefits from a 25-year guarantee against rot and insect attack and will therefore stay looking good for years to come.
Kent Based Approved Installer
The garden was entered by Kent based Cowen Landscapes, Association of Professional Landscapes (APL) Awards for 2022, which had a record number of submissions, and made it into the finals, winning a silver award.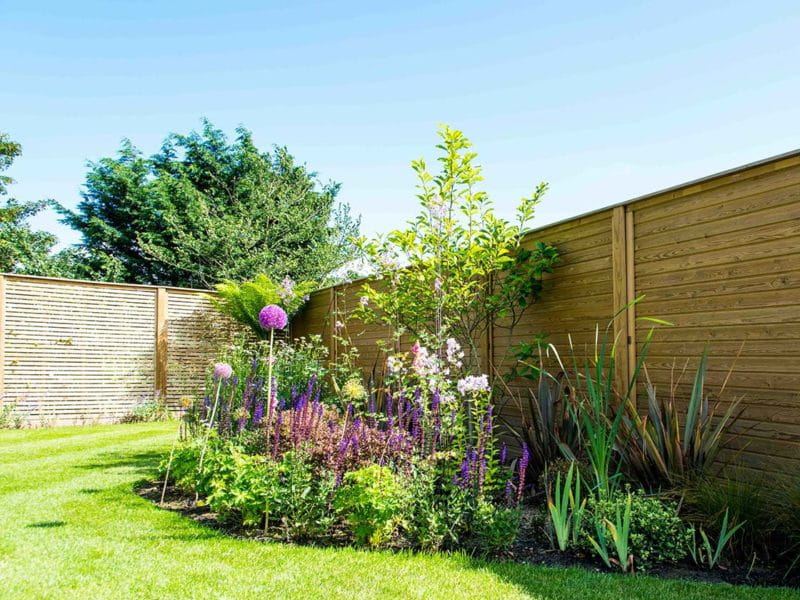 The clients were over the moon with the work that Approved Installer Cowen Landscapes carried out, expressing how ecstatic they were to finally have a garden they could use. They commented "they have created a stunning beautiful garden, totally transforming the mainly unusable space. The whole team are professional, organised, dedicated and courteous ".