18/12/2017 11:48 AM
Some customer project stories are just so good they have to be shared, like this one sent in by Earthstone Landscapes and also by the lady who commissioned the job, Maureen Vinall, who emailed us saying this:

Every month I read your page in The Index and Wealden Times magazines and I see you have regular features on gardens in which Jacksons products have been used. I have recently had my garden designed and landscaped by Alison Coxhead and Ian Day of Earthstone Landscapes.

For inspiration I asked them if they could use some of the products featured in Natural Reflections and Mediterranean Memories gardens, which I saw at your show gardens display area. I am sure, if you are interested, they will let you see photographs and details on the design and construction of my new garden. This would make a good project to feature on your page.

Kind regards,
Maureen Vinall
Faversham, Kent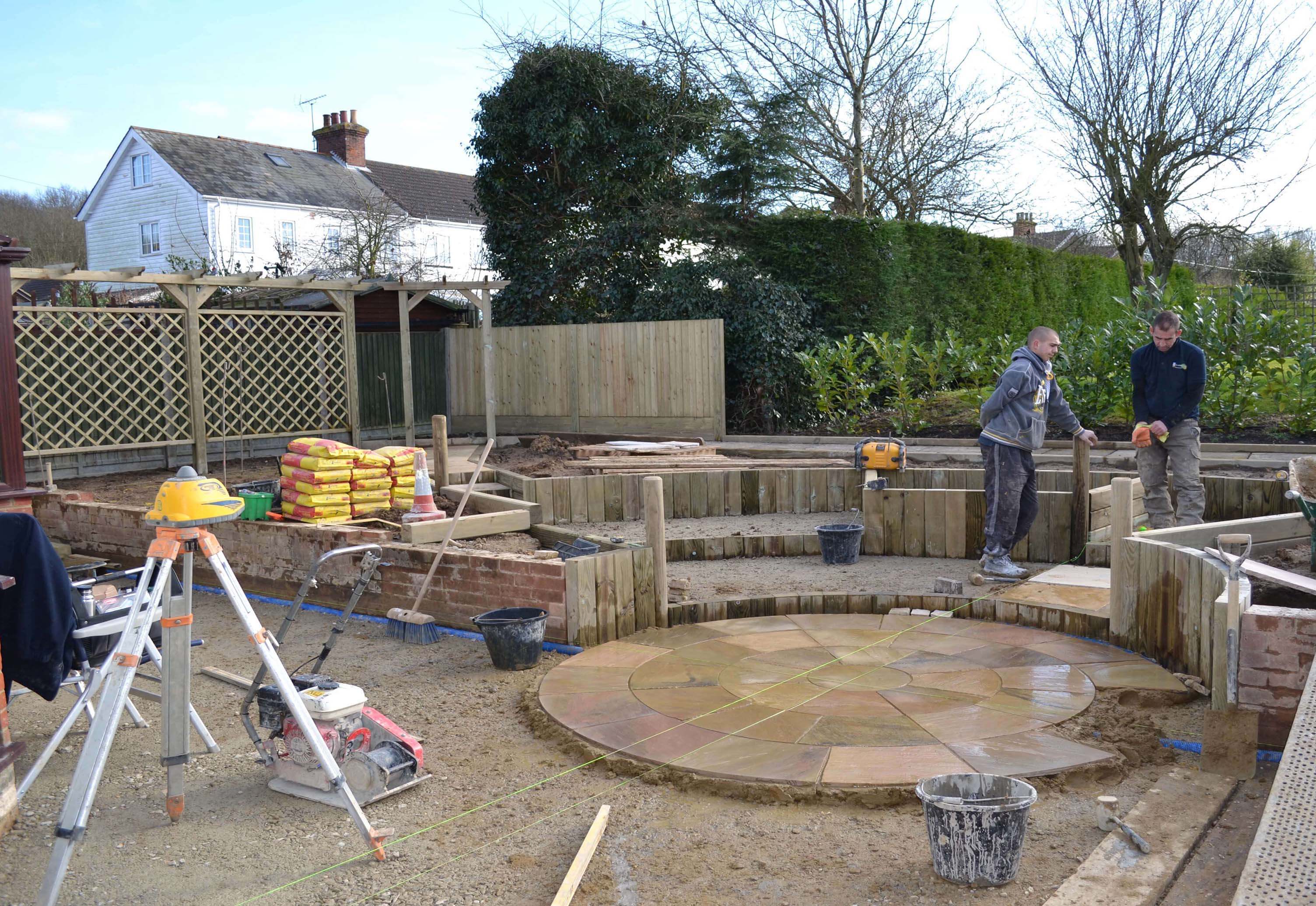 We had already had a few pictures sent to us by Alison and Ian of Earthstone who are old friends of Jacksons, and Ian Day was the contractor who built the Mediterranean Memories (winning show garden in 2014 by Sally Perigo - shown in the photo on the left) and Natural Reflections (winning show garden in 2012 by Alison Coxhead shown in the photo on the right) - They sent over some photos with news that Maureen has been inspired by the gardens she had seen here and wanted to include many of our products featured in the show gardens in her new garden project.
They were sure we'd be interested and they were absolutely right. It's not the first time the show gardens here at Jacksons have done exactly what they were intended to do, giving inspiration for their own garden projects by showing ours and other partner suppliers products in inspirational settings.
So here we have a description of the garden makeover with lots of lovely photos of a garden that Maureen is justifiably proud of, and quite rightly, so are Alison and Ian too.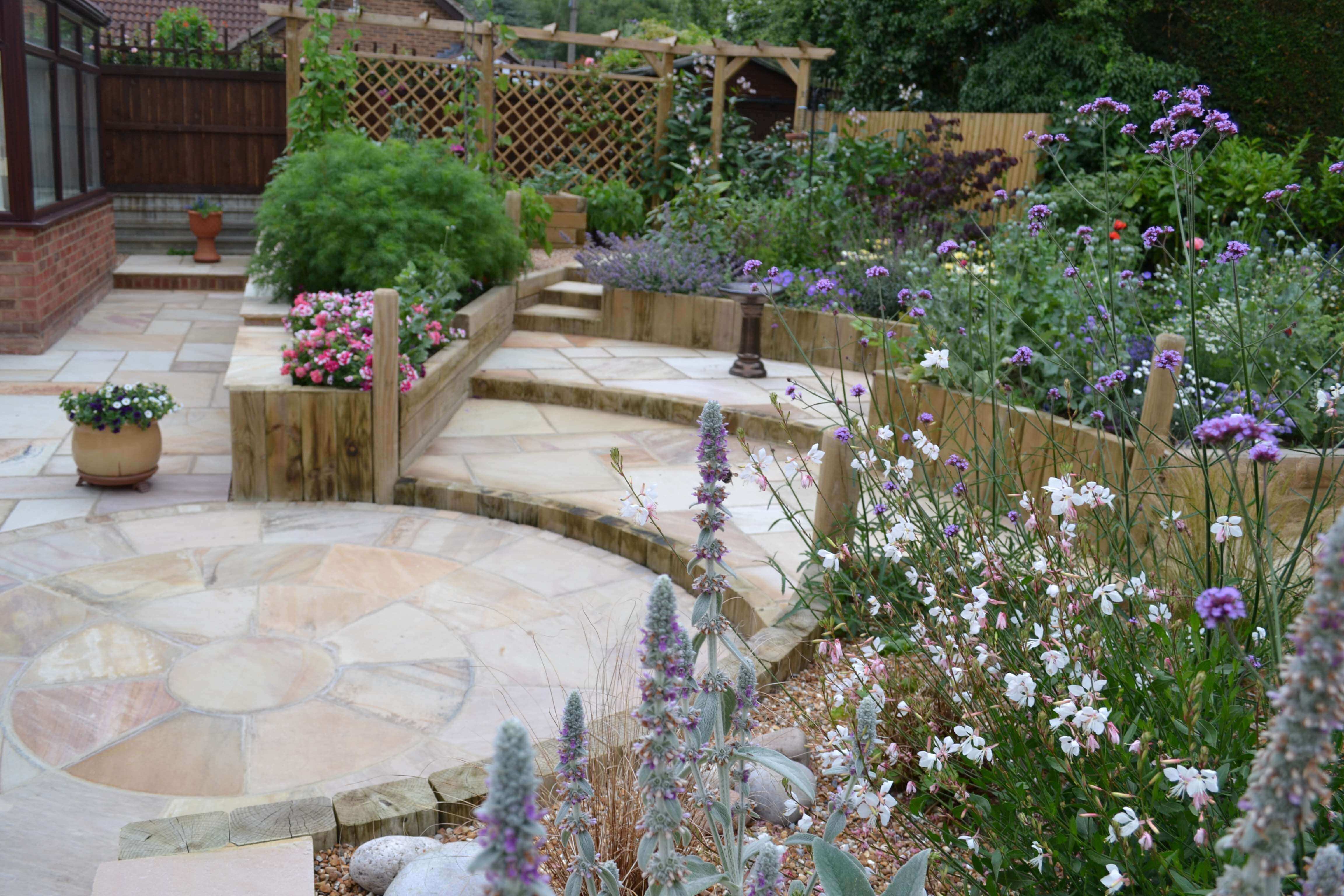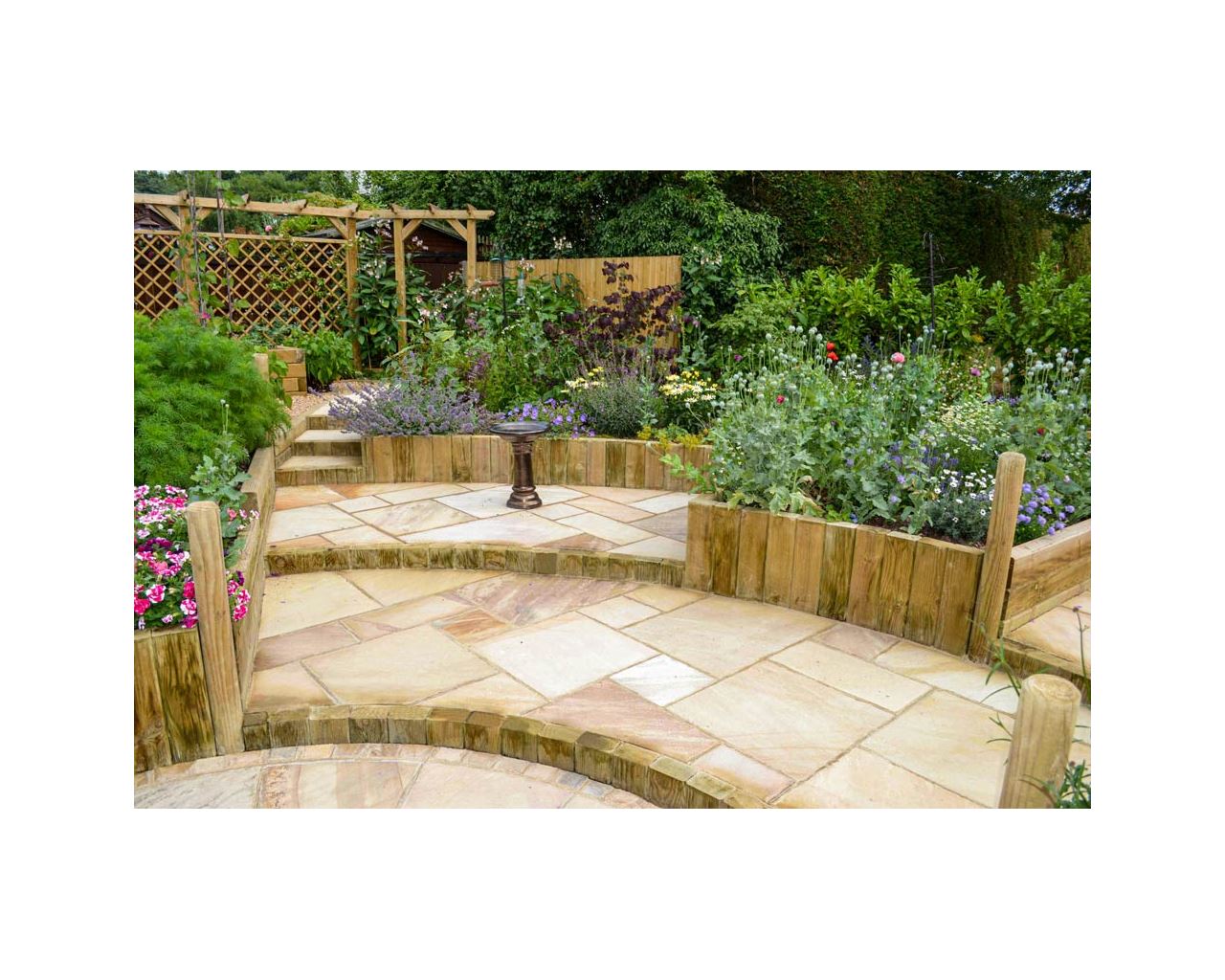 Maureen Vinall's garden, Jacksons products used: -
Single Pergola with Diamond Premier trellis , ungrooved Jakwall for vertical and horizontal retaining beds, Raised beds, Fence and Trellis panels.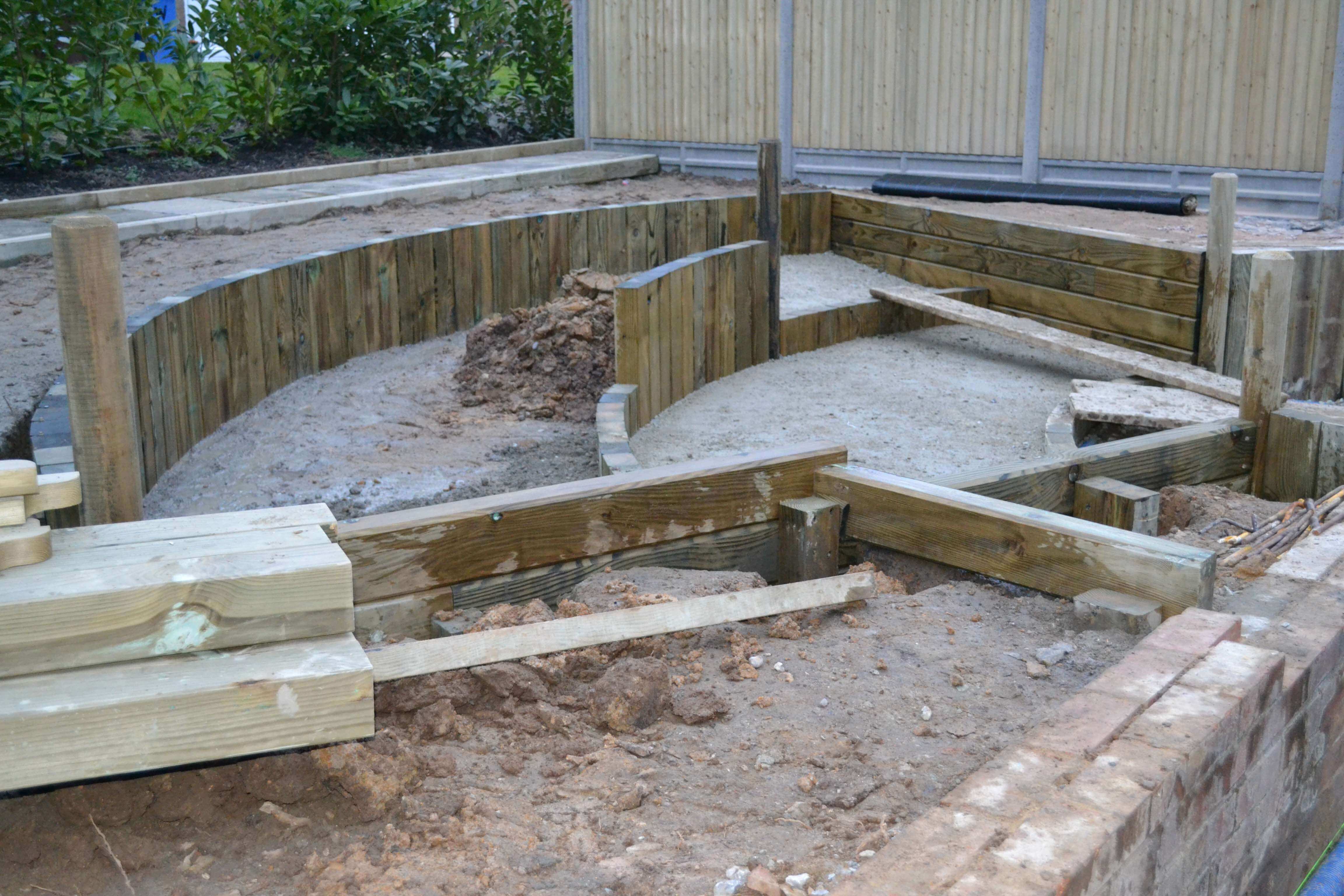 The client, Maureen Vinall, was inspired to re-landscape her garden following a visit to the Jacksons show gardens site at Stowting, Kent. She particularly liked the use of the chamfered Jakwall timber retaining wall in the Mediterranean memories garden. These were installed to retain soil and facilitate terracing (photo left).
She wanted a low maintenance garden that would be easy to manage in the years to come. Maureen is a very keen gardener and grows lots of vegetables and flowers from seed. This prompted use of Jacksons raised beds, which are ideal for creating areas dedicated to growing specific crops (photo right).
One of the aims of the redesign was to make what was essentially quite a small garden appear more spacious. This was achieved by terracing different levels within the garden using Jakwall to make flowerbeds that radiate outwards and step upwards from a central round paved area (photo left).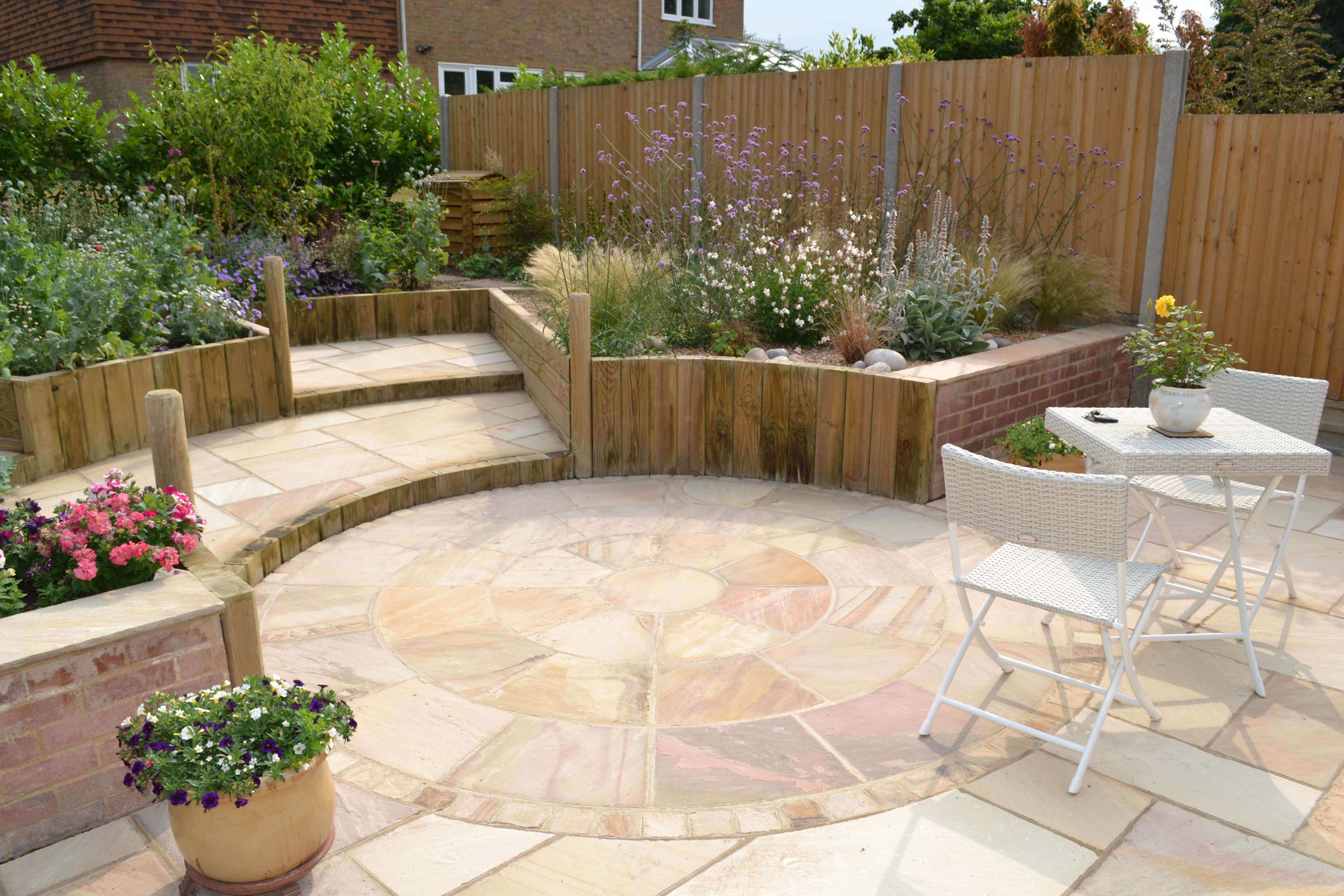 This centre or 'Heart' of the garden was created by using circular paving, so the retaining walls radiating out from this had to be curved, so In order to replicate these curves the Jakwall was installed vertically (photo right) creating the step risers throughout the garden.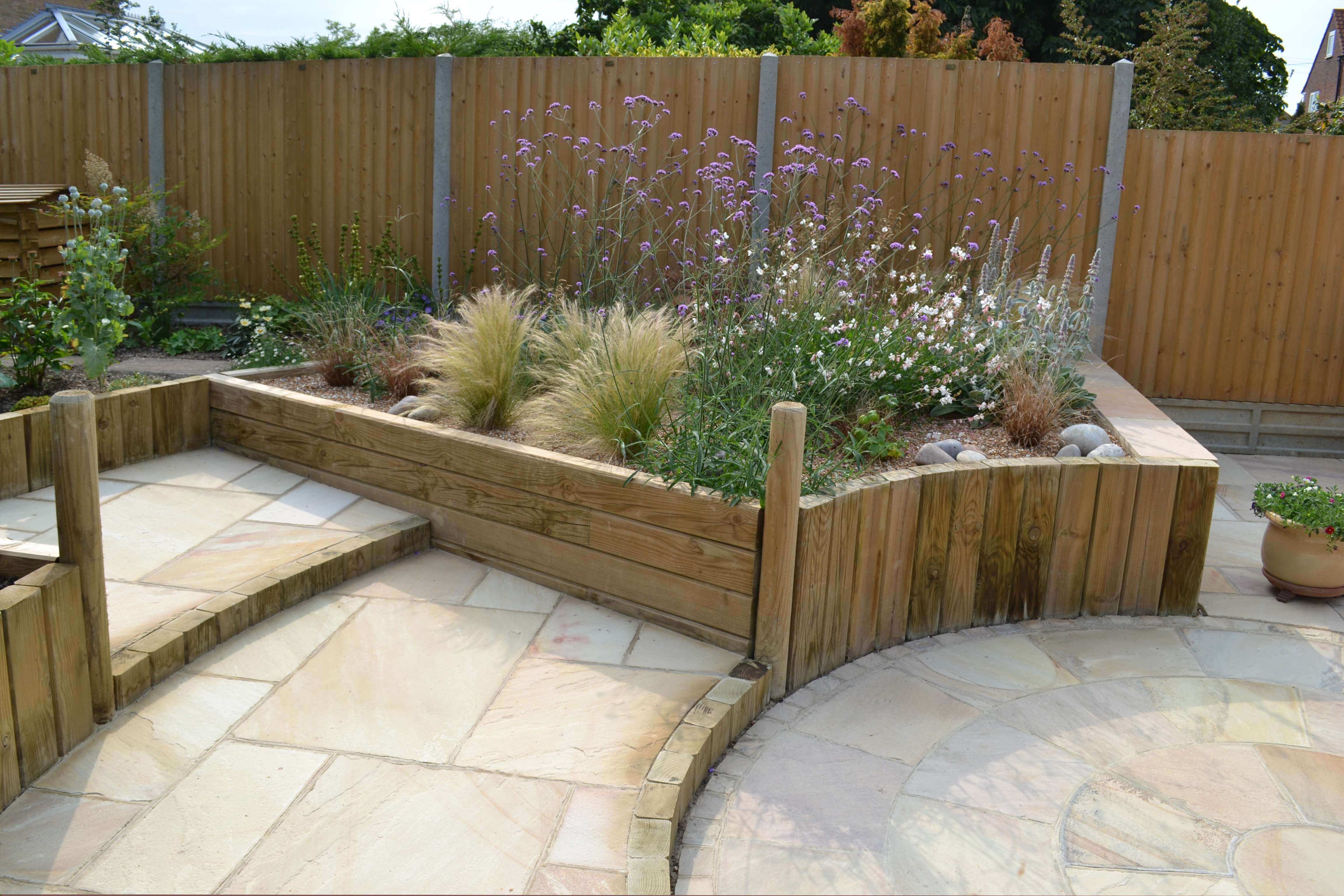 The lovely fossil mint sandstone paving adds to the light and airy feel of the garden, this is complimented by the planting, some of which has a Mediterranean feel with silvers, whites and mauves - Verbena bonariensis, Gaura, Stachys and ornamental grasses, not to mention some hot and spicy accents of colour amongst the other planted beds throughout the garden.
The pergolas and decorative trellis have a dual purpose - as a privacy screen and as a support for climbing vegetables and roses.
A single wooden pergola with Jacksons diamond Premier trellis with an adjacent simple arch, also made from Jacksons pergola system components, creates an attractive backdrop to the gravelled area, where more raised beds are home to yet more vegetable growing.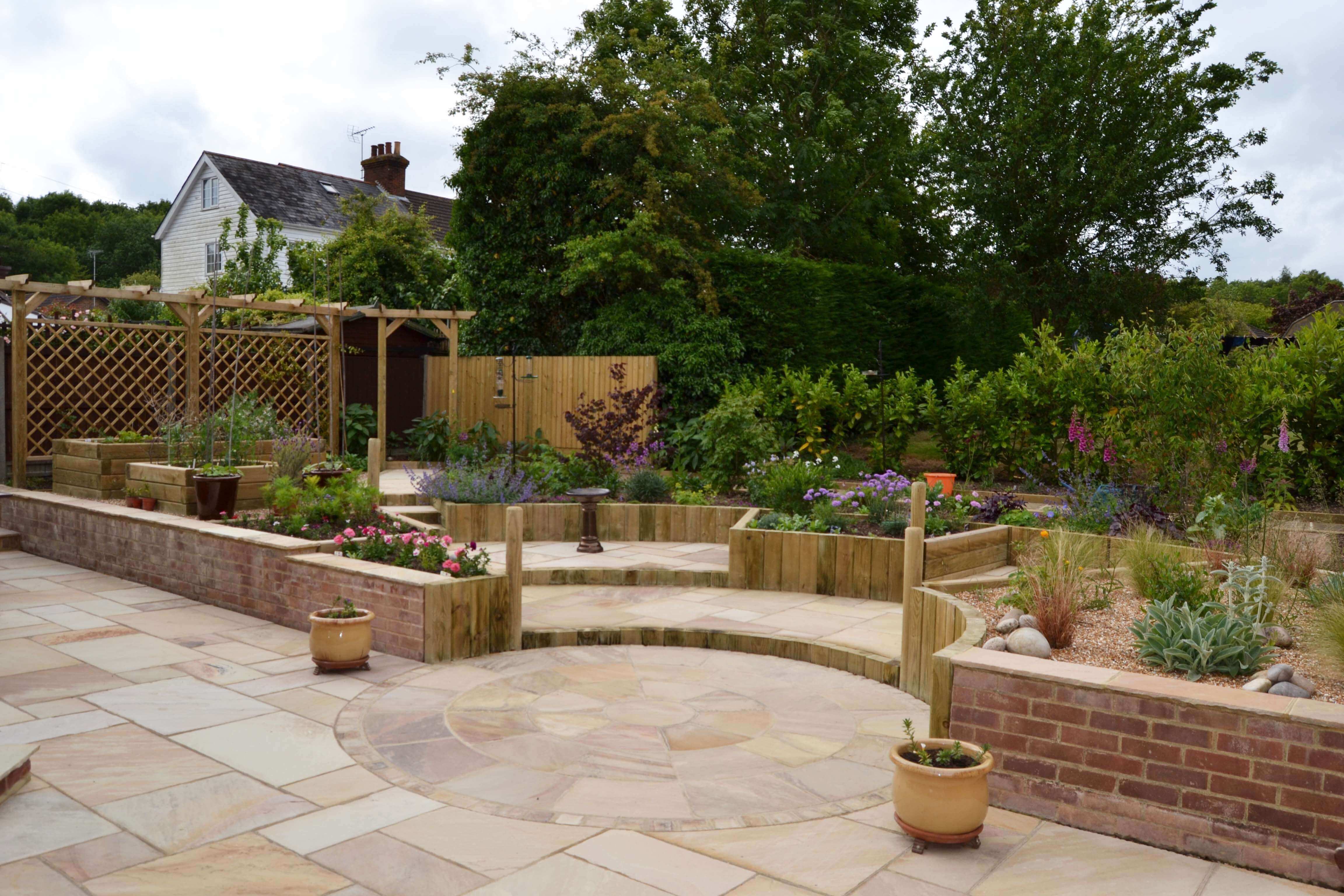 Improved access was achieved with the use of shallow steps throughout. Plus the use of chamfered bollards, which as well as being aesthetically pleasing provide a practical use as a steadying post when negotiating the steps.
The overall effect is of distinct areas within the garden that come together to create an attractive and cohesive whole that functions beautifully, and one that Maureen can look forward to evolving and maturing in the future.
Installed January – March 2015 by earthstonelandscapes.co.uk