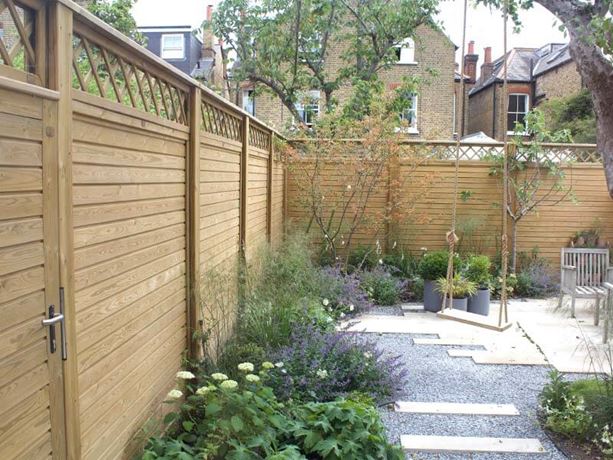 Horizontal Tongue and Groove Effect fence panels with Diamond Trellis topper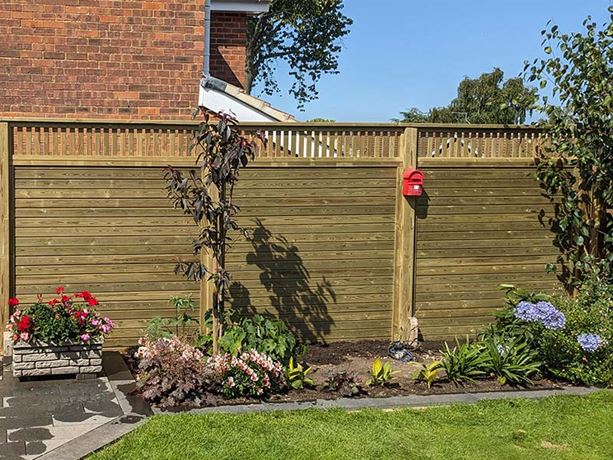 Horizontal Tongue And Groove Effect Fence Panels With Roman Topper Panel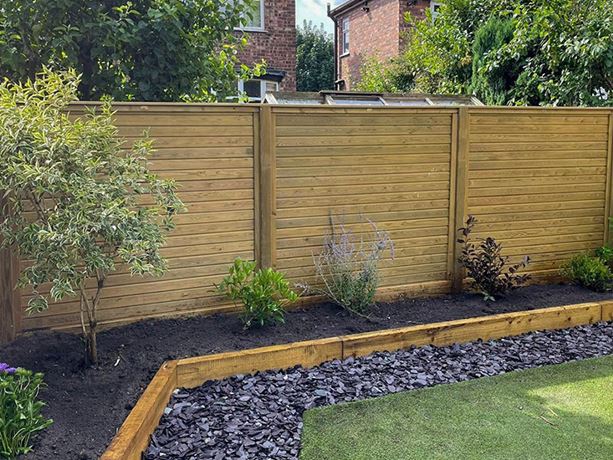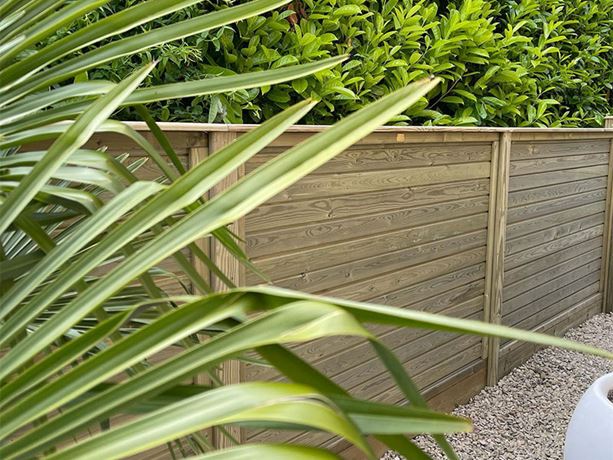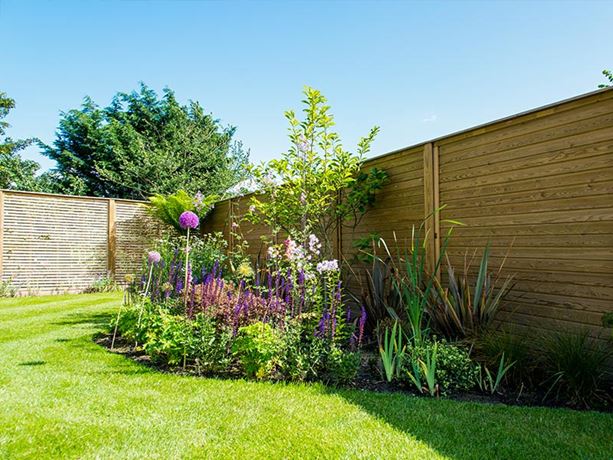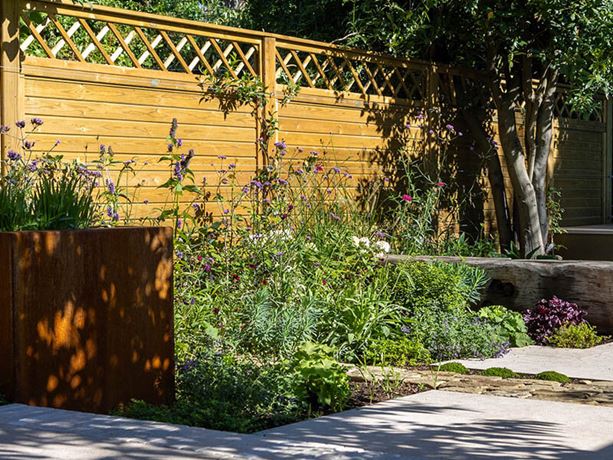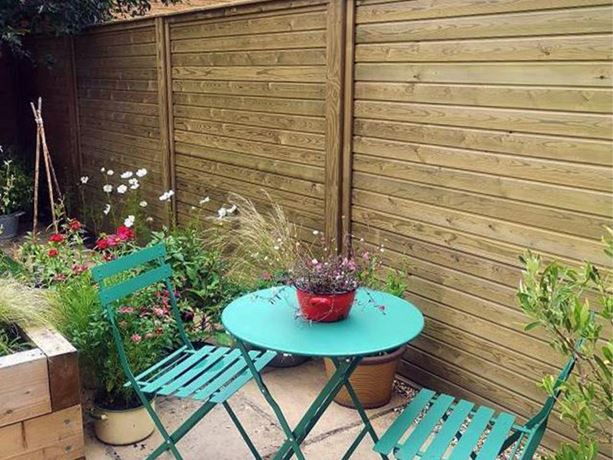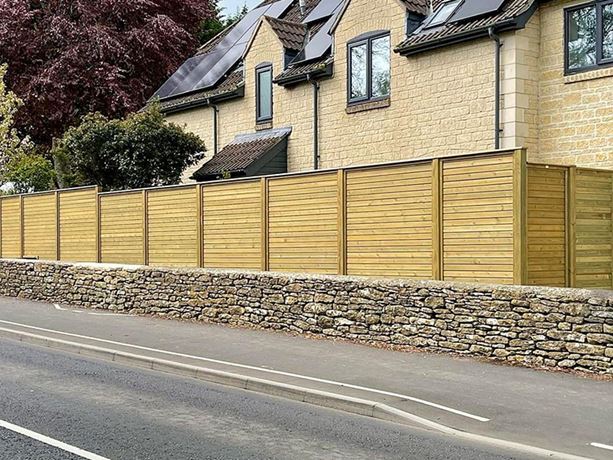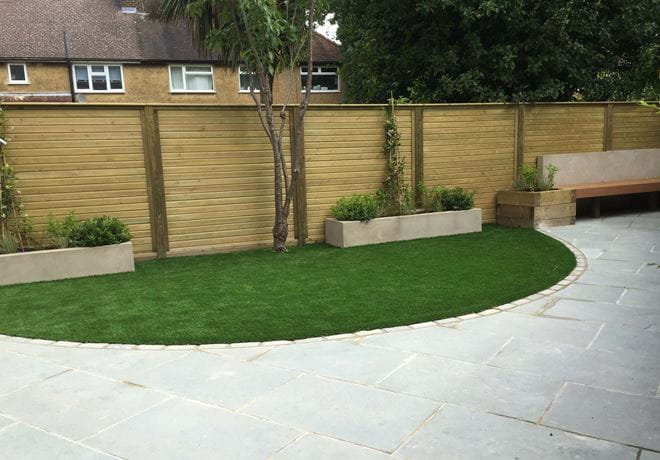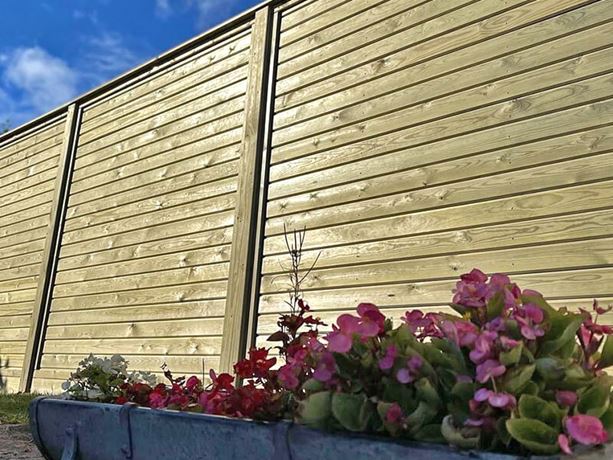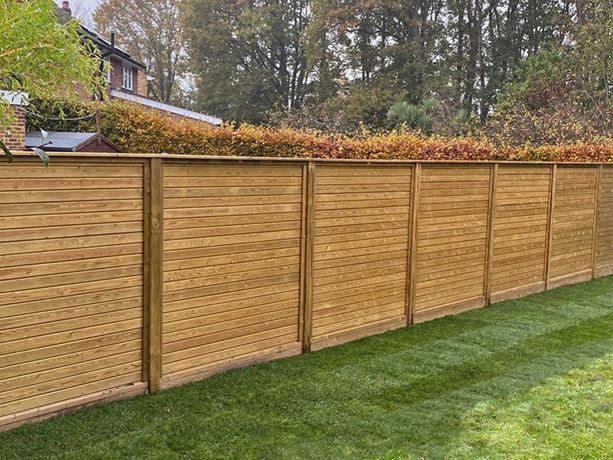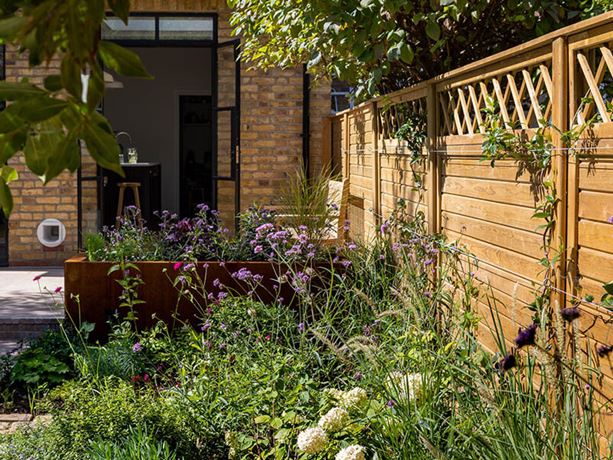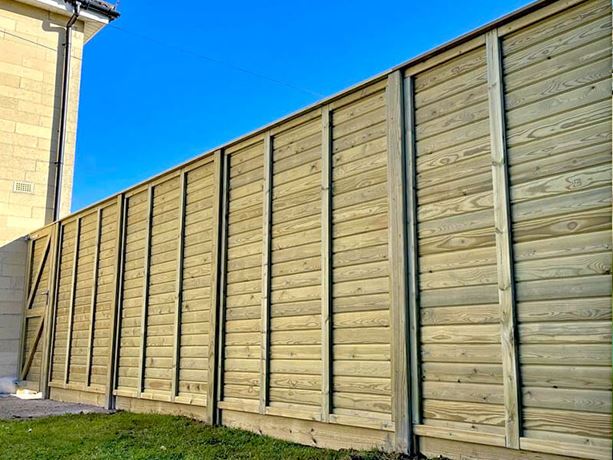 Horizontal Tongue And Groove Fence Panels
Horizontal Tongue & Groove Effect Fence Panels
All timber used throughout is superior quality Jakcure® treated softwood guaranteed for 25 years
Designed for use with our slotted Jakposts
Stainless steel fixings are used throughout for longer life
Morticed and tenoned frame for extra strength
Centre rail(s) for additional support
All timber is planed all round
Browse our Vertical Tongue & Groove Effect fence panels
Browse our many different fence panel options
Please note: capping not included as standard
Delivery
We aim to deliver most orders within 30 days
Most orders will be delivered within 7-10 days. Due to supply chain constraints and stock availability, this may be longer on some items. Please call for latest lead times. Delivery charges are calculated at checkout based on order value and postcode.
See the Jacksons Difference
Available heights
- All panels are 1.83m wide
0.91m
1.22m
1.52m
1.65m
1.83m
Horizontal Tongue and Groove Fence Panels
About the panel
Horizontal Tongue and Groove Effect fence panels have a contemporary luxury feel often chosen by garden designers. Made using Tongue and Groove style boards, this solid fence panel offers complete privacy.
Panel Specification
Our Horizontal Tongue and Groove Effect fence panels are made using our trademark vacuum pressure treated Jakcure® softwood timber, guaranteed for 25 years. Built using stainless steel fixings to ensure longevity, our fence panels are built to last.
Panels are 1830mm wide as standard
Top and bottom rails 70 x 51mm and sides 45 x 51mm
The centre of the panel is given additional support with one or two 70mm wide rails depending on the fence height.
Please Note: dimensions may increase by 6% when first delivered as our treatment process can temporarily cause the product to swell.
Fence Post Options – Standard Slotted Jakpost®, Heavy Duty Slotted Jakposts®, Mi-T® Metal Post​
​Gravel board options- Standard Gravel Board, Hedgehog Friendly Gravel Board
To meet the conditions of the 25 year guarantee, gravel boards are required where panels are in contact with the ground.
​Installation Advice - Installation Instructions ​
Reducing the width of the fence panel – All fence panel are 1.83m wide as standard, if you require a narrower fence panel, you can cut the fence panel down on site using our cut down kit. Please remember to treat any cut ends with Jakcure Cut Treatment, to ensure you adhere to our 25-year guarantee guidelines.
Recommended Fixings
We recommend using 6 screws per panel or 12 per panel if using capping rails plus an additional 4 per gravel board. 60mm, stainless steel, self-drilling countersunk screws are available in packs of 100 or 200 to secure panels to posts. Panels should be screwed to the posts to secure the fence run.
If you require a non standard width panel e.g. to complete your fence run you would need 5 ½ panels, add a cut down kit to your basket in order to be able to cut the panel to the required size. Alternatively, please give us a call to speak to us about ordering a bespoke panel.
Horizontal Tongue & Groove Effect Fence Panels are designed to be used with our slotted Jakposts.
Explore our wider range of Tongue & Groove Effect Panels below.
We also offer matching Horizontal Tongue & Groove garden gates which you can find here:
Horizontal Tongue & Groove Garden Gates
Capping Rails can be used on these panels. Use the button below to see our Capping Rail range.
Gravel boards need to be used when panels are in contact with the ground as part of the 25 year Jakcure® guarantee. More details can be found on our Jakcure T&C's page.
If you are installing the product yourself, view our instructions below:
Installing Panel Fencing Instructions Delivering an exceptional fence installation service
Approved Installers Network
Our network of Approved Installers are high skilled, carefully selected, reputable fence installers who we trust to install our high quality timber products to the highest installation standards. If you are interested in installation by one of our Approved Installers please click "Add installation to basket" below. We will be in touch shortly after processing your order to discuss installation.
Products in Horizontal Tongue And Groove Fence Panels
Buying multiple products?
Just update the quantities of each item you wish to buy and click 'Add all to basket' Buying multiple products?
Just update the quantities of each item you wish to buy and click 'Add all to basket'
Related Products
Find related products for your order. If you cannot find the item you are looking for, please do not hesitate to call our friendly sales team.
Customer Projects
We have a number of customer projects that include this product. Click on each of the projects for inspiration
Shopping with us
We offer the longest guarantee in the industry for manufactured timber products.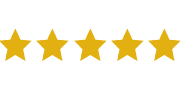 Established for over 75 years, our staff are ready to help with a wealth of knowledge and expertise
Find out more

Find out more about our market leading 25 year guarantees for service and timber treatment
Read more

Use our online tools to plan and price your Fencing, Gate or Decking project.
Get Started
Featherboard Fence Calculator
Enter the run length and height, to calculate the items required:
Calculate
You will need bays consisting of posts, pales, rails and Gravelboard(s).