05/08/2019 10:00 AM
How to build a rectangle raised bed with sleepers
These instructions demonstrate 3 sleepers being used for each layer of the raised bed (2 whole and 2 halves). You can change the sizes according to your own requirements.
1. Choose your size
For our example we are using sleepers in lengths of 2.4 metres, so these can be cut to the desired size for your raised bed. Remember to use Jakcure® End Grain Preservative for any cut ends. You will need four individual parts in total for a single layer. (2 whole sleepers and 2 halves in this example).
2. Position your sleepers
Lay the sleepers on a level section of ground in a rectangular shape, with the narrowest sides on the ground and facing upwards.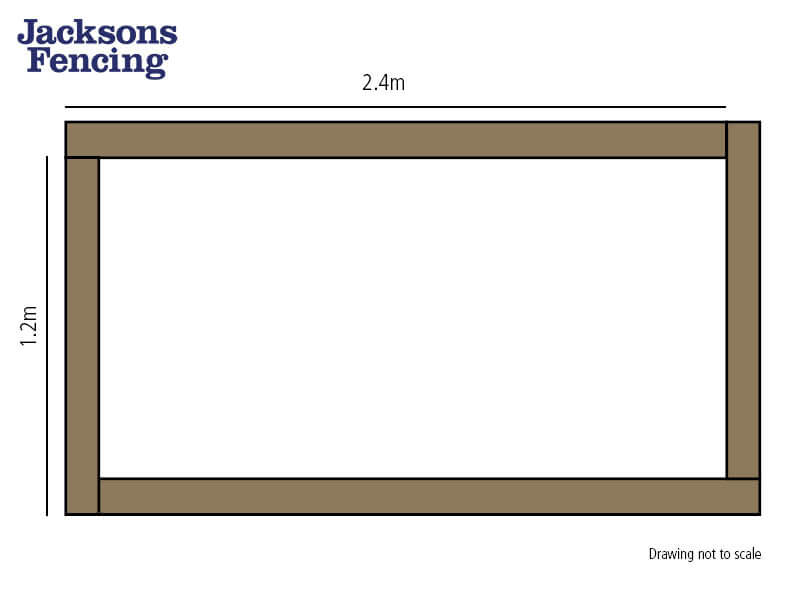 3. Attach sleepers together
Use two 150mm timber screws at each corner to attach the sleepers together. 50mm of the length of the screw needs to drill into the adjoining sleeper to create a solid connection. You will now have a box shape that creates a neat border. You can leave it like this however it will only be 7.87 inches high from the ground so for additional height and interest we recommend adding another layer. This would then make the total depth approximately 400mm (15.75 inches).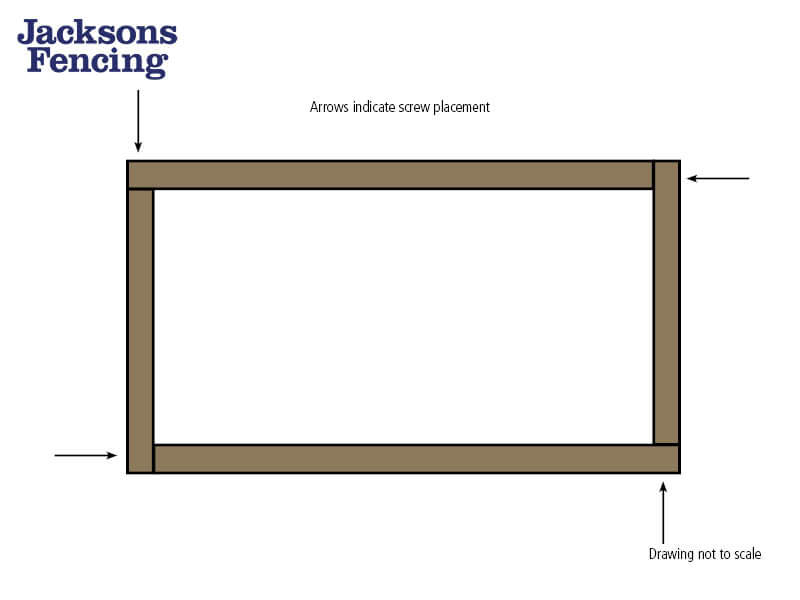 4. Add another layer
We recommend individually laying each of the sleepers on top of the box you have created, overlapping the joins as if you are bricklaying. Create one corner then screw these together so they are affixed before adding the remaining sleepers to create the same rectangular shape.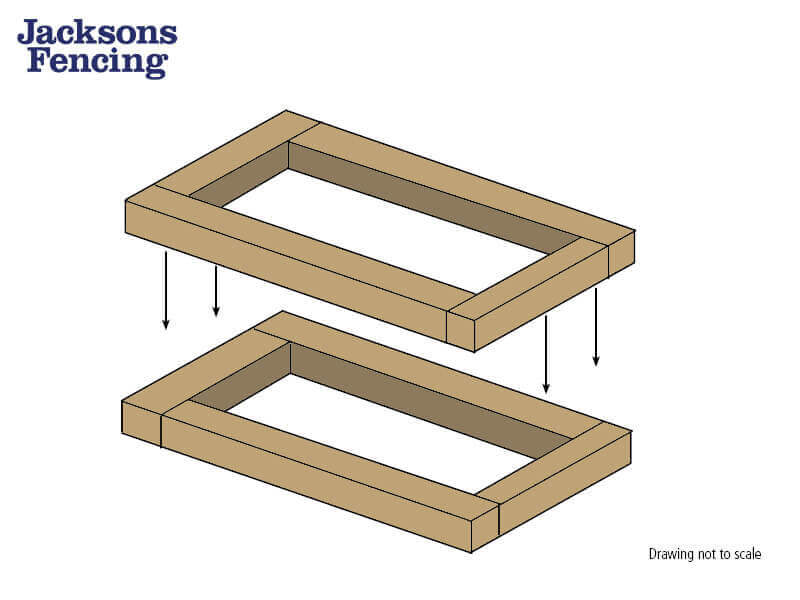 5. Attach layers together
Attach the layers together using 250mm long timber screws, drilling down from the top to attach the two layers to each other. Alternatively, you could use brackets on the inside to connect the two layers.
6. Repeat until you have desired height
Repeat steps 4 & 5, remembering to overlap the sleepers until you have the desired height, although anything over 6 inches is sufficient for a raised bed.
Now you have your raised bed, you can fill it with the soil of your choice and start planting. You may want to add bricks or stones at the bottom before the soil to increase drainage. Our timber sleepers are made from a specific class of timber for use in ground and water contact, so lining the beds is not essential. If you do decide to line them, choose a material that is porous to allow excess water to escape, and also access for helpful insects and worms.
Product breakdown for an 8 x 4 foot raised bed:
For more information on how to use sleepers to build a retaining wall, please follow our instructions.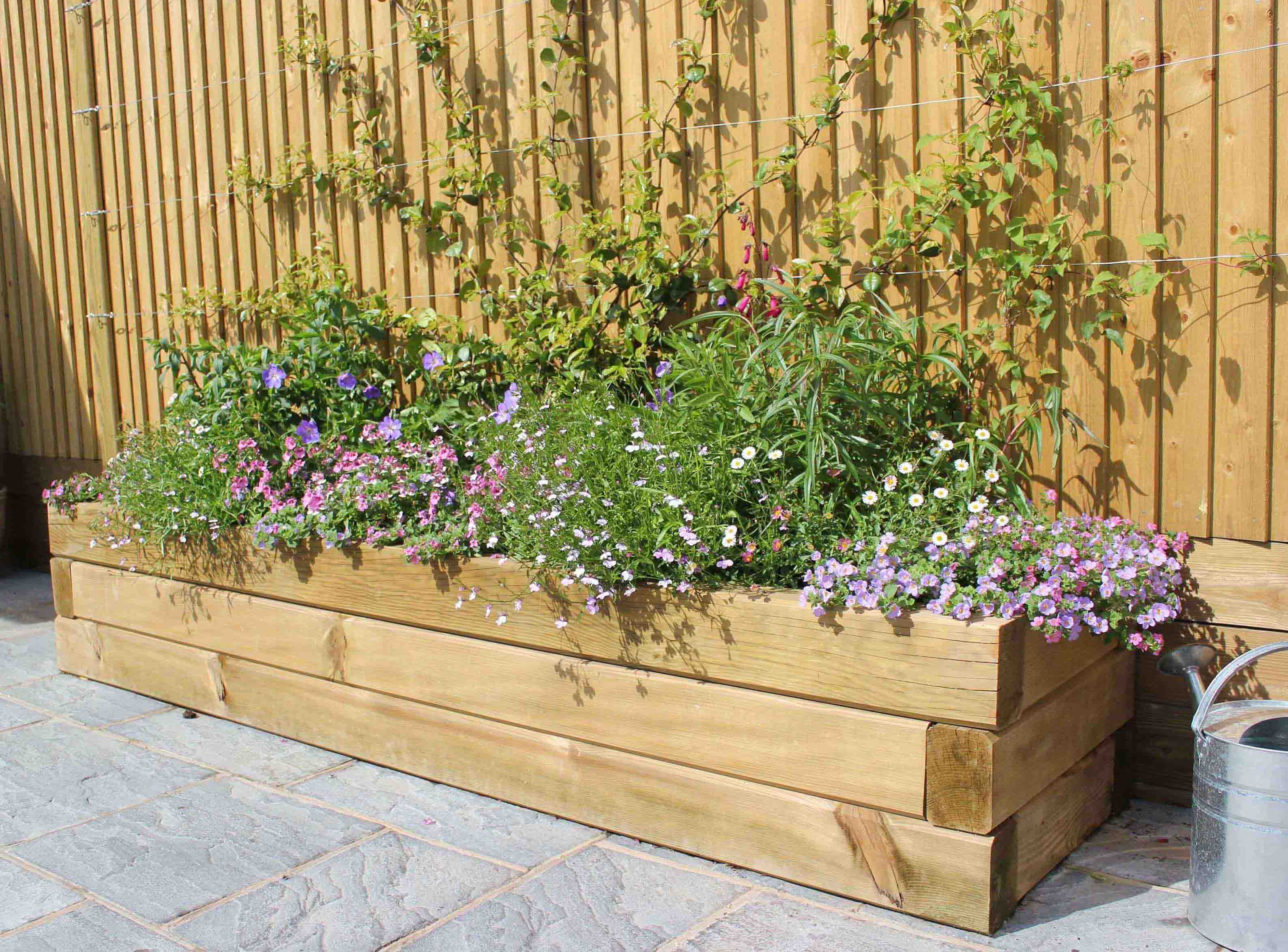 (Items in photo include: Featherboard fence panels, Gravel boards and Timber Sleepers)
There are many benefits to introducing raised beds into your garden, which include assisting growing conditions via different soil types to grow a wide range of plants, fruit and vegetables, whilst also improving access and drainage. The benefits of raised beds are well understood by many people, but they are often unsure where to start with how to build raised beds which are affordable, practical, and long-lasting.
There are various made to measure raised beds or fully constructed planters available to buy, and while these are a quick fix, they usually end up as the more expensive choice when you want specific sizes, and it is so simple to build your own raised beds with sleepers.
We explain how to build an 8 x 4 foot raised bed with sleepers in your own garden, with a solution that is guaranteed to last.
Choose the right timber sleepers for your raised garden bed
There are many types of sleeper on the market that all have their own characteristics. Some are rustic with rough chipped edges aged by the weather while other are planed with a smooth finish specifically made for residential use. Reclaimed railway sleepers are a common choice – they are often very dark in colour, and have a weathered appearance. They can be very heavy and hard to handle, and potentially contain some unpleasant substances.
For this example we would recommend using new timber sleepers that made from the same timber and treated using the same process as our other garden products, so they blend well into the garden design when paired with fence panels, pergolas or decking, and are covered by our unique 25 year guarantee. Jakwall® landscape timbers are another option, the image below shows Ungrooved Jakwall.