12/05/2023 02:17 PM
Make the best first impression of your home with the perfect driveway gate. Here we offer the best driveway gate ideas to help you make the right choice for your home.
 1. Combine metal and timber to create a unique driveway gate
While timber gates and steel gates are popular and available from Jacksons, you don't have to choose either a timber or metal gate; you can combine the two materials. Choosing a gate that combines both timber and metal can give you the desired aesthetic of both. Timber offers a softer, natural appearance that blends into most environments, whereas steel elements within a timber gate contrast the wood to offer striking designs.
Railing panels are a great addition for creating a unique driveway gate, and they offer some visibility to see who's looking into your property. We offer two styles of railing panel gates in different shapes. Our original Railing Panel Courtyard gate takes our Hythe gate design and adds a steel railing inset.
Our Cathedral Courtyard gate combines both timber and metal to create an elegant and distinct concave design. The lower portion of the gate is vertical tongue and groove effect timber panelling, with a powder coated black metal concave railing arch forming the top portion of the gate.
2. Ornate driveway gate ideas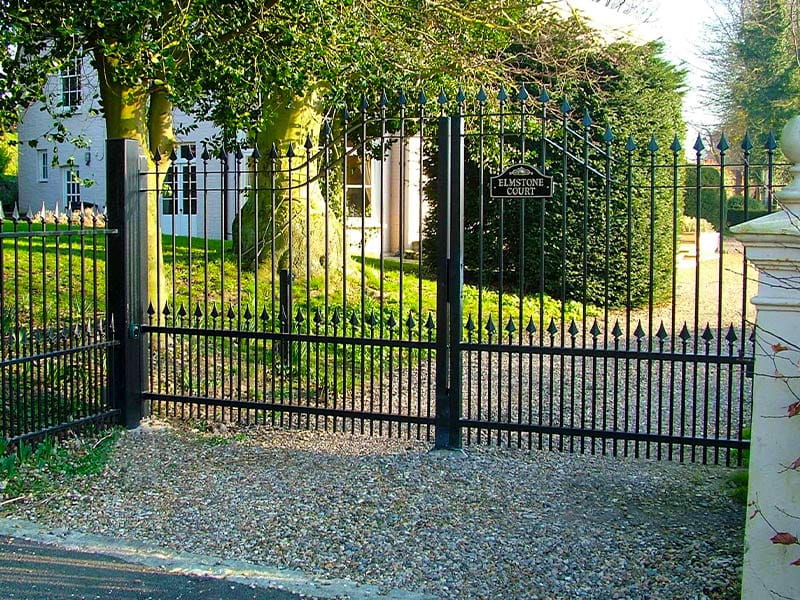 Traditional ornate designs will make any entrance stand out. They are most popular with more traditional style homes as they are in keeping with the era in which the homes were built. Their appealing elegant design is extremely eye catching, and while they do not provide privacy like other driveway gate designs, they do provide ample amounts of security.
Expert Advice
'While an entrance gate's primary purpose is to protect your property and vehicles, it also serves a critical part in boosting curb appeal, setting the tone for the rest of your home, and potentially adding value to your property,' - Leigh Barnes, Jacksons Fencing.
3. Pedestrian access – split driveway gates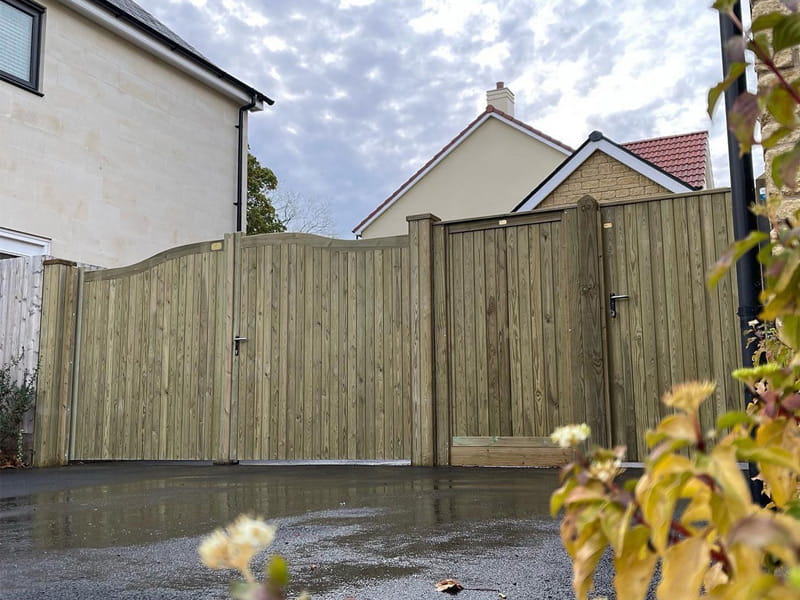 Often an oversight when it comes to gating an entrance way, but some visitors may arrive on foot and opening a large gate can be time consuming and inconvenient. Installing a single leaf or much smaller version of the vehicular gate, will offer a quick and effortless way for people on foot to enter the property.
4. Custom driveway gate designs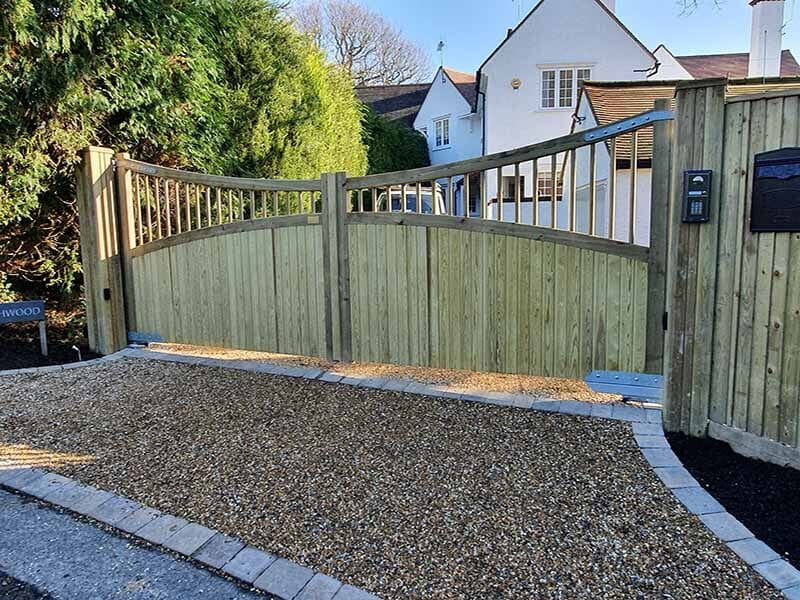 Custom Cathedral Courtyard Gate with timber railings
For some, the marriage between timber and steel is not the preferred aesthetic. Gate manufacturers will have standard designs but should also have options to customise designs to suit you. Many of our timber gates with metal railings can be customised to use timber spindles instead. Railings can be made with timber instead of metal to offer a completely uniform appearance.
5. Matching gates and fencing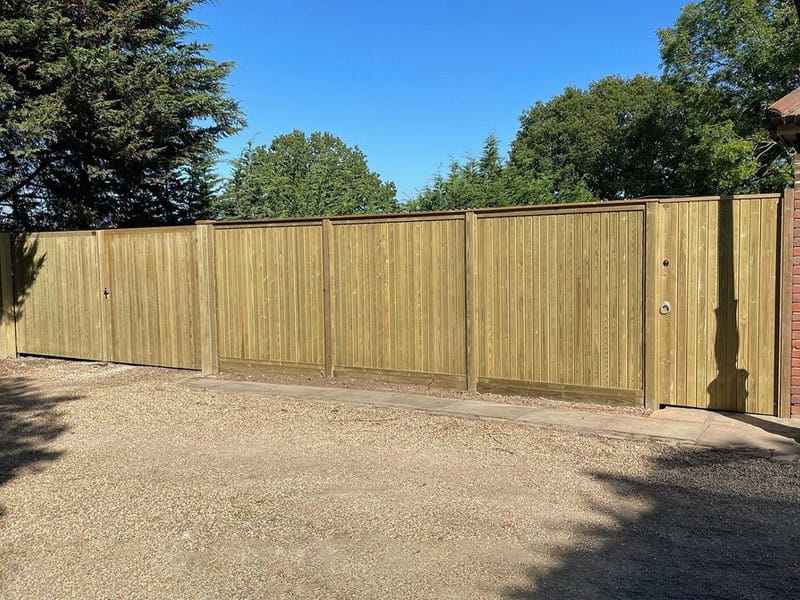 Rye Courtyard Gate with Vertical Tongue and Groove fence panels and Brook garden gate.
A cohesive boundary where the fencing and gates match, are often the ones which stand out the best. A seamless flow between fencing and gates helps to create a uniform boundary.
Not only will it look good, but keeping the same design will also help to eliminate any weaknesses and potential access routes for intruders.
The majority of our driveway gates use a vertical tongue and groove effect design. Using vertical tongue and groove effect fence panels for your front garden fence will ensure that the boundary matches perfectly.
6. Upgrade your home's security by automating your driveway gate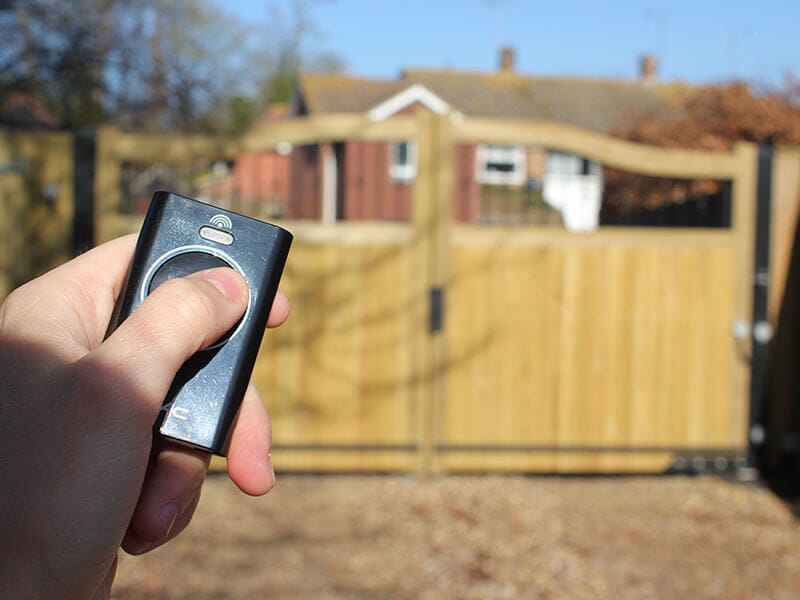 Automated Railing Panel Courtyard Gate
Automating your driveway gate increases security and convenience by controlling access. Most driveway gates can be automated to either slide or swing open in the chosen direction. While the gate itself will provide a physical obstacle that discourages intruders, it will also make trying to access the property harder. If you also have a pedestrian gate, both or just one gate could be automated to allow convenient access via a remote control and intercom whether on foot or by car.
If you are wondering what to consider when choosing an automated gate, we have some helpful blogs to read Choosing and automatic gate and How much do electric gates cost?
7. Enhance your curb appeal with a driveway gate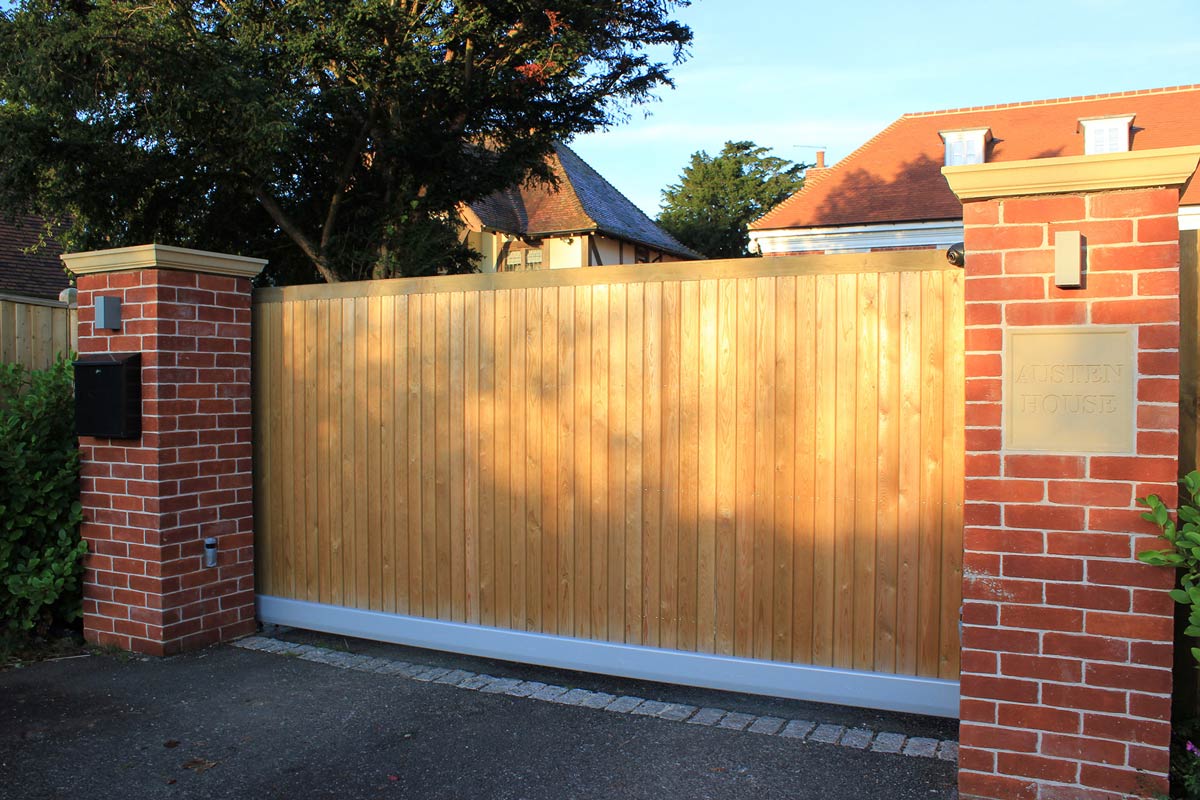 Timber driveway gates can complement a neutral stone or brick. Walls can be harsh and intimidating so adding a natural timber element can soften the look of an entrance way.
Brick walls are great for privacy so adding a solid timber driveway gate will help to keep privacy levels high.
Adding a gate into existing walls or fencing will create a seamless initial aesthetic, which commands attention, increases security, and enhances the visual appeal of your home.
8. Choose a gate that suits your local area
You want your driveway gate to stand out but not for the wrong reasons. Matching the local aesthetic is important and will ensure your home does not look out of place.
In rural areas you will often see more traditional style gates, like universal or raised helve entrance gates. Privacy is often not a concern, so the gate is made up of substantial timber bars and seen as a demarcation tool.
What is the best material for a driveway gate?
When it comes to driveway gate ideas, the type of material is an important factor to consider
Wood is by far the most versatile with the most options for customisations and designs. It can be heavier than other material types, but this can be offset by choosing designs with internal steel frames. All of Jacksons Fencing's timber courtyard driveway gates feature an internal galvanised steel frame to prevent twisting and increase security.
Steel is an exceptionally durable and long-lasting option especially when using galvanised steel, which will outlast most cheaper alternatives or alloys. The option to powder coat in a colour of your choice to suit a home's aesthetic or personal style is often favoured.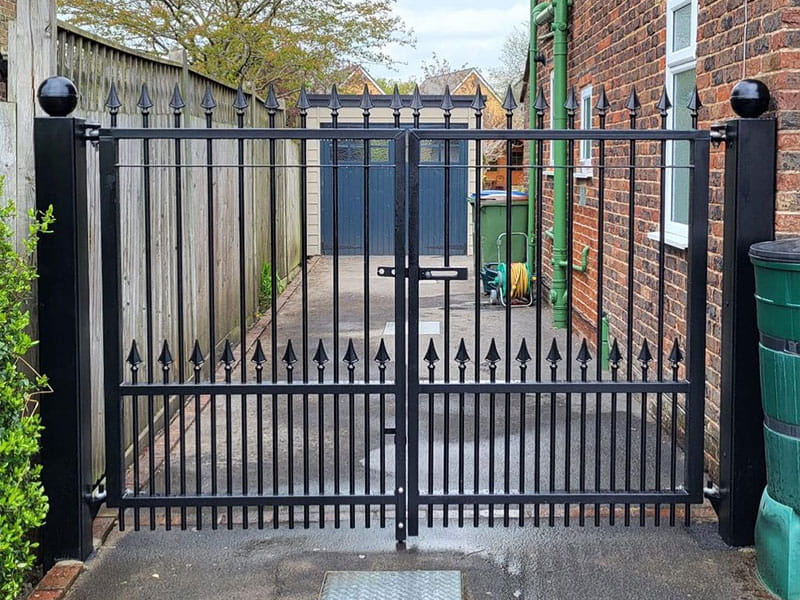 Wrought iron driveway gates are another type of metal gate which require a lot more maintenance than steel and are usually specifically sought after as lower quality cheap versions and imitations are widespread. Our designs are made to mimic the traditional style while updating it to a modern, tubular format to increase strength and durability.
Composite is a relatively new material so information on lifespans is often not substantiated. Often more lightweight than wood or steel alternatives, this can impact the sturdiness and durability. Composite gates will often have steel frames to support the gate. For increased security and longevity ensure there it has a metal frame before buying.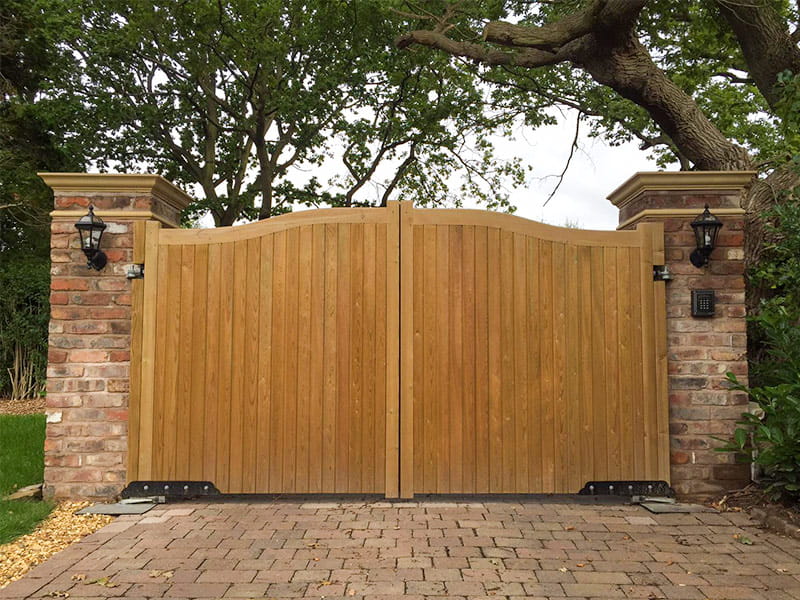 How do you support a driveway gate?
Driveway gates can be very heavy and therefore need adequate support to ensure longevity. With all our gates we recommend you use our galvanised steel gate posts. If you are considering installing onto your own posts or brick piers, we recommend seeking advice from a qualified engineer as to the suitability as these gates are very heavy.
Are driveway gates a good idea?
Yes, not only for increased security but also to ensure your house oozes kerb appeal. Choosing a solid driveway gate will also increase the privacy into your home which is also a massive bonus. If you have young children or pets, adding a gate to your driveway keeps them from running free and controls access into and out of the property, giving you more peace of mind.