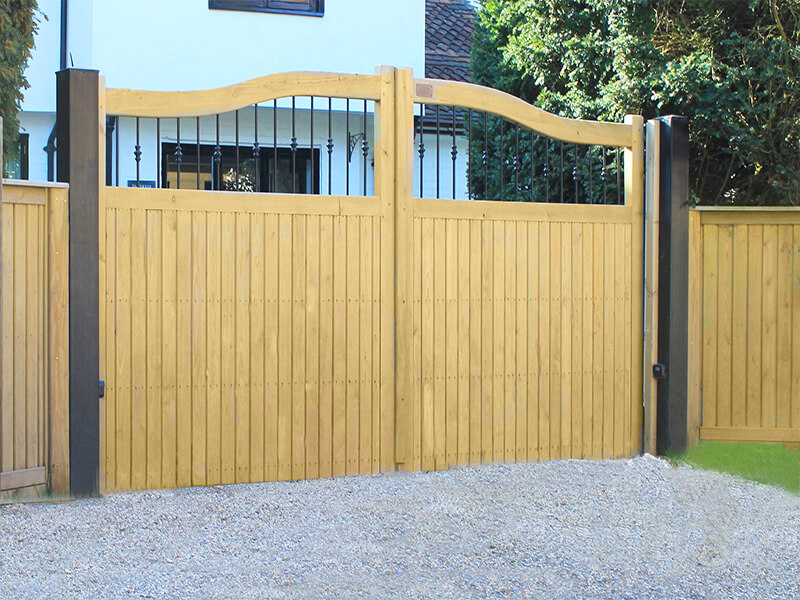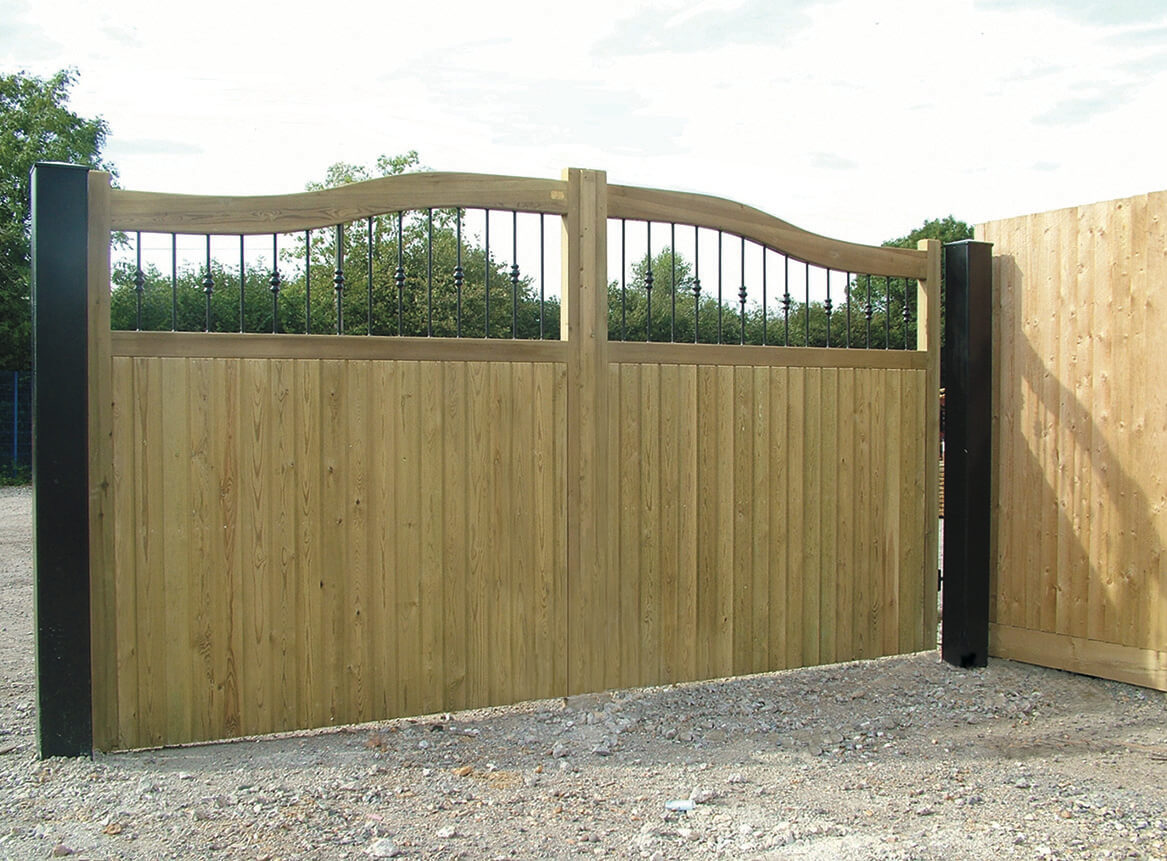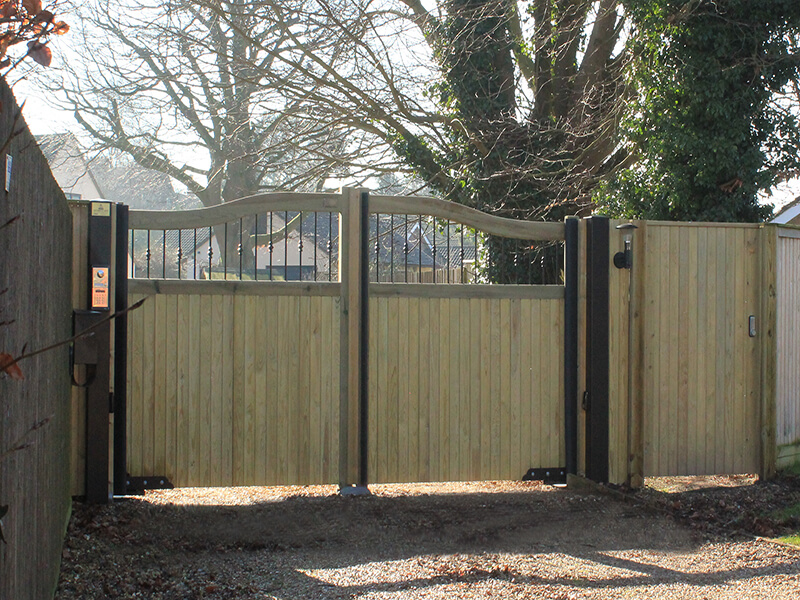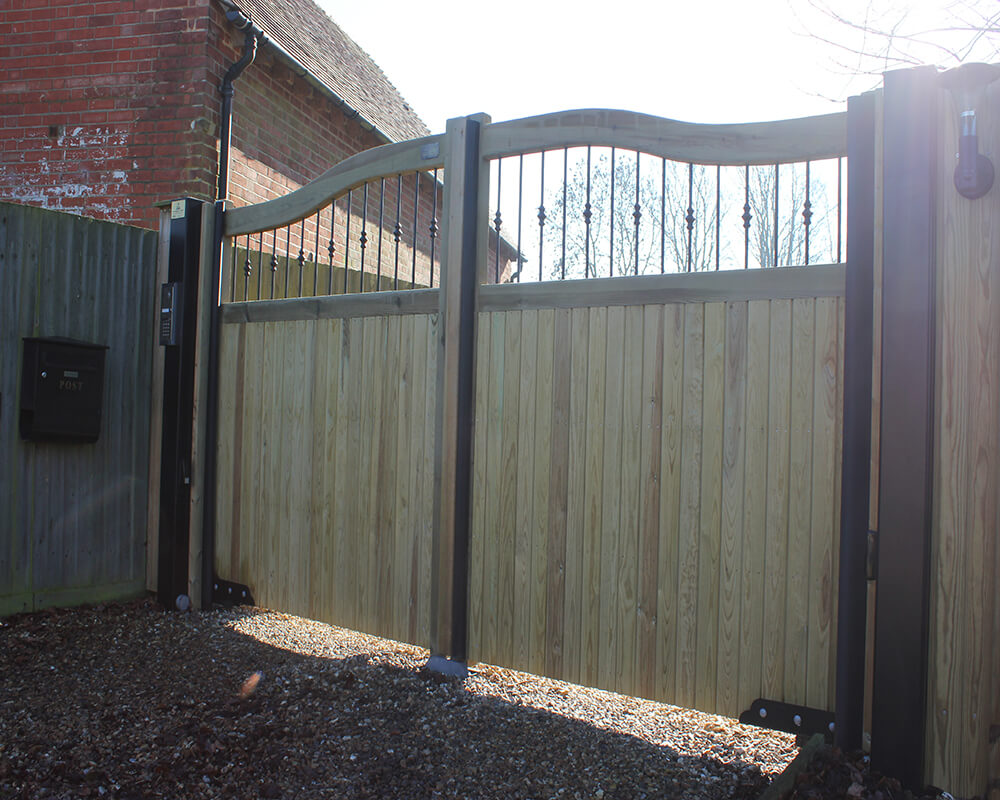 Railing Panel Courtyard Driveway Gates
Railing Panel Courtyard Gates
Combining timber and metal to a positive effect
Equally attractive from both sides
Steel frame gives maximum stability
All timber Jakcure® pressure treated
Matching tongue and groove effect panels and works with railing topper panels
Steel hot dipped with Jacksons 25 year guarantee
Made to order
Please submit an enquiry or call us today to discuss your requirements
Railing panel Gate Automation
Easy access at the click of a button
If you'd like to find out more about automating our Railing Panel courtyard gates, please call us or read more.
Read More
Enquire Now
The Railing Panel Gate - an elegant combination of timber and metal
Our Railing Panel courtyard gates are on of our most popular courtyard gates and the distinctive design takes our courtyard gates to a new dimension with the inclusion of decorative steel inserts.
The railing panel gates were inspired by our railing topper panels. They also combine our expertise in working with metal and wood to great effect. As you can see these gates have an attractive panel inset in the top third of the gate each gate leaf, in this case with optional galvanised and polyester powder coated posts.
Like all the courtyard gates in Jacksons range the design incorporates a galvanised steel frame for extra strength and durability. This eliminates twisting and warping which is common in other panelled gate designs that don't use this method of strengthening. The galvanised steel frame is clad with Jakcure treated softwood timber that compliments many of Jacksons timber fencing panels and matches exactly their Tongue and Groove effect panels.
Note:
For domestic 'supply only' courtyard gates it is essential to purchase our gate posts as these are designed to provide the strength required for a trouble-free service life.
If you are considering installing onto your own posts or into brick piers we recommend seeking advice from a qualified engineer as to the suitability as these gates are very heavy. Consideration should be given to weight and wind loading.
Wooden casing can be supplied to cover the galvanised gate posts, to give appearance of wooden posts - please ask for details.
Wall plates can be supplied to hang the gates on existing brickwork, providing it is in good condition, or for new installations we recommend galvanised posts with extended hinges that the pier can be built around.
Hinge & hinge eyes are supplied and bolted into place ready for hanging.
Hinge hooks are incorporated in the gate posts.
Please call our sales team for an individual quote or use our Enquiry form from the link below.
Gate Automation
Automation options, please call to discuss.
If you'd like to find out more about gate automation click the button below.
If you are considering installing the fence yourself please read out installation instructions
Please also take some time to read our Gate Automation Safety page and download the checklist
If you would like to submit a Courtyard/Ornamental Gate Enquiry Form click below.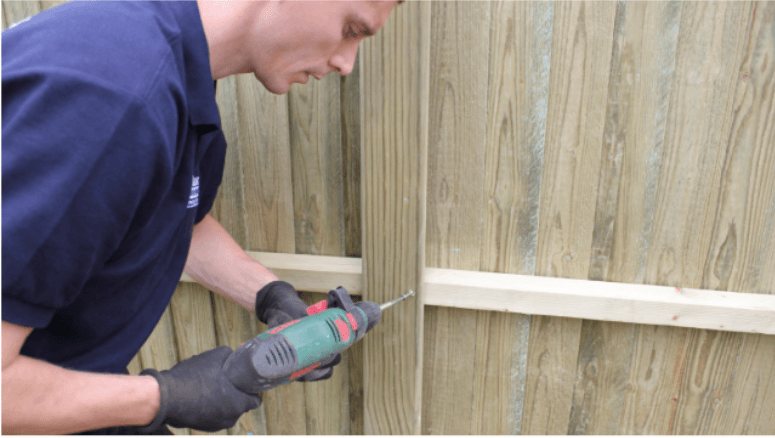 Delivering an exceptional fence installation service
Approved Installers Network
Our network of Approved Installers are high skilled, carefully selected, reputable fence installers who we trust to install our high quality timber products to the highest installation standards. If you are interested in installation by one of our Approved Installers please click "Add installation to basket" below. We will be in touch shortly after processing your order to discuss installation.
Related Products
Jacksons Fencing have a large range of related products, all complete with our 25 year guarantee. If you cannot find the item you are looking for, please do not hesitate to call our friendly sales team.
Shopping with us
We offer the longest guarantee in the industry for manufactured timber products.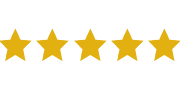 QUALITY, SERVICE AND VALUE
Established for over 75 years, our staff are ready to help with a wealth of knowledge and expertise
Find out more

Guaranteed peace of mind
Find out more about our market leading 25 year guarantees for service and timber treatment
Read more

Apps & online planning tools
Use our online tools to plan and price your Fencing, Gate or Decking project.
Get Started
Featherboard Fence Calculator
Enter the run length and height, to calculate the items required:
Calculate
You will need bays consisting of posts, pales, rails and Gravelboard(s).