14/03/2023 12:00 AM
Electric or automated gates can improve security, convenience, and accessibility. Automating your driveway gate is something to consider, but what extra cost is involved by adding the option of automation?
This blog outlines what can impact the cost of gate automation along with the various considerations and impacts.
To enquire about an automated gate fill in our enquiry form.
1. Electric Gate Safety
Safety and reliability of an electric gate should be the top of any list of requirements. It is imperative electric gates are safe and to protect their users or anyone that could come into contact with them during use. Serious injury can occur if gates are not properly installed or maintained. Installers of electric gates are responsible for assessing, inspecting, maintaining, and repairing automated gates and have a duty to ensure no one is put at risk. You should also look for DHF trained gate automation engineers and ensure your electric gate manufacturer has this accreditation for their installers. All Jacksons gate automation engineers are DHF trained to a minimum of level 2 to ensure high safety standards.
There are DIY gate automation kits available to purchase online with options to fit to existing or new gates but from a safety perspective, doing the job yourself is very risky. It is not just a case of looking at a gate and making sure if doesn't have sharp edges and could cut someone. The correct safety devices and procedures need to be reviewed to reduce and stop any chance of crushing, shearing, impact, drawing in, entrapment, hooking or cutting. Any installers responsible for assessing, inspecting, checking, maintaining and repairing automated gates have duties to not put anyone at risk and that is our top priority with all automation engineers being DHF trained to a minimum of level.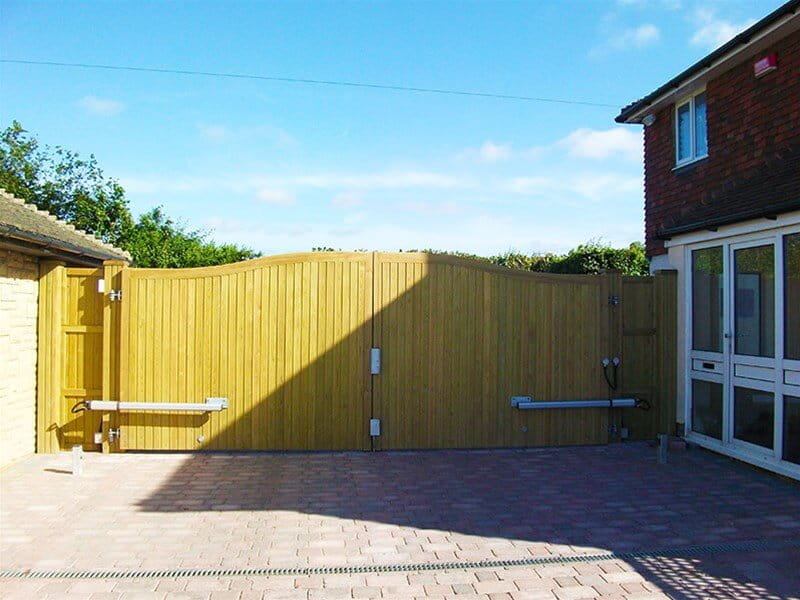 2. Reliability
Having a functioning, reliable gate is any electric gate owner's desire. That is why choosing a gate that from a reputable long-standing company who can uphold any guarantees is better than going for cheaper options that may break or have no guarantees.
Reputable companies may initially cost more, however, having a functioning, safe gate with necessary support on hand if needed will pay off in the long run, especially in the prevention of avoidable and sometimes fatal accidents.
Reliability is important, imagine not being able to leave your property or struggling to access it, as well as the possibility of a driveway gate being stuck in the open position when security is a concern.
If using a reputable company and the cost is high compared to others, there could be reasons for this - the gate should be more safe, reliable, and secure; always check the credentials and safety standards of the company and their experience.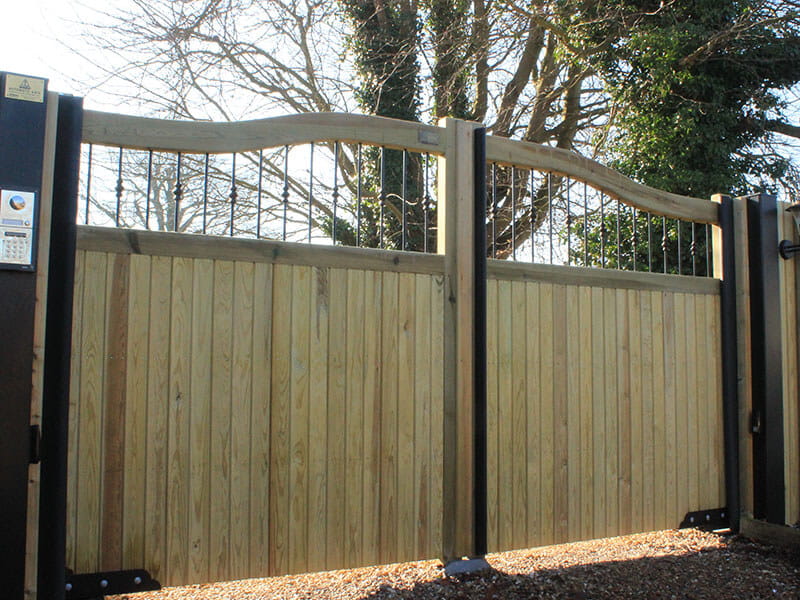 3. The type and size of gate
What type of gate you choose for your driveway will impact the automation costs. The weight of the gate will impact how big the motors need to be and the type of automation it requires. The width of the gate will also influence the type of motor as longer gates will be heavier and therefore may require a specific motor to move it.
What material the gate is made from, whether it's steel, or timber will impact the automation. Some gates will need to be made especially for automation and cannot be fitted after. The majority of our gates are adjusted during manufacturing to suit automation. If you would like gates automating, please tell us during the ordering process.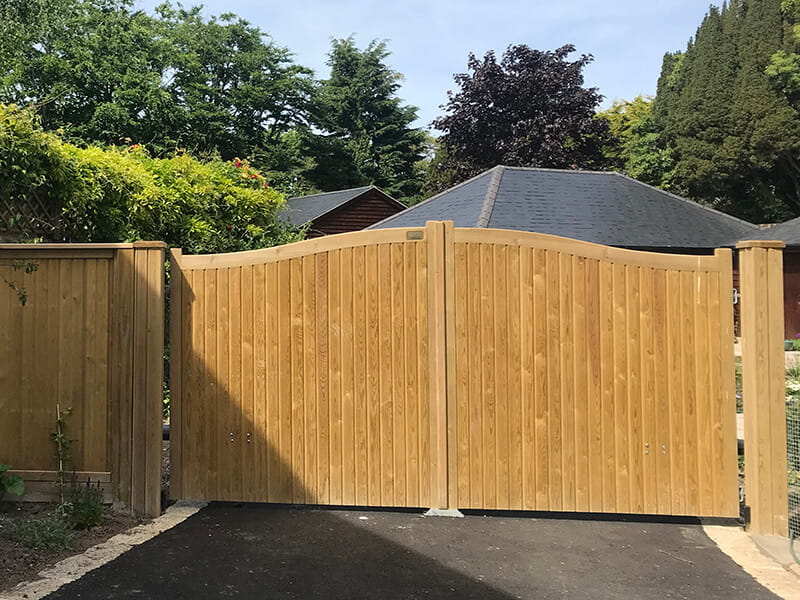 How large the gate is will firstly determine the cost of the gate itself but will also impact the size of the operation to power the movement of the gate. Larger gates will be heavier and therefore need more to open them.
4. Gate opening style
There are a few ways an electric gate can open; swing or sliding are the two main types of gate automation. To perform desired opening action, hydraulic rams or underground operators are used to move the gate. Sliding gates can be installed via a track or cantilever but this will be determined by ground conditions as well as space. A singular swing gate with ram automated starts from approximately £3500 ex VAT, installation is then additional to that.
Sloping ground will impact the type of opening the gate can have. Upwards slopes make swing gates unsuitable. Sliding gates are better suited to sloping ground, they also only need clearance on the sides where they open into so the use of the space behind the gate is much more.
5. Additional cost – access control devices
How will you gain access through the gate? Key fobs or remote controls are relatively inexpensive but if you want to communicate with those outside the gate, intercoms are commonly used. Intercoms can range in price and cost fluctuates depending on the quality, or if you add video to see who's at the gate
.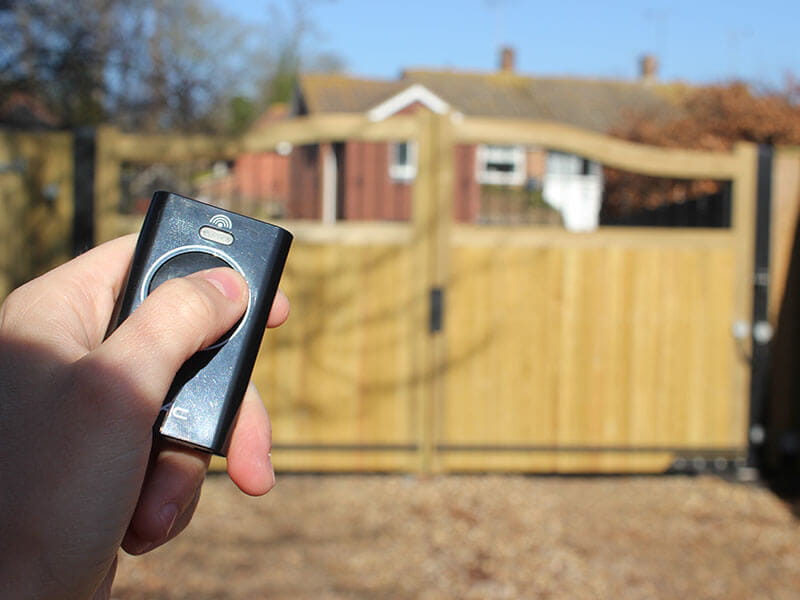 6. Installation
The cost of the installation will be determined by the amount of groundworks, the type of gate, whether the gate is installed on a slope and the type of automation you opt for. Again, if the installation is cheap, there could be a reason. Make sure the installers are DHF trained.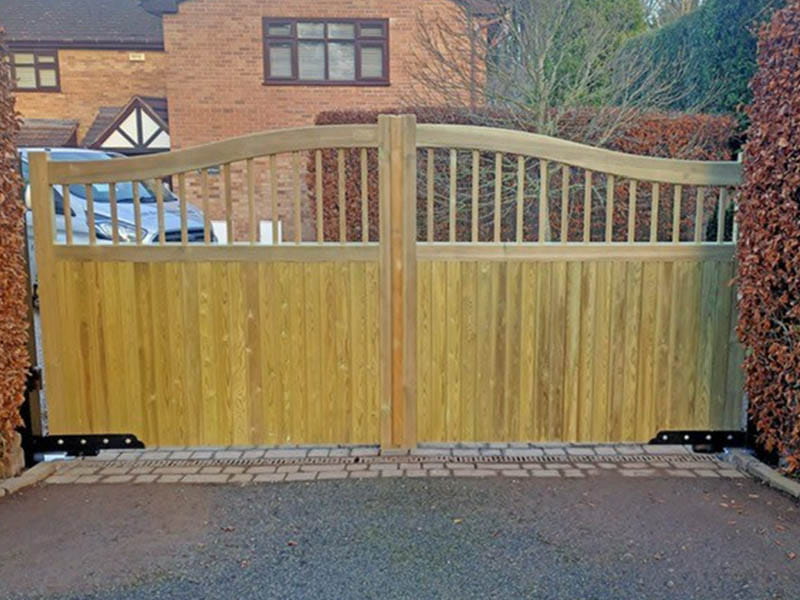 7. Maintenance costs
The initial price of the gate is not the only cost to consider, ongoing maintenance to keep the gate in working order and making sure it is still safe will need to be factored into your decision to get an electric gate.
What to look for in an electric gate:
Quality construction – treated timber and galvanised steel, welded pale through rail construction, no visible bolts and fixings
Experienced manufacturer – guarantees mean nothing if the manufacturer is no longer around. Choose companies with a long history and long guarantees who will be around to uphold guarantees for years to come
A detailed sales process – don't be put off by a sales process that seems longwinded, if the salesperson is not asking a lot of questions, they probably don't care about safety and just want a quick sale. Electric gates are an investment, and we always want to find the best solution for your property
Guarantee - Good manufacturers will always offer a guarantee on automation after the initial install to cover any issues or snagging.
Service plan - Getting a maintenance plan with the initial supplier will ensure everything is kept in-house and makes it easier to get any issues sorted.
To enquire about an automated gate fill in our enquiry form