06/04/2023 04:30 PM
If you are considering investing in an automatic gate, here are 5 key points to consider.
1. Choosing the style of automatic gate
How do I choose an automatic gate?
There are a few different things consider when it comes to automated gates, including the way in which it opens. The main ways an automated gate will open is either to slide, fold, or swing open. For domestic properties, we offer sliding and swing gates, although bespoke options are available. Sliding gates are ideal where there is minimal space directly in front of the gate, but they will need a lot of space at the side the gate will open into, so it is important to check if you have enough space for a sliding gate. Swing gates can open inwards and outwards but will need to be adapted during the manufacturing process to suit the opening direction.
The style and look of an automatic gate are of course chosen on personal taste, but you should also consider what benefits a certain style of gate brings. Metal gates are usually semi-solid, so privacy is not the focus. They are strong and hard to scale however.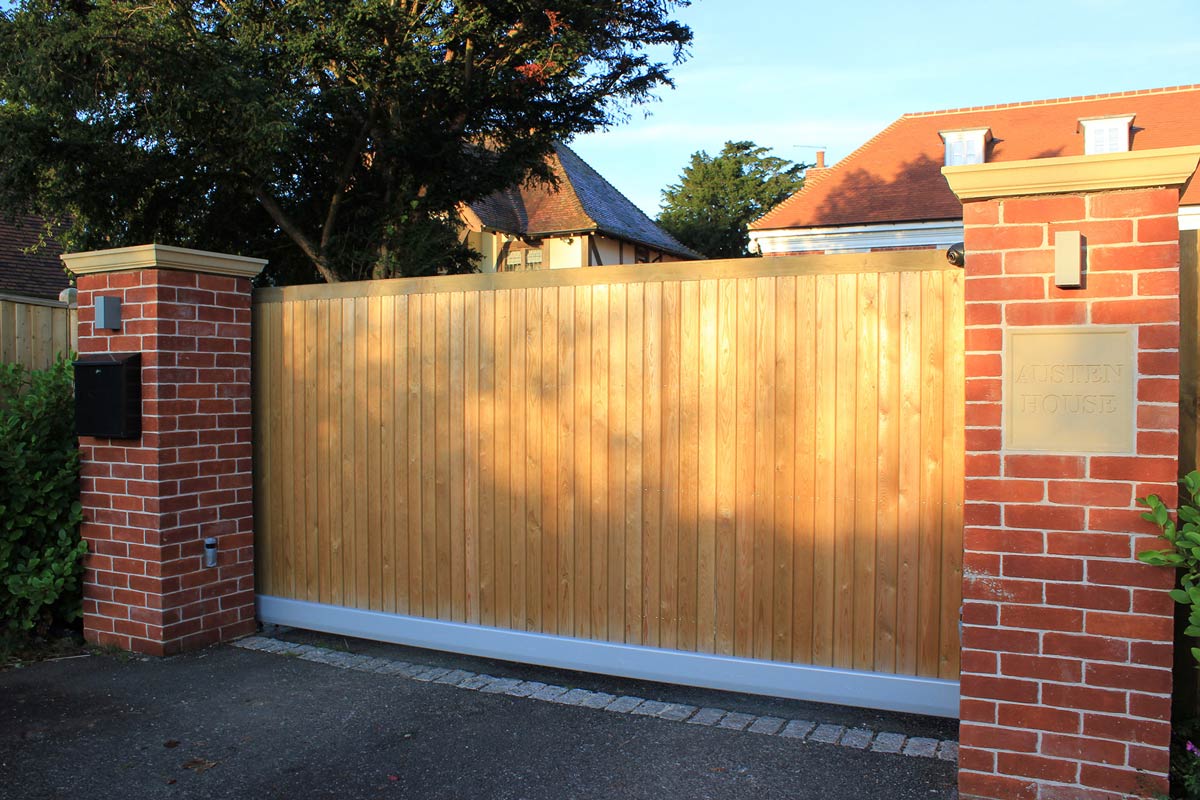 Timber gates offer a wide range of styles, most will have a solid design so privacy will be high. Designs can also incorporate metal for not only aesthetic enhancements but also to increase strength and prevent twisting.
We offer a full range of driveway gates that we can automate.
If you have space, consider adding a pedestrian gate to make entry simple and efficient for pedestrians.
The posts the gate will hang off should not be overlooked. Most gates come with galvanised posts as standard and you can opt to have them polyester powder coated, or timber clad to match the aesthetics around the installation site.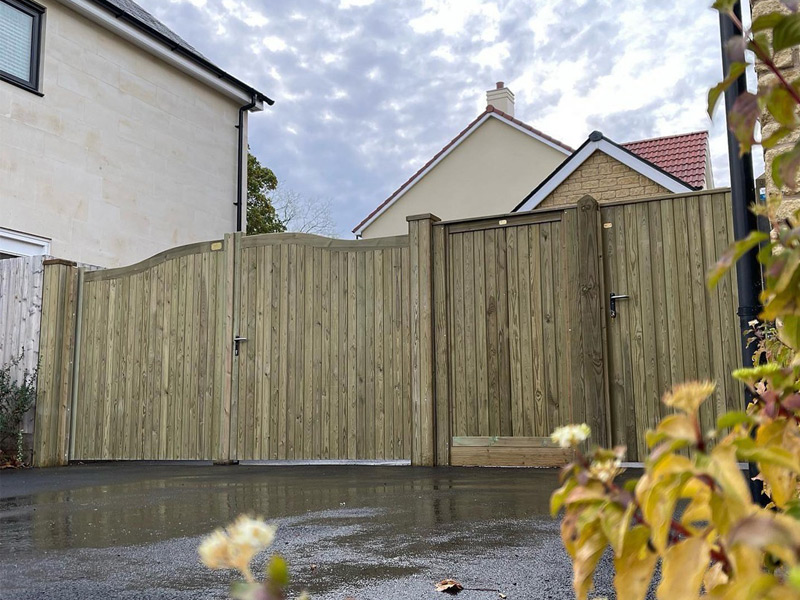 The way in which you open the gate will also determine how convenient the gate is for your lifestyle. Key fobs are a popular choice as the gate can be opened from inside a vehicle. Other access control options are sensors, keypads, and intercoms.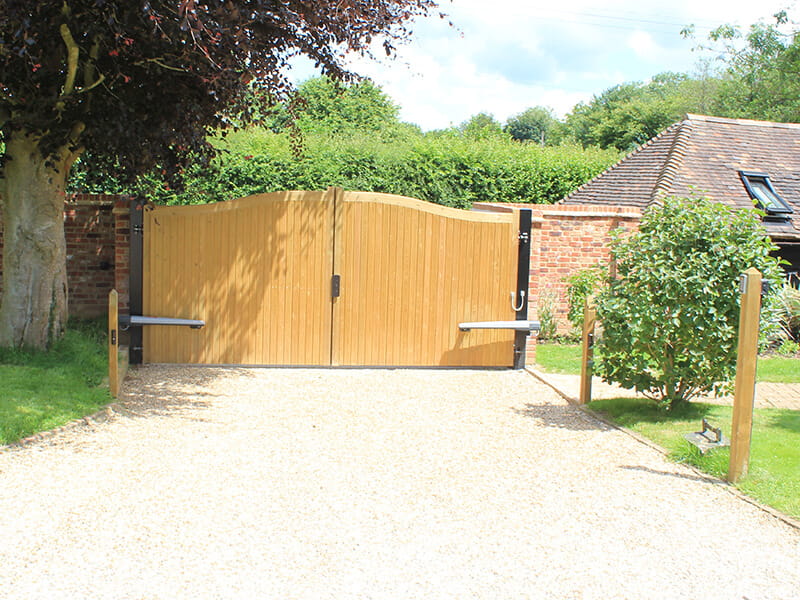 2. Safety features when choosing an automatic gate
All automated gates are legally required to carry a UKCA mark and comply with the Supply of Machinery (Safety) Regulations 2008. Ensure that the gate you intend to purchase is supplied with a Declaration of Conformity. Automated gate safety is paramount. An electric gate is classed as heavy machinery and can cause serious injury if not installed, maintained, and the sufficient safety features added. Ask the manufacturer about the safety features and how the gate technology prevents crushing, entrapment, hooking, or cutting.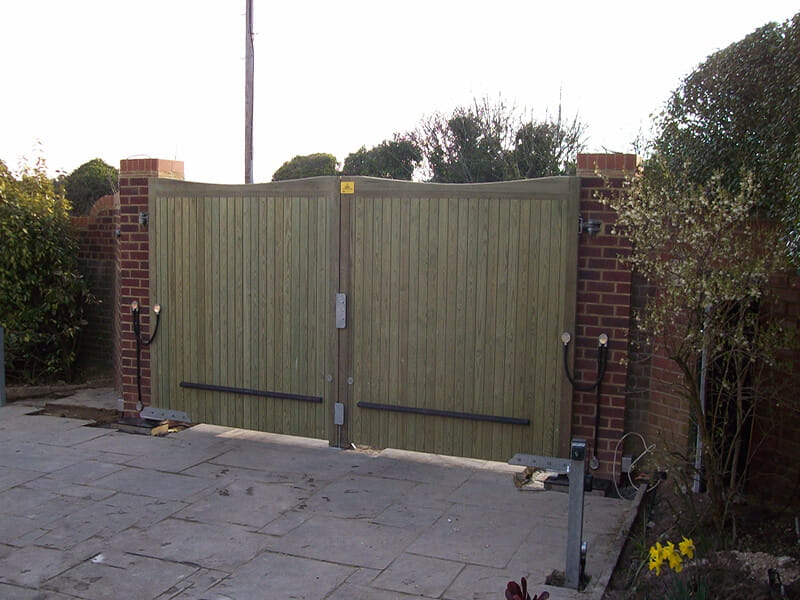 3. Correct installation of automatic gates
Each installation will be different, from the amount of groundwork required, to the size and type of gate. These all factor into the cost. If underground automation is required, then that will further increase costs. You should always make sure that the installers are correctly accredited and DHF trained. All Jacksons' gate automation engineers are DHF trained to a minimum of level 2 to ensure high safety standards and peace of mind.
Are automated gates reliable?
Reliability of an automatic gate can heavily depend upon the quality of the installation and those who have installed it as well as the quality of the materials used to build it. Automatic gates are classed as a machine, and as such, should only be installed (and maintained) by someone that is suitably qualified and therefore familiar with the knowledge necessary to deliver a safe and legally compliant gate.
4. Automatic gate guarantees
Guarantees are hugely important when investing in an automatic gate. Electric gates and their installation can be expensive, so ensuring that money is not wasted is a smart move. Guarantees will offer you some peace of mind that your gate will work as it's meant to and that the manufacturer will cover any initial teething problems.
Reputable companies will offer guarantees on different things. Look for one that covers the gate itself against rot, insect attack, and rust, and those that also cover the automation.
We offer a 25-year guarantee against rot, insect attack, and manufacturing defects for all our timber gates and a 25-year service life guarantee against rust and manufacturing defects for our metal gates. Our automated gates are covered by a 25-month automation guarantee.
5. Maintenance plans for automatic gates
Keeping your automated gate working as it should be is largely down to maintenance. When you start considering if an electric gate is for you, overall cost should be a key focus. The initial price of the gate is not the only cost to consider, and you should see your automated gate as an investment into more convenient and safe access to your home, as well as increased security.
Manufacturers should offer a maintenance plan alongside their automatic gates. We always recommend using the manufacturer maintenance plan, as they know the gate best and will have the spare or replacement parts which will hopefully mean any issues are resolved quickly.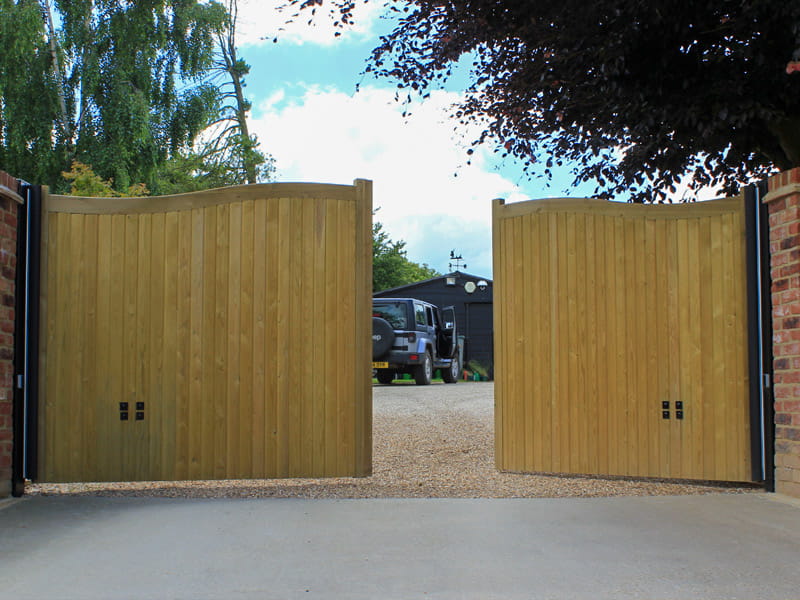 The decision to install an automated gate is generally triggered by a desire to upgrade the security of your home and create convenient access to your property.
As well as delivering enhanced privacy, certain styles of automated gate will make it exceedingly difficult for an opportunist thief to catch a glimpse of the house and any valuable assets. If you have young children or pets, an automated gate will also guard against the risk of any unplanned and unaccompanied exits from the family home.
If you have any questions about choosing automated gate, please get in touch using our online form.