15/10/2018 11:00 PM
Choosing a fence can be a difficult task as there are numerous different considerations such as do you want style or privacy? Depending on your reasons for choosing a fence the end result could be drastically different. We're here to help so these are just some recommendations we believe are worth thinking about.
Decide where and what purpose does the new fence will need to serve?
Whether you're looking to improve your garden, keep pets enclosed, or improve security and privacy decide early on what the purpose is for installing a new fence. Whatever your goals, identifying what you need your fencing to do will ensure that you get a practical fencing solution that serves its purpose.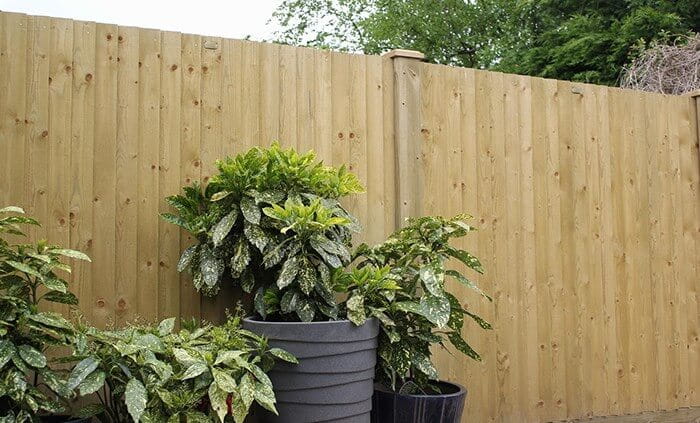 Research do I need planning permission?
It's worth researching UK planning laws.
Currently, in 2019 they require planning consent for fences over 2m high. Our standard maximum height panels are 6ft high (1.83m) which when installed with the protective gravel board (140mm) brings you up to just under 2m. We recommend undertaking additional research into the topic and produce a guide: do I need planning permission for fencing.
Find out what different height fence panels are there?
Fence panels can come in various sizes. Here's a handy conversion table with different heights.
Panel conversion table
| | | |
| --- | --- | --- |
| 6ft | 1.83m | 1830mm |
| 5ft | 1.52m | 1520mm |
| 4ft | 1.22m | 1220mm |
| 3ft | 0.91m | 910mm |
| 2ft | 0.6m | 600mm |
| 1ft | 0.3m | 300mm |
Will my chosen fence provide the right level of security and privacy?
For total privacy and better security going for a solid fence panel, similar to our Tongue and Groove panel or Chilham panels will offer more as there are no gaps within the pales. Solid panels offer added strength compared to semi-solid (slatted) style fencing as well as greater noise reduction. They are also harder to climb over offering increased security.
Police advice is to ensure all fencing; particularly fencing to the rear of your property is kept in good, clean, maintained condition to help protect properties from being burgled. Choosing a fence with a long guarantee which has been pressure treated should ensure your fences remain in safe, secure and attractive condition for years to come.
If privacy is not a major concern for fencing at the front of the property, slatted style panels can be a more attractive option. We have a range of slatted (semi-solid) panels including Woven (shown below) and Palisade panels which are both great option for front gardens.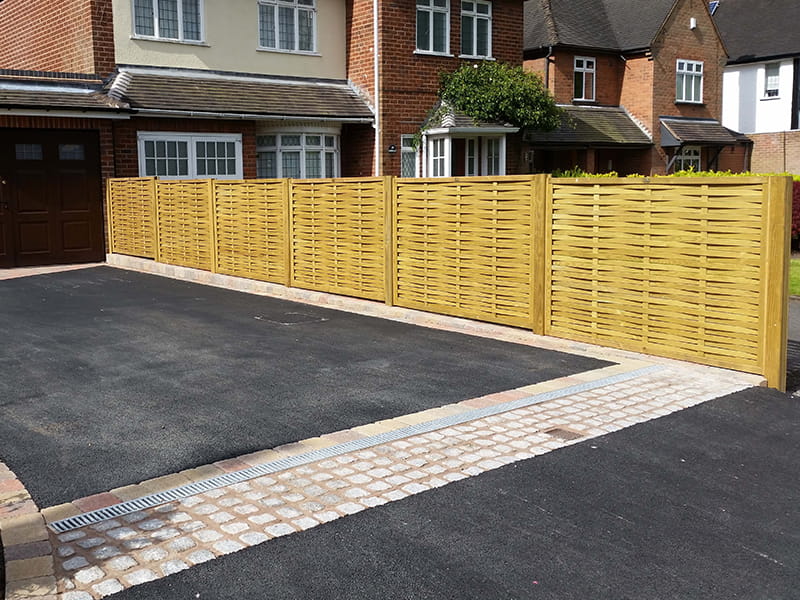 Do I need to consider light and wind?
Any fencing can succumb to harsh weather conditions and we have seen plenty of fencing destroyed by the wind. If the fence is installed within a wind prone location it is crucial to consider the effect wind may have on your panels. See our advice for installing fencing in windy areas.
If shadows casting over your garden are a problem then a fencing option with gaps between the slats offers increased light over solid fencing. We have a range of slatted style options which let light and air into the garden, whilst giving you the sleek and modern good looks suited to contemporary gardens.
These include our popular Venetian panels, Palisade, Paliframe and Woven panels, which all combine beautiful, design with the benefit of letting more light in. Another alternative is to have a solid panel with a trellis or topper to allow light through too.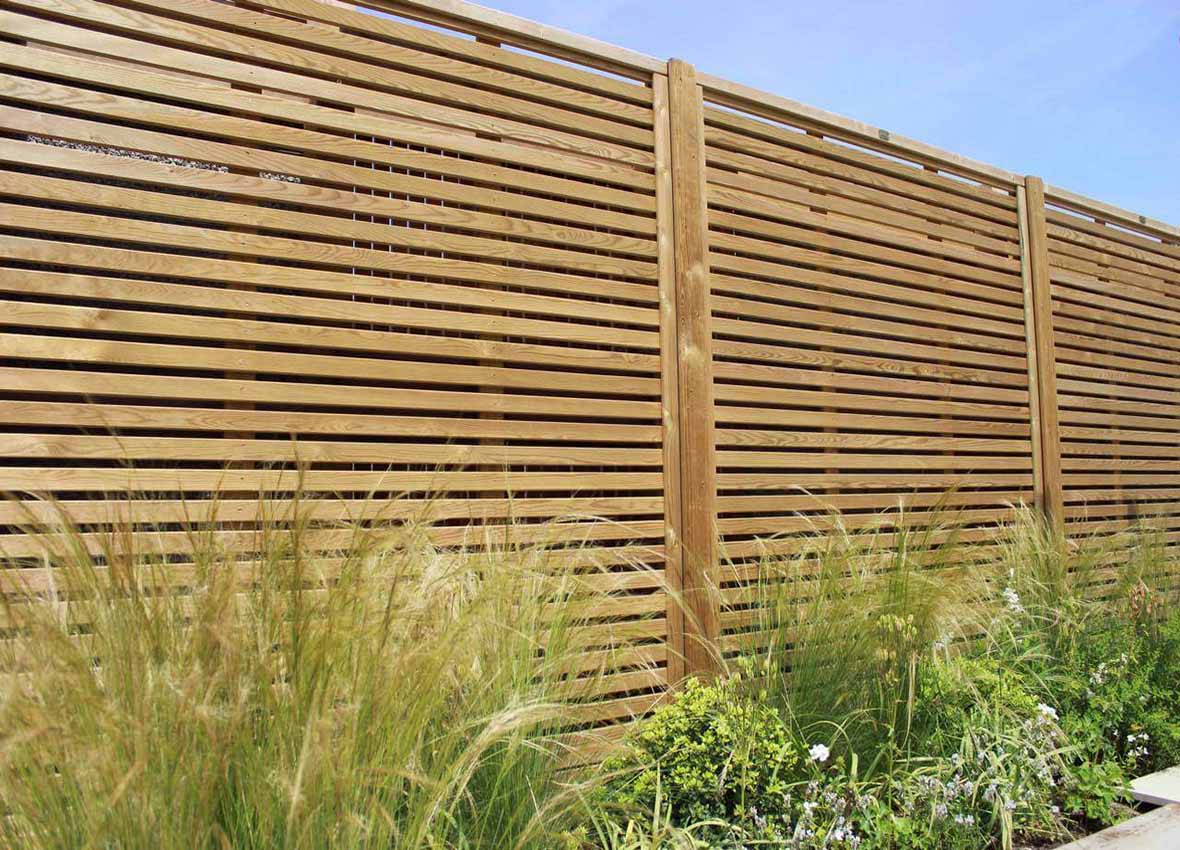 Do you have pets and is so will they need safe fencing
One of the main things to consider are the size of the gaps within fencing panels (make sure they're not big enough for your dog/ pet to fit through) and the height of your fence - is it higher than your dog/ pet can jump. Explore more about our dog fencing.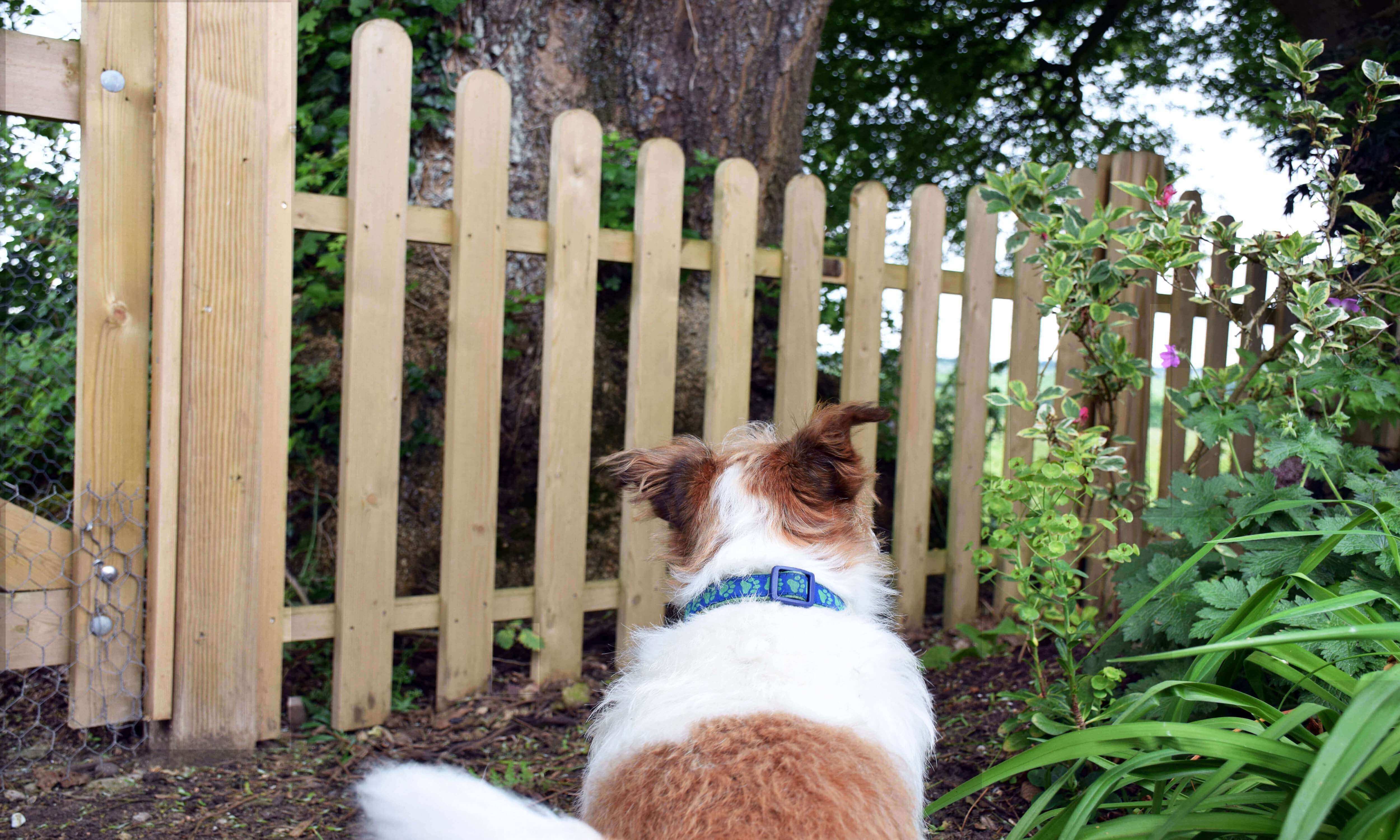 Fence panel Comparison Tool
Compare all the different types of fence panels we offer using our handy comparison tool.
Gate Comparison Tool
Compare all the different types of garden gates we offer using our handy comparison tool.