04/01/2016 12:00 AM
Climbing plants work brilliantly when it comes to softening garden structures and adding a little vertical zing to a space.
The question though, with such a wide variety on offer, is what will work best in your garden? Award-winning garden designer Matt Haddon offers his expert advice.
Close to the house, the answer is often something evergreen (as you may not want to look at woody stems for 4 or 5 months of the year) and ideally something scented - so that you can doubly appreciate it when you step into your garden. Obviously if you have just invested in a new fence you may not want to cover it up immediately but, once you decide the time is right, and have installed some wire supports or sections of wooden trellis, my suggestions would be:
Lonicera japonica 'Halliana' - a vigorous, evergreen and twining climber with fragrant white flowers from spring to late summer.
Trachyospermum jaspinoides - grown against a south or west facing fence, this highly scented evergreen climber has white flowers through the summer months.
For self-clinging, though un-scented, plants you might instead opt for:
Hedera helix 'Glacier' - all ivies are evergreen but caution has to be exercised, especially on a fence, that a plant will not become to big for its available space; 'Glacier' has small leaves with white margins and will climb to around 2m.
Hydrangea anomala subsp. petiolaris - although the name is a bit of a mouthful the climbing hydrangea is wonderfully versatile. It is a woody and semi-evergreen wall shrub which grows well on a north facing wall and with creamy lace cap flowerheads present for much of the summer. For a deciduous alternative you could instead try Schizophragma hydrangeoides.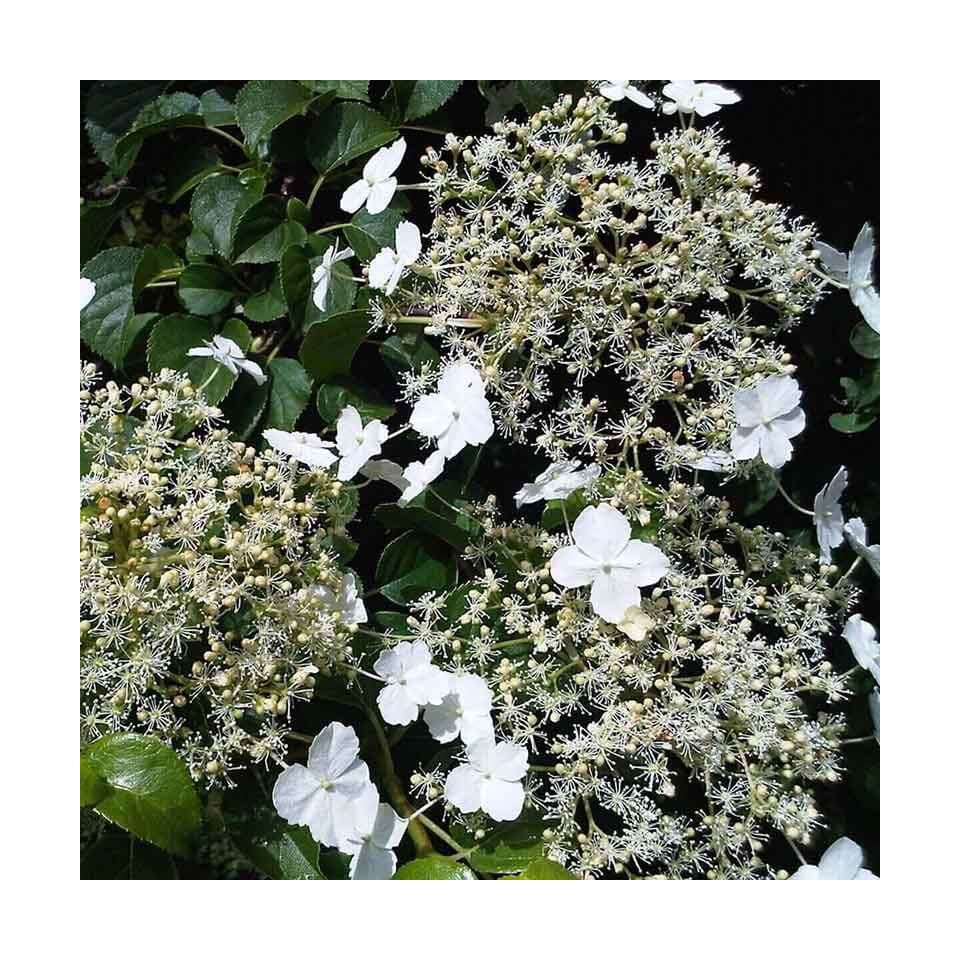 For climbers further away from the house or if you do not want evergreen plants, you can instead go for plants with a more limited season of visual interest but often with a much more exuberant floral display.
Climbing roses against fences or walls are a good way to create a traditional feel to the planting in your garden. Choose slightly less vigorous climbing roses though to train against a fence as they will not need to climb so high and this then reduces the pruning needed; possible varieties to use would be Rosa Compassion', R. 'Claire Austin' or R. 'Leverkusen.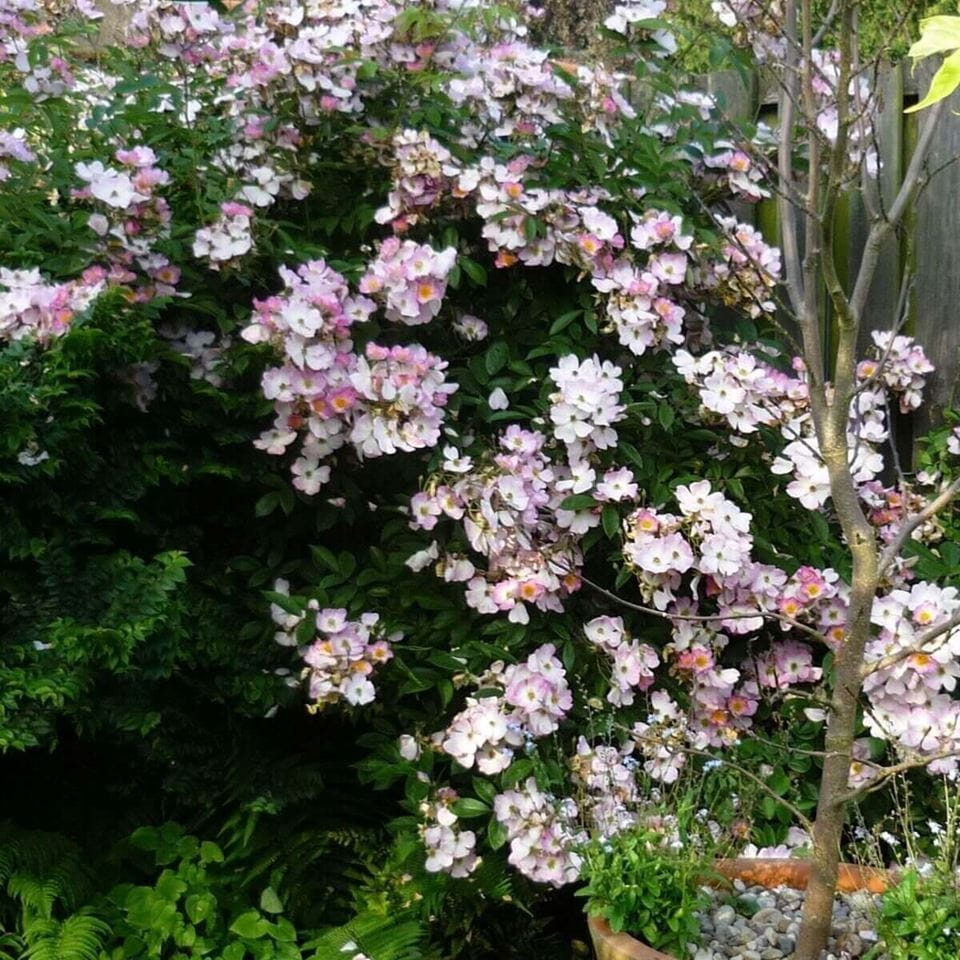 If you would like to cover any bare stems you could also combine your roses with other climbers such as purple flowered Clematis 'Etoille Violette' or Actinidia kolomikta, which can be grown with pink flowered roses to compliment its pink tinged leaves. When combining different climbers though it is important to ensure that they both require pruning at the same time of year - so that you do not accidentally prune out all of the buds from one of the plants leaving it bare in the next season.
Alternatively you could plant rambling roses to romp away along trellising or wires at the top of a fence. My personal favourite is Rosa 'Frances E. Lester' which puts on a fantastic display, although sadly for only a few weeks each year.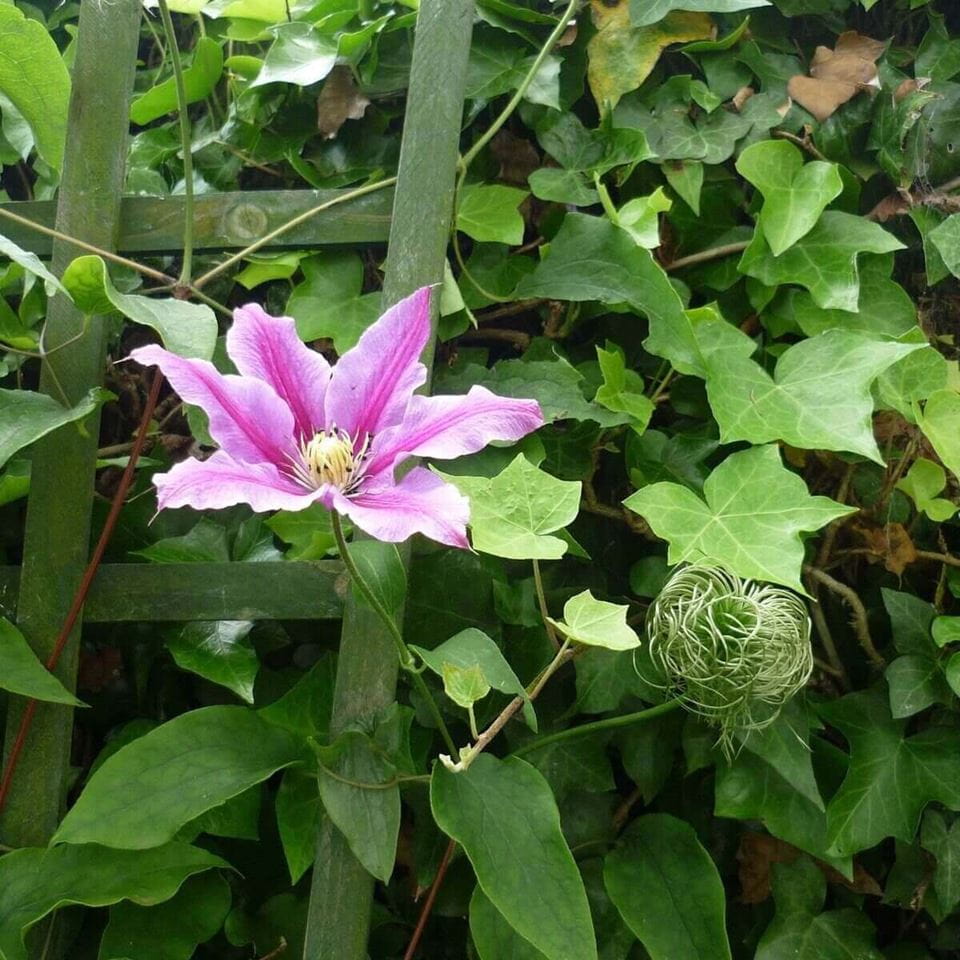 For many though Clematis are the archetypal climbing plant and there is a Clematis for almost any growing situation. Varieties of Clematis alpina or C. macropetala will flower in spring and scramble over fences with ease (belonging to Pruning Group 1 which only need thinning after flowering if they have grown too large). Large flowered varieties, such as C. 'Nelly Moser', flower in late Spring and early summer and grow well in most positions (and belong to Pruning Group 2 whose wispy growth is pruned back in early spring). Late summer flowering Clematis (those of Pruning Group 3 which are pruned back to 30cm above the ground in late winter) include plants such as C. 'Etoile Violette' and C. 'Rouge Cardinal'. Clematis winter flowers and evergreen leaves are also available - Clematis cirrhosa and its cultivars are vigorous but may be pruned after flowering to keep them in check - cut back to about 1m below the height you want them to be at the following winter.
For less of an English country garden feel you could instead try a wall shrub such as cultivars of Japanese Quince, Chaenolmeles speciosa (whose tangled branches support large flowers in spring in reds, whites or pinks). Alternatively a Passion Flower, Passiflora caerulea, will be smothered in blue flowers if planted in a warm and sheltered site. Mine grows against a fence less than 200m from the North Sea in East Yorkshire and is the most floriferous plant in the garden.
The most important point to remember is to choose plants that you like - providing of course that they will get enough sun or rain. You are limited only by the breadth of your own imagination.
Happy gardening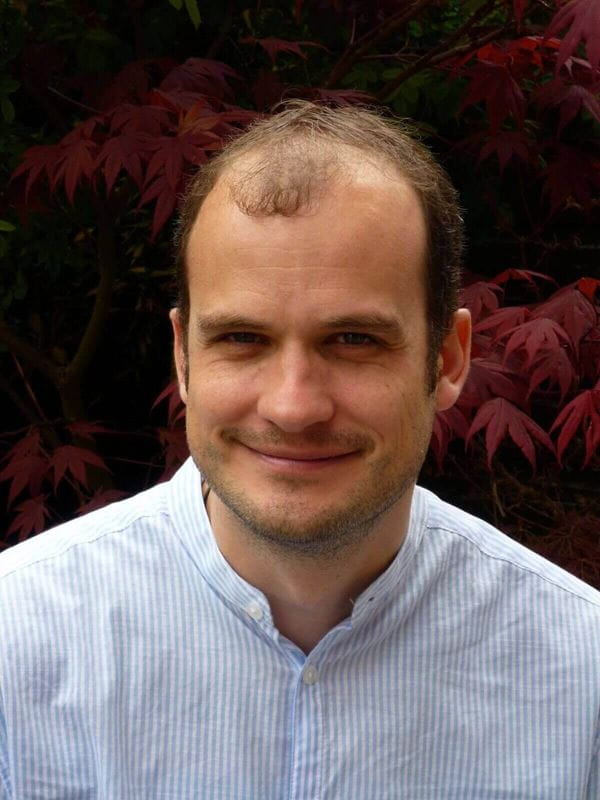 Matt Haddon is a landscape and garden designer based in Yorkshire delivering innovative, individually tailored and beautifully styled formal, traditional or contemporary gardens across the North of England, and further afield.
www.matthaddongardens.co.uk