02/09/2020 12:00 PM
Below is a range of timber sleeper ideas with decorative features which demonstrate how previous customers have installed them into their garden.


RAISED PLANTER BEDS
When looking to update your garden, using timber sleepers to act as raised planter beds can provide a multi-functional garden feature that is very cost effective compared to other alternatives. Many garden enthusiasts build raised beds to grow their own produce such as vegetables, herbs and fruit, however whilst there is an obvious cost associated with using timber sleeper to act as raised beds, gardeners usually do this to avoid their flowers and crops coming into contact with any harmful weeds. Adding this height affords the plants a degree of protection which saves the gardener time and money from having to buy, cultivate and manage new crops. Find out How to Build a Raised Bed with Timber Sleepers in our blog.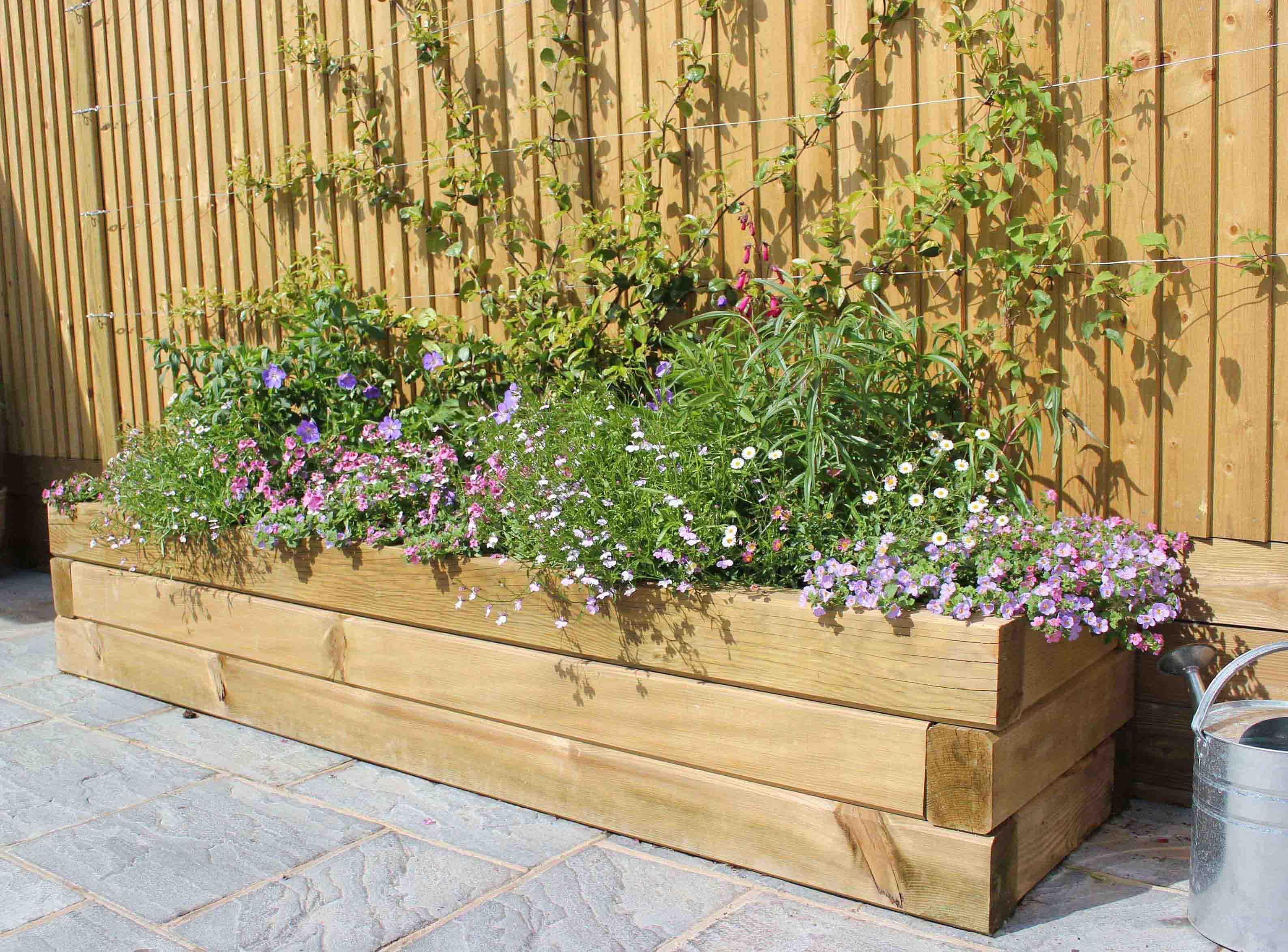 RETAINING WALLS
Timber sleepers are a highly versatile building material, ideal when planning to create a retaining wall in your garden. Not only do they provide a natural effect, but they provide a rugged use of wood which a lot of people find appealing in their gardens and depending on what design you're going for you may favour a new, square edged softwood style sleeper which are more suited to a contemporary design overall compared to the traditional railway sleepers.
Unlike bricks or concrete options timber sleepers or Jakwall are a viable alternative for their rigidity, strength and ability to last a long time making them a very cost effective solution, especially when used horizontally to create a low level stylish wall. Unlike low level walls they can usually be installed within just a few hours.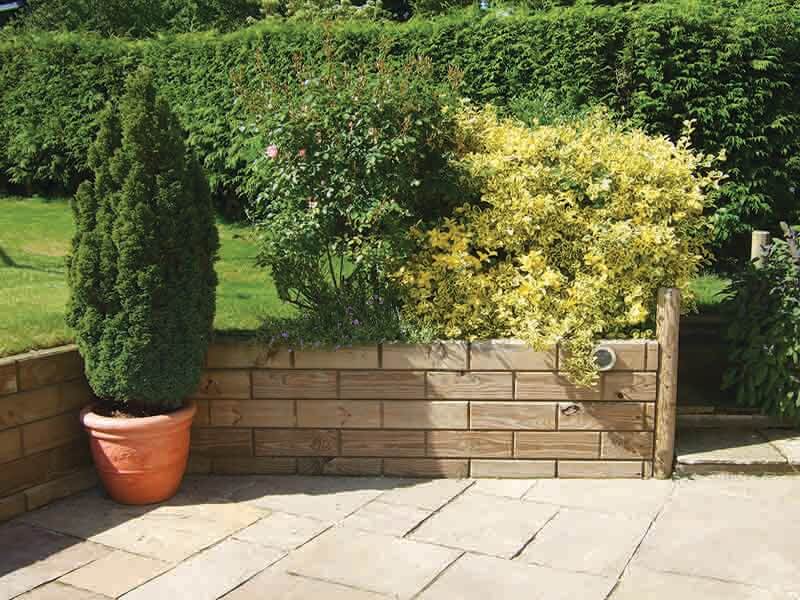 GARDEN EDGING
Commonly used to form garden edging they can be used in a single height or they can be stacked to form walls or dividers. Sawn with a straight edge finish with flat sides our timber sleepers are a great multipurpose garden product, ideal for forming edging around pathway, patios or dividers. The timber is pressure treated to deliver complete longevity, eliminating any requirement for annual re-treatment. A great garden product to which provides a modern look to an outdoor space and help to clearly define the different sections of the garden.
Paths or stepping sleepers
Timber sleepers can be utilised as an alternative to stepping stones to act as a way to break up your lawn by creating sleeper pathways. These beautiful paths give easy access across the garden space and protect your grass acting as a hardwearing and versatile walkway to the shed or pergola. Utilising a walkway can save the quality of your lawn as they prevent people from walking over your grass. Unlike gravel paths, they are easily cut and you don't really need too much expertise to install them just a strong back and a little inspiration.

It should be noted that timber sleepers can become quite slippery when damp with a build of mildew and mould. We recommend cleaning them regularly to avoid any accidents.
Another option is to dig out the whole area and use sleepers to fill it entirely, as you would with paving. This option would require a lot more effort to stabilise the sleepers since they're likely to push at the earth around them or move against each other. The simple pathway above is often the best option for a low maintenance path, especially if you have a smaller garden. If you have a larger area and don't mind a more intensive project, the possibilities are endless.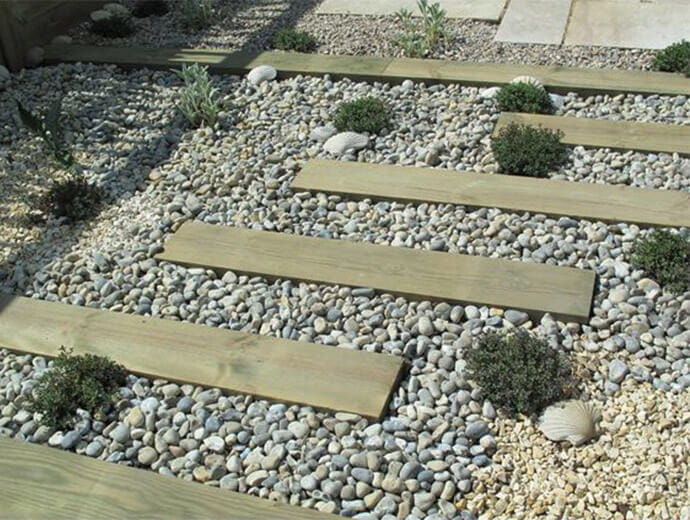 HOW DO I LAY/INSTALL GARDEN SLEEPERS IN MY SPACE?
Choosing to install timber sleepers into your garden indicates you have made the conscious decision to use a heavy duty, natural, long lasting product but the end use will determine the type of project you are going to be undertaking. If you're intending to use them as garden edging, we would recommend embedding them into concrete for added strength and stability.
Installing raised beds
Should your timber sleeper design require multiple rows, if you are building a raised bed, for example then it's essential to fasten or stake the sleepers together. We recommend using 2x 150mm timber screws at each corner of the raised bed to attach the sleepers together. 50mm of the length of the screw needs to drill into the adjoining sleeper in order to ensure a secure connection. Installing the timber sleepers using this method will ensure they are stable and rows in the raised bed remains firm, otherwise there could be a risk of them becoming unstable.
For more information we have produced a blog detailing: How to Install Raised Beds