20/02/2019 10:51 AM
Seabrook is a small village on the Kent coast. Due to the chalky ground and hilly landscape, it can make gardens difficult to work with.
For one couple living there, their garden was spread across different levels, one of which included a very steep slope. They had areas for bin storage and garden storage that needed improving, and the requirement for new boundary fencing all around the garden.
The customers contacted Living Landscapes, one of our Kent based Approved Installers working in Hythe and surrounding areas. They specialise in garden landscaping, using Jacksons' products as part of their portfolio.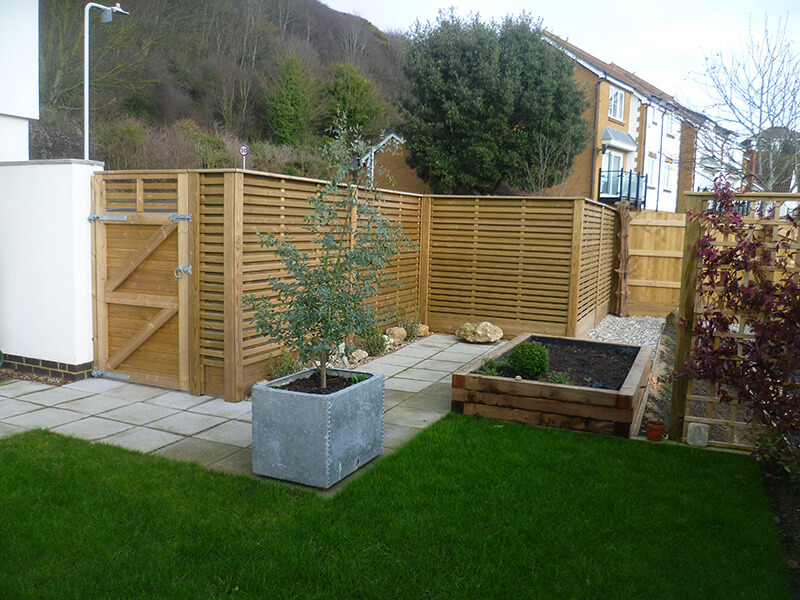 Build retaining walls to support sloping gardens
Before the garden renovation could begin, the Approved Installers had to build retaining walls to give support to the sloping banks of earth. The installers used block work for this particular project, but Jakwall® or timber retaining wall can also be used for this purpose, as it has been pressure treated and manufactured from class 4 timber, which is selected specially for use in direct contact with the ground or fresh water, much like our decking joists, gravel boards and fence posts.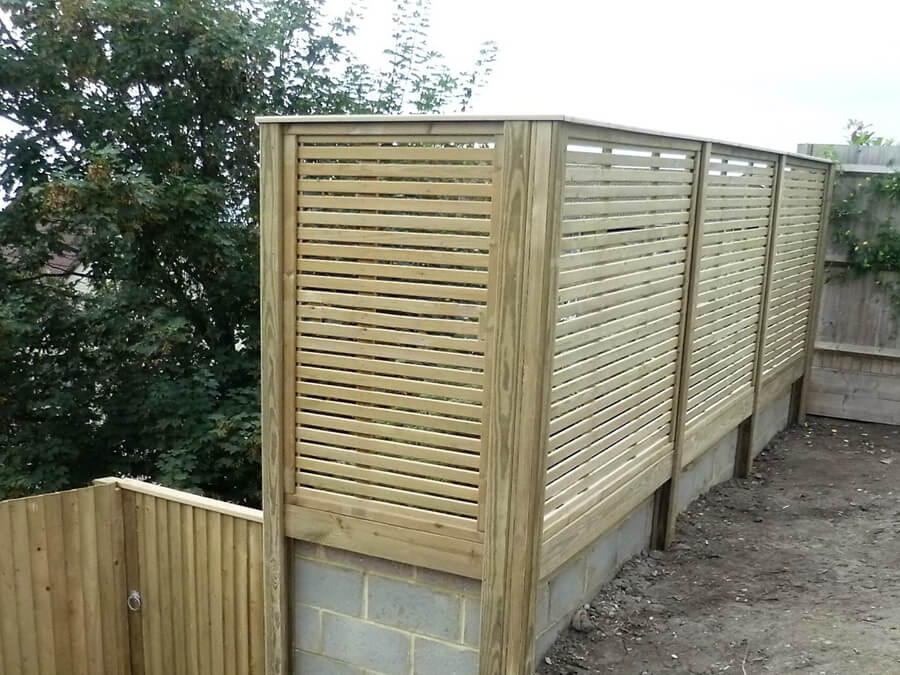 Choose Traditional Featherboard fencing for use on hills
Along the side of the garden, running to the lowest point, the customer has opted for Traditional Featherboard fencing. Featherboard, (also know as closeboard fencing) is great for application on hills, because it comes in kit form and is constructed from posts, rails and pales on site.
Each pale can be cut and set at a certain height to achieve a level top that doesn't awkwardly step downwards. They have opted here to have the rails facing inwards, as this fence can be seen from the front of their property, so it offers an attractive view to neighbours and visitors. Traditional Featherboard fencing has also been used for the bottom of the garden, with the rails facing outwards so that the customer gets the 'good' side of the fence.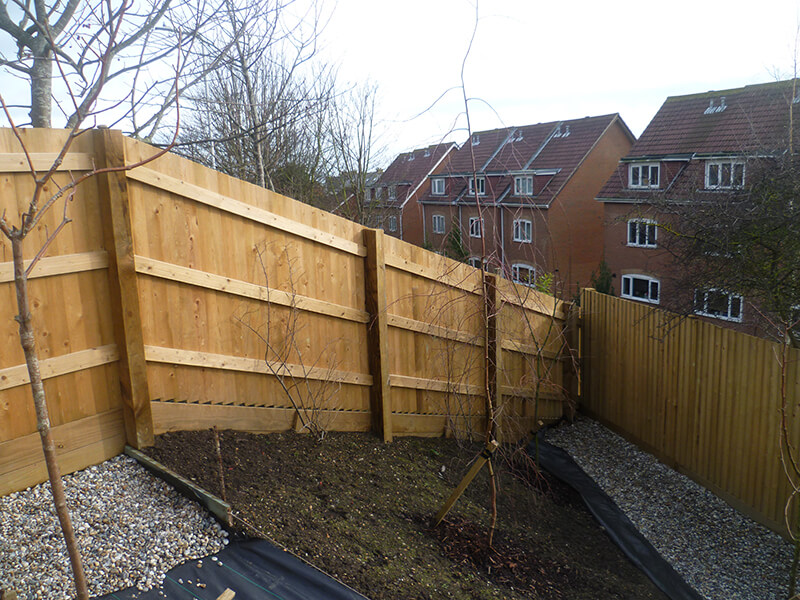 Use slatted fence panels in windy areas
As their house is situated on a hill, the couple have the benefit that adjoining houses don't overlook their property therefore privacy isn't much of an issue, so they took advantage of this, and opted for slatted fence panels to run along the back of the garden. They chose our 1.5m high Venetian slatted fence panels, which allow light and air to travel through with less wind resistance due to the gaps, which is important in high areas. Venetian slatted fence panels have a contemporary design, with horizontal slats that create a simple and elegant screen. They have also installed a 1.5m high square trellis fence panel, which already has some beautiful plants climbing up it; adding a splash of colour.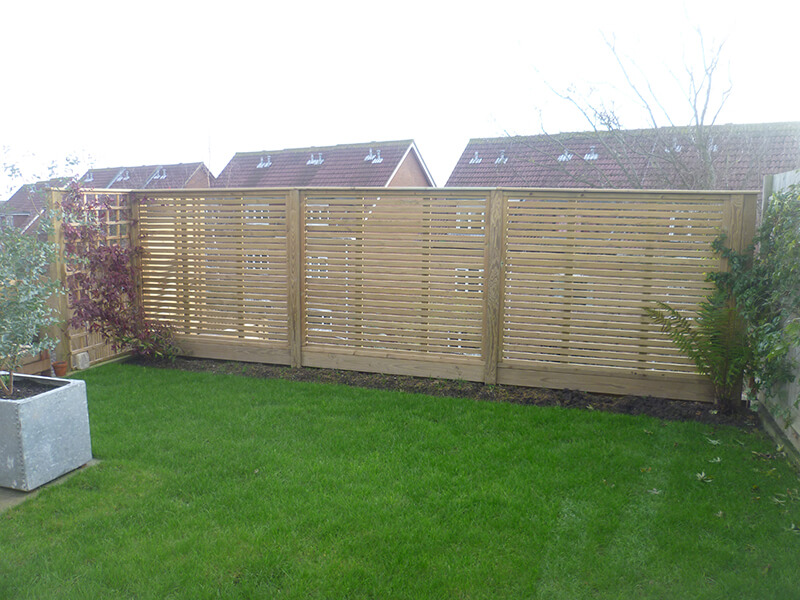 Use slatted fence panels to create bin storage areas
Before entering the garden from the side entrance, there is a large storage area for bins and other garden equipment. Originally it was enclosed by blue featherboard fencing, but the couple wanted to change it for something more contemporary and stylish. They chose Venetian Hit and Miss fence panels to surround the storage area and extend along the front of the garden. These premium slatted fence panels combine our Venetian fence panels with a Hit and Miss design. This means that you still get the appearance of a slatted fence panel, but with extra privacy due to the additional pales on the opposite side. Now the bins are hidden from view and there is increased privacy around the front of the garden, with the slatted fence panels blending with the Venetian fencing at the back of the garden. They have installed two access points using Canterbury Combi gates, which have a solid panel for the lower two thirds, and a decorative slatted top, so they match both solid and semi-solid styles of fencing.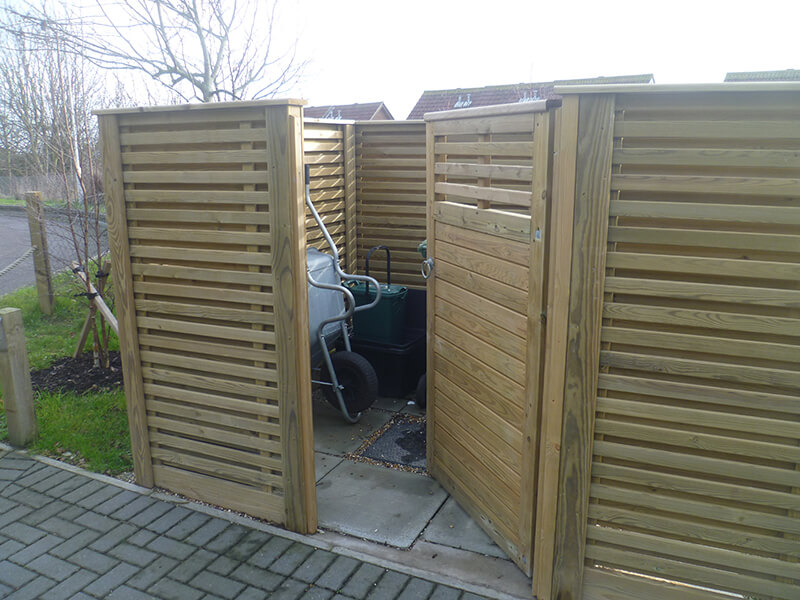 Use timber sleepers to create flowerbeds
To add the finishing touch to the garden, Living Landscapes created some flowerbeds out of timber sleepers. Creating flowerbeds from timber sleepers is an effective way to increase growing space, particularly in a sloping garden where planting can be difficult. Like all our products, our timber sleepers are guaranteed for 25 years.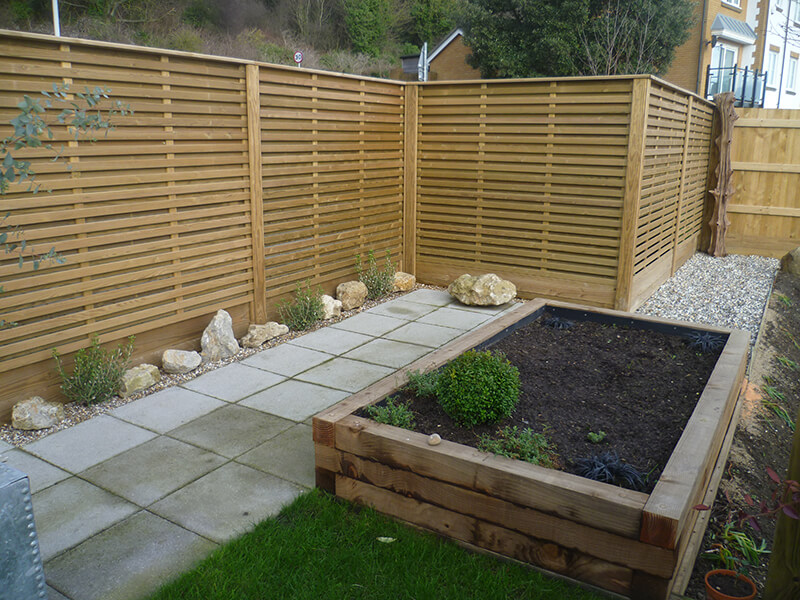 If you want more insight into how different customers have tackled unmanageable landscapes or unforgiving winds, read a few of our blogs below:
A fence exposed to strong winds