27/01/2019 10:30 AM
Prestigious landscape designer adds perspective to open plan garden using a stylish pergola
Garden Designer Helen Williams provides commentary about pergola design ideas and discusses a recent project where our timber pergola structure has been installed as part of a complete garden redesign, to maximise the homeowners' use of space.
The clients - a South African family who are used to an outdoor lifestyle wanted to take what was a rather functional garden and create a design better suited to their personality, by making the most of the space.
Please note: timber is a natural product that ages gracefully, so painting or staining is not something we recommend.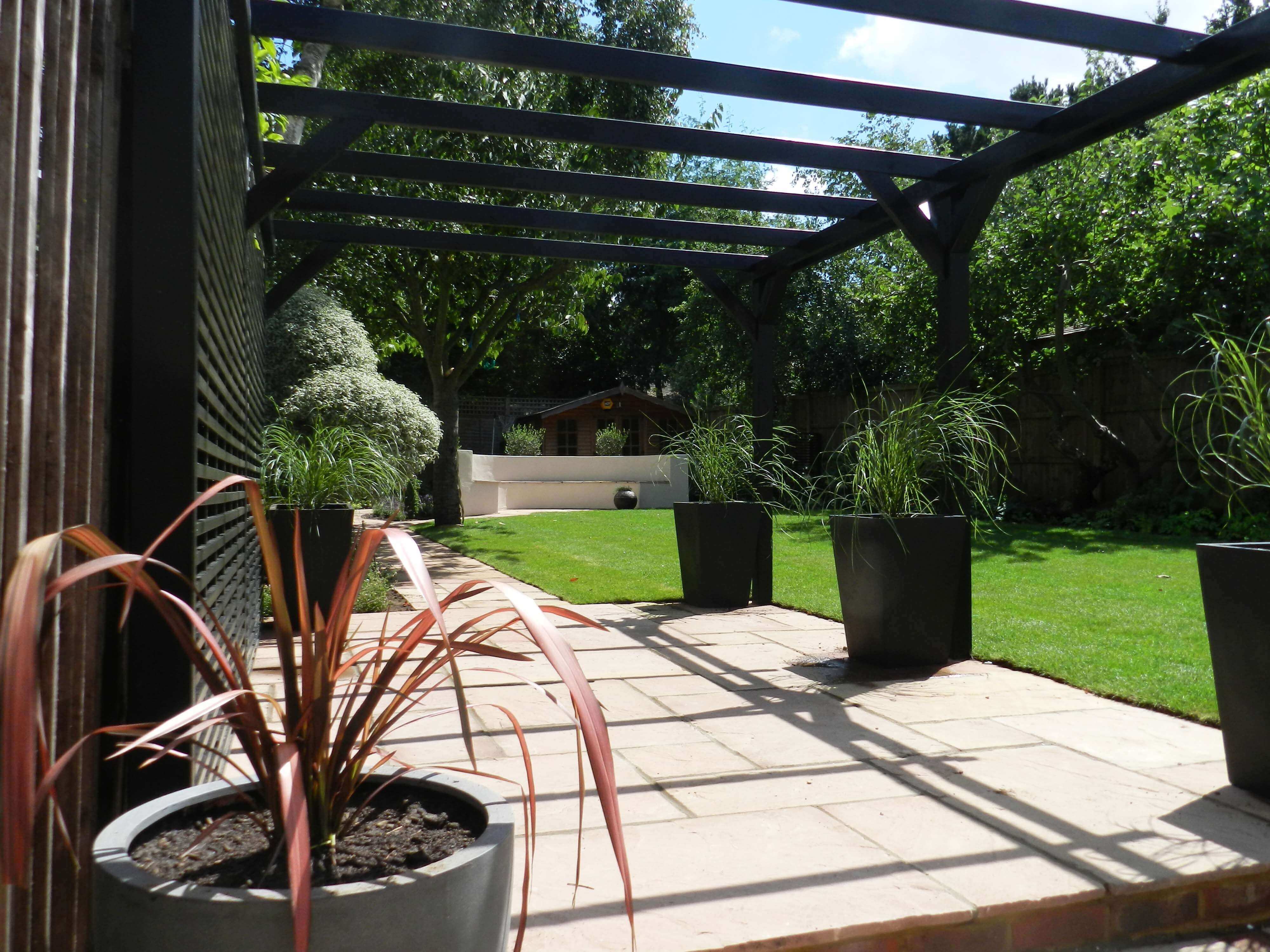 Use traditional stylish pergolas
Traditionally, pergola structures were used to form shaded walkways, seating areas, and decorative features alongside solid fencing or to accompany other structures into the overall design of the garden. Many professional landscapers use pergolas to create feature paths by making the most of climbing plants that naturally grow up the posts, optional trellis and cross members, forming a tunnel of dappled light that covers the walkway and frames pleasant views.
The clients' design brief was to encourage use of the whole space, allowing it to remain open in feel, but with different distinct areas for relaxation and seating, using views back towards the house and other parts of the garden. After exploring a variety of garden ideas, the client opted for a treble bay pergola system, because using a pergola structure adds depth to a garden. Helen explained that privacy was to be maintained, with plenty of low maintenance planting and features to provide balance and appeal throughout the seasons.
Helen stated:
"I like to use any attractive features that already exist in a garden, incorporating them into my design by emphasising them as much as possible, making those central features to the overall concept. An arched window on the side of the house is mirrored in the arches of the stylish black pergola on sandstone patio."
Research pergola design ideas for inspiration


When it comes to pergola ideas there are tons of possibilities with many different combinations depending on your requirements. We recommend undertaking thorough research.
We have listed ideas for what you can use your stylish pergola for.
Create shade - Pergolas are highly versatile structures capable of being used for almost any purpose but by using climbing plants, you are able to create shaded shelters to act as canopies complete with seating to relax and enjoy after a long day at work.

Grow vegetation - At the feet of the pergola install raised beds to form a solid foundation, to allow your vegetables to grow using stainless steel tension wire between the upright posts to act as ties between the posts for climbing support. Building the pergola structure like this will provide support for any climbing plants or vegetation to grow up for a flowery green screen. During summer the screen will enhance the sense of privacy within the garden by forming a secluded area.
Mixing stylish pergolas and a patio


To really maximise the space the family opted for a generous natural sandstone patio extending several metres out from the back of the house with an intricate inlaid circle design and edging details.
The patio is intended to act as a type of outdoor room - ideal for socialising on those warm summer nights. The newly extended patio incorporates a treble bay pergola system where the structure covers the patio perfectly and is finished with four large matching planters nestled next to the timber posts.
Modern garden designs serve to open up space for living areas but they can be used for much more than an entertaining area; they can emphasise distinct divisions between two separate areas of the garden, for example. Minimum requirements to install a stylish pergola structure are using two bays with posts and cross members, though you can install as many bays as your land allows. Helen explains why she opted to deliver a design with a pergola constructed on patio:
'it was about creating a visual path to craft a walkway, to frame the garden, add interest and give an exciting three-dimensional feel to a space before the individual reaches the end of the garden. This is what pergola structures are great for, they can act as a much cheaper and interesting alternative to property extensions or outbuildings.'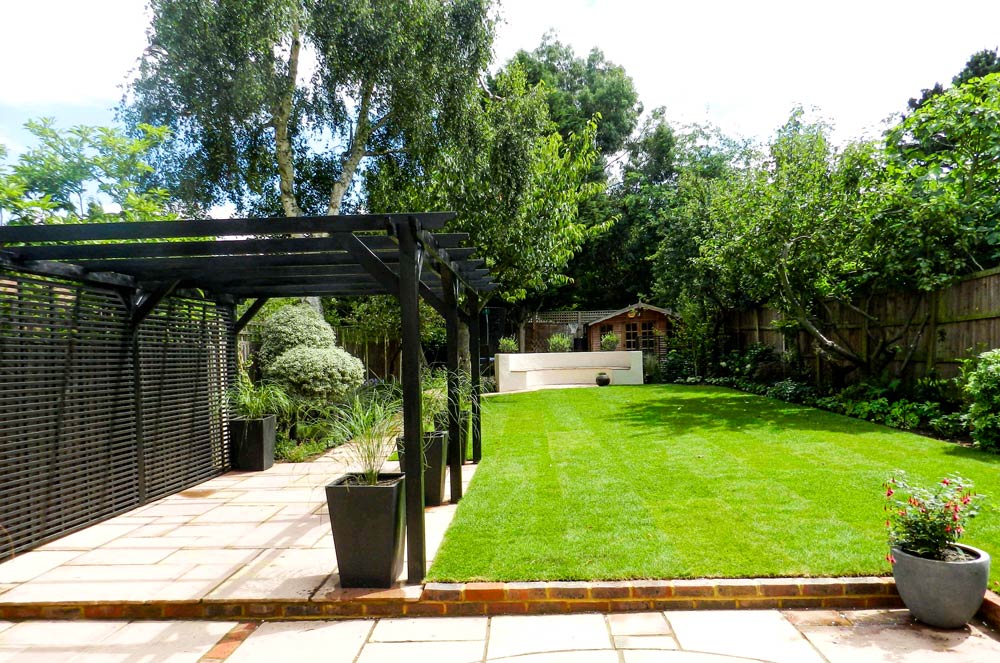 Using quality timber pergolas for longevity
Recognised for delivering outstanding quality whether it be through design or quality of materials used, Helen Williams has been awarded for her entries at RHS Hampton Court so she knows a thing or two about quality.
Helen discusses how she arrived at the decision to opt for using a Jacksons Fencing Pergola system within her overall concept:
"the family and I decided to opt for a pressure treated timber pergola due the longevity it provides, as the structure formed a major component of the overall project. Though the budget was tight, we agreed due to the role of the pergola and how it helped to frame the garden meant that coupled with the 25 year guarantee it was worth the investment."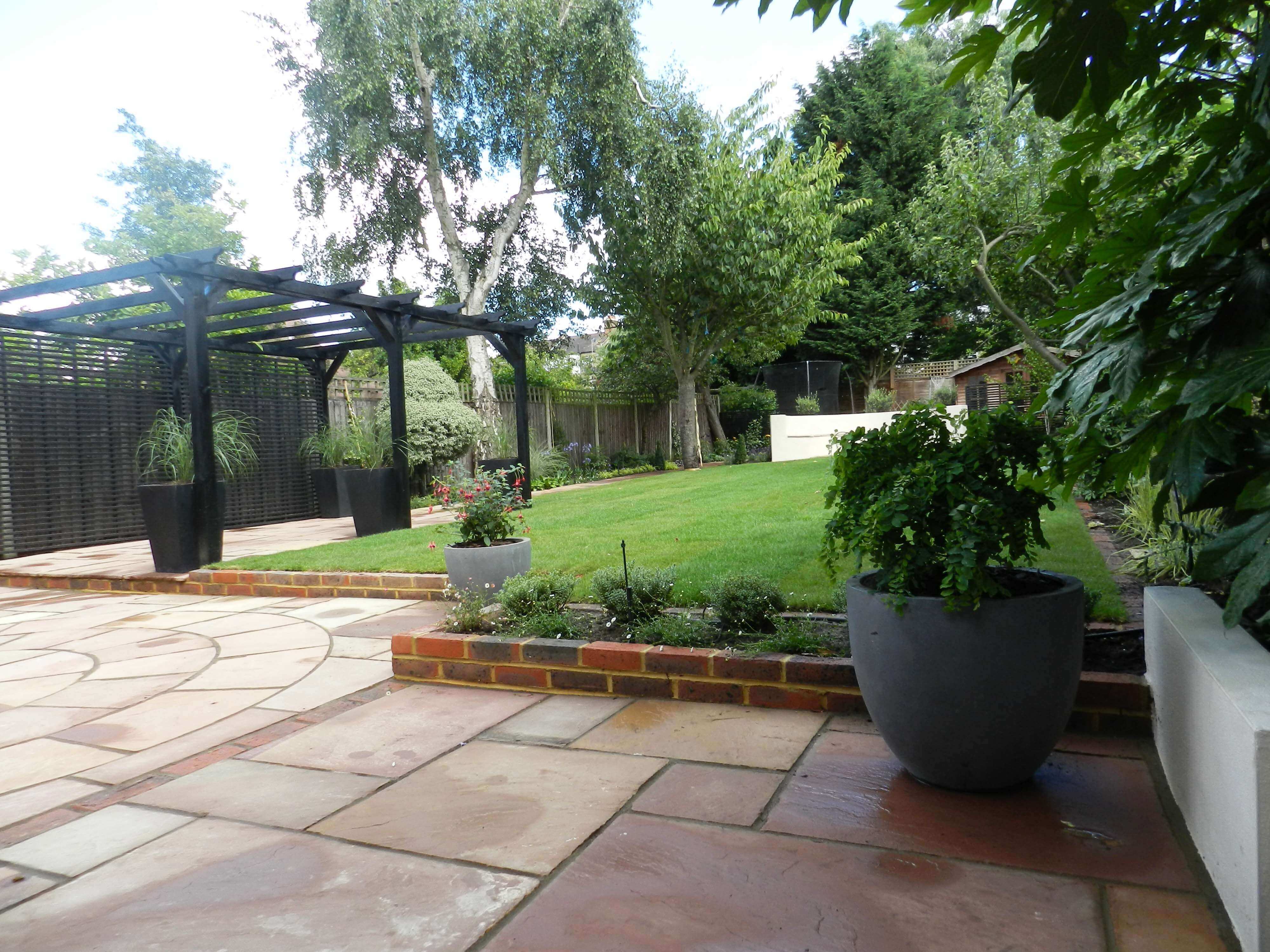 Foliage and flowers seem to sing out against the black stylish background. Horizontal slatted wooden screens are used behind the timber pergola and at the side access, and these are repeated further along, screening parts of the garden. For more information about how our designer Venetian slatted panels can be used as screens to cover items/areas inside the garden. Opposite the pergola across the lawn a statue makes an interesting focal point.
The path leads to a circular paved area in the sunniest part of the garden, with built-in seating around the fire-pit. The addition of comfortable cushions invite you to relax, and can be stored in the summerhouse. Behind this seating area the path curves to the end of the garden, which was previously an unloved and ignored area.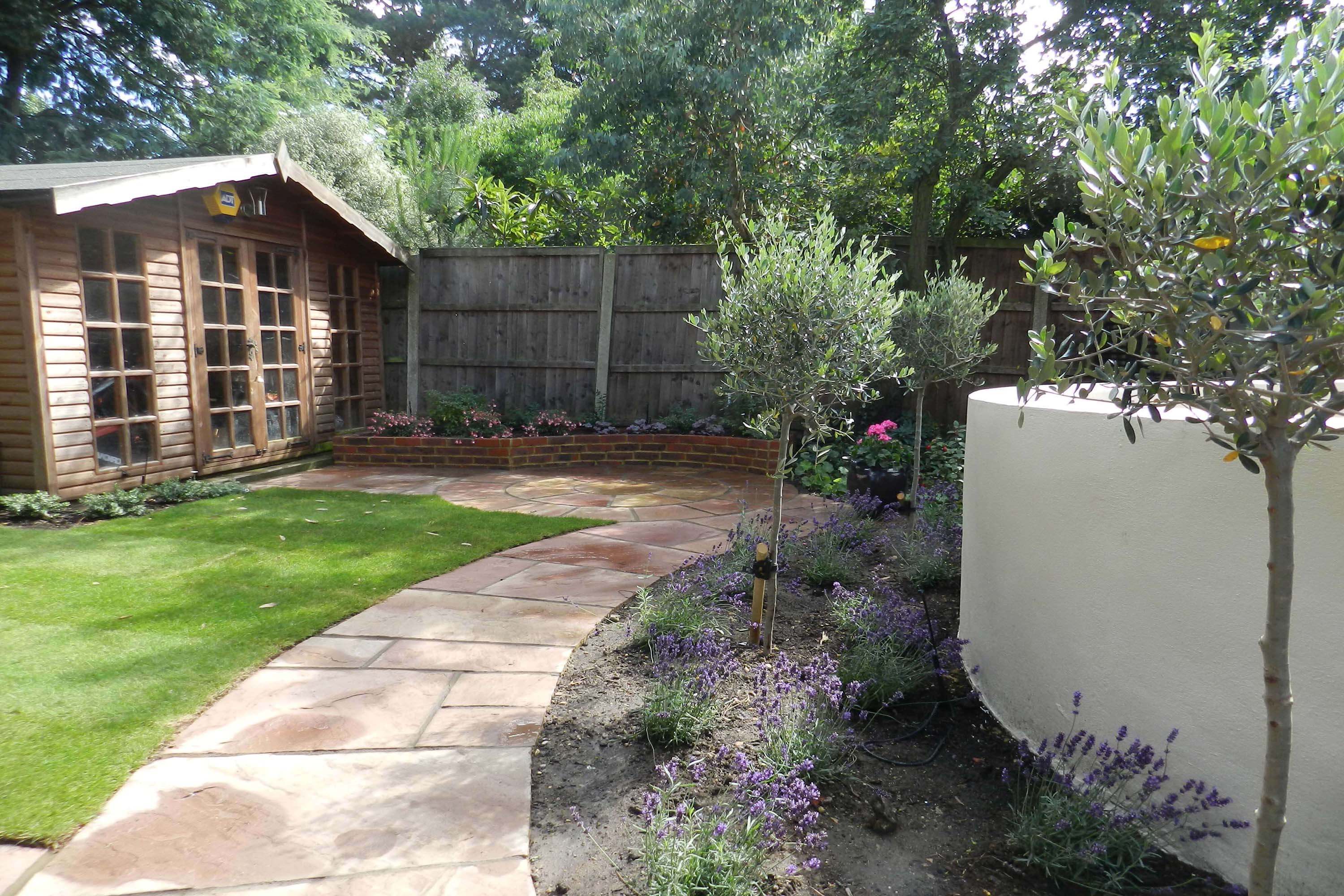 Additional Resources
Top Pergola Ideas To Make Your Garden More Functional
Perfect Pergola Structure Adds Style To Dining Area
Download our Good Fencing Guide Brochure