18/10/2023 08:18 AM
Garden Trends 2024
Let's take a look at what the latest garden trends are as we move into 2024.
Dark and mysterious colours
This year will see darker colours used in gardens, as moody aesthetics are favoured. Purples, dark reds and blues will fill borders with only a small number of vibrant coloured plants to contrast. There will be shifts towards dark foliage with intense shades of purple or brown. Swap light colour plant pots to darker colours for an instant upgrade.
Aged timber
Timber is a beautiful natural resource that will age over time. Ageing timber should be celebrated for all its character and ongoing strength. Reclaimed wood or existing wood structures that are older will add texture, roughness and neutral tones to gardens. Garden designers will add reclaimed or cherish mature fencing in newly renovated gardens, not only for their aesthetics but continuous functionality. All timber will eventually fade in colour. Some will opt to paint their timber instead of leaving it to naturally age. Leaving timber, whether that be fence panels, sleepers or pergolas will help the garden look well established and lived in. If you want to see the beauty in aged timber, you must buy quality timber with a long lifetime guarantee to begin with so that it has the opportunity to age and grow old gracefully.
Traditional cottage style garden
Traditional style gardens, or cottage gardens, are set to return. Known for its wild meadow style gardens with areas to grow your own produce, the traditional cottage garden is a welcome trend to return, when local wildlife needs us the most. Full borders with variety of plants and areas left to be wild are quintessential cottage gardens. Traditional gardens usually have designated sections, each with a different purpose. Smaller gardens can use garden dividers to either purposefully or subtly move from one area to another.
Rust
Rust has never been far away from gardens, whether that is on purpose or not. However, a growing trend is to add rust into your garden as a feature. Corten steel is a type of weathered steel, that is popular amongst garden designers and can be used to create a range of garden features. Corten steel will form a layer of rust that acts as a protective barrier holding its strength for years to come. A raised bed created from Corten or a water feature creates great contrast with the other aspects of the garden.
Panelling
A feature panelled wall and panelled fencing is an increasing trend in gardens. Statement panelling made from timber or metal can make a huge impact in a garden. Painted dark, panelling can add a sense of mystery and depth into a space. Left in its natural state panelling can become a focal point. Jacksons Fencing's Chilham fence panels have a panelled design and offer an instant upgrade to a growing garden trend.
Last Year's Garden Trends 2023
Wellness gardens at home
With life becoming ever more taxing, creating time to unwind and relax is important. Your garden can be your secret sanctuary and become a wellness retreat in your own home. Secret sanctuaries and wellness gardens are going to be a hot garden trend in 2023, as people focus on finding that moment of peace.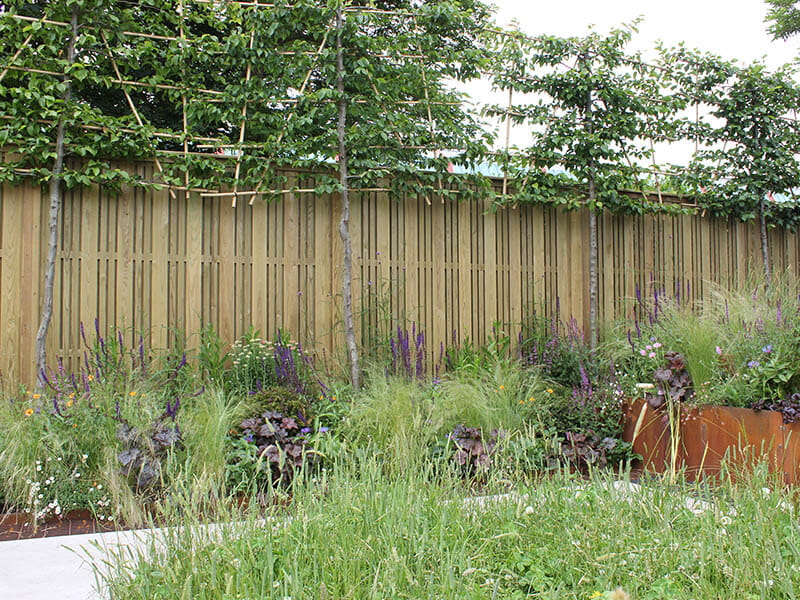 Having an outdoor space - whether it large or small - to immerse yourself in nature, is key to helping with mindfulness. Within garden shows around the UK, 'sanctuary gardens' have become their own category which just showcases their increasing popularity.
Introduce water
Introducing water into your garden, whether it a pond, if you have space, or bird bath, if not, will entice nature. Adding moving water will create soothing sounds that will help with the tranquillity within the outdoor space.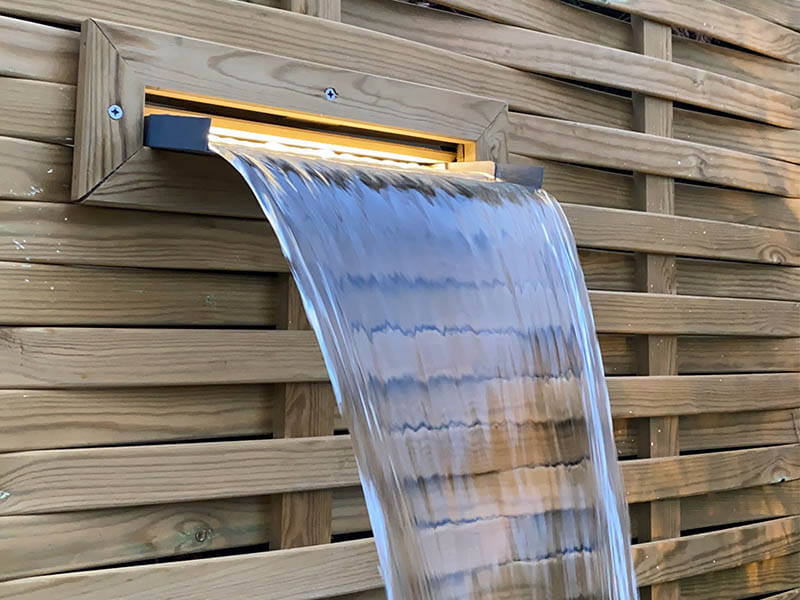 Create a water feature using timber sleepers to introduce moving water into your garden. The sound of the water will create a relaxing environment and in time also become a wildlife haven, attracting butterflies and dragonflies to the garden. If space is limited, consider incorporating a water feature into your fencing and add stylish surround lighting to ensure you can enjoy this focal point in the garden during the day and after dark. Read how to recreate this water feature in our blog post.


Create a spot to relax
Small seating areas, like a bench in a shady spot, a designated area with privacy screening using fencing, or an outdoor shelter to create a cosy spot, will help to great an outdoor sanctuary. Enjoying the outdoors shouldn't just be kept for the summer months. Privacy screens in the summer can also be wind breaks in the winter and adding comfy chairs and pillows to an outdoor shelter with well-placed lighting will create an outdoor space to enjoy no matter the weather.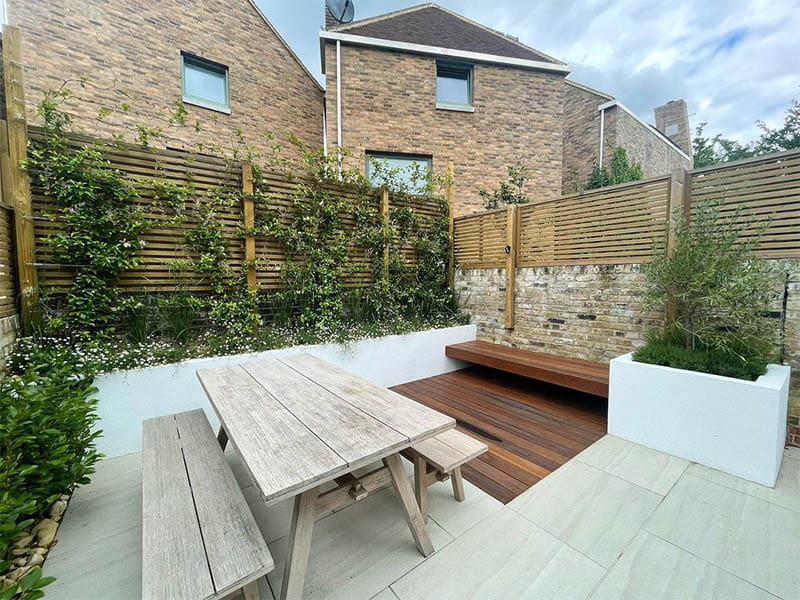 The colour of the year: Terracotta
Terracotta will see a rise again in 2023 as a growing trend inside and outside the home. Big terracotta pots to house beautiful Mediterranean plants (that can cope with the cold climate of the UK) will add a warmth and vibrancy. Large or small terracotta pots will add a pop of colour to your garden that it could be missing. If you want to add more Terracotta into your garden, opt to paint walls or raised beds and make a bold statement and decorative feature.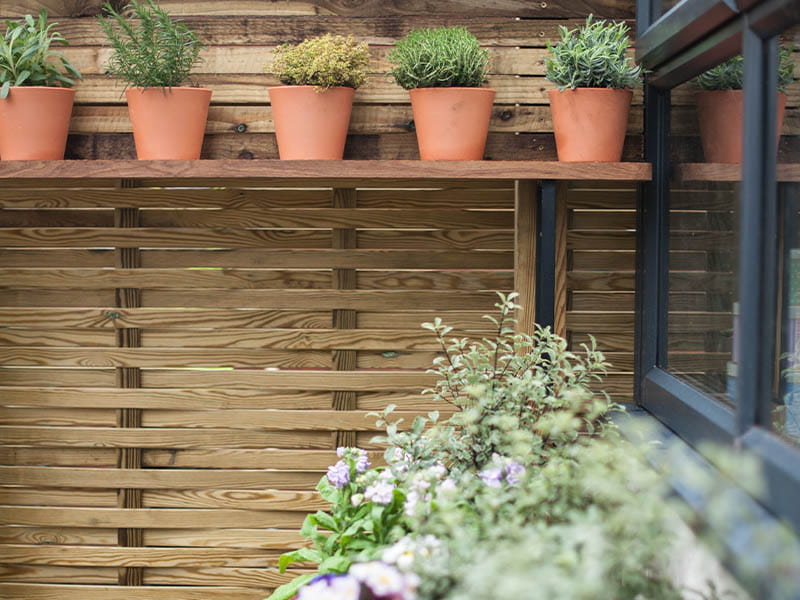 Greek inspired gardens
Gravel gardens and courtyards ooze Mediterranean inspired style and in small outdoor gardens, gravel is much less maintenance than grass. Not to mention more space saving not having to house a lawn mower. With warmer weather predicted in 2023, gravel won't dry up and look worse for wear when the summer months come.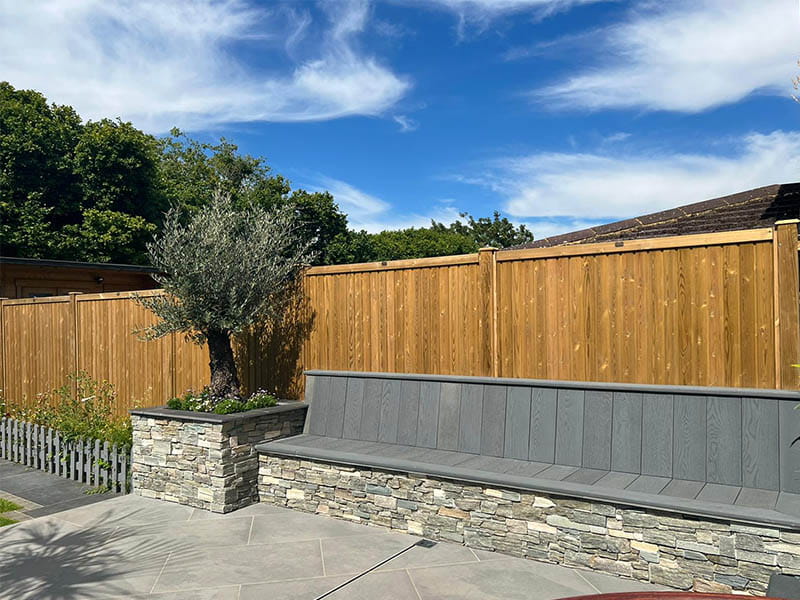 Iconic white walls are a firm nod to Mediterranean landscapes, therefore adding white to your garden walls is a great technique to add a Grecian touch. Timber fencing offers neutral tones that will bring all the elements together, complement a bright white backdrop, and encourage any planting to stand out too. White walls provide a crisp and clean aesthetic for you to customise with planting and garden accessories.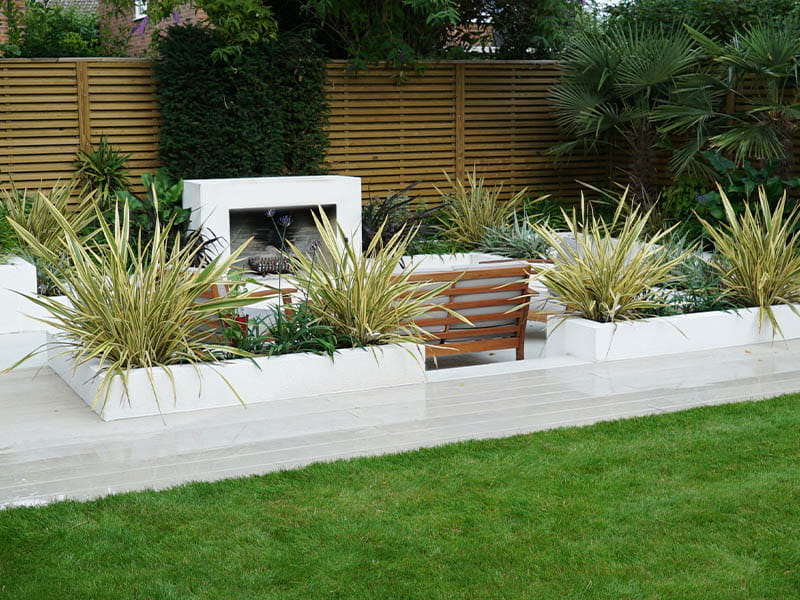 Introducing a pergola into your garden design will create a canopy over your seating area. Not only will this create a shaded spot to enjoy the warm weather, but it can also be used as a climbing aid for plants around the pergola posts and rails. Once established, these plants will help add to the shady cover, while also adding to the rustic Mediterranean aesthetic. Alfresco dining spots like these will help fuse the indoors and outdoors to expand your living space and enable enjoyment from every part of the property.
Stone has a traditional feel that helps to keep buildings cool in the Mediterranean. Introducing stone into your garden design will give an authentic feel but also marry in some of the UK's natural aesthetic. Stone walls were a huge part of dividing land before timber fencing. Traditional stone walls were built to a short height but today privacy is key, so if you have a walled garden which you would like to improve privacy in, instead of removing the beautiful natural wall, just add height to it. We have a detailed blog on all the options for attaching fencing to a wall.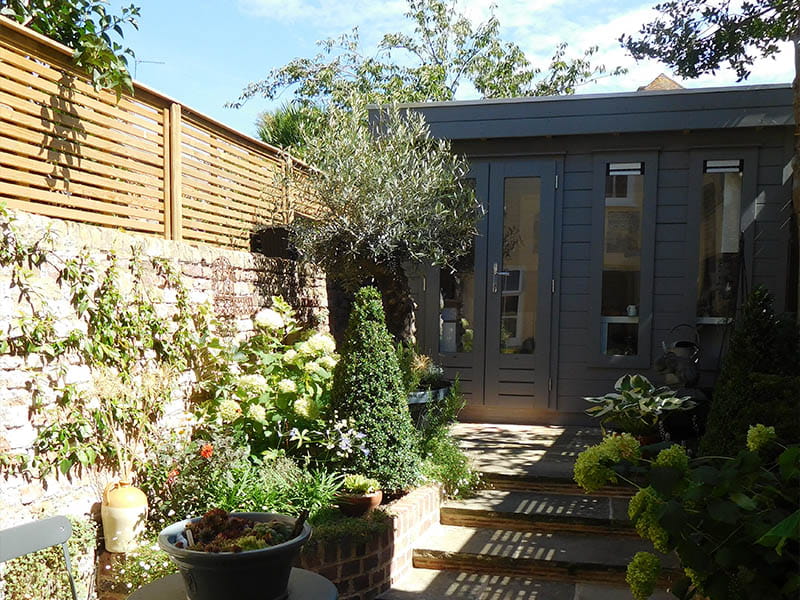 Drought resistant plants

Extended periods without rain and hose pipe bans may be seen again this summer and giving your plants the best chance of survival is key, not only for them but for your garden to stay looking good.
Plants that cope without water for extended periods are a smart investment, and tie into the Greek inspired garden trend. Acacia trees and palms are well suited, with smaller Lavender plants which will keep your borders colourful throughout the warm weather.