06/05/2019 12:00 AM
Do you like to entertain family and guests outdoors? Maybe you feel your garden is lacking something? You have the decking and/or the patio, you have a nice, safe fenced off garden, a garden screen, seating, grass, nice flowers and everything you need for a good party.
Yet, something is missing. Perhaps that something is outdoor lighting. If you have not considered it before, maybe you should now, because low cost LEDs are changing the way we light our indoor and outdoor spaces.
It may not be that entertaining is the focus. Lighting can help reduce dark spots within a garden or light up a dark driveway, making it feel more comfortable and also reducing the chance of crime.
Why You Should Consider LED Lighting
Light Emitting Diodes or LEDs were once something found in laboratories and small torches, but now they are an affordable light source. They are renowned for being cost effective, durable and flexible. This means they cost less to run while coming in all shapes and sizes ranging from floodlights to tiny strip lights which can be attached to any wall or surface. Their durability means they are more robust for outdoor lighting and many come in weatherproof fittings and covers.
Types of LED lights include:
Downlights
Strip Lights
Spotlights
Floodlights
Strip Lights
Bulkheads
High Bays
For an outdoor setting you may need to mix large main lights with smaller, decorative lights. These can range from small lights placed between plants to illuminate flower beds to large wall mounted flood lights and strip lights placed along fences and trellises.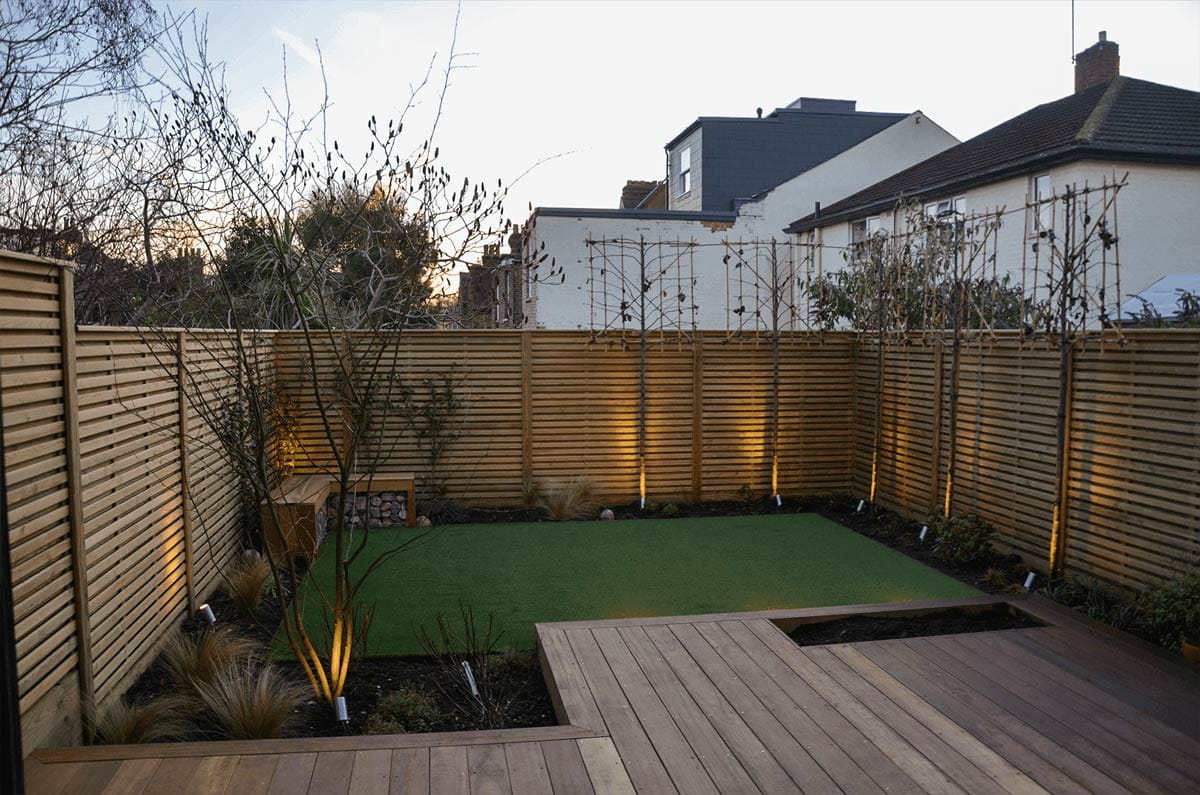 Planning Your Project
The
key to any project is planning. Each project is unique and should never be bodged together at the last minute! This is especially true for all project requiring new or modified wiring. You need to know exactly where you want your lights, in what pattern, which needs to be wired into the mains, and how. Some lights will require wiring through or along a wall, others may need to cross under or over areas where people will be walking.
Patio and Decking Lighting
The first thing to decide is what kind of lighting would you like... Would you like a main light on the wall or a series of smaller LED candle lights or perhaps spotlights? These are more complicated to install as you will need to firmly attach the fitting to the outside wall and ensure wiring either goes through inside the wall to an appropriate mains supply or down the outside. The wire needs to be properly insulated and safely fixed into position. You may wish for a series of smaller lights such as strip lights which can be simply fixed to the wall with wiring closer to the ground. Much like Christmas tree lights, you can work these lights over trellises, railings and so on. It is also possible to utilise battery powered lights - which last longer with LEDs and solar powered lights for the garden, but the latter will only work in areas which receive sufficient sunlight.
Outdoor Fence Lighting
Outdoor fence lighting is a trickier area to cover with light because they require longer lengths of wiring and smaller lights. It is not advisable to attach floodlights or bulkheads, or even spotlights to fencing. Strip lights are the most sensible lights to use, though lightweight wireless lights such as battery candle lights and solar powered lights may work too. To complete your fence lighting you will need large strips of lights connected to one or two power sources close to the house. The wiring needs to be safe and secured, so you can control when the lights are used. The image above shows an alternative way to light up fencing using a light that points at the fence. Our Venetian Hit and Miss Fence Panels work perfectly with this setup as the shadows from the lights create a contemporary feel but different
fence panels
can product different effects.
Another example of lightning used with fence panels can be seen below. This was a project by our Approved Installer Countryside Contracts that installed a fountain within Woven fence panels. At night the lighting within the plants produce some superb shadows.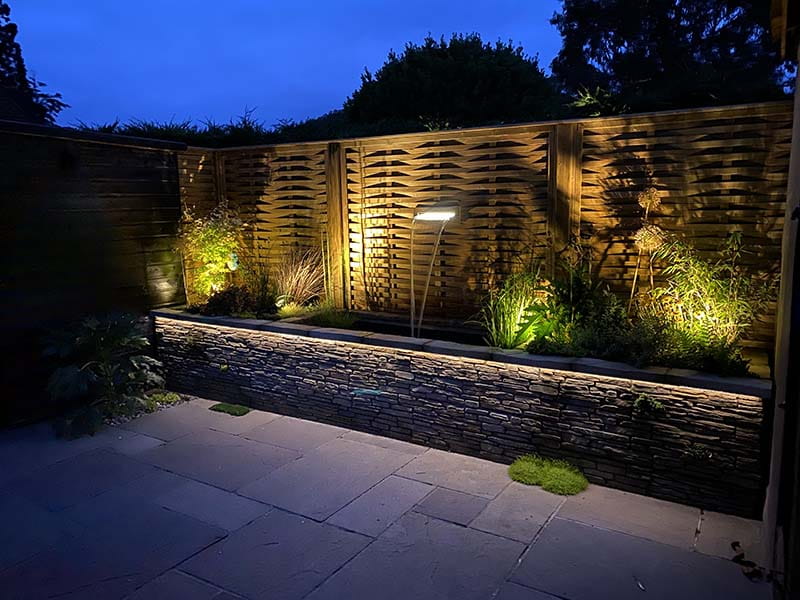 Lighting a Garden Gate, Entrance or Driveway
Lighting for entrances and gates can have a number of different purposes. The first is usually security, lighting up an area is known to reduce the chance of crime as a opportunist burglar would rather a driveway or entrance where they can hide in the dark rather than having a spotlight on them. Gate and entrance lighting can also be used to make a property stand out and making it look elegant. There is the option to light up house names or numbers, this can help visitors find the property easier in the dark while creating a modern feel.
Some Considerations
There are a number of considerations you should think about when undertaking DIY outdoor LED lighting projects. It is crucial to:
Be prepared and plan ahead
Use the right tools for the job
Wear the right clothes
Have safety equipment
Good lighting

You should also seek expert advice wherever possible; especially on health and safety issues, you should employ a qualified electrician for any new or complicated wiring elements of your lighting. This is not just for your safety, but for those using the site as well.