12/07/2016 11:00 PM
Outdoor security lighting; it's useful to everyone, yet considered by almost no-one. Everyone wants to feel safe within their own home, it's a natural feeling and it's one which is relevant all across the globe. Safety is a key factor for the modern home, so ensuring that you're doing all you can to make your home safe seems like a no brainer, yet so many people seem to skip over features such as outdoor lighting when they are setting up their home perimeter security. This buying guide is here to make sure that you don't fall victim to complacency like those before you, and aims to give you all the knowledge you need to find the perfect security lighting for your home.
Power
The first thing you have to consider is power. Finding the right level of power for your outdoor lighting is pivotal, as it allows you to discover which style of light is most suitable for your homes' exterior. Consider the size of the area that your lighting is going to have to cover. If they're going to have to cover a large space, you may want to consider a light with a higher wattage as their light is more powerful and can reach further, whereas if your outdoor space is smaller, a lower wattage should do the job just fine. The Cordelia range of outdoor floodlights can be found here and are a superb way to find the right level of power for your home as there are 3 lights which all have different wattage levels, meaning you can find the perfect lighting for your home's exterior.
Energy
Another immensely important factor to consider is the energy consumption of the lights that you choose. LED lights are great for your home if you're looking for a way to save money, as their energy consumption levels are extremely low. LED bulbs are extremely durable and reliable too, meaning you can sleep stress-free with the knowledge that you can depend upon your sublime security lights.
For a light that is a great energy saving tool, take a look at
Hodder LED Security Floodlight Slimline 50W in Anthracite
. This simple and effective floodlight will offer you sublime LED lighting which is effective and will save on energy costs.
Sensors
Sensors are an absolutely fantastic feature to have in terms of keeping your home safe and sound, which in turn will make your life at home much more comfortable and pleasant. PIR sensors add a genuine sense of security to your home, as they detect any infrared movement and shine a light on it, giving you a clear view of where the movement is so you can identify what is going and if anything needs to be addressed.
This Lune LED Security Wall Light Twinspot PIR is a terrific example of how sensors can be used as it features PIR technology which triggers the dual light system, offering excellent coverage and greater security to your home.
Where
Finding where to put your outdoor lighting is possibly the biggest, and most important, task when it comes to adding outdoor security to the exterior of your lovely home. If your lights aren't placed in the correct areas, you may have vital zones which are left uncovered which will mean there are still security risks around your home. Before you place your lighting, it is a good idea to survey the outside of your house, and find the most important places to light up. This would be places such as:
• Entrances to the perimeter of the home
• Entrances into the house
• Areas of shrubs, bushes, or trees
• Anywhere that access to the garden can be obtained
• Shaded areas that have low levels of lighting
By identifying these areas, you are able to identify the main risks to the home and make changes to your security measures to ensure that these areas are secured.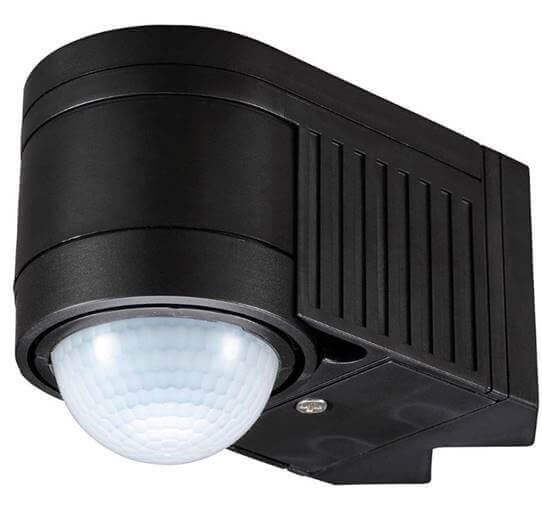 A superb light which has a unique positioning feature is the Luton Outdoor 360 Degree Corner Mount PIR Sensor in Black, as it comes with a corner mount function. This allows you to mount the piece around any corner, so is extremely useful for homes that have perimeter security. These two home features work incredibly well together; the fencing will give you a more robust form of security, whereas the lights offer a more refined and detailed approach to providing a sense of safety to you home.
So, now that you've got all of the information you need to find the ideal outdoor security lighting for your home, you should be able to make your home a safer place to be in a much more efficient and effective fashion. For more helpful tips and exquisite lighting, visit www.litecraft.co.uk today!