02/12/2014 12:39 PM
Impressive entrance gates will deliver immediate prestige to your property, but more importantly will provide an added level of security to protect your home.
Courtyard gate kudos
If you want to create a really grand entrance to your residence / premises, consider a beautifully crafted quality courtyard gate. These superior, heavy gates will ensure a heightened sense of privacy as well as convey a 'serious commitment to security' message to any passing opportunist thieves.
Traditionally built from timber to create an effective screen, seek out a design which incorporates a galvanised steel frame clad in timber to rule out the risk of twisting or warping, which can be a problem common to this style of heavy gate. A steel frame will of course also represent an even stronger, durable force to be reckoned with should any intruder attempt to gain an entry.
Given the sheer bulk of a courtyard gate it is extremely important to make sure that the gate posts destined to support the gate leaves are fit for purpose and capable of withstanding the weight and wind loading associated with this type of installation. Always seek out the advice of a qualified engineer (visit www.jacksons-fencing.co.uk/fence-installation.aspx) and ask their professional opinion first before you install a gate on existing posts that have not been supplied by the gate manufacturer.
Let there be light
A twist on the traditional courtyard gate is a design which features close fitting timber panels to offer effective screening, combined with decorative steel insets. This genre of gate allows more light to filter into the garden, whilst also suggesting a touch of sophisticated elegance.
Sliding security
Sliding timber gates which operate either without a track (the gates slide on a special steel beam that is fixed to the gate through adjustable rollers) or on a track (heavy duty wheels run on a track that is set in concrete) also make for an imposing entrance. This type of gate is typically automated but can be supplied with a manual opening.
Stylish steel
Steel ornamental gates will add a dash of grace and charm to any entrance and can be at home in either a traditional or contemporary setting. There are numerous designs and styles to choose from but always ensure that the steel featured in the design is corrosion resistant hot dip galvanised steel if you want to minimise the risk of rust tarnishing the appearance and possibly affecting the performance of the gate.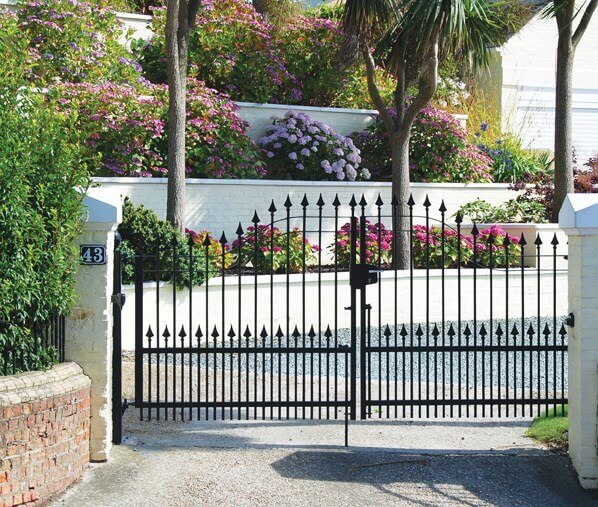 Timber entrance gate
A popular choice especially for country properties, a timber entrance gate or five-bar gate makes for a smart finishing touch to any property. Consider the type of shutting system that best suits you and your family– choose from either a Loop over catch, an Auto catch or Spring catch. As with timber courtyard or sliding gates, always check that the timber used in the construction offers lasting protection against rot and wood boring pests. It is also important -regardless of the style selected – to opt for galvanised hinges and fittings to prevent rust interfering with the actual gate operation.
Effortless electric gates
The decision to automate a gate may be governed by a number of factors. Having an electric gate is great for generally bolstering up home security and for families with young children and pets, automated gates will safeguard against the risk of an impromptu adventure away from the confines of the supervised home environment. Elderly people or those with a disability may also be attracted to the benefits of automated gates, which will dispense with the need to get in and out of the car to open a potentially heavy gate. But much as these installations are a welcome addition to many homes, they can also be a potentially lethal machine if there is a failure to adhere to the recommended safety guidance. Always seek out a suitably trained person to install an automated gate (someone who has completed the Gate Safe or DHF training course for powered gates) and be aware that these types of gates are legally required to be CE marked to indicate their compliance with the relevant standards. To find out more about automated gate safety visit www.gate-safe.org or www.dhfonline.org.uk/powered-gates-homeowners.aspx.
Noise mitigation is usually a complex problem, so to ensure that you arrive at the best solution for your specific situation, we always recommend consulting a qualified sound engineer before you make your purchase.