07/08/2023 12:08 AM
Noise reduction fencing is the main combative technique to external noise pollution.
Noise reduction fencing, also known as acoustic fencing, is installed differently from a standard garden fence, as it needs an experienced noise reduction fence installer to install it. Noise can be a signification source of disturbance and annoyance in urban areas for residents and has been proven to affect human and animal health. Transport links are getting busier, and more sources of noise are being created as a result. People who live nearby will be most impacted by a growth in the amount of noise pollution.
For those who have owned their homes for a long time and seen an increase in the amount of noise being created in surrounding areas, may not have modern protection measures to combat the noise. More often in new build housing developments which are built near major transport links (due to demand for these locations), developers use acoustic fencing to reduce the amount of noise in residential areas.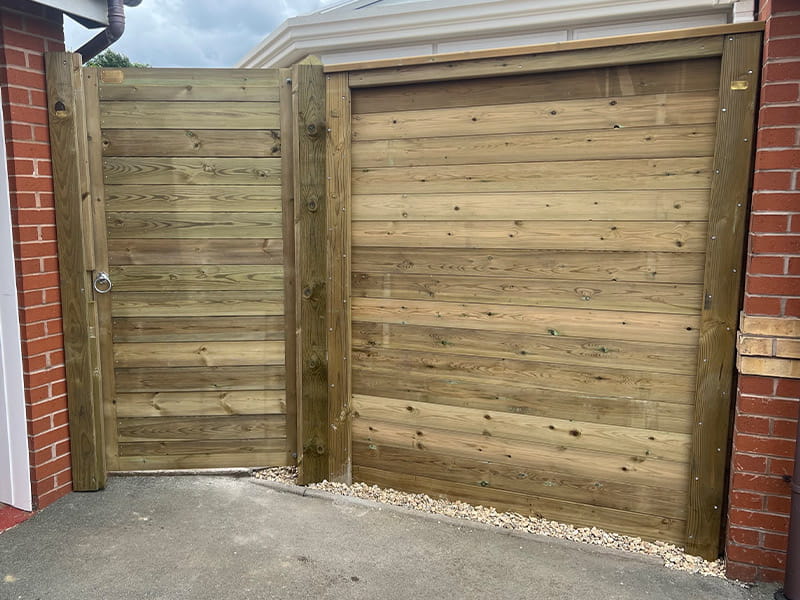 Hornby Garden Designs, one of our Shropshire based Approved Installers, carried out an acoustic fencing and gate installation for a customer in Oswestry, Shropshire. The project aimed to replace the deteriorating fencing around the property that the new owners had inherited.
The old fencing was a larch lap style fence with incorrect posts. It did not offer much in terms of noise reduction, security, and aesthetic value.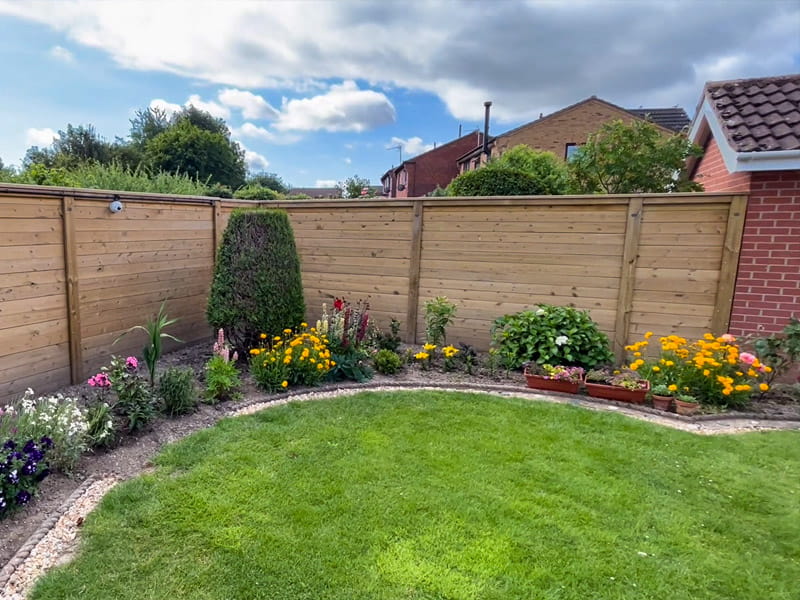 As with any acoustic fence installation we always recommend a sound survey is carried out by a qualified sound engineer to establish exactly what type, size, and position the noise reduction fence should be. Sound engineers will factor different variables in, like the distance the fence will be in relation to the noise source, and how the sound will be reflected. It's crucial the sound engineer provides a detailed report which is shared with the manufacturer and noise reduction fence installer.
For this site, noise levels at the roadside measured 65 decibels and 45 decibels just outside of the fence. This level of noise is similar to a person's laugh or noise levels in a busy restaurant which in small doses is completely fine. But in your garden or home where you may want to relax or keep your windows open , this could cause unease, especially when trying to sleep.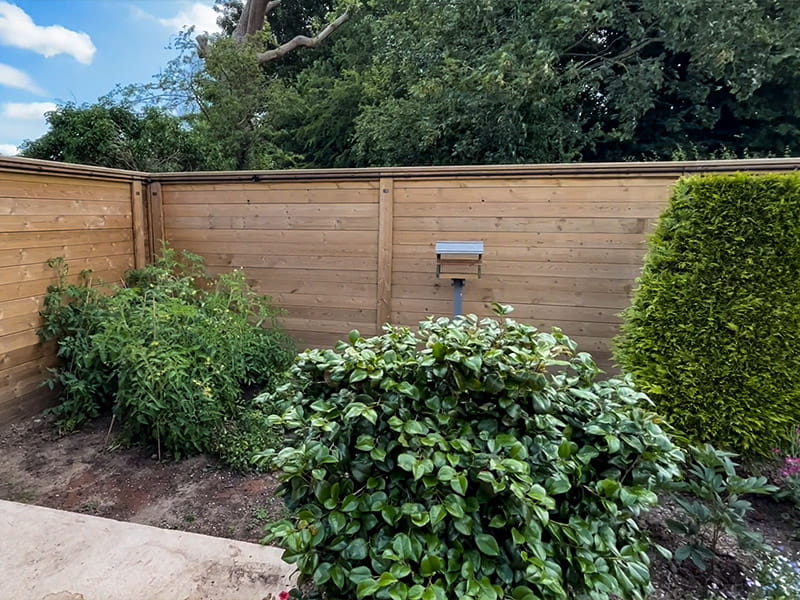 Our Jakoustic® Reflective acoustic barrier was chosen for this project and is often the choice of acoustic fence for residential areas. It not only reduces sound by up to 28db in laboratory conditions, but it also provides an attractive garden fence.
Interlocking timber boards reflect sound waves, therefore reducing the impact of noise. Noise reduction fencing doesn't come in premade panels as most fence panels do. It's made of longer timber boards which are installed from the ground up and slotted between timber tuning fork posts. This means not every fence installer will understand and have the expertise to install this style of fence.
Manufacturers will have their own installation teams or have a set of approved installers that they will recommend installing their noise reduction fence. We always recommend contacting the manufactures for advice on who should install noise reduction fencing. We can't stress how important it is to use an experienced installer as the installation of noise reduction fencing is key to its success.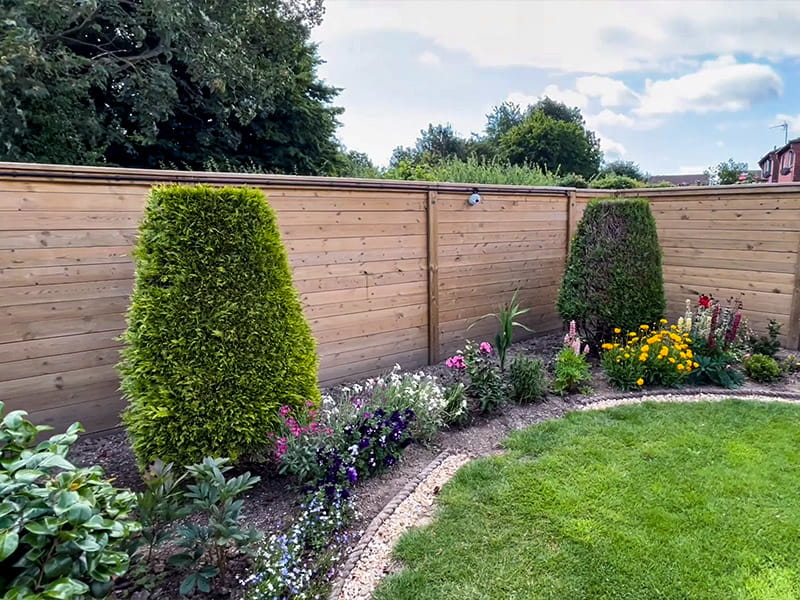 If a noise reduction fence is not a suitable solution for noise in your garden, there are other ways to combat excess noise pollution. We have a blog on ways to make your garden quieter. In the sound engineer's report, the recommended fence height for this particular location was 2.05m which required planning permission. Always check with the local authority's boundary limits before installing a new fence as some councils will have limits on how tall fencing can be.
Due to the height, fence posts were installed deeper into the ground to offer additional support for the fence. To ensure a complete boundary an acoustic gate was installed which gave the garden complete noise reduction. The clients were overwhelmed with how much the noise reduction fence reduced noise levels. The noise is now almost unmeasurable on a sound device.