03/02/2023 11:22 AM
Rubbish bins, lawnmowers, and composite bins are all garden hardware you might not want to see when relaxing in your outdoor space. Hiding such objects when you have no choice but to store them outside, is not as tricky as you think. We explore ideas to hide the most common eyesore – bins, using slatted fencing.
Ideas to hide wheelie bins
(Bin Screens)
Using slatted fence panels to hide bins is an effective technique to conceal or obstruct the view to what is behind. Relatively easy to install, with different styles available, slatted fence panels can even add a decorative touch to your garden.
Wheelie bin screen ideas using fence panels
Venetian
A contemporary fence panel often used as screening; Venetian is made using horizontal pales with 15mm spaces between them. The view through the panel is not completely distorted but the panel will distract from what is behind.
Venetian is a great fence panel to combine with climbing plants, as the vines will intertwine around the pales creating a green screen, which will eventually conceal what is behind.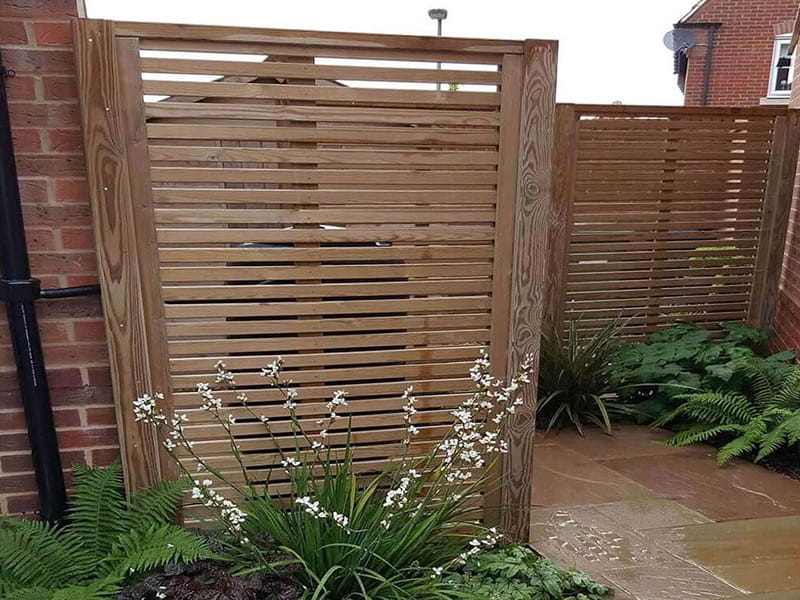 Louvre
Louvre is a slatted fence panels that has wider, timber slats that are angled downwards to prevent anyone seeing through panel. A line of sight can only be seen from below at an upward angle meaning it is a very good panel for hiding unsightly bins and other garden objects.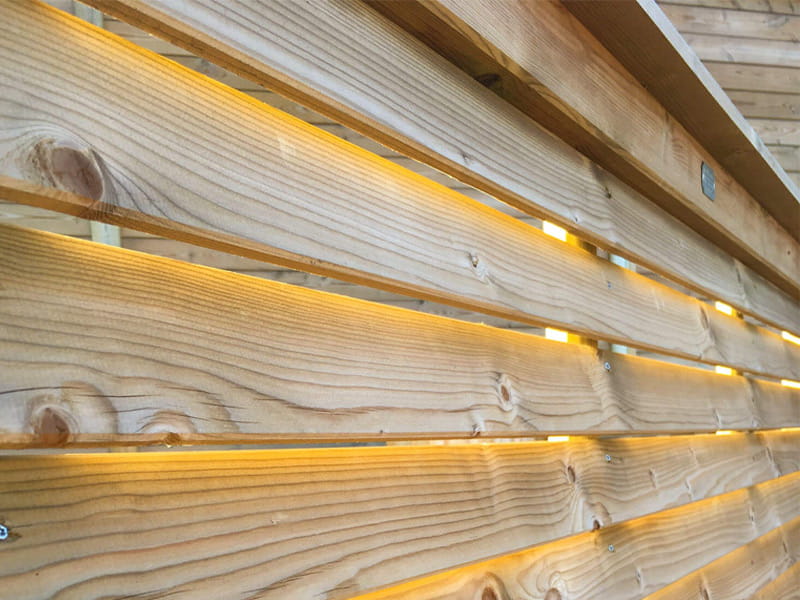 Venetian Hit and Miss
If you want to completely hide bins from sight, a slatted panel can still be used but opting for one you can't see through, such as our Venetian Hit and Miss panel. With horizontal pales attached on alternating sides of the panel, you can only see through at a downward angle meaning what is behind the panel is hidden.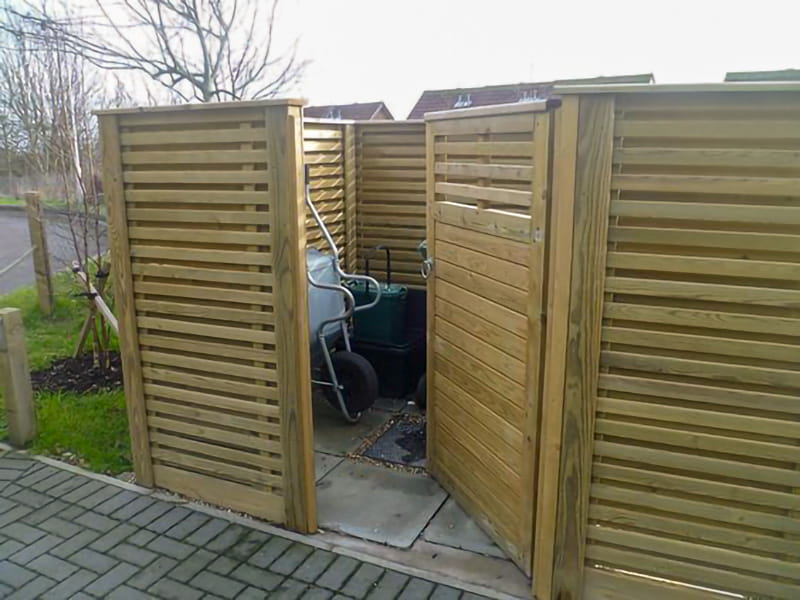 Trellis for hiding bins
Trellis is the ultimate screening panel option. Known for its decorative nature, trellis designs come in different styles, all offering varying levels of concealment.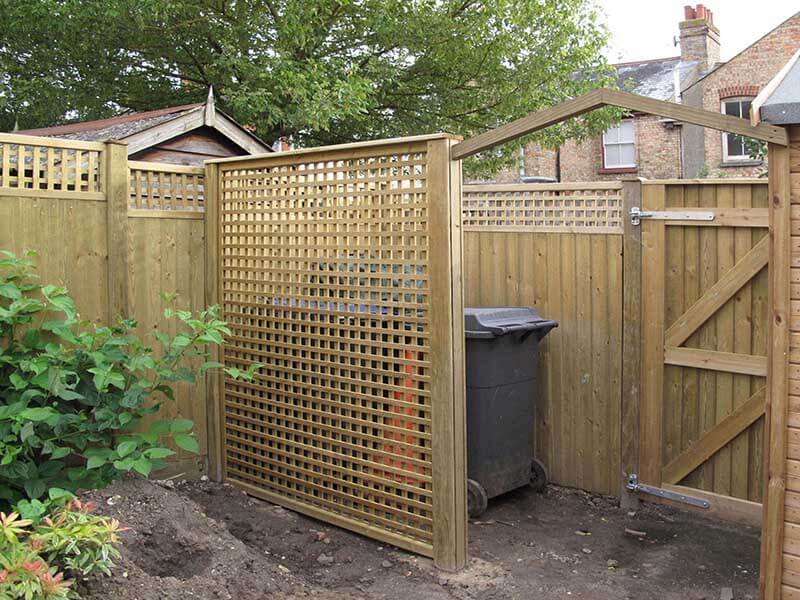 Lattice Trellis
Lattice trellis panels are made up of small squares which distort the line of sight to what is behind the panel. Great for screening, the square design makes it easier to break up the shape and disguise bulkier objects behind.
Other styles that would make good bin hiding options are Diamond and Tartan Trellis. With larger apertures, the panels offer less concealment capabilities but paired with planting they can effectively hide what is behind.
What do you need to install a bin screening panel?
How can I hide the bins at the front of my house?
Front gardens often don't have much privacy, and this means bins which are kept here for easy access to bin-men, are often on show to every passer-by. Not everyone will want to show the world their rubbish and many want to keep front gardens looking neat and tidy, so we have a few solutions.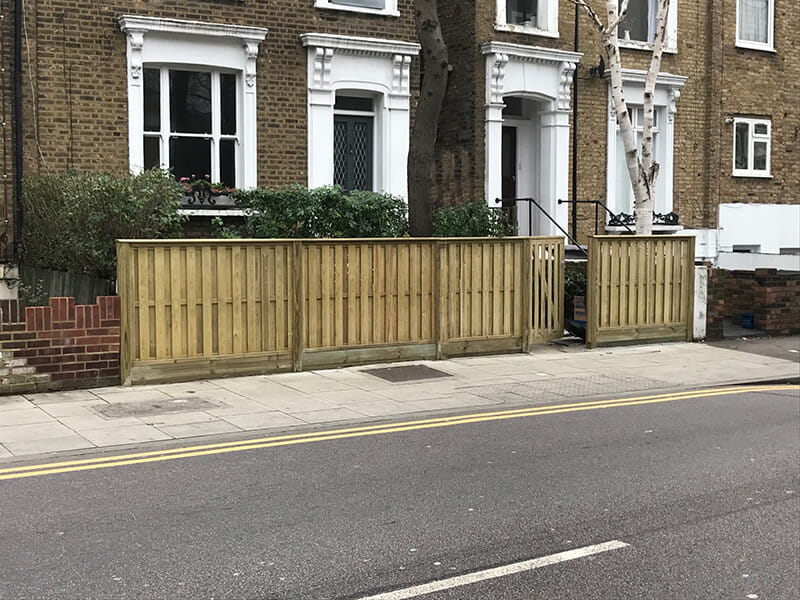 Planning regulations force many homes to have a shorter fence at the front of their house, so even using a solid fence panel that allows no line of sight through the panel would probably not work for hiding standard height wheelie bins. If you have a wall at the front of your house and have permission to increase the height to provide more screening, slatted fence panels are a great option as they still allow light into the house. Our Jakpost® foot allows you to install fencing onto existing hard surfaces with ease. If you want to know how to increase the height of an existing boundary you can read our blog here.
Hiding bins with a wheelie bin store
A wheelie bin store is great option to hide wheelie bins from sight in the front or back garden. Our bin store is made from pressure treated timber, with an internal steel frame for strength. Available with two bays as standard and an optional third, all your bins can be kept out of sight. Wheelie bin storage also helps to keep your bins in one place, stopping strong gusts taking your bins for a walk down your street.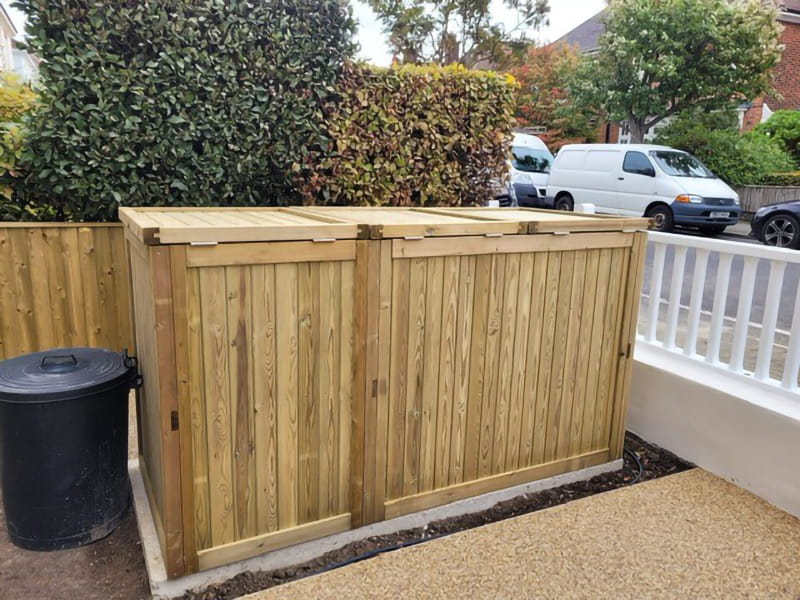 In this project, the client's vision was to create a storage area to neatly locate their rubbish bins separate from the main garden. Bins can be an eye sore, so Venetian fence panels, similar to our Venetian Hit and Miss panels along the boundary were using to hide the bins from sight. To finish the area, excess bricks were used to create a wall, concealing the bins from the view from the house.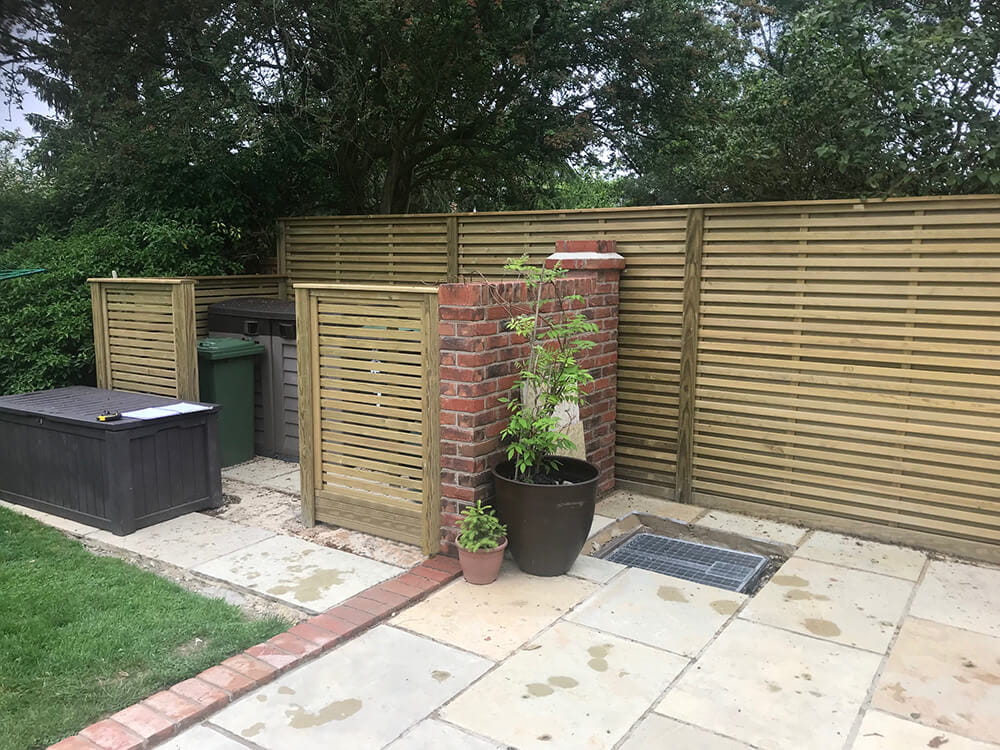 Allowing for a designated area to house unsightly objects keeps your garden looking neat and tidy, contact us today to find your best bin storage solution.