08/03/2020 09:00 AM
Contemporary fencing features in beautiful Chester garden overhaul
When Dave Handley of Creative Gardens and Driveways was contacted by their client for a garden redesign project, the brief was simple: create a contemporary garden design within budget that maximises the open space in the garden. The client wanted to create a relaxing environment that incorporated sandstone paving, contemporary slatted fencing and a bespoke water feature.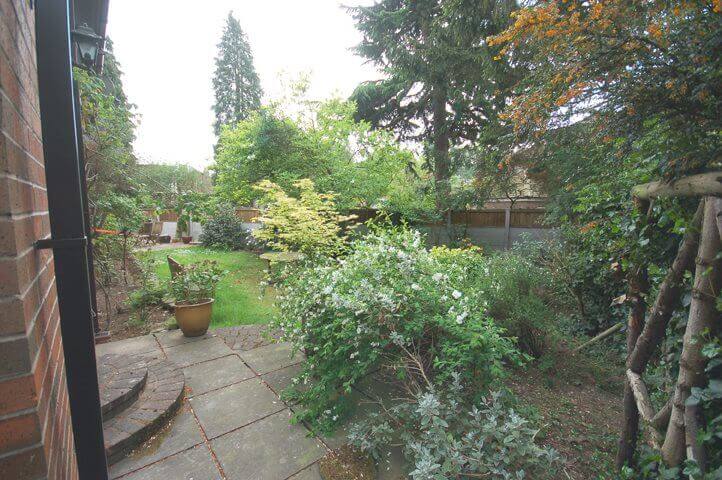 The main focus areas for this project were:
To replace or hide the existing rotten collapsing fencing with a cost effective value for money alternative.
• To Introduce more interesting features into the garden by using a variety of materials and techniques to create focal points whilst maintaining a simplicity that allows for a low maintenance garden.
Using sandstone paving slabs
To accentuate the large open space sandstone paving slabs were used throughout the garden which give both a rustic yet modern design. Using larger paving slabs make gardens appear larger and seem less enclosed. A paved area is also an ideal space to add a water feature, and within this garden design, Creative Gardens and Driveways installed a bespoke stainless steel water feature into one corner of the garden. A specially commissioned stainless steel rill flows gently into a bottom pool that is set within the sandstone paving. The bottom pool is free from pumps and wires to continue the crisp uncluttered design. Now the clients can enjoy the sounds of moving water while relaxing on their patio.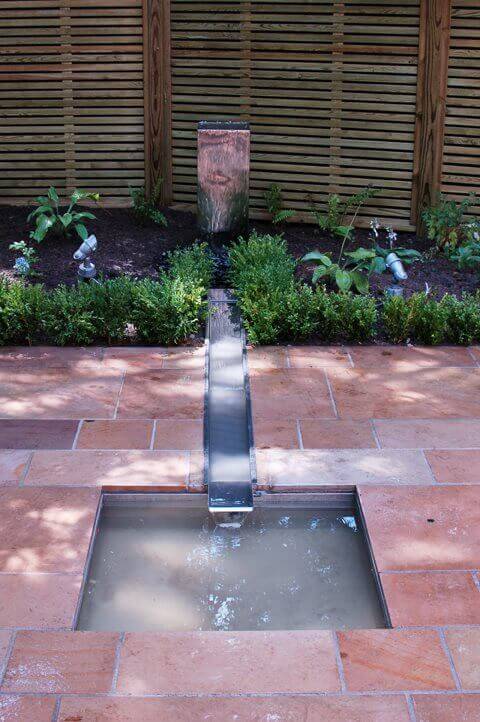 Using designer fence panels to cover existing damaged fence
To maximise the open space within the garden and create a tranquil area for relaxing and entertaining, our Venetian slatted fence panels were installed to cover the existing unsightly fence. This solution proved to be a cost effective method for the owners and exceeded the overall design brief because it saved on labour expense to remove the previous fence. For some more examples of how to utilise fencing to hide or cover less attractive areas of a garden have a read of our blog - how do they get rid of the ugly concrete.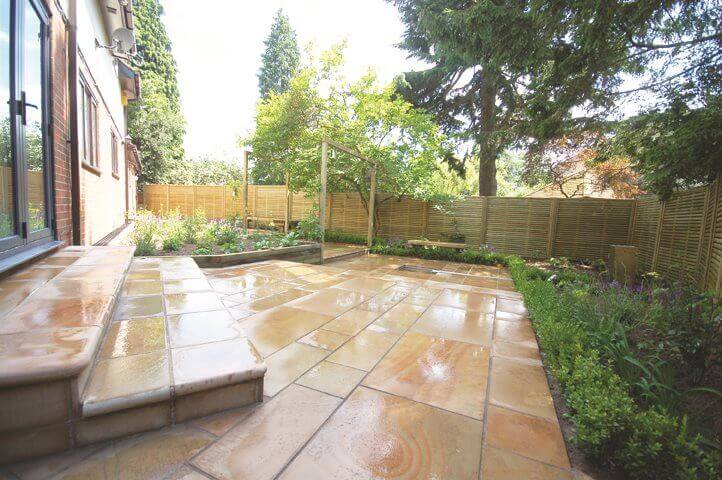 Why use slatted fence panels?
Dave Handley provides comment on why he felt our slatted Venetian panels were appropriate for this project stating 'slatted fence panels are often used as boundary fences, standalone garden features, screens to segregate areas of a garden or terrace and solutions to finish off decking and landscaping projects. This type of fencing is great for the large open space as the semi solid panel allows the space to feel open whilst still enclosing the garden. The timber fence panels complements the natural elements within the garden design which allows the garden to flow.'
Using budget effectively to deliver the most value
Matching timber posts were utilised to construct the raised planting beds and bespoke benches in the south facing area (in the sunniest corner) of the garden to provide a comfortable seating area with a great vantage point over the newly developed garden. Though, not conventional this novel idea really did serve its purpose by saving the client money as a generic standard timber bench can cost between £100-£200.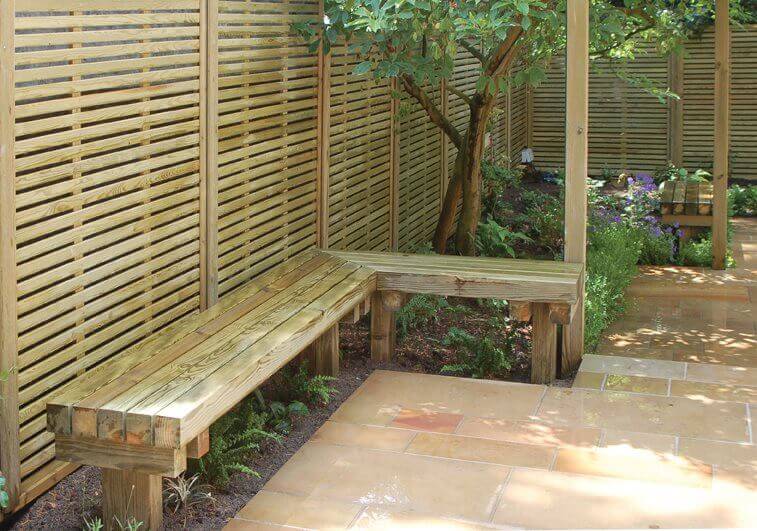 Another solution could be to use our timber sleepers to build raised beds within your garden and we have produced an easy to follow guide detailing how to build a raised garden bed with sleepers.
Pergola structures can add height an interest
Another cost effective method to create interest in the design employed by Creative Gardens and Driveways was the use of pergola structures. In a 2019 blog we discussed the idea for using a pergola to add height to a fence and our top pergola ideas to make your garden more functional with top tips how to incorporate these into your design.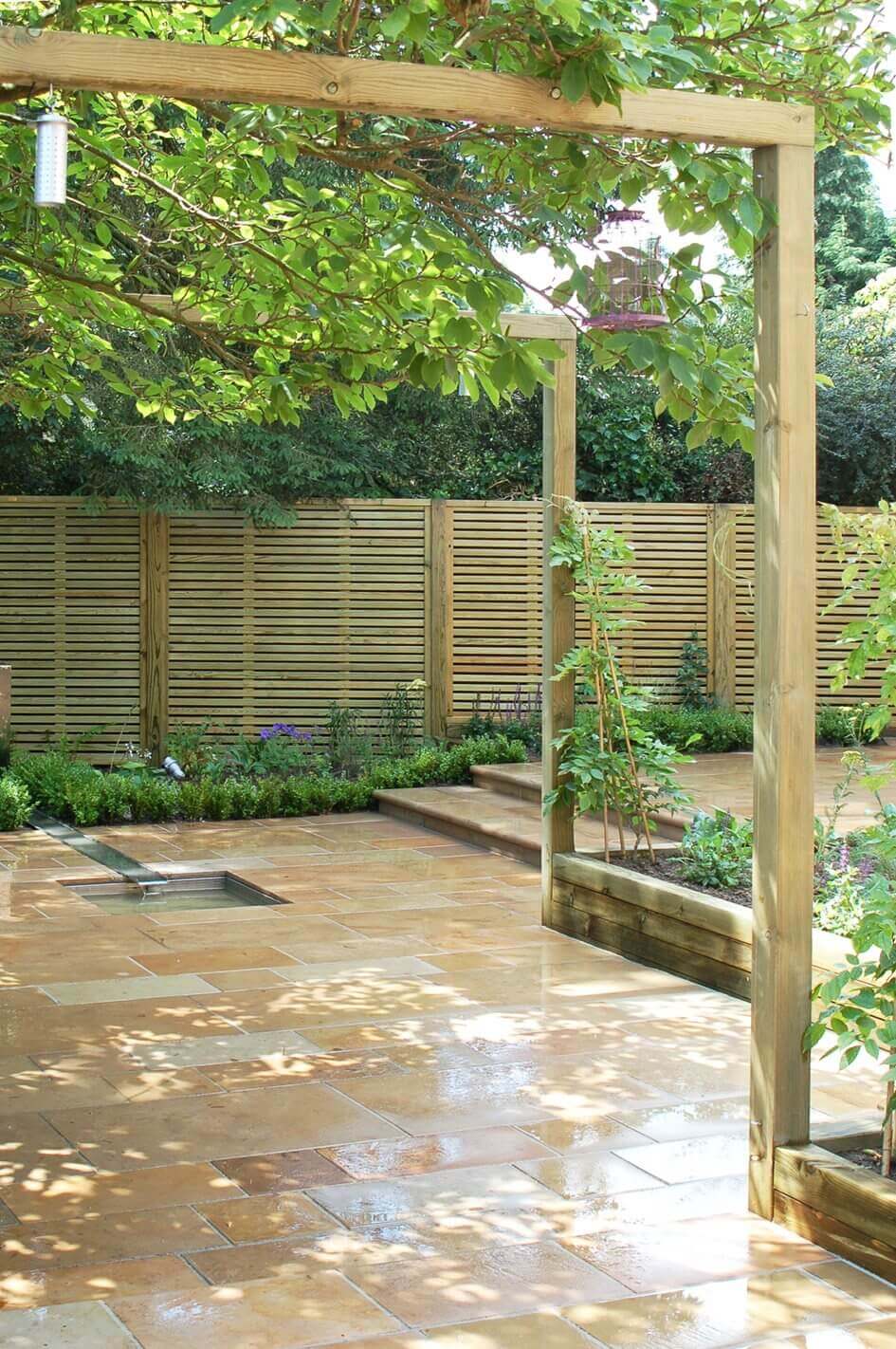 We do advise checking whether you require planning permission before going ahead with this one, but we just love the effect that it brings to the whole property, especially as the single pergolas are made from Jakcure pressure treated timber that arch over the sandstone paving slabs; creating much needed height.
Plants and lighting used
The plants selected were chosen to give all year round interest in the combined with high quality topsoil which was imported and incorporated with horticultural grit to create an ideal planting conditions for the new plants. The garden features subtle but effective lighting in various zones, which can be remotely controlled from a simple unit and the water feature can also be switched on in this way also.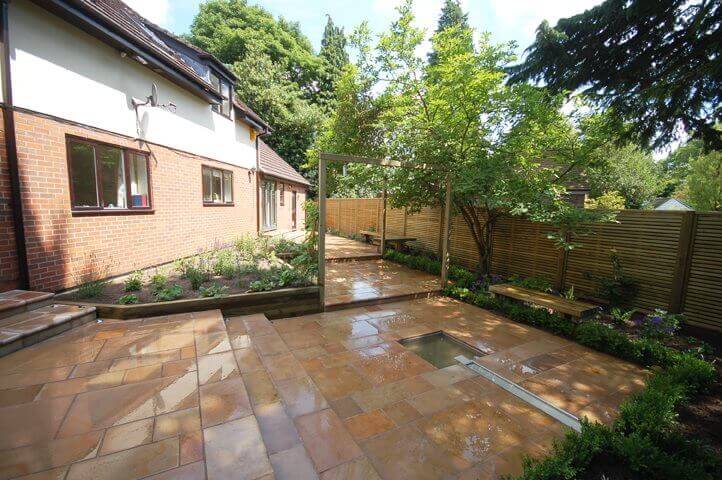 The combination of effective design, quality materials and perfect build quality creates an oasis that the client will be able to enjoy for years to come within the budget and project scope.
Noise mitigation is usually a complex problem, so to ensure that you arrive at the best solution for your specific situation, we always recommend consulting a qualified sound engineer before you make your purchase.