06/11/2009 10:41 AM
The Gibbins' Gardens – front and back
There is so much Jacksons Fencing product in Angela and Ian Gibbins gardens that it's difficult to know where to start.
I caught up with Angela after looking at some great photos she sent to us and she talked me through the improvements they had made to their gardens and how much they like Jacksons products.
The front garden is superb, it is a standard front garden shape - a strip really that is divided in two by a path down the middle. The garden slopes up at the end, there are three steps up to meet the pavement. The boundary is a low rounded pale top, traditional palisade fence, but then I noticed it has staggered pales; there are pales on both sides of the rails, so the gap between the pales on one side of the fence has a pale on the other side. If you look at the fence dead on it appears solid. It looks really good, but I felt there must be a practical reason for the extra pales? True enough, Angela said they are like that to stop the glare of headlights of cars that pass the house at the front, "Lights from traffic can be annoying, especially as it starts to get dark and lights can catch your eye if you are looking out side towards the front, so this works really well, and it gives extra privacy.
"The new fence got a lot of attention when it was installed, people gave it admiring glances as they went by. One man, who drove past regularly, saw it and came back with his wife to have a look. We laugh about it still, he sent his wife out of the car, because he was too embarrassed to ask us himself, but he wanted to know if we'd mind if he felt our fence, as it looked such good quality. Of course we didn't mind, he said it felt as good as it looked!"
Jacksons product doesn't stop there in this front garden, the rise at the end each side of the steps has been Jakwalled. On the right side the Jakwall (Timber retaining wall) is a raised bed and on the left it is a bin store complete with a hinged lid, so the Gibbins' bins are tidily tucked out of sight. "Originally we were going to use railway sleepers or similar for the raised beds and bin store, but then we spotted Jakwall, we instantly liked the look of it and the timber matched all the other bits like the fencing, and we couldn't believe it was so easy to put together, the pre-drilled holes and timber lock system was a breeze, an it was virtually instant."
Moving down the right side of the garden they have installed tongue and groove fence panels as a sturdy division. Even the hand-rails on the front garden steps up are made from Jacksons machine rounded stakes and there's even a bit of decking near the house too.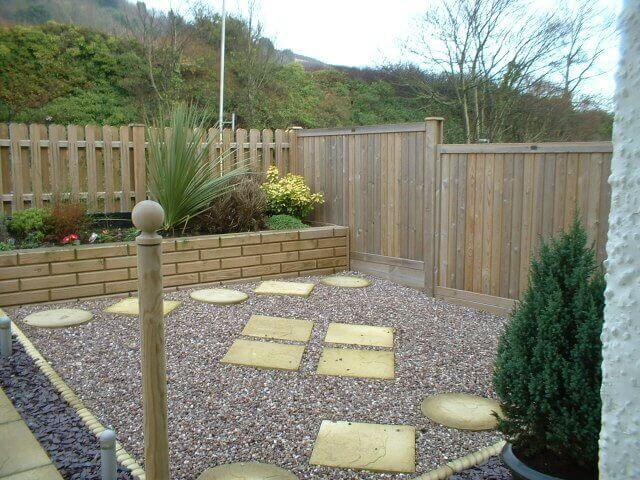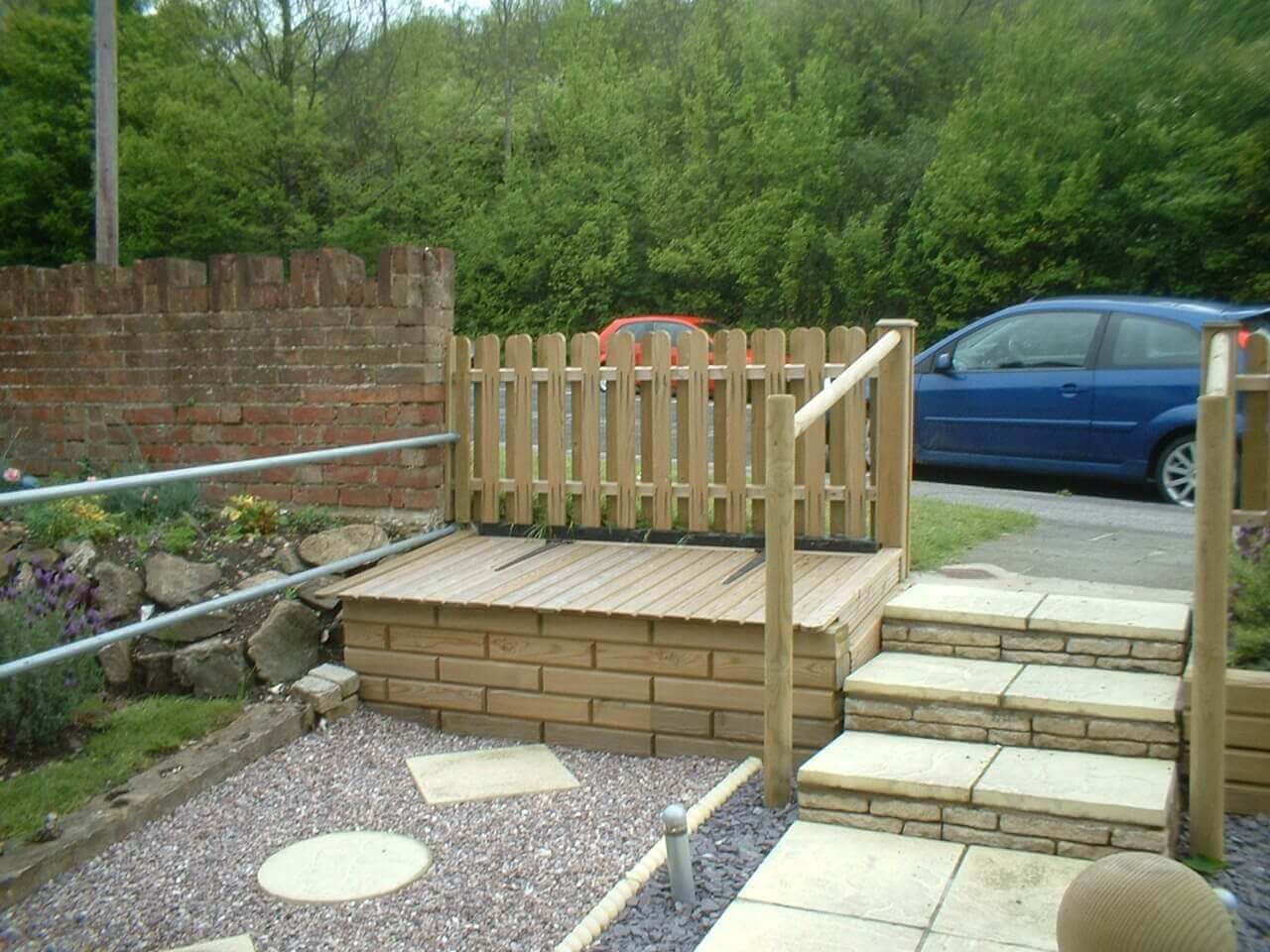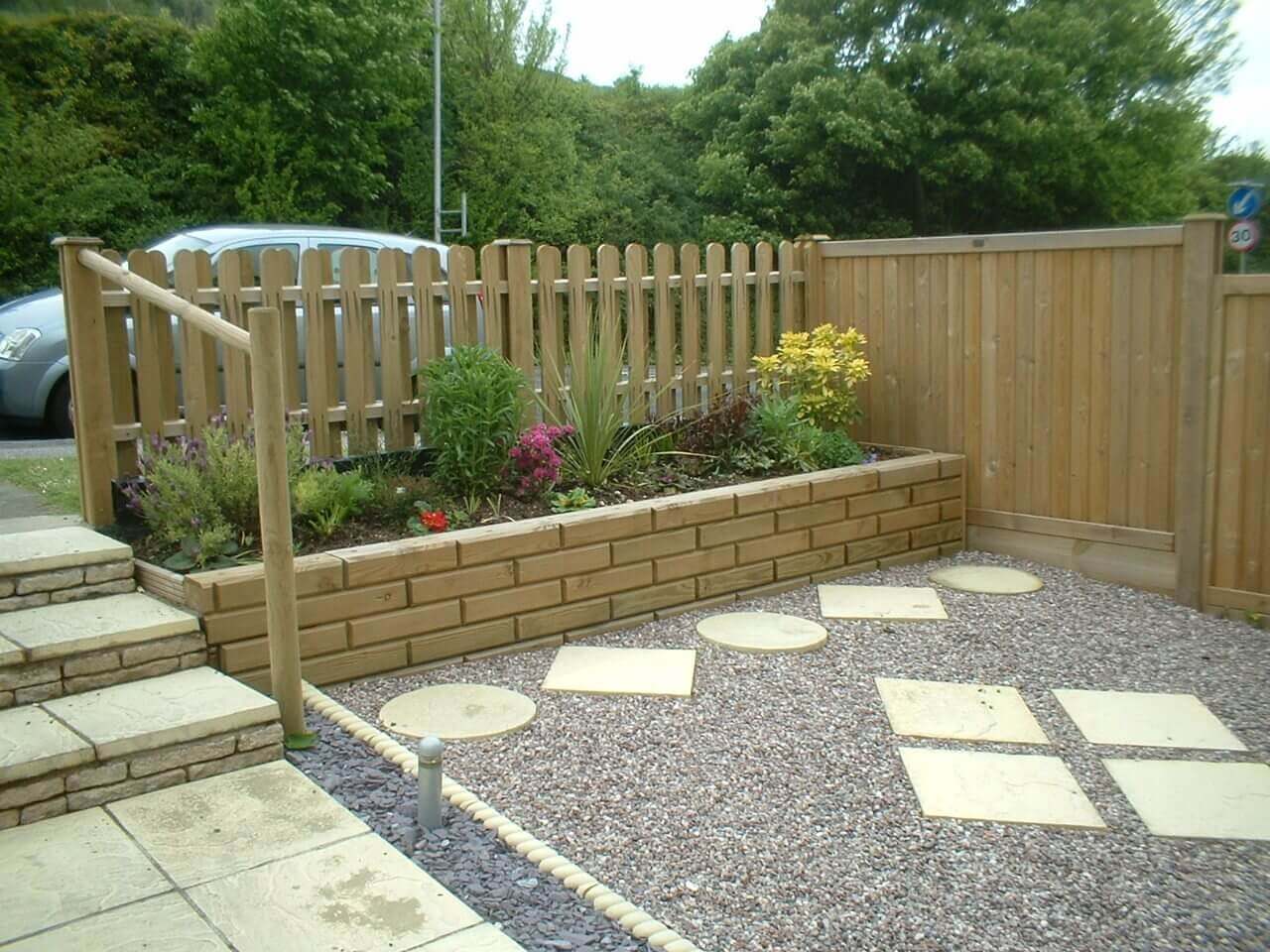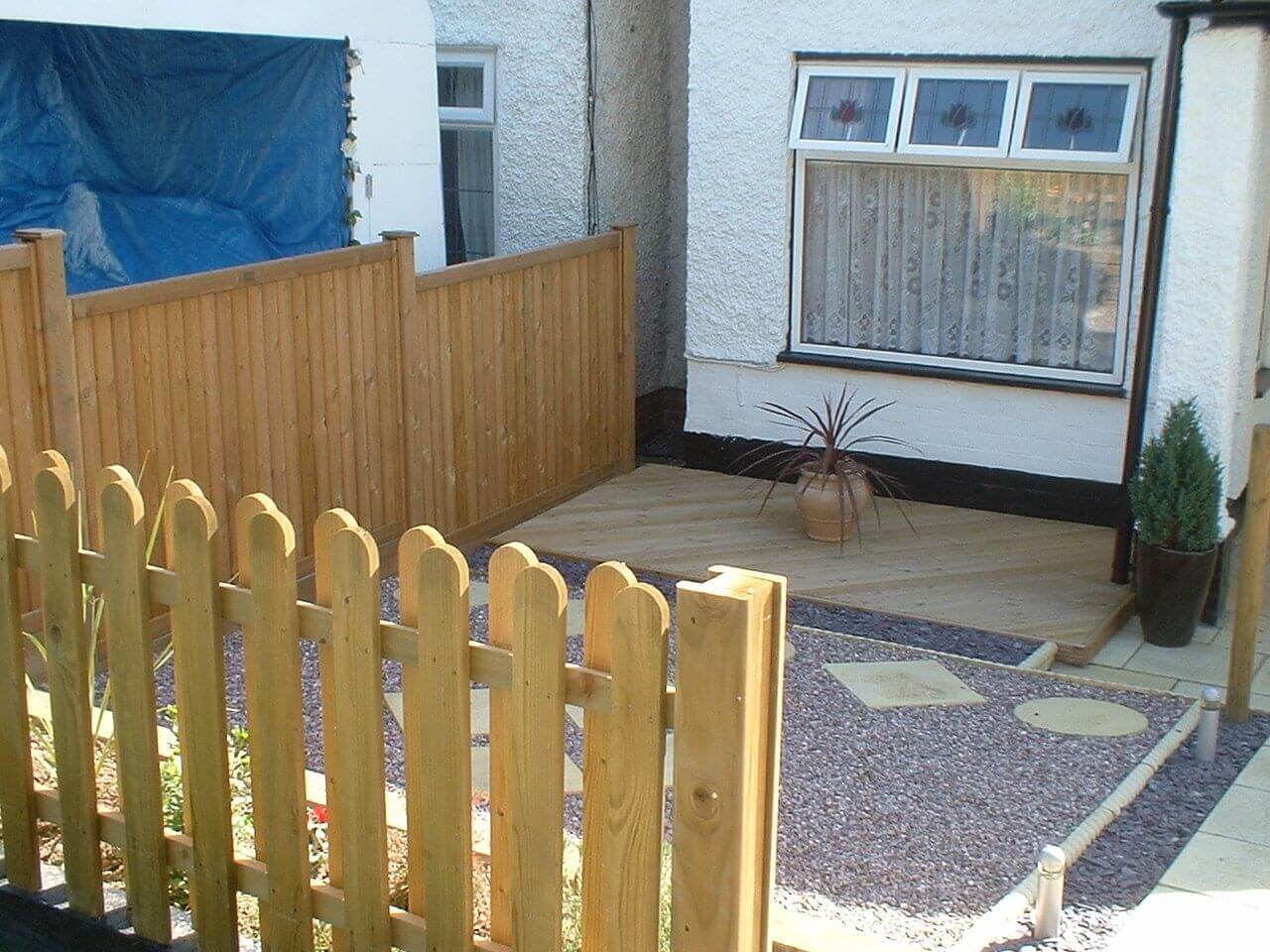 Now we move to the back garden full of Jacksons' delights which features hit and miss vertical panels with diamond premier trellis on top. This makes for a very attractive fence, Angela is delighted with the look of it and it's strength. She told me, "We chose the hit and miss because it looks great and gives privacy, but one of its other qualities was the winner for us. We live in a very windy valley, which affects the back garden in particular, we have had two fences break due to strong winds – these weren't Jacksons obviously – the hit and miss offers less wind resistance, due to the spaces between the pales, so the strong winds can go through and the panels don't face the full force of the wind. Topped with the pretty diamond trellis it looks wonderful.
"We have some more Jakwall in the back garden to contain flowerbeds, they look really pretty, but the piece de resistance is our fantastic hexagonal deck with our pergola on it. We are so pleased with this, it's the focal point of the garden and a lovely place to sit and relax." The triangular shaped pergola is made from Jacksons' pergola system parts with an infill of diamond trellis panels, to match the ones on top of the fence.
"The decking is wonderful too, I have tried other companies decking boards and haven't been very impressed to be honest, you can feel the difference in quality, Jacksons decking is really heavy and solid – other stuff is light, can be twisted or warped and not evenly sized, not so with Jacksons, I can hardly lift the boards, I guess that's because they are heavy duty and your Jakcure treatment is pretty much all the way through the boards."
Angela finished off the story of their gardens' development so far by telling me that they have further plans for more trellis and arches made from our products, well I can't wait to see what they look like and one thing's for sure the £100s worth of Jacksons vouchers I'll be sending will come in handy for their next project.

Thank you Angela and Ian for sharing your ideas with us.