29/03/2023 12:35 AM
Pergolas add a great decorative touch to a garden and their designs range in complexity. Pergolas provide you with endless style opportunities and can be used as focal points, framing for walkways, and adding shade to an area.
Parts of a Pergola
There are however, numerous parts and components that make up a pergola which can be hard to understand if you are unfamiliar. Here we outline the various parts of a pergola, so you can easily distinguish which part goes where, to help with your pergola project.
We offer pergolas in the following configurations: corner, single, and double.  
A corner pergola is installed to create or make use of a corner and is great to frame a seating area. Our corner pergolas are supplied with three diamond trellis panels to make three bays. You can opt to install the pergola with either one bay on either side of the corner, or two on one and one on the other side to make an L shape.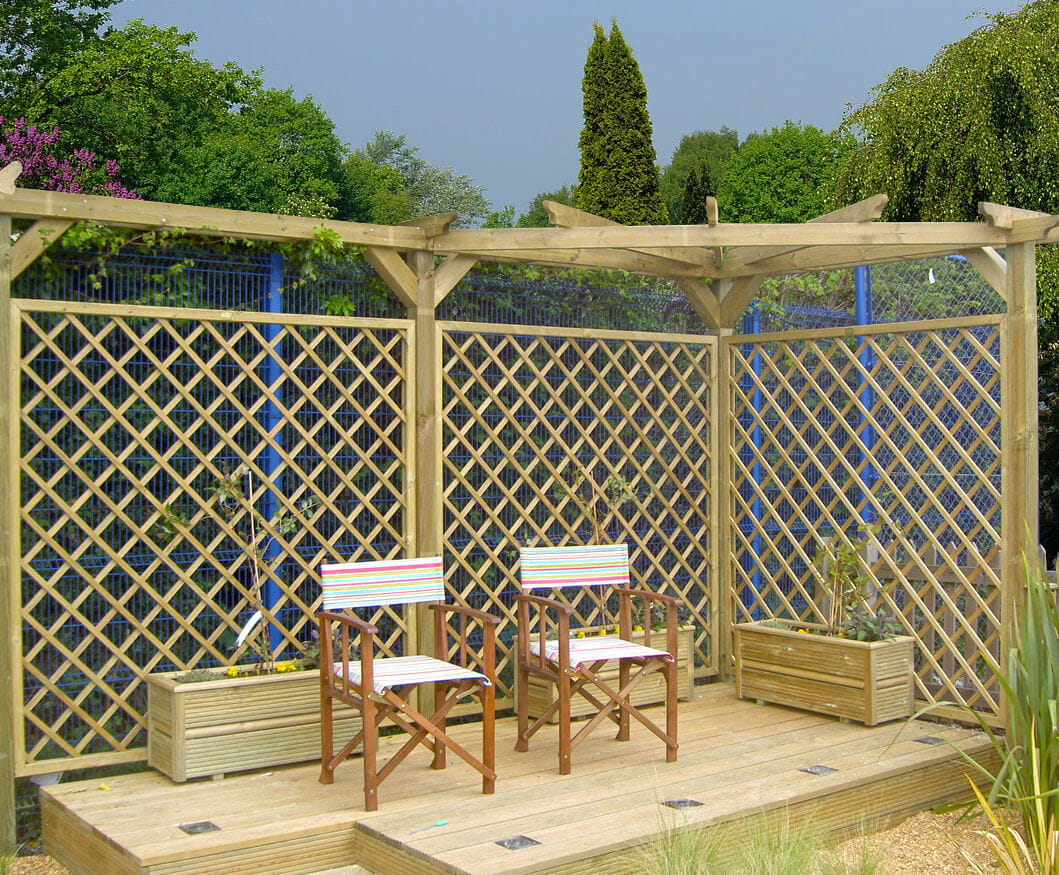 A single pergola is a single line garden structure that can be used as dividing screens between two areas in a garden. Single pergolas can be made up of a solitary bay or multiple bays, all organised in a single file line.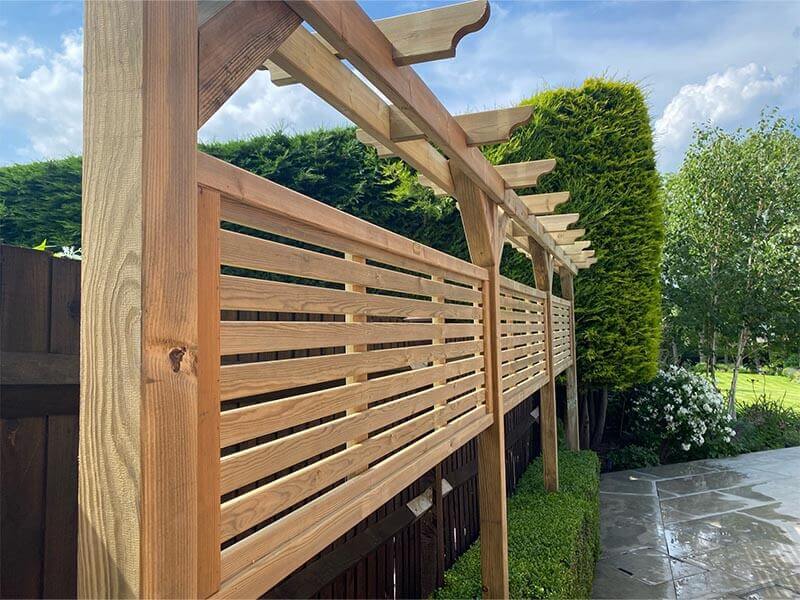 Double pergolas are made up of multiple bays. They are ideal to create a garden feature or frame a walkway. A double pergola will have posts and rails running in parallel to each other with cross members running in between.
What are the parts of a pergola called? 
Read on to understand the parts that make up our pergolas.  
Pergola Posts 
The main vertical component of any pergola is the posts. The posts of a pergola are one of the most important parts as they provide the support for the outdoor structure. Without these, the pergola will not be standing. When sourcing posts for pergolas, always use a material that is strong and is guaranteed for a long period of time. After spending time, effort, and money buying a new pergola, and waiting a number of years for it to become an established part of your garden, the last thing anyone would want is the posts to rot and the pergola to fall over.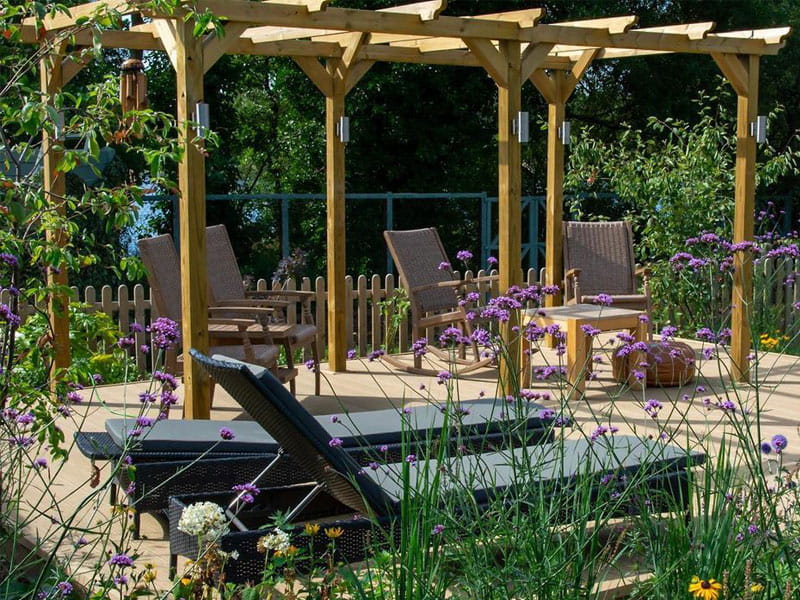 Our timber posts are guaranteed for 25 years and have been treated to ensure they are suitable for in-ground contact. As standard, our posts supplied with our pergolas are 2.70m long and are 91mm x 91mm wide. We recommend that any of our pergola systems are installed so that the underside of the side rails is 2m above ground level. This gives a good amount of clearance from ground level and for the posts to be 700mm in the ground to provide adequate support for the pergola. We recommend this post depth due to the structure being over 2 metres. Pergola post holes should be 300mm wide and 700mm deep.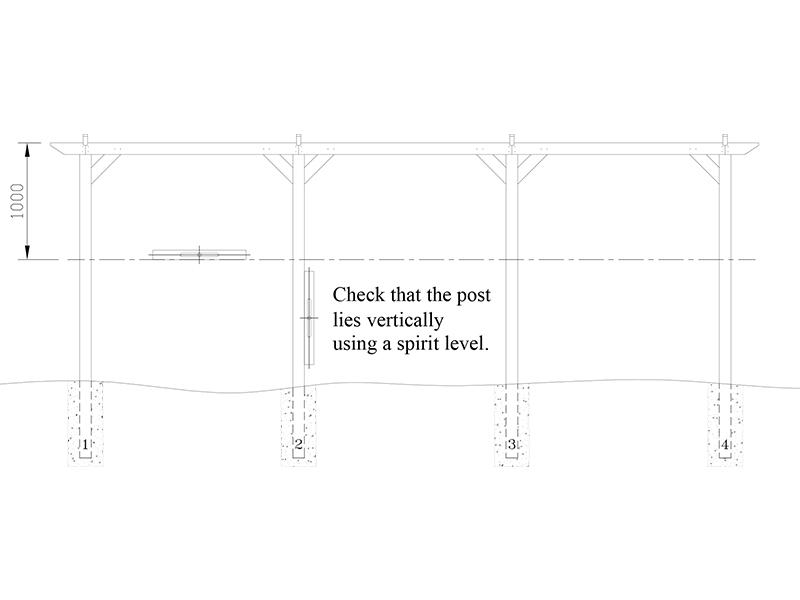 Side Rails of a Pergola 
Side rails are one of the main horizontal components of a pergola. They form the base for the cross members to sit on. Our pergolas are supplied with two side rails that run in parallel to each other and should be affixed to either side of the posts. We supply double ended side rails to suit smaller pergolas and end and intermediate side rails for pergolas with multiple bays. This is because of the design on the outer sides of pergolas, in between bays you only need a solid rail rather than one with a decorative design. This is documented in the drawing labelled C.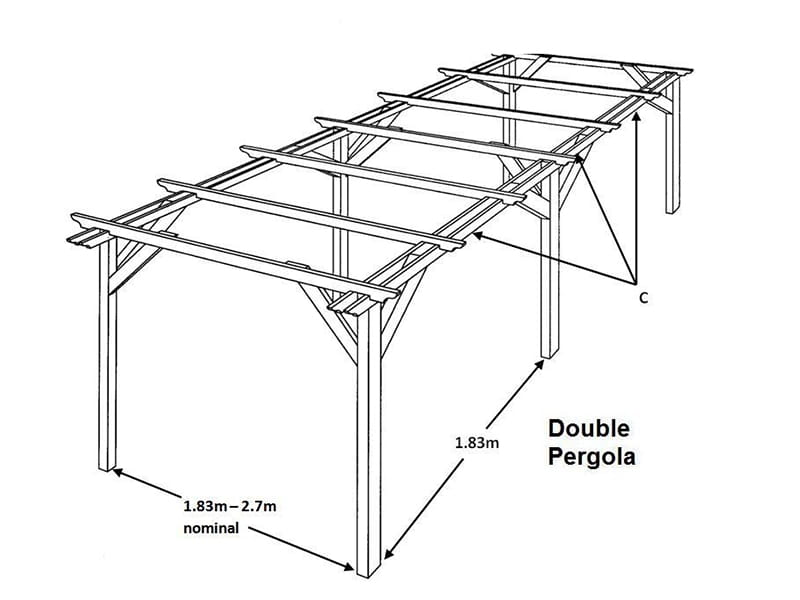 Side rails are fixed to the posts and supported by braces. Within our pergola kits, side rails are supplied in pairs for each side of the pergola. All components should be fixed using galvanised nails or stainless-steel screws to avoid rusting and increase longevity. 
Cross member Pergola parts 
Cross members or cross beams sit across the width of the pergola and are usually installed on top of the side rails. They provide a recognisable rafter effect, with decorative designs available for the ends.  Cross members are made with notches that allow them to sit onto the side rails which helps to reduce movement. A cross member should overhang roughly 200mm from the posts and side rails.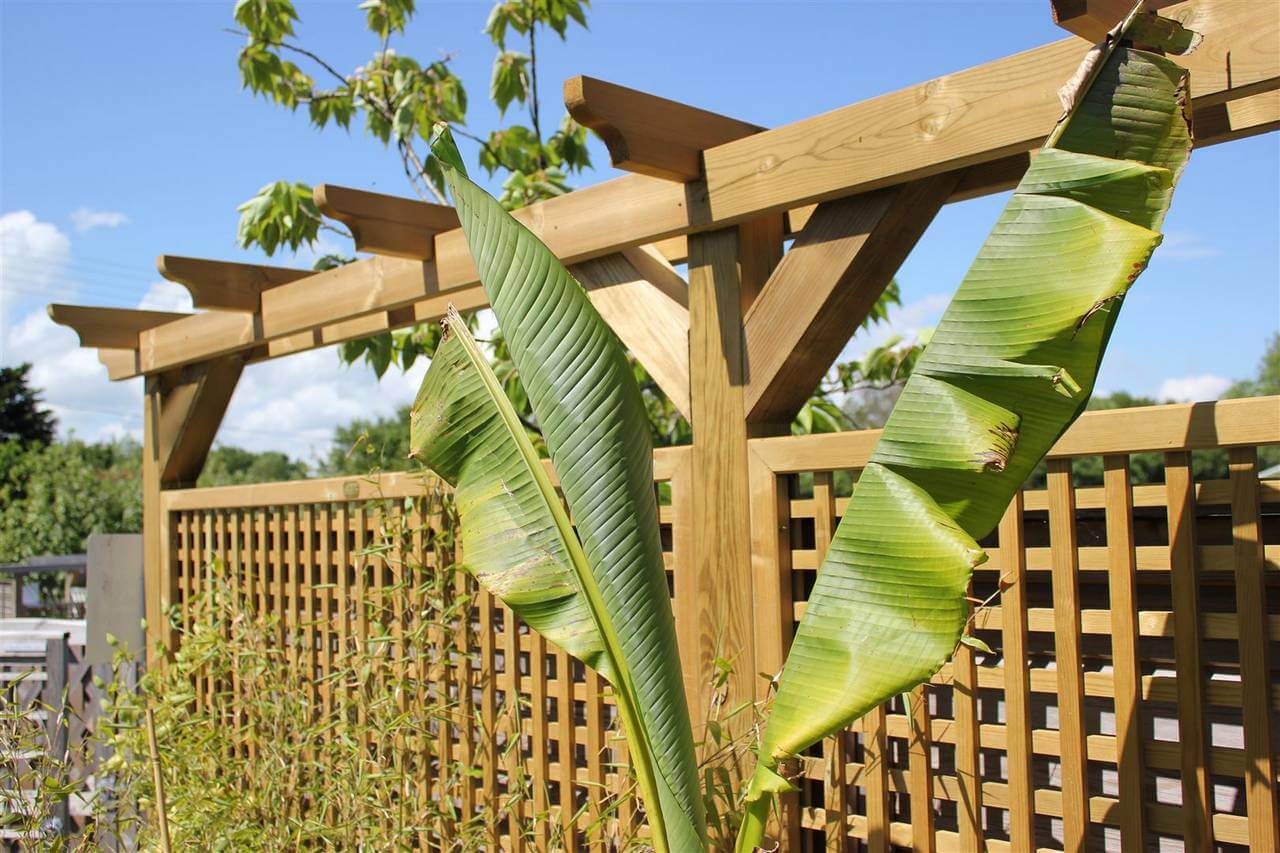 We supply short and long cross members for our different pergola systems. Single pergolas are provided with 0.57m cross members only. 
Double pergolas have cross members to suit the size of pergola, these come in set lengths and will be different for each size of double pergola.  
Braces as parts for a Pergola 
Braces are angular pieces of timber that provide additional support for the side rails but also add a decorative touch. In line braces are secured to the post and between the two side rails, sandwiched together.  
Corner braces are fixed between each corner of the bay. Double pergolas will have both in-line braces for the sides and corner braces. Single pergolas will only have a need for in-line braces as there are no corners in the pergola.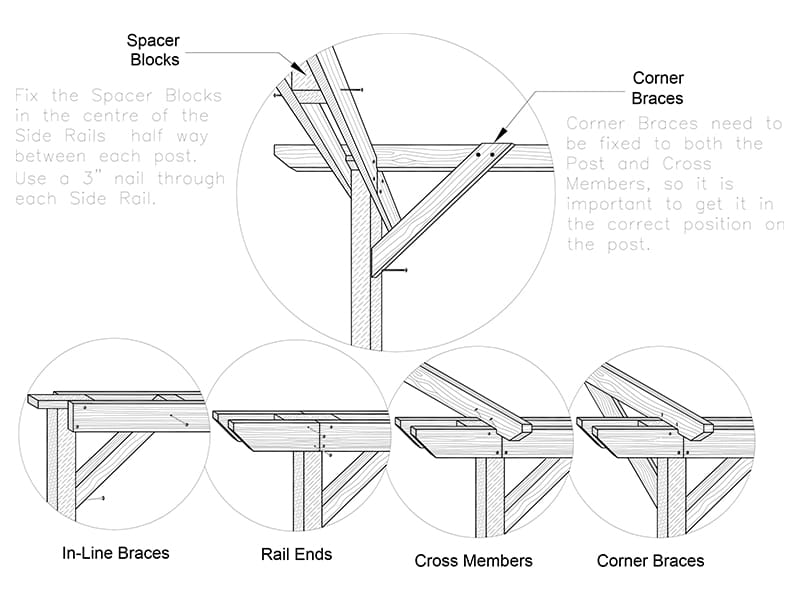 Pergola Spacer blocks 
Space blockers are small pieces of timber installed between the side rails, roughly halfway between the posts. Space blockers ensure a consistent width between the side rails all the way along the bay. Space blockers are an integral part of a pergola system as they maintain the width that both the side rails and cross members depend on.  
Here is a detail drawing of the parts of a pergola.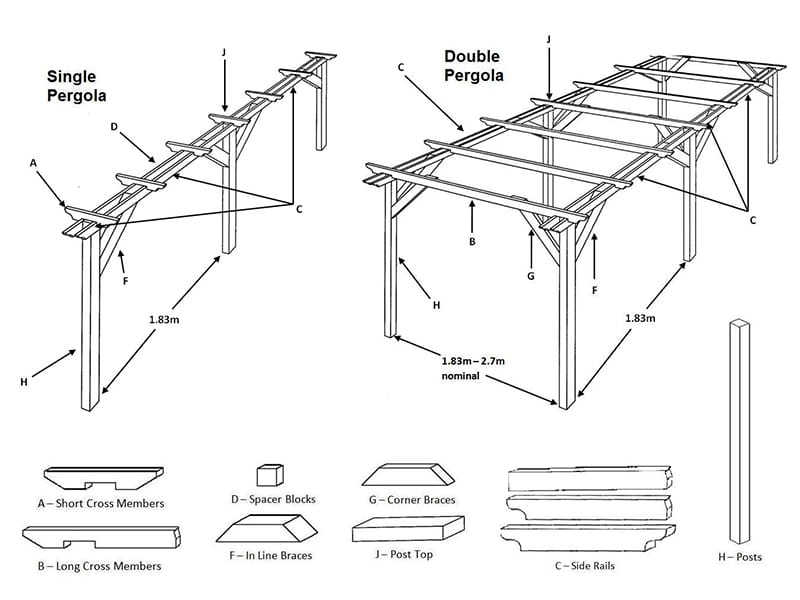 Using trellis or fence panels as infill pieces
To customise your Pergola further and add even more decoration or a layer of privacy, it is possible to add fence or trellis infill panels to the sides. Standard panels are 1.83m wide and the gap between posts should be the same meaning a fence panel fits perfectly into the gap.  
Infill trellis or fence panels also help to;
Support plants to grow 
Add a decorative effect 
Form a partition for separate areas of the garden various parts of the pergola 
Add privacy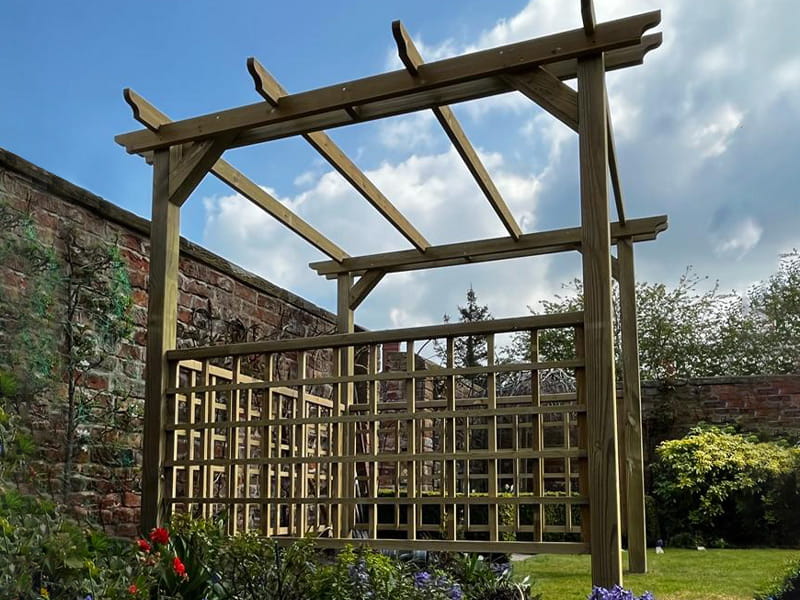 As our panels are all 1.83m wide the size fits perfectly into the bays of our pergolas which are also 1.83m. Our Venetian slatted fence panels, which are semi-solid in design, are a great panel to use with a pergola as they still let light and air through but increase the privacy behind. 
What fixings do I need for a Pergola? 
We recommend that any fixings used in the construction of your pergola be either stainless steel screws or galvanised nails. This is to ensure longevity as rusty nails lose their integrity and will fail over time, meaning the pergola's structure will weaken. Poor quality nails and screws will also leave rust marks virtually right away after installation, meaning your brand new pergola won't look its best.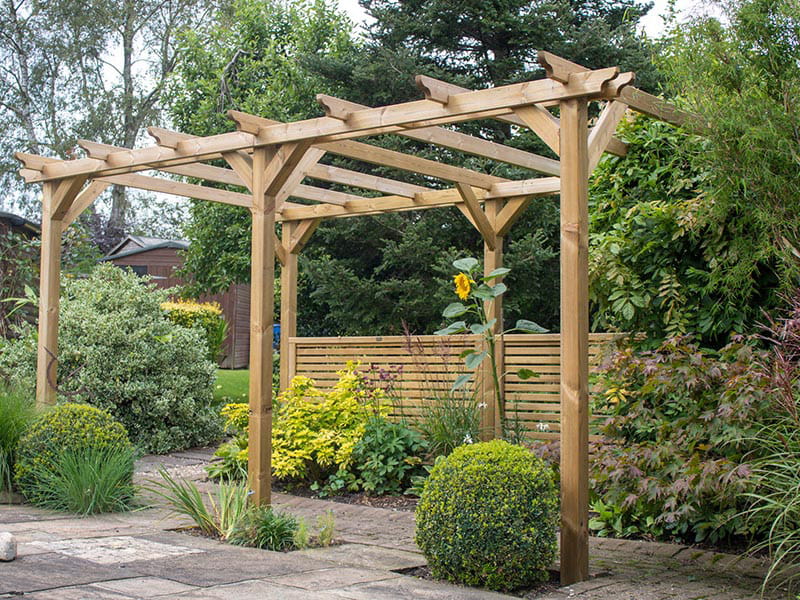 We offer a pergola fixing pack for use with any of our pergola systems. At Jacksons, we have tried to make buying a pergola simple and produced kits that include all of the components required to install the 3 main types of Pergolas: Corner, Single, and Double.