07/10/2021 04:30 PM
A recent fence installation carried out by one of our Approved Installers, Countryside Contracts who are based in Surrey, features our new Shadowline fence panel, which was released in spring 2021. The project shows how your fence panel choice can provide the perfect backdrop for your garden while giving much desired privacy.
Fencing and garden privacy
There are several reasons different types of fencing are chosen for gardens and properties, the top three being security, aesthetics, and privacy. This can sometimes make the choice a little difficult to find one fence panel that offers all three. However, at Jacksons Fencing we design our fence panels around the needs of our customers, so we have an entire range of fence panels to suit all your fencing needs.
We offer many different types of fencing panels that can be used to provide good amounts of privacy for your property and garden. Shadowline, one of our most recent fence designs, fits the bill perfectly and was chosen for this customer project for its high aesthetic value.
The Shadowline Fence Panel
Named after the unique shadow created from the Z shaped boards, the Shadowline panel was designed with architectural structures in mind. It has a modern looking profile with no visible fixings designed for use with our slotted Jakposts®. This makes it a perfect choice to create seamless garden backdrops.
Due to the fence panel's construction, we supply Shadowline panels in smaller sections, making the panels easier to manoeuvre and install. The panels sections are then combined on site. For this project two 0.91m high panels were combined to achieve the desired height with additional gravel boards. Shadowline fence panels come in two different heights, 0.66m and 0.91m both 1.83m wide, making it easy to combine panels to make one larger panel if needed. As with all our timber fence panels it benefits from our 25-year guarantee against rot and insect attack. These panels also easily slide into our Jakposts® slotted posts and stack together rather than each panel being affixed to the post with nails.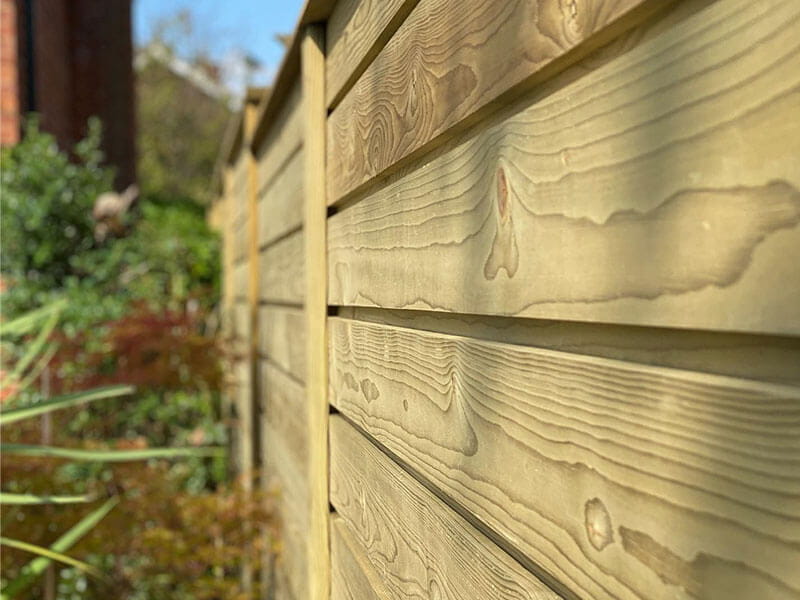 Countryside Contracts Approved Installer Customer Project Merrow
After living in their home for over 20 years, the owners had grown bored of their garden. Not knowing where to start, the owners originally had drastic plans to change the entire garden. Countryside Contracts suggested that a new modern fence could completely change the whole look and feel of the garden without relandscaping and turning the garden upside down. The owners' main reason for choosing this fence panel was based on aesthetics. Previously they had vertical panel fencing but preferred the way the horizontal lines draw the eye along and across the newly planted border.
The specification for this project was a 2–metre high fence to keep as much of their garden private as possible. As the neighbour's garden is higher than their own, two gravel boards were used in places to accommodate the sloping ground levels to maintain a consistent height above, with only a gentle step down between fence panels. To elevate the design, care was taken to keep the horizontal lines within the fence panels lined up all the way across the boundary.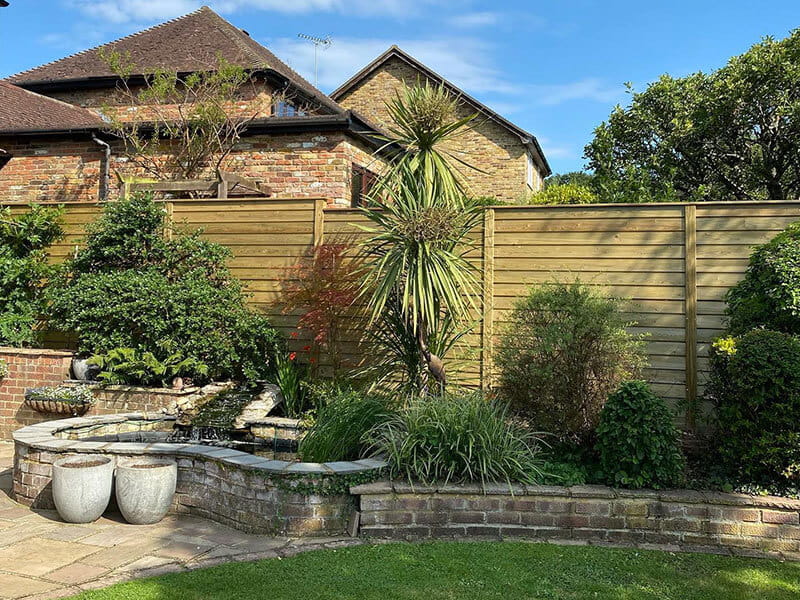 *Please note that a maximum fence height of 2 metres is allowed before planning permission is required in most areas, this can also vary so it's best to check with your local authority and council.
Great care and attention were given to protect the areas in both gardens, which included many plants, a pond with live fish, and the neighbour's runner beans. With excellent communication, a delicate approach, and leaving the area tidier than it was before, both sides of the fence were happy with the finished installation.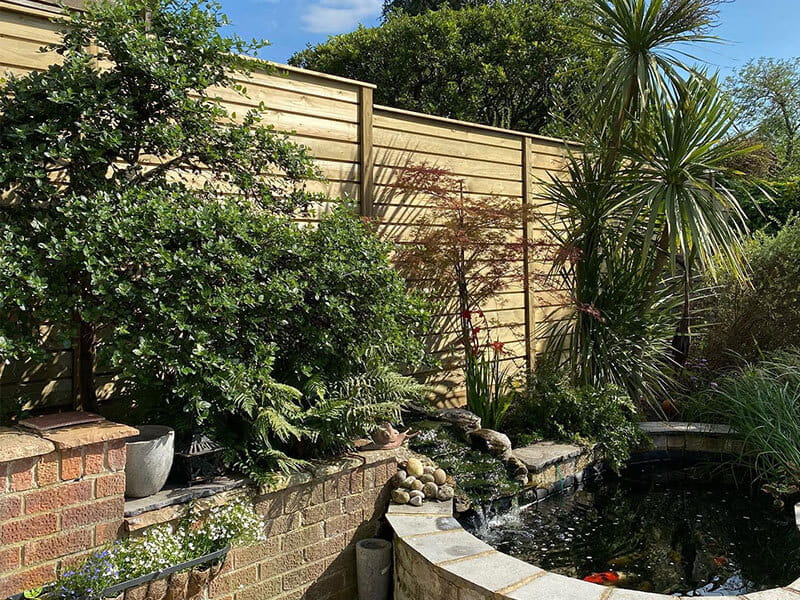 Both customer and installer were incredibly pleased with the look of the fence and how it was considerably different from the previous Tongue and Groove fence, with its own unique design, mentioning that the products and their quality really do speak for themselves.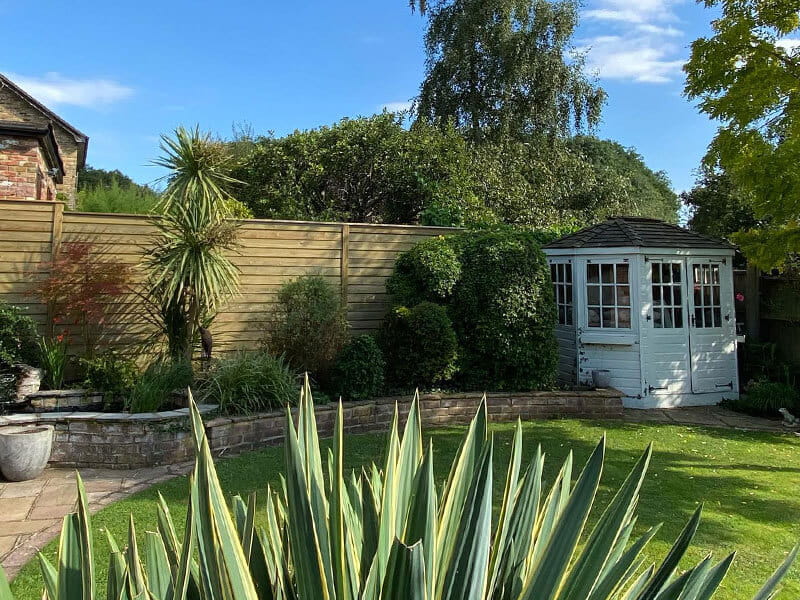 The customer also went on to thank the installer publicly on Instagram to show their gratitude and delight with their new fencing. With an extremely happy customer and a fence professionally installed you can see above how this fence helped provide a great backdrop for this lovely garden.
Approved Installer:
Countryside Contracts
.
To view the products found in this blog, please click the buttons below: