01/08/2023 01:50 PM
This year, we worked alongside Secured by Design and Essex Police, as we did in 2019 and 2022, to create a 'Safe and Secure' crime prevention show garden which incorporates proven techniques to deter opportunistic burglars will feature at the RHS Hyde Hall Flower Show.
The primary aim of the garden is to raise awareness of garden security, highlighting the benefits and techniques that can be used to secure your garden effectively to help reduce the risk of crime.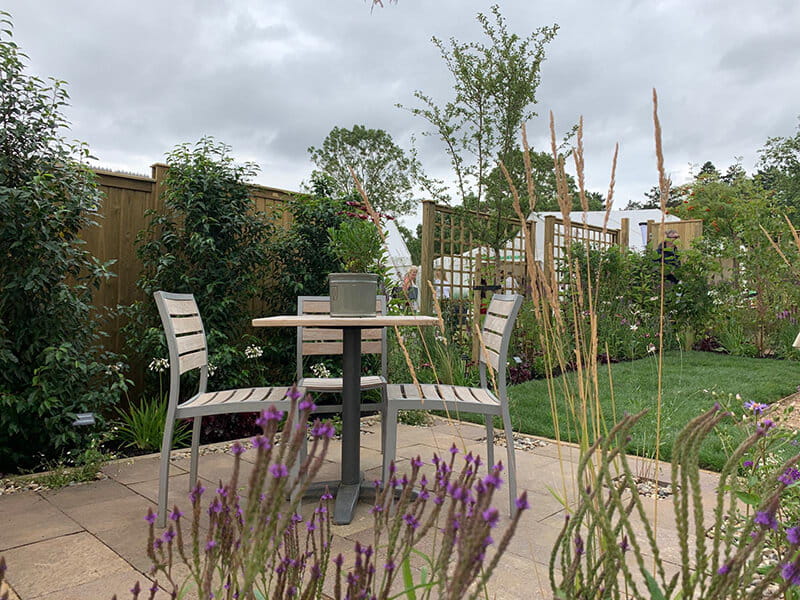 The 'Safe and Secure' garden is a collaboration between Essex Police, Secured by Design and the Royal Horticultural Society. We were delighted to be asked to support this great initiative by providing a perimeter fence and gate solution that is safe, secure and sustainable.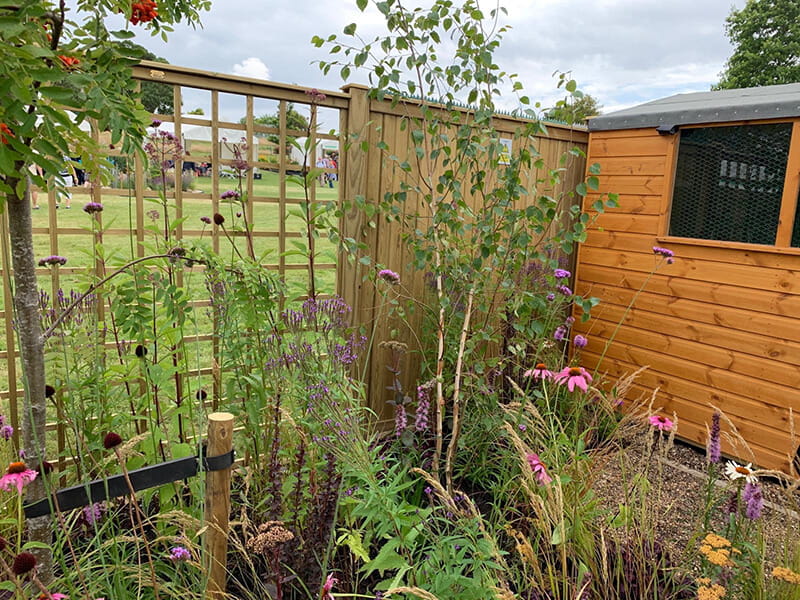 The show garden features our handcrafted Vertical Tongue and Groove Effect fence panels, Premier Square Trellis panels and a two-way lockable Brook gate. Each product has been selected to demonstrate how a strong boundary fence line can help provide the first line of defence against an intruder.
Our Vertical Tongue and Groove Effect panels offer a strong solid timber facade, deterring burglars who would find it challenging to climb as it provides no foot or hand holds. The fence is hand-crafted using timber board measuring 17mm in thickness and the panel is held together using three substantial rails and framed all round; offering not only a secure proposition, but a modern and attractive barrier. They also offer maximum privacy with no gaps between the pales for people to see through into your property, keeping valuables out of sight.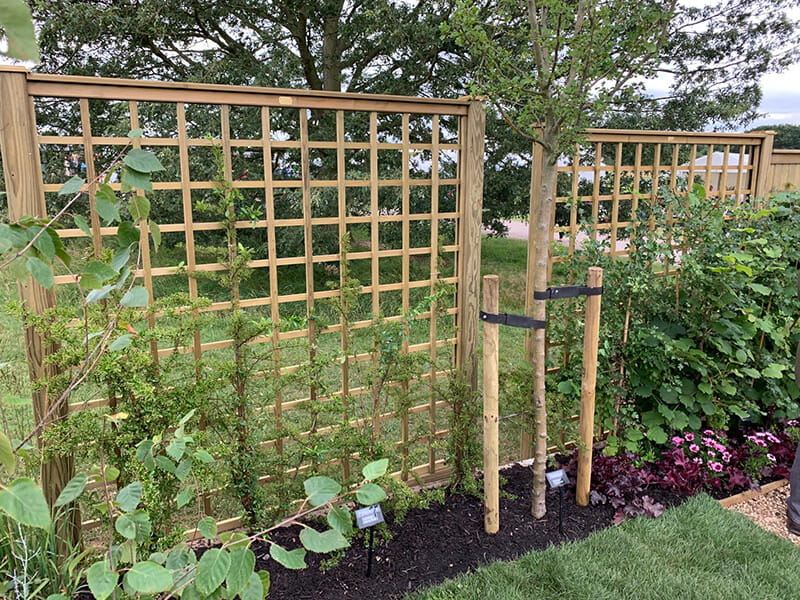 The garden designers also used our Premier Trellis panels which can provide a number of different tactical advantages to solid fence panels. Being able to see through the panels allow you or a CCTV system to view and assess any threat to the property beyond the fence line while not providing any place for potential intruders to hide. Trellis panels could also deter a potential burglar as most break-ins usually occur out of public view and these see-through panels increase the chance of a burglar being caught in the act by a passer-by.
The garden showcases a combination of trellis panels and prickly climbing plants, demonstrating how a potential burglar would have to combat defensive planting if they are able to scale a fence. This allows the gardener to add more colour, increase wildlife or produce an 'open' feel in the garden while providing a secure boundary.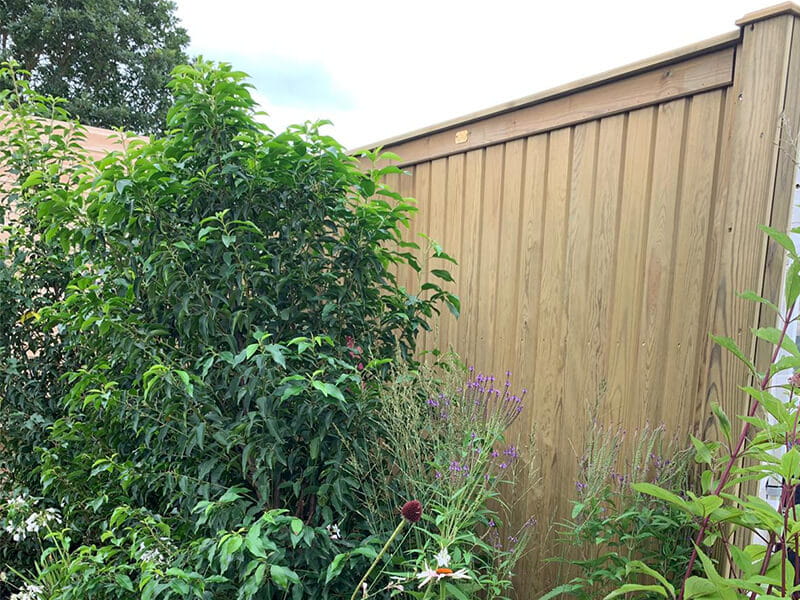 All the fence and trellis panels were securely screwed to the slotted posts using stainless steel screws to hold the fencing in place. This means the fence panels cannot be lifted up or climbed under. Commonly, opportunist criminals will look for the path of least resistance and will often target properties with a weak perimeter for ease of access.
We also provided a Brook gate to match the Tongue and Groove panels. Fitted with a two-way lockable J-Lock, the gate is able to be securely locked from both the inside and outside of the garden. J-locks are an effective method of securing your gate compared to a Brenton bolt one-way lockable latch as the locking system stops the intruder being able to open the gate from the inside, providing easy access.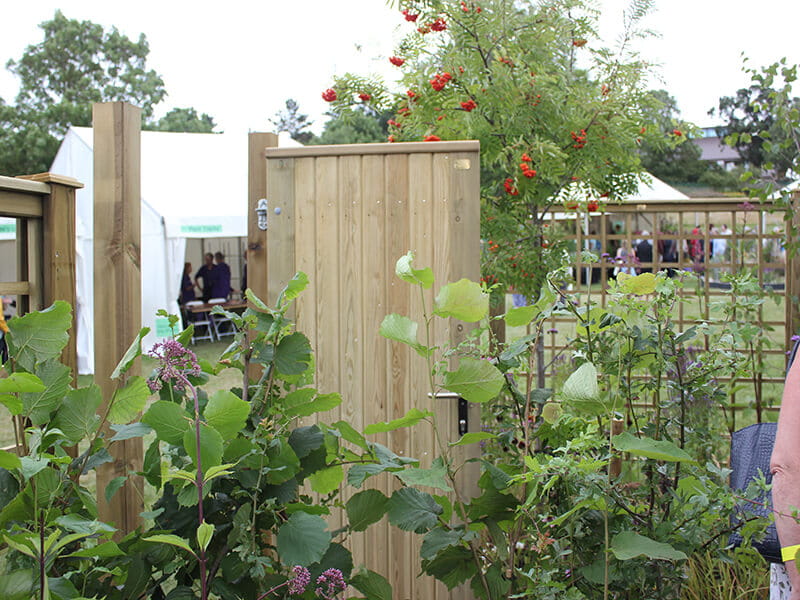 Sustainability was a key requirement for the garden designers, it was important to choose products that are designed for long life, as a tired, dilapidated and unsecure fence may prove attractive to anyone looking to break through and gain entry. All our timber products fit well as they come with a 25 year Jakcure® guarantee which gives the owner the reassurance that the fence line will continually offer a strong line of defence for years to come.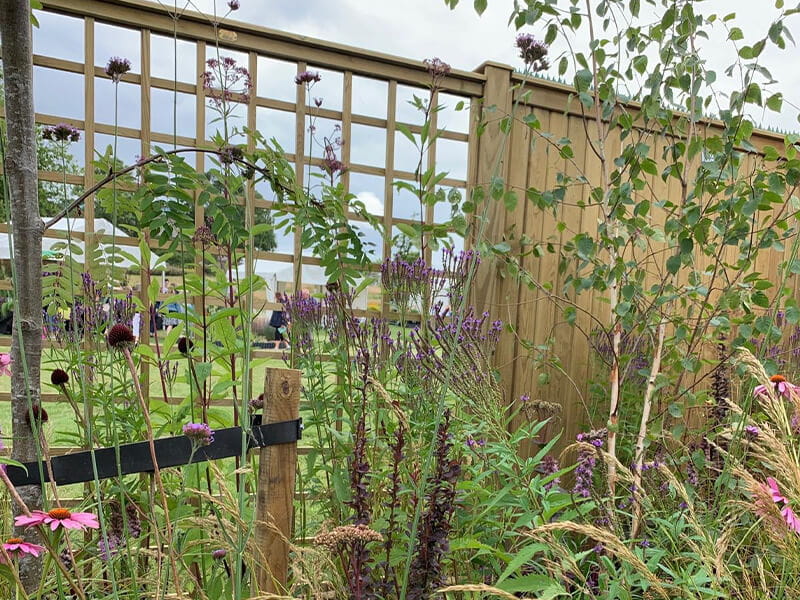 The RHS anticipate approximately 30,000 plus visitors across the flower show, Secured by Design hope that they are inspired by the garden and take away ideas and tips that they can apply in their gardens to improve security and reduce the risk of crime.