04/02/2019 09:37 AM
Garden design can be an extension of your personal interior style. Continuing themes, matching trends and adding personal style to your garden isn't as hard as you may think. Fencing can be a central component when part of a garden redesign as it clearly defines the perimeter and is vital for achieving a complete garden look. Fencing, when done effectively can add a high end finish to the overall concept. Here we explore some ideas for what you can do to express the style of your garden through fencing.
Lighten up your garden ideas
Light and airy interiors can be easily replicated within your garden design. There are fence panels that allow light to travel through the gaps between the pales / fence boards. These are often the most contemporary and can complement modern interiors. Our Venetian and Louvre fence panels both have horizontal slates that allow light to pass through. Most commonly found within urban garden designs but can suit larger more rural gardens to create or separate areas.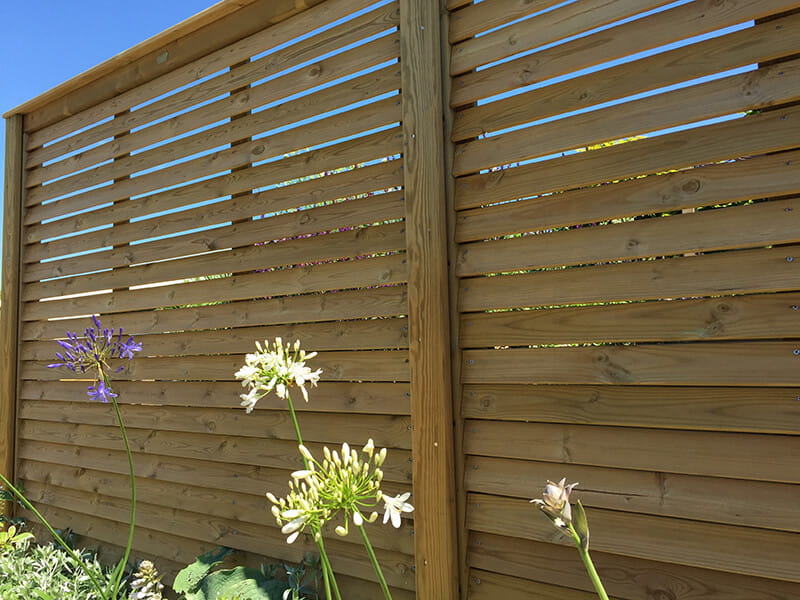 Complement and contrast
Garden design can reflect your interior design within the home. For example, if you have luxurious furniture and grand designs inside then an edgy, arty garden design may not be best suited to complement each other. If your home exudes luxury design then premium quality can accentuate your garden and will help to match up the inside with the outside.
If your interior design is simplistic you can opt to be more daring with the exterior garden design. Creating a living wall can be an interesting focal point and add more green where none may have been before. To find out more about building a living wall into your garden design read our blog. Simplistic interior design can also be matched on the outside with simple yet effective fencing. Opting for traditional or panel form featherboard fencing can create a neat and strong perimeter.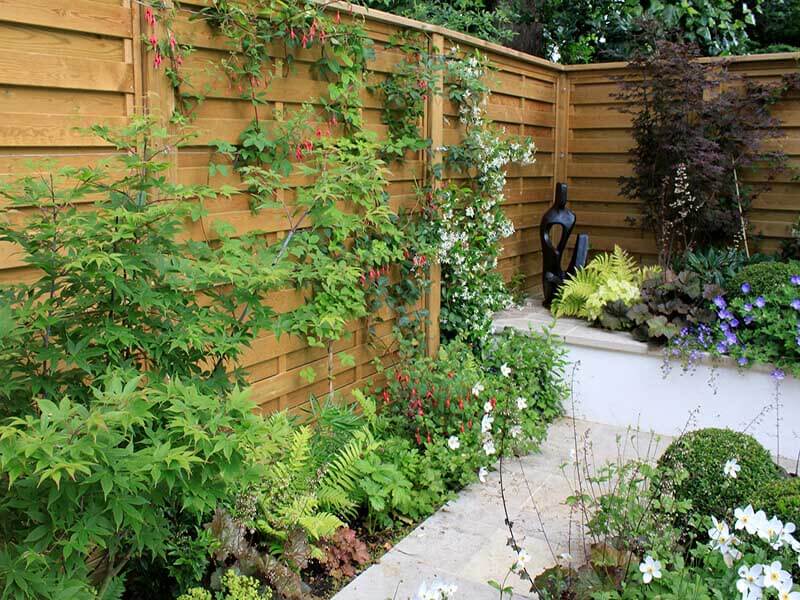 Adding decking in circular shapes can offer a unique feature and add an extra element to your garden design. Similarly with decking, it can be used to continue the look of your interior flooring to the outside. Wooden floors can have a look of continuality into the garden if met with decking. It can also contrast flooring such as stone or carpet in the house.
Bring the indoor outdoors
Outdoor living has been an increasing trend and enables you to fully maximise all your property's space not just in summer but winter too. Introducing garden structures like a pergola or a garden shelter can create an outdoor sanctuary to enjoy all year round. Garden shelters create a luxurious relaxation area to escape into on a summer's day. Pergolas can add shaded areas and form the base for climbing plants. If you have designed your house around entertaining then adding a feature like a shelter or pergola can extend your entertaining space during summer months. Creating an outdoor living area, can be a more financially viable alternative to adding an extension onto the property and extending your space.