14/10/2013 10:18 AM
A while ago Brian Smith sent me some photos of a project that was a 'work in progress'.
It peaked my interest, as I really liked the look of what he was working on, so I invited myself over to see him, to take some pictures and hopefully cover it as a customer project.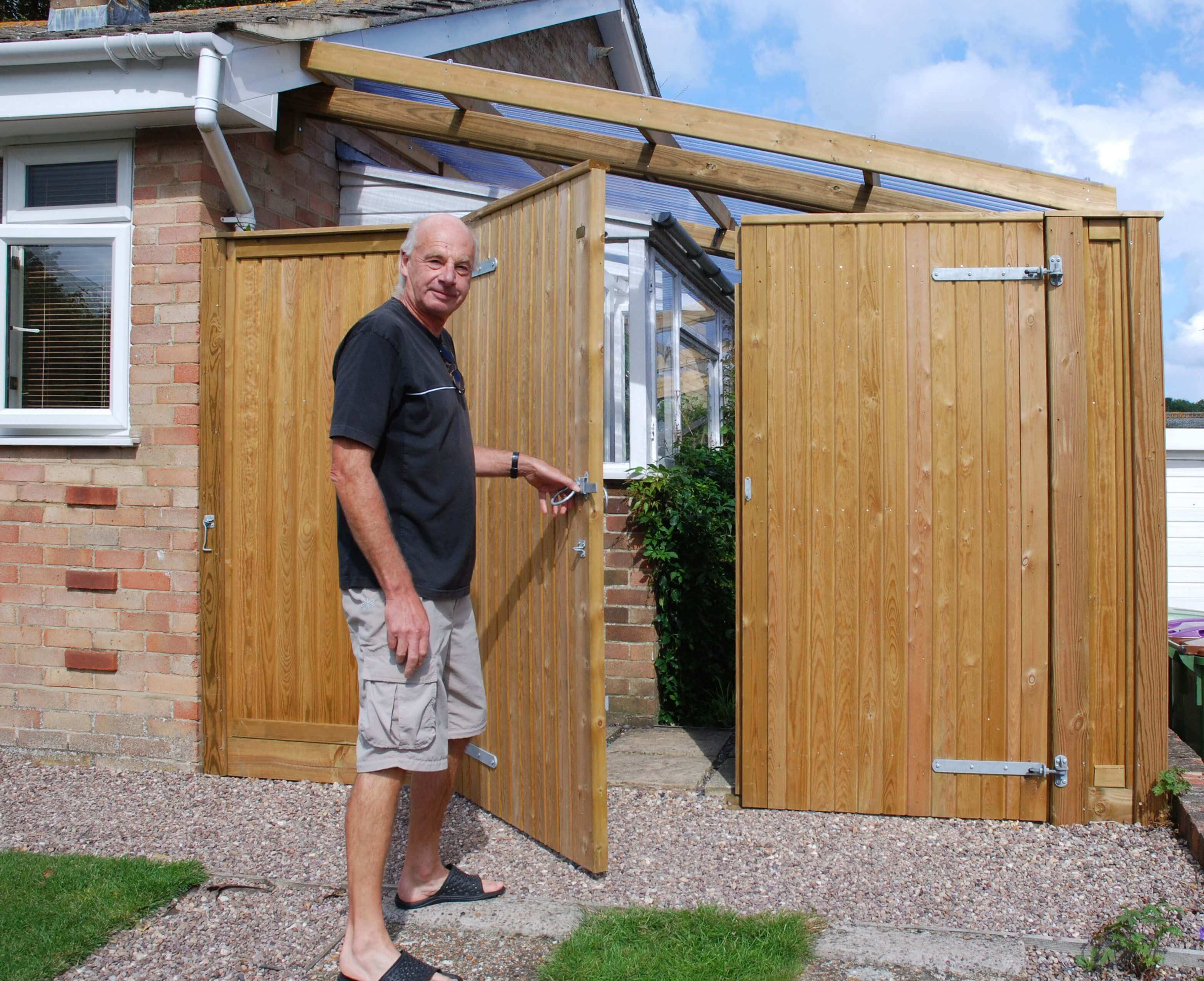 Viewing from the outside of his house there are some rather smart Jacksons Brook gates. As you glance up you get a glimpse of something interesting going on behind the gates at the side of his house.
Brian explained to me that originally he thought he would like to make use of the area at the side of his house by creating a sloping roof made from Jacksons timbers and some clear corrugated plastic roofing sheets, coming from the side of the house, that would rest on sturdy timber posts, a sort of car port.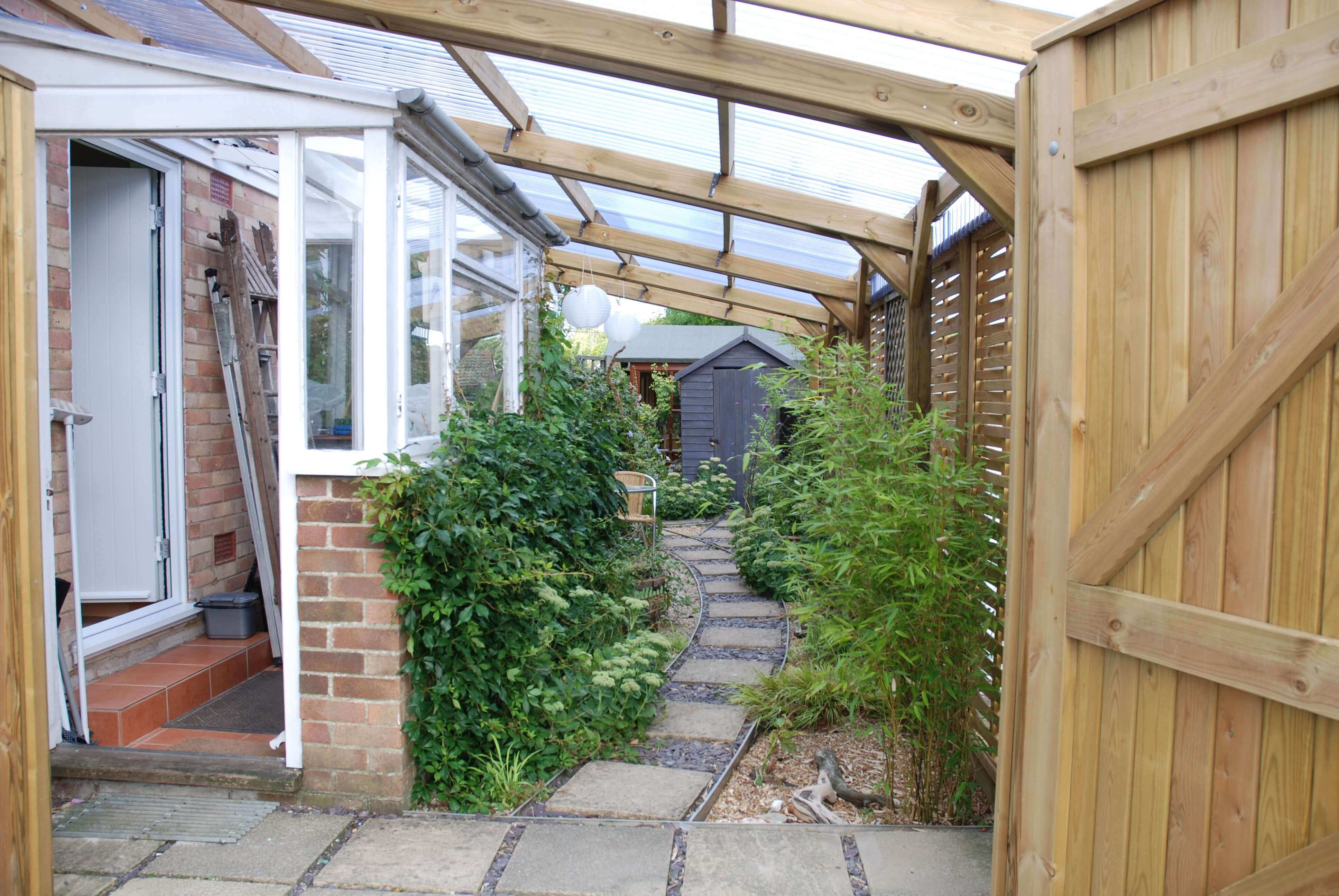 It was interesting to hear this from him, as we have just introduced car ports to the Jacksons range. It would seem that great minds think alike. I'm sorry, I know I've used this line before, but maybe I shouldn't apologise, as all it really means is good ideas occur to more than one person at the same time, probably because they are a really good idea!
The Jacksons Car Port is based on a heavy-duty version of our wooden pergola system and isn't dissimilar to the structure that Brian has created.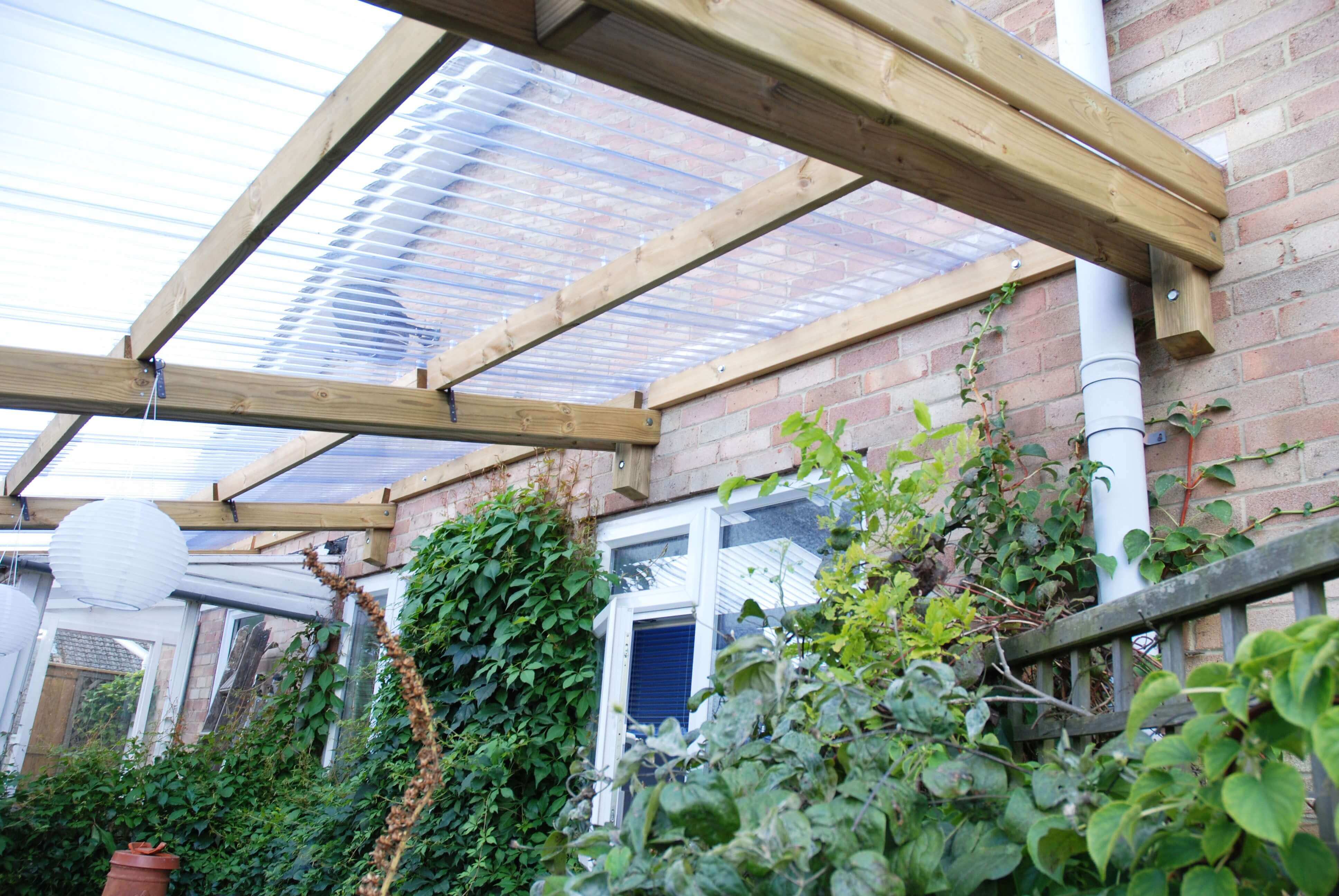 However Brian's inspiration didn't stop there, he realised the potential of the space alongside his house, by choosing to install a run of woven panels along the edge he could enclose the space and it would then become a sizeable garden room. Being fairly local to Jacksons and as an existing customer he saw the woven panels at the show gardens whilst on a visit to us.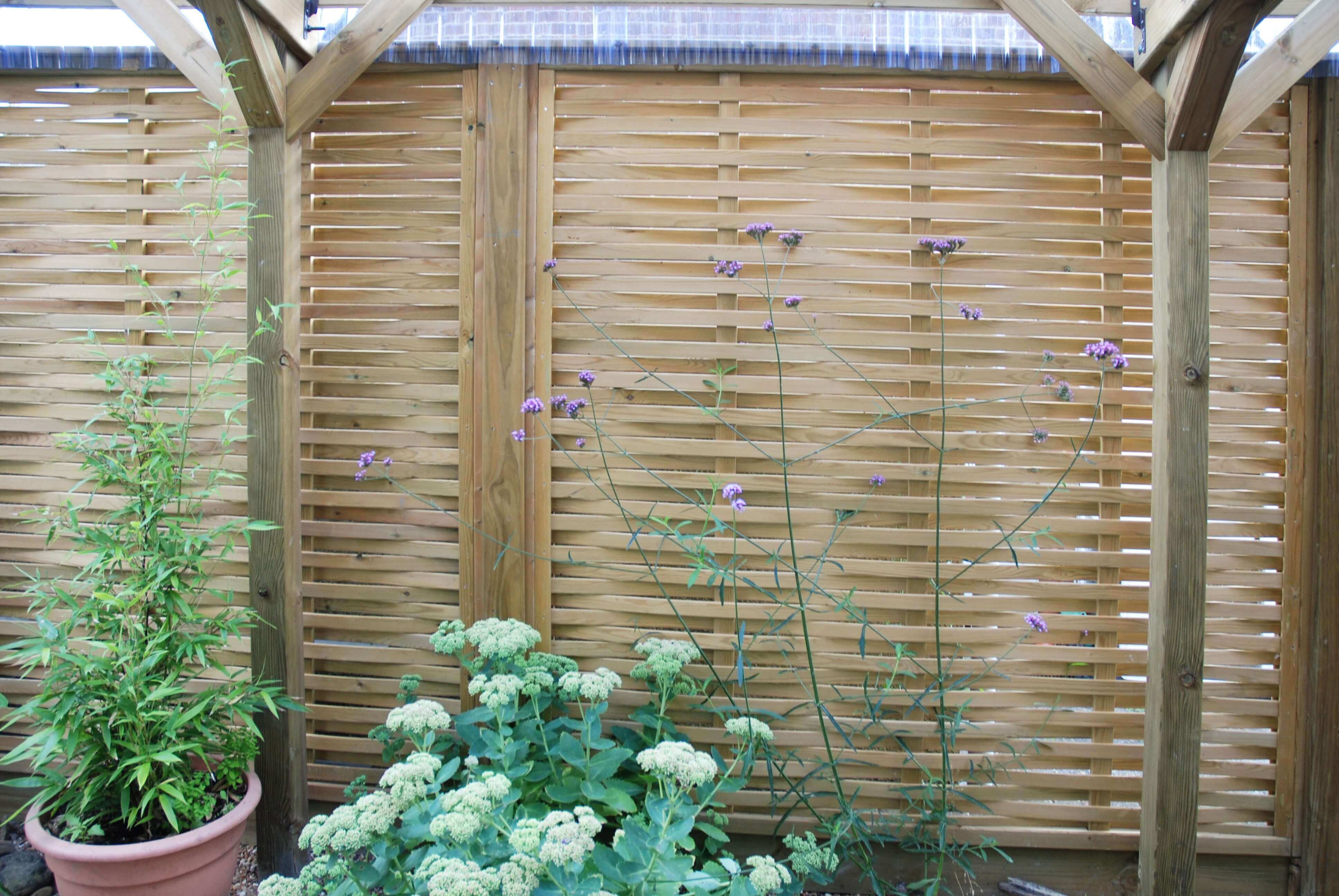 "I fell in love with the woven panels and chose them because of their good looks, but now I am even more pleased with them because something really lovely happens when the sun shines through them in the morning. The light glows between the timber slats and it casts wonderful light and shade patterns."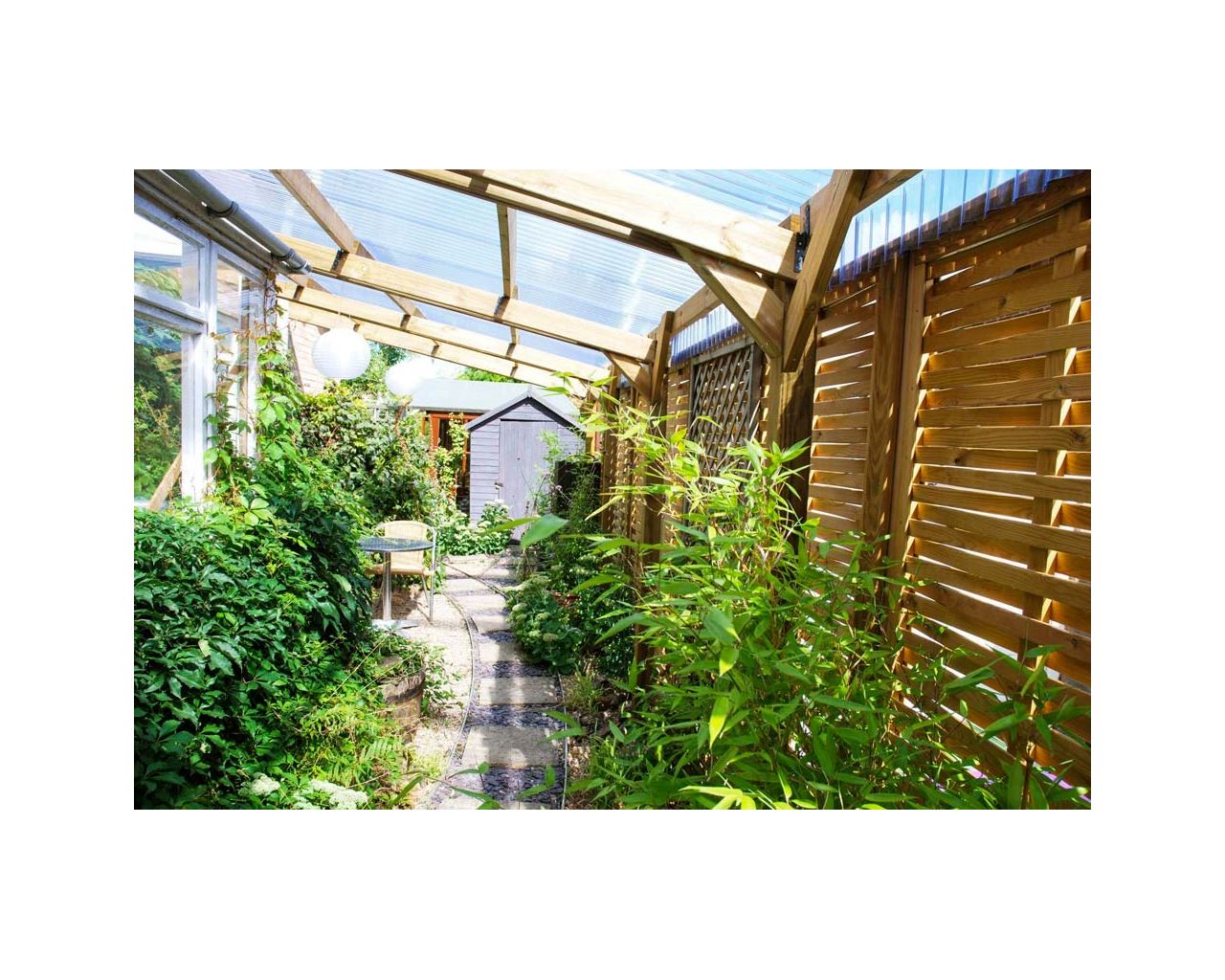 Brian's plan hit a snag because he was suddenly taken in to hospital before he could complete the work, but help was at hand - a local Jacksons fence Installer, Derek Burr brought his project to completion. So when Brian was well enough he could continue by making the most of the room by laying an attractive path from recycled materials; steel edging strips, pavers and slate chips.
He has also 'greened up' the area considerably with bamboos, climbers and numerous other plants. A bistro table and chairs provide a lovely spot to have breakfast, or a quiet read. And a chiminea provides a heat source to extend the area's usefulness, when the evenings turn a bit chillier.
At the moment there is a brick porch around his back door that juts out into the new garden room. It is quite large and Brian's next step is to take it down, this will open up the area even more making the outside room even more spacious and useable.
Well done and thanks to Brian for letting us in on his work in progress, it's an interesting project making use of Jacksons products and creative thinking, with good looking results.
Good luck with the next stage.
Visit the pergola section of our website for more inspiration