17/05/2021 10:27 AM
Mi-T Posts are the latest addition to our product range and reflect the increasing industry demand to offer a sustainable alternative to tackle the destructive nature of concrete posts.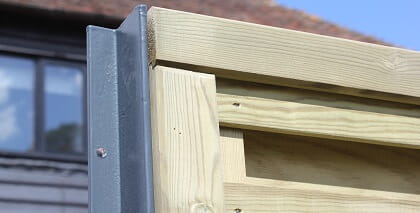 Available in lengths of 2.7m, Mi-T posts can be used with Jacksons framed timber fence panels. They're constructed from hot-dip galvanised steel, to protect them from rust and corrosion, and they can also be powder coated in anthracite grey for a stylish finish. From the rear of the panels, a narrow strip of steel is visible where the panels are fixed to the post. However, from the front, the post can hardly be seen, creating a seamless fencing run with no posts to interrupt the continuity.
Currently, all timber posts produced by Jacksons Fencing hold a 25-year guarantee against rot and insect attack. This is possible thanks to the implementation of kiln dried and pressure treated processes. The Mi-T posts will also hold a 25-year service life guarantee and offer an alternative option for those who usually opt for concrete fence posts.
Nick Bishenden, Senior Marketing Manager, Jacksons Fencing says: "There is a traditional audience in the UK who remain wary of using timber posts, as they have been bitten by inferior products to ours that rot after only a few years. This audience generally opts for concrete posts.
"As one of the largest UK garden fencing manufacturers, we feel it is our responsibility to help the fencing industry become more sustainable by moving away from concrete posts. This was one of the key motives for the development of our metal Mi-T post. It provides an alternative to concrete that work with our framed fencing panels and will appeal to the audiences that currently opt for concrete posts."
Find out more