31/05/2017 11:03 AM
Better ask Danny
Back in February 1974 a fresh faced, 21 year old farm boy from Buckinghamshire started a new job at Jacksons Fencing.
Kurt Daniel, soon to become known to everyone as Danny, had no idea just how important a step in his life the decision to take the job at Jacksons Fencing would be.
After a couple of days in the cross-cut shed, he moved to work in the mill, which is where the company made featherboard and palisade fencing, sawn posts, chestnut hurdles and gates. Previously inexperienced in working with wood, Danny took to these tasks and soon became the most adept and fastest worker, making a record 11 hurdles an hour. He spent a spell as a handler, or forklift driver, but eventually returned to the mill, which is where he's been based to this day.
His skills with wood, attention to detail and craftsmanship are legendary within the company. Danny has risen to the top of the timber manufacturing side of Jacksons and is now Timber Production Manager, he started off supervising 2 other workers when he became Foreman and is now in charge of 45 – 50 timber production operatives.
After 43 years Danny has become an integral part of the Jacksons Fencing Team, he worked closely with IJ - Ian Jackson the founder of the Company - for many years, developing and perfecting products until they attained their high standards of quality and craftsmanship.
Here's a group photo from the 1970s with IJ standing proudly at the front and a young Danny leaning on some wood top right - close up of the photo is further down the page.
He played a vital part in the planning and building of the new offices with IJ in the late 1990s. It seems that no company project hasn't benefitted at some time from Danny's unique care, experience and attention, from product development to high profile show stands - the words often repeated when advice is needed are 'better ask Danny!'
When asked what his fondest memories of his time at Jacksons are, it's obvious that he had a huge amount of respect for IJ, which no doubt was mutual, he mentions that even after Ian retired they continued their firm friendship by working on more building projects together.
When asked what his proudest moment has been, after a little thought he says, there have been a few; I've enjoyed being in the thick of it when we've had to design show stands, I find it satisfying knowing that my work has played a part in bringing the company success, particularly when we've had show gardens at RHS Chelsea and Hampton Court Shows. As a keen gardener it was amazing to visit those and to see something I've had a hand in making looking great and knowing thousands of visitors at a show are admiring it, I feel I've done the company proud.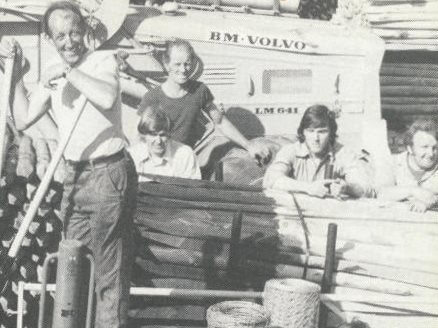 Danny has decided to retire in December so he can spend more time with his family including three grandchildren, and after putting many hours in over the years, working seven days a week up to about five years ago, he's looking forward to having much more time to devote to his garden.