29/04/2020 02:09 PM
Why choose a Jacksons garden gate?
We manufacture a complete range of premium timber and metal gates in a variety of styles and sizes, using only strong, high quality materials which allow us to confidently offer our trademark 25 year guarantee.
As with any type of garden gate there are pros and cons. This blog is our Ultimate Guide to Buying a Garden Gate that will last and we will guide you through a comprehensive list which explains why our garden gates at Jacksons Fencing are different from everyday competitor options that you see in retail outlets or timber merchants. This comprehensive list will cover 7 important factors to help you make an informed decision about whats important when buying garden gates and whether ours are the right fit for you or not.
1. What types of garden gates are there?
Solid gates
Solid garden gates provide the best solution for privacy, strength and to help protect against gusts of strong wind down an alleyway. Our solid garden gates are manufactured without gaps between the slats or pales to create a strong screen with no visibility. Known as boarded gates they are made using diagonal bracing to ensure they support the weight of the extra pales and provide the desired level of concealment. We offer a number of styles: Brook and Brabourne, which can be used not just to match our Tongue and Groove panels but can be installed in their own right. Our boarded range also complement our Chilham, Featheredge, and Closeboard panels.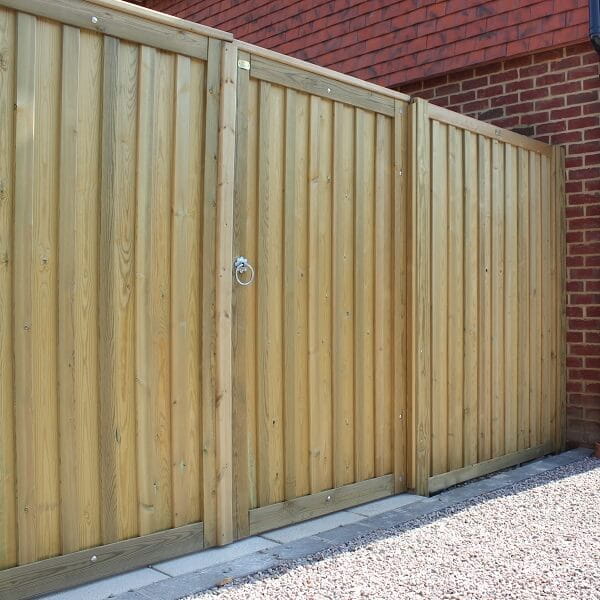 Slatted gates & semi-solid gates

Often described by landscapers as versatile our decorative slatted garden gates are not only contemporary in design but they also allow light through and airflow through them. Ideal for garden designs which use fence screens, garden dividers or even one off feature panels our semi-solid gates are about making a statement or helping to frame your garden to create a welcoming environment. The often imitated Venetian gate is made from horizontal planed slats of timber with small gaps in between each slat. The slats are secured all around by a strong supporting diagonal brace holding the weight of the gate along with each individual slat in position and they are further strengthened by rust resistant fixings.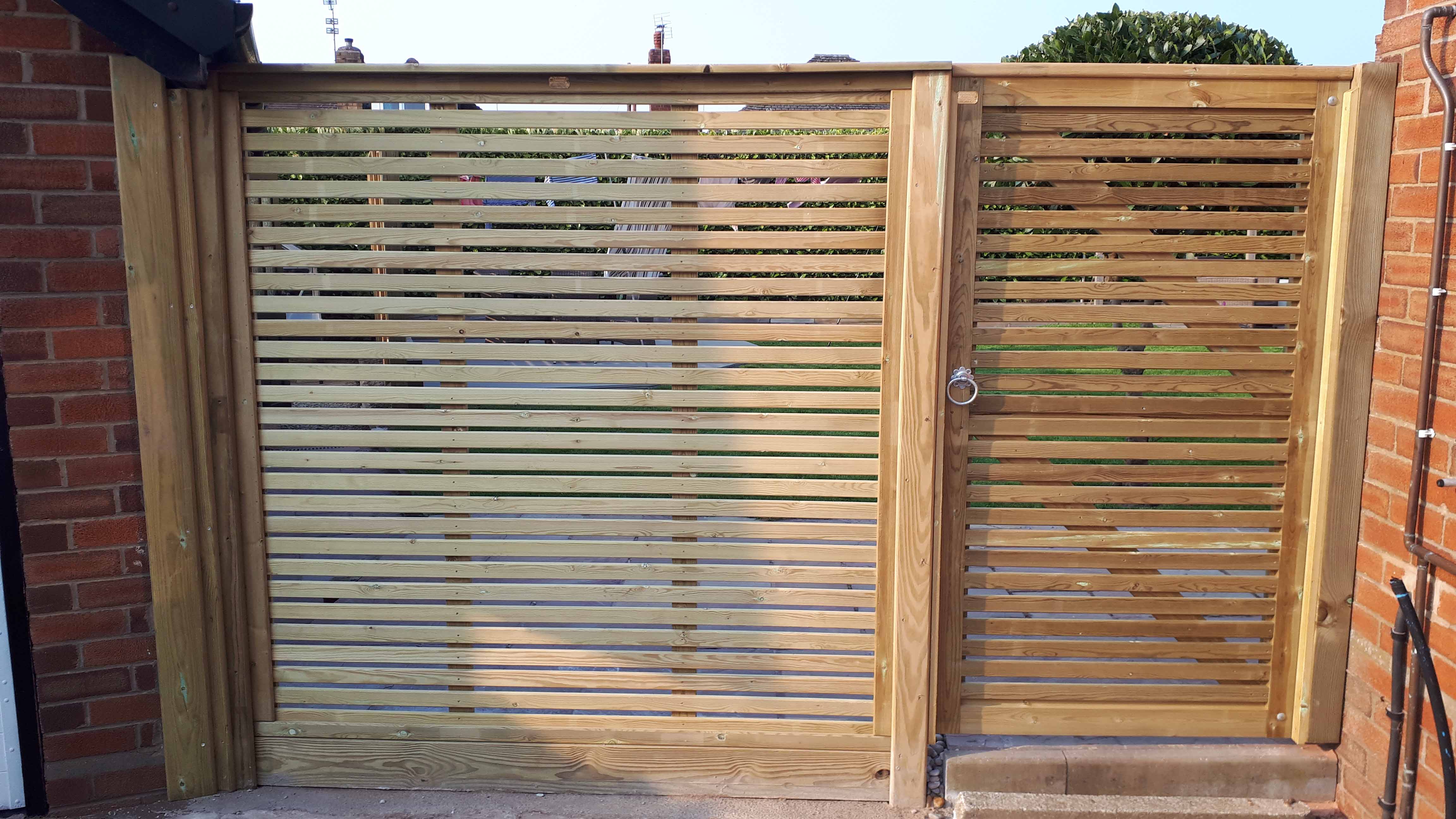 Traditional and decorative gates
We offer a range of traditional and decorative style low level garden gates in various designs. These garden gates are ideal for creating access points in to intimate areas for dining or relaxing. Each design in this range offers unique features which have been carefully considered to improve access into your garden such as our galvanised ring latches which come as standard with all our garden gates, unlike many retailers. A great asset to any garden.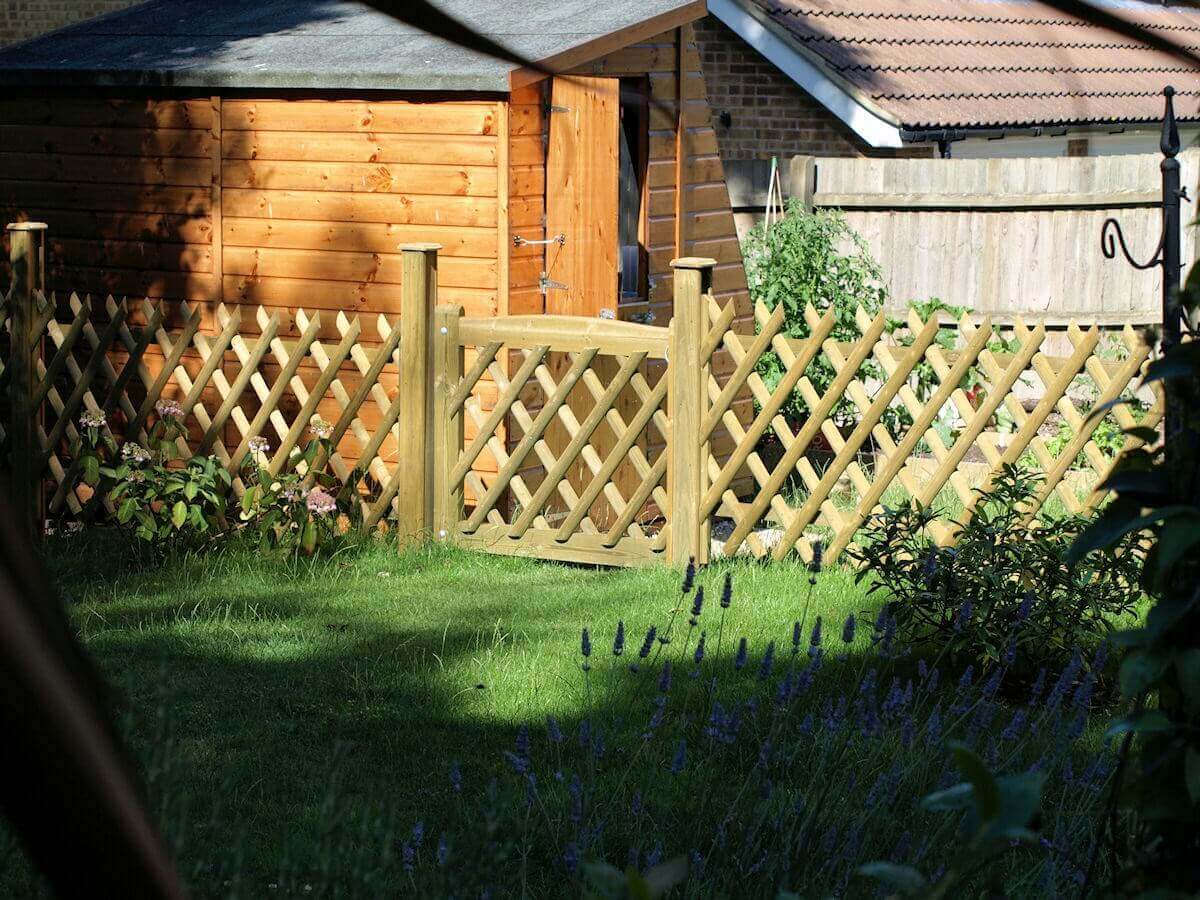 Metal garden gates

A different option from timber garden gates, our metal gates are also guaranteed for a 25 year service life. We manufacture a large range of metal gates including ornamental, driveway, estate, commercial and agricultural gates. All our metal gates are galvanised for a virtually maintenance free life apart from cleaning them occasionally, and can be colour powder coated on request.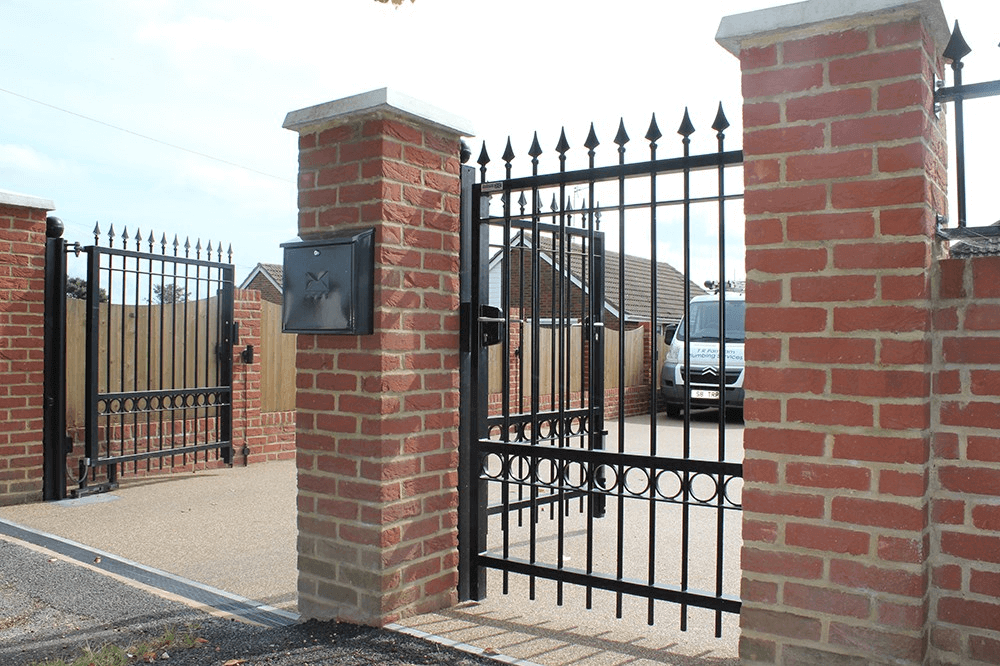 2. The braces and the strength quality

Sturdy diagonal and horizontal braces are built into all of our timber garden gates. These are added for extra strength on the rear side of the gates. These form a very strong support for the pales, fence boards or cladding to be affixed to. Our pales and boards may appear similar to many other fencing companies, but do not assume so. The softwood timber we use to construct our garden gates is responsibly and ethically sourced, higher in quality, thicker, heavier, kiln dried and pressure treated, so they will stay looking good but be in full working order and generally last in excess of the 25 year guarantee we offer, as with all of our timber products. If would like more information about why choosing sustainable eco fencing is both good for you and the environment we recommend researching our Top Tips for Eco Friendly Sustainable Fencing when choosing a fence or gate.



3. Fully framed garden gates

Both our boarded and slatted style garden gates are framed using proven joinery techniques such as mortise and tennoned joints for enhanced improved strength and durability. Moreover our frames are pinned together with hardwood dowels to ensure no movement or warping over time to deliver a sturdy gate capable of securing entrance into your home. This may sound a little like over-engineering or unnecessary, but when you consider the amount of wear and tear a typical gate is subjected to compared to a stationary fence panel; garden gates are often slammed shut, tugged open and installed in frequently used side alleys. so it stands to reason they need to be able to withstand daily wear and tear.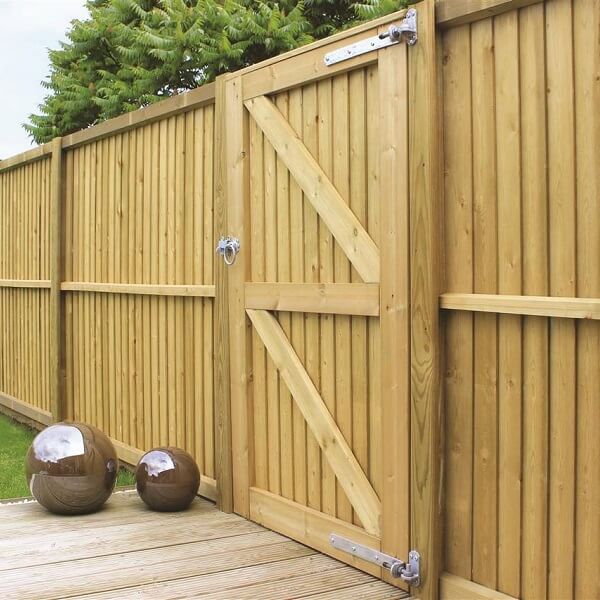 4. Adjustable hook and band hinges as standard

Many retailers sell garden gates built using 'tee hinges'; these mechanisms are commonly known as gate hinges and feature a long plate that can be fixed to the front or back of a wooden gate. Tee hinges are usually lightly coated for resistance against rust and corrosion, but are not proven to last over a sustained period with most retailers offering a mere one year guarantee.

The major difference between these and our adjustable hook and band hinges is the way they are fixed to the gate and post/wall plate, not allowing for adjustment. Timber is a natural resource and will likely move over time, and any gate is prone to sag with constant opening and closing, as the hinge itself will drop or the plate that is screwed will begin to loosen. It is this motion that will cause the gate to lean to one side, usually away from the post causing the gate to not close correctly or even drag across the ground. This is where adjustable hook and band hinges demonstrate their benefit, with a small adjustment, the gate will be as straight as the day it was installed rather than having to live with a difficult to close garden gate.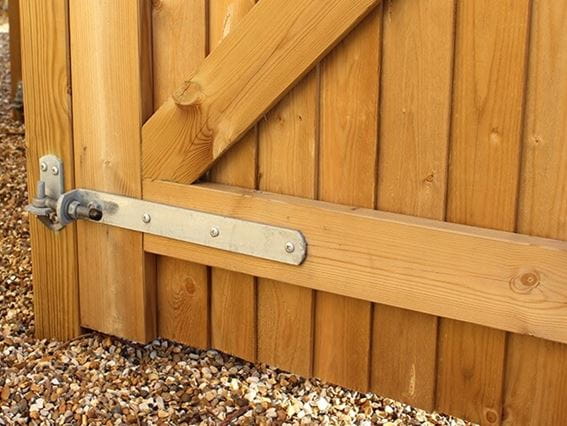 Our garden gates include adjustable hook and band hinges as standard which are designed to ensure the weight of the gate is even distributed across the frame to prevent any movement, avoid twisting and reduce the chances of warping. Some gate designs also include an 'L' style hook and band hinge that can support the weight of the gate, not only on the horizontal braces but the vertical as well.

Our ring latches and fittings are also made using galvanised steel.


5. Rust proof fixings

In a recent blog we discussed the importance of installing fencing which has been engineered to be able to survive the forces of nature (Fencing Exposed to Strong Winds) but this is not exclusive to only fencing, it also applies to garden gates. The design, composition and material of the gate itself will strongly influence its strength and therefore its ability to withstand the challenges associated with the extremes of the outdoors.
In addition to the quality of craftsmanship, it is important to source a gate which is supported by high quality fixings that have been heavily galvanised to deliver added protection. Rusty fixings can be highly influential in causing a gate to default over time because if the fixings weaken due to corrosion by the rust, then the structural integrity of the gate will be compromised and begin to fall apart under its own weight. All of our fixings, nails, screws or bolts are always either galvanised or stainless steel. We recommend researching What Type of Nails do I Need for my Fence.


6. Higher quality posts and wall plates

For any garden gate to hang true and provide many years of service, the correct fence posts or wall plates should be installed. A wall plate is a length of timber that is affixed to a wall, which then allows you to fix the gate with hinges to the wall plate if you intend to hang the gate inside your side alley, for example. Fence posts can also be used to hang garden gates.

Standard square section posts 95mm x 40mm can be used for smaller, lighter gates however for our taller and slightly heavier garden gates it is recommended that 95mm x 70mm section should be used otherwise this simply will not support the weight of the gate. Our timber wall plates are made from planed timber, and the top of the post is weathered.
We recommend you follow the exact same guidelines when installing any either wall plates or posts, be it for a fence or a gate - dig a straight sided hole a minimum of 600mm deep with some gravel for drainage in the bottom and use Postcrete to fill in and secure the wall plate, once the post is in the correct position.


7. Our Jakcure treatment process means maintenance free fencing

Unlike many retail outlets we employ processes whereby all softwood is specially selected for strength, aesthetics and also lower heartwood content. We then employ procedures designed to reduce the moisture content through kiln drying, as excess moisture within the timber prevents absorption of our trademark preservative concentrate.
The preservative is forced by vacuum/pressure through the outer sapwood deep into the timber inside a large chamber, where it forms an insoluble compound allowing for longstanding protection against rot and insect attack. Is it this process which ensures any of our fencing, garden gates and accessories will have protection against rot, insect attack and decay and deliver our 25 Year Guarantee.
All of our products from our fence panels to timber sleepers will weather naturally changing in appearance over time going a silvery colour, and therefore do not require any upkeep or maintenance, saving you money on buying a range of wood-care products such as external paints, stains or varnishes. None of which will stop against timber rot, decay or your garden gate warping.
Download our Good Fencing Guide Brochure
Gate Comparison Tool
Compare all the different types of garden gates we offer using our handy comparison tool.