30/11/2022 11:00 AM
Agricultural fencing is an integral part of farming. Keeping livestock contained and people out of farmland is key to successful harvests and happy animals.
What types of Agricultural Fencing are available?
Agricultural fencing covers a wide array of fencing types used by the rural community, made from a variety of materials, and designed for different functions, terrains, and locations. One of the main purposes of agricultural fencing is to keep livestock in or out of specific areas, but for rural environments such as country estates, parks, and even private gardens, often the purpose is to provide a decorative fence. Historically, the first fences were built using simple stone structures and before this, cattle and other livestock were left to roam free. Now roads, housing, and landowners create a need for secure agricultural fencing.

The types of agricultural fencing and their uses are categorised below.
Post and Rail
Commonplace in rural England, Post and Rail as the name suggests is comprised of a series of posts with three or four rails running horizontally. Post and rail designs can vary with round, half round, square, and irregular sawn post and rail options available.
Relatively easy to install; posts can be driven into the ground or set into concrete depending on ground conditions.
Not confined to agricultural fencing, post and rail is popular for rural homes and keeps with the design of the home and area. It also allows countryside views to be left unspoilt.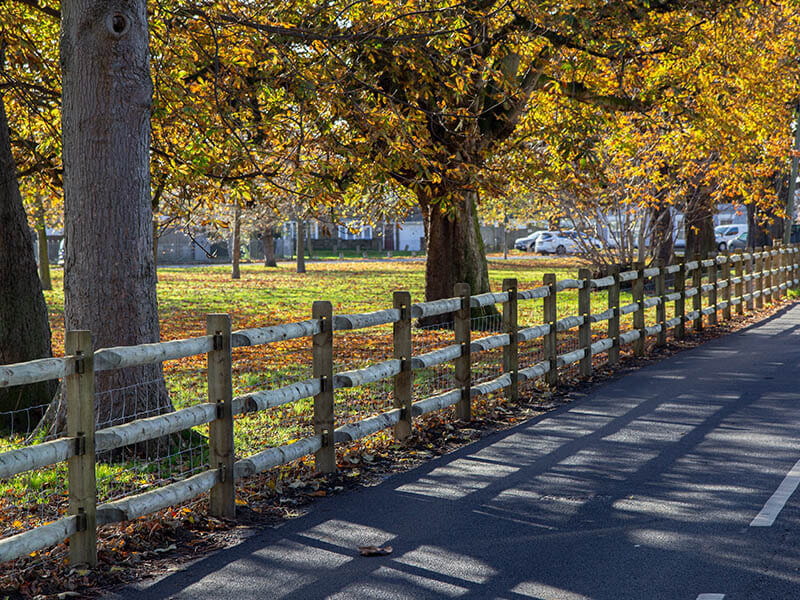 Our comparison tool helps to compare each type of post and rail fencing we manufacture if you need help choosing which type suits your requirements more.
Stock fencing
Ideal for containing livestock such as cattle, pigs, sheep and even deer. Opt for galvanised wire for longevity with the correct height and wire distancing between each row to keep animals in. Kept upright between posts, which keep tension on the wire.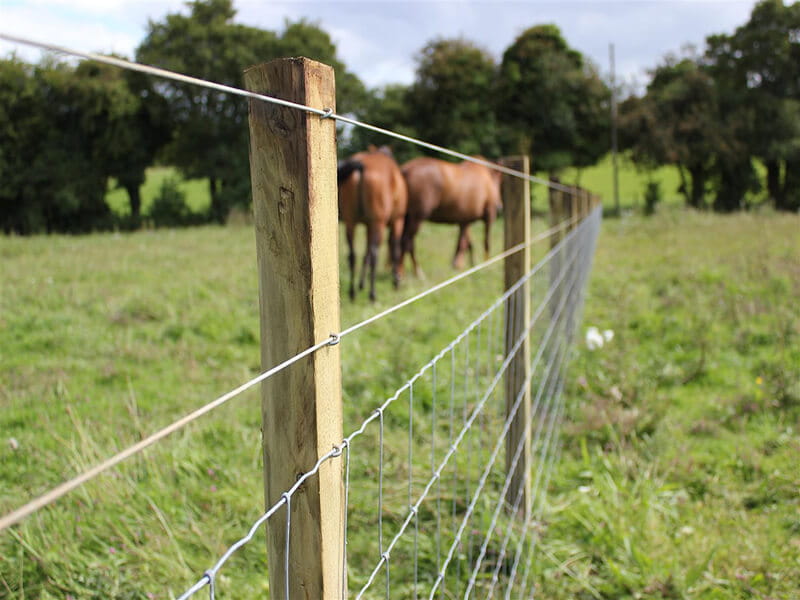 Cleft Chestnut fencing
Cleft Chestnut fencing is made from Chestnut which is a hardwood. It is split or divided into thin pales which are held together using wire. Always opt for galvanised wire if you want it to last. Chestnut fencing is one of the best solutions for fencing off large areas as it is cheap, easy to install, and can be used as a temporary or permanent measure. Pales are usually cleft peeled and pointed at one end, creating an attractive fencing solution that blends into rural and natural surroundings. Our cleft chestnut fencing is not covered by our 25-year guarantee, but it can last 15 years or more due to the wood's high tannin content.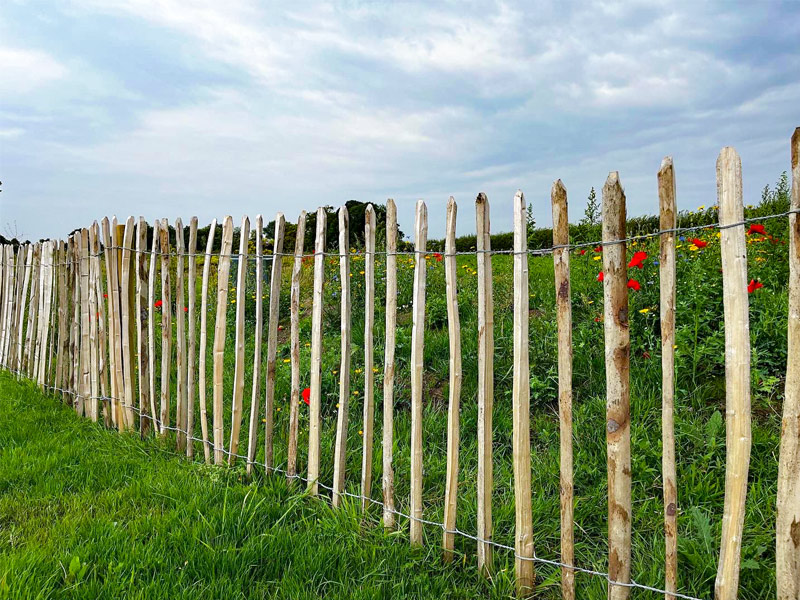 Estate railings
Estate railings are the modern alternative to wrought iron fencing. Wrought iron is still available but considerably more expensive than metal railings. Metal estate railings are a more cost-effective way to get the same style and look. Steel can be powder coated in a variety of colours, but most popular is a simple black finish.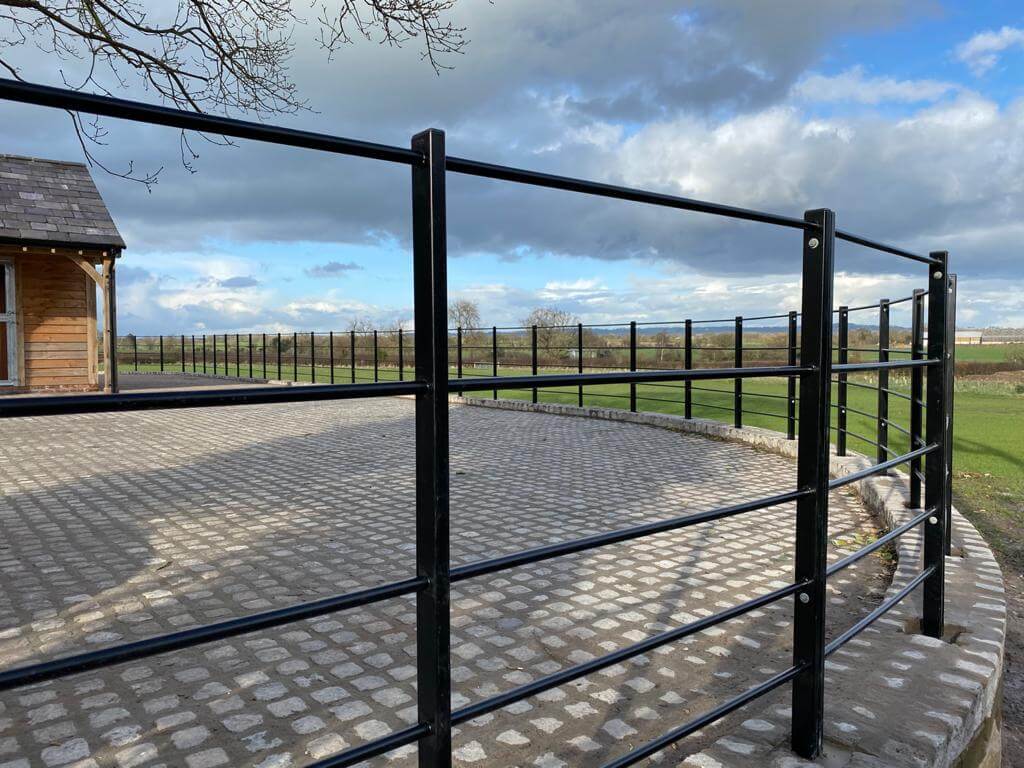 Generally seen around large county estates and parks, they provide an elegant boundary solution that leaves views unspoilt.
Wire fencing/netting
A flexible wire net or mesh that comes in rolls of predetermined weight and apertures. Easy to use with stakes and fence posts, using staples or nails to hold it in place. Suitable for containing small to medium sized animals and pets, a very simple and cost-effective boundary fence.


Barbed wire fencing is commonly installed in combination with stock netting to secure fields and paddocks, it also provides a physical deterrent to would be trespassers.
Public right of way
The majority of farmland will have at least one public right of way. It is the landowner's responsibility to maintain public rights of way and provide paths through fields.
Ensuring there is easy access routes into fields and controlling access points to protect crops and livestock is important to landowners.

We manufacture stiles and kissing gates which are ideal for livestock fields as they prevent livestock escaping when gates are open and shut.
Other access gates include timber or metal field gates or timber uni gates that come in widths of up to 4.6m as standard, meaning farm vehicles can easily gain access. Fitting with a spring catch set will prompt the walker to shut the gate behind, stopping unwanted access.
Vandalism and illegal entry to private farmland unfortunately occurs and landowners are in a constant battle to keep unwanted visitors out.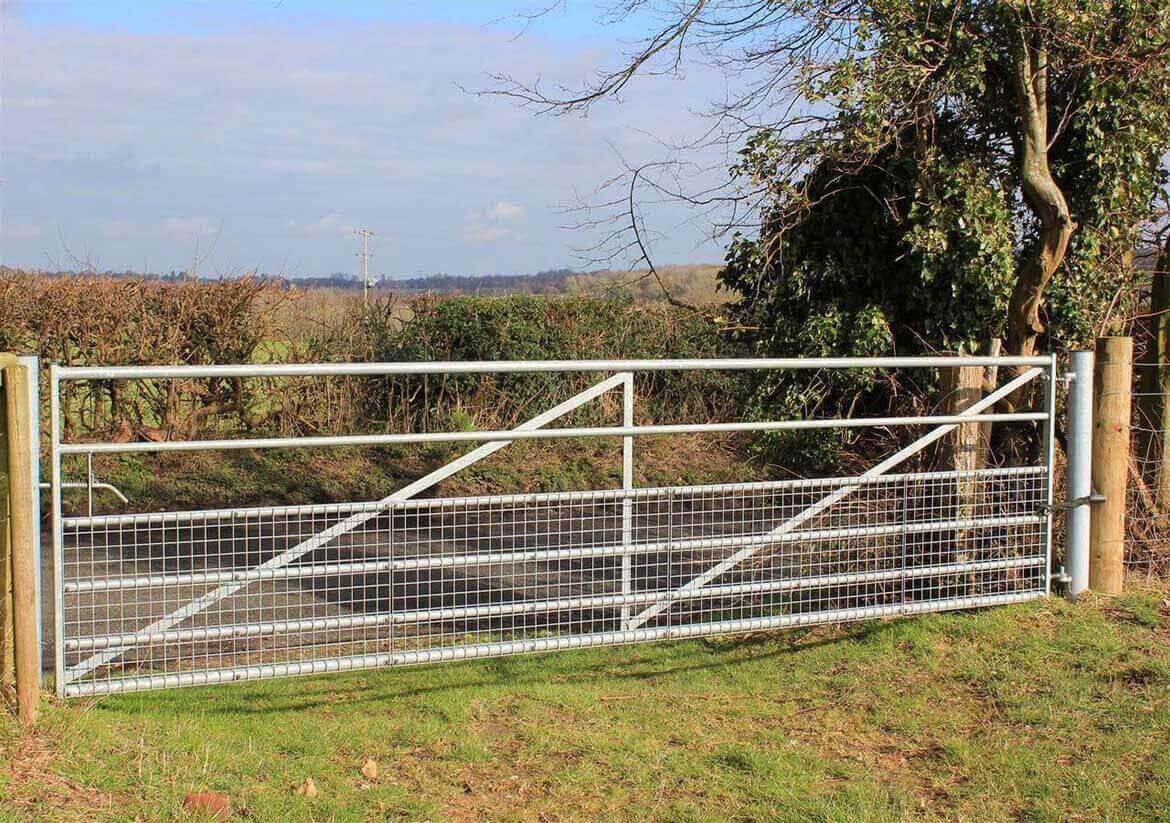 Gates that do not lock or ones that can be easily removed are easy targets for opportunistic intruders who will just lift the gate off the hinges to gain access. Sometimes large logs or rocks will be used to cover areas that are not closed off with fencing or hedges. Our metal and timber field gates are fitted with hinges that can be installed with one facing up and one facing down so the gate cannot be lifted off without specific tools.
Types of security features for agricultural fencing
Theft is on the rise across the whole of the UK. Farmland is often chosen for high value machinery, animals, or crops.
Ensuring high value items are best protected with security fencing can save a lot of money in the long run. We have a range of security fencing with differing levels of protection that offers solutions for every application.
Agricultural fencing for rural homes
Post and rail and its traditional design is well suited to rural gardens, homes, and agricultural land, and is perfect for those looking to keep a traditional look for their property. For rural gardens, post and rail is extremely easy to install and covers a large area with ease. It can also be customised with wire mesh for added protection against small mammals and pests, and to also keep family pets safe and secure. You can read one of our other blogs where we secured a park with post and rail fencing, Park Fencing Replaced with Natural Timber Post and Rail.
In a similar vein, metal Estate Railings provide a distinctive style that is simplistic but contemporary in nature. Complementing a variety of surroundings, metal estate railings add a prestigious feel that was historically installed around high-end estates. It also acts as a barrier for larger wildlife such as cattle but allows smaller animals to pass through. Adding estate railings also guides the flow of foot and road traffic and keeps pedestrians from straying onto borders and areas that should not be walked on. Read one of our other blog posts Estate Railings provide unspoiled views of Cheshire Countryside.
Why choose Jacksons Fencing for agricultural fencing:
Timber is vacuum pressure treated with our unique Jakcure® process, providing a 25-year guarantee
High quality materials and construction providing stronger solutions
Over 75 years' manufacturing expertise and supplying the rural community with fencing, for all types of countryside applications
Cost effective solution to fence large areas