18/12/2017 03:15 PM
Jane Henry of Norwich has sent these before and after photos of her fantastic garden makeover project. Thanks very much Jane, they make a terrific customer project story.
Hi Jacksons,
I just wanted to say how delighted I am with my new Jakwall timber retaining wall terraced garden.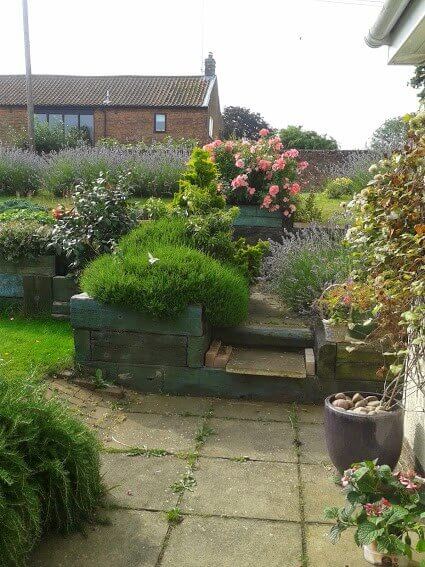 Here you can see what the garden looked like before we started. It was a very difficult space. We have lived here for 35 years and when we arrived we had a steep bank that proved incredibly difficult to mow, let alone get up and down!

This became easier in the mid 90's, when we had the slope terraced using railway sleepers, but these were not ideal, as they were old and leaked tar in the heat.

Eventually they also started to rot and the steps became hazardous, so we knew we needed to get some advice on what to do to replace the sleepers.

We originally thought the best and safest option would be to use bricks and build walls up to retain the large amounts of earth being held in place by the old sleepers, but when quotes came in this looked like a very expensive solution.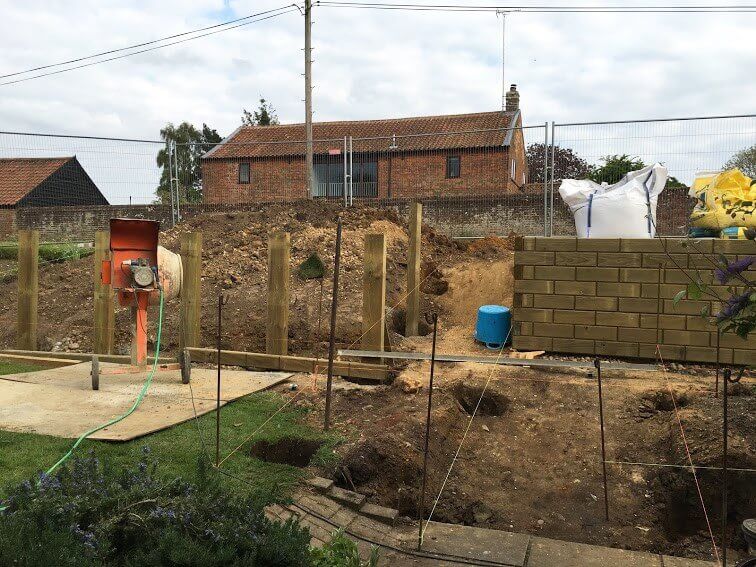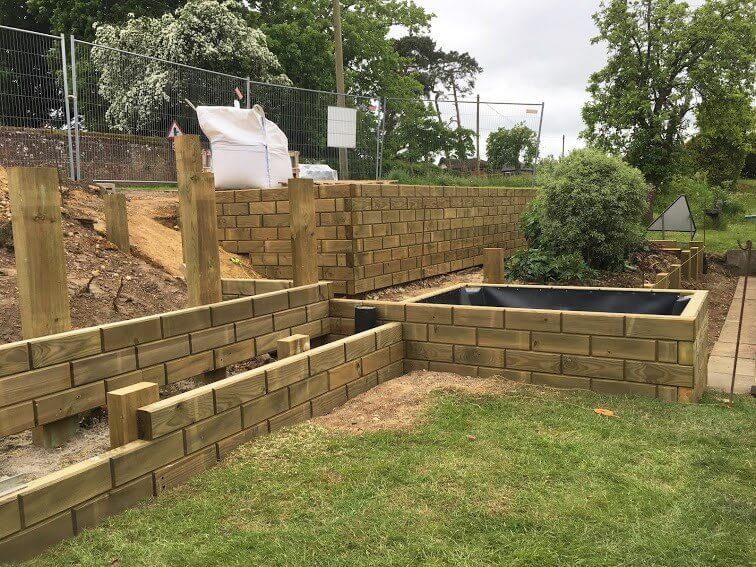 Our landscape gardener, Darren Barnes of Kingdom Landscapes came up with a much better, cheaper and we think a more aesthetically pleasing option; Darren recommended sleepers, but not what we had previously used, he suggested Jacksons landscape timbers, which he assured us were far superior and they are guaranteed for 25 years.

I had a look at your website and saw the Jakwall timbers and loved the look of them. It's much more interesting than just plain timbers, and has turned out to be more economical than building with bricks.

We have basically followed the previous design and replaced the rotten old sleepers with Jakwall timbers and built them up section by section, it's exciting seeing the levels growing and the raised beds taking shape.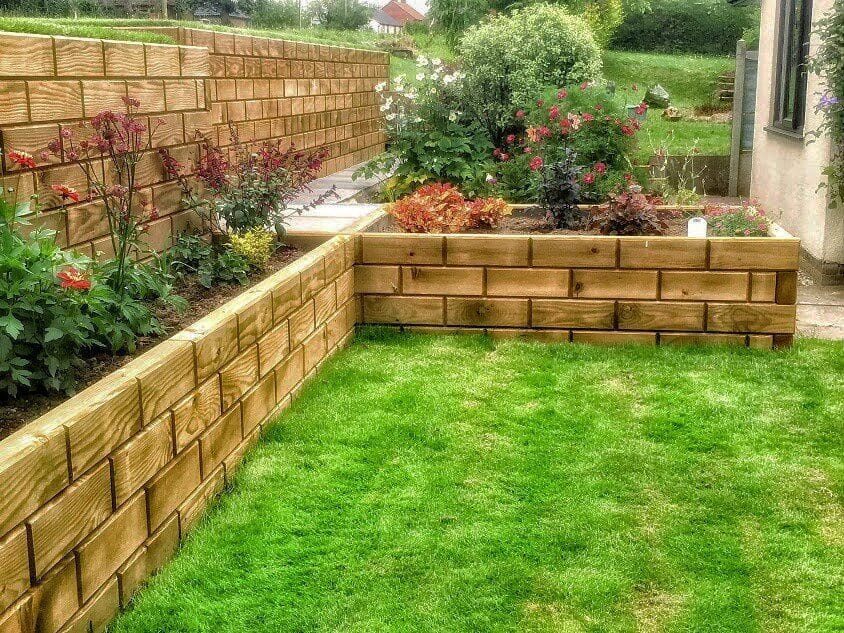 We have also made an extended raised bed along one wall and on the other side, where there was an existing bed this was also was finished in Jakwall to get the 'look'.

I am sorry that all the plants are new and haven't grown much yet, so some of them look a little lost. I know it will take a while for the plants to mature and as they do their foliage will soften some of the lines and there won't be so much bare earth - it will be a whole lot better in years to come but you get the idea I'm sure!

I am so pleased with it, Darren has done a magnificent job and has built a garden we can be proud of - I must say we have had many people asking about it and many admiring comments.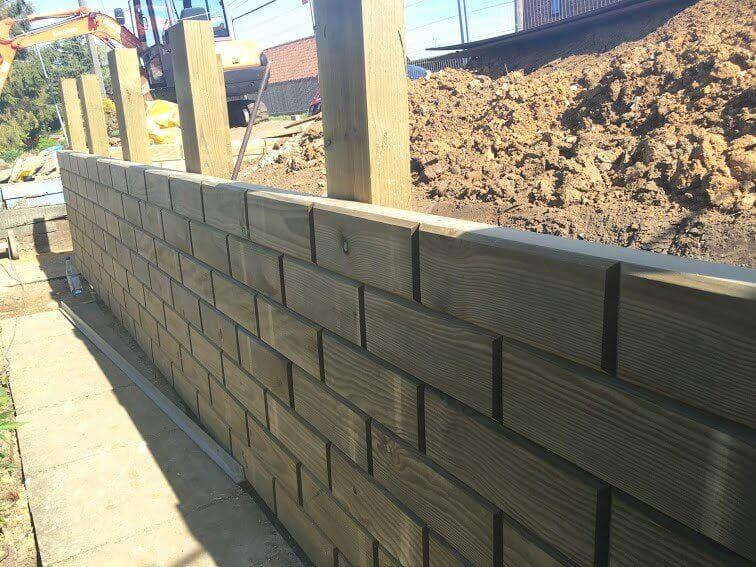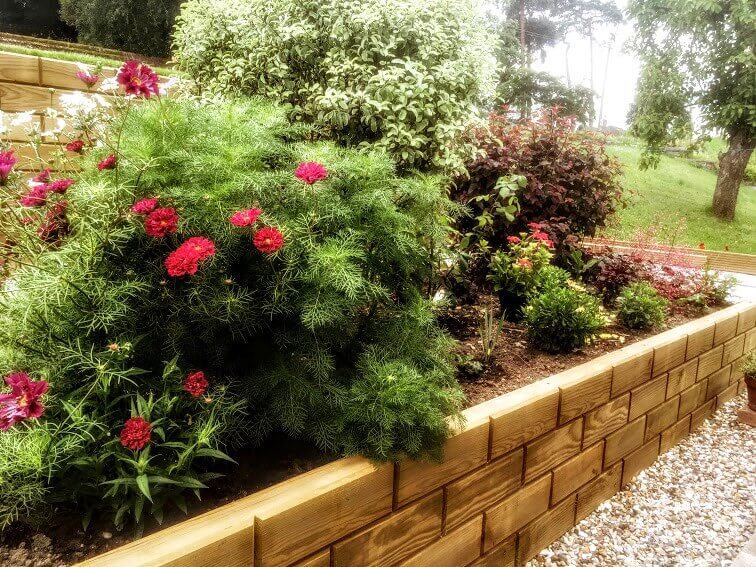 Our one and only regret is that it's our front garden and not the back!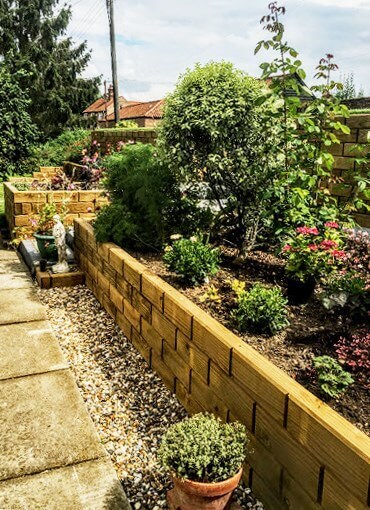 We are now going to start on the back garden, renewing the fencing, it will be Jacksons of course, but that will be when Darren is available.
Jane Henry
See more of the project pictures by going to the gallery
for more info on the landscapers go to
www.kingdomlandscapes.co.uk