28/05/2019 07:52 AM
The RHS Chelsea Flower Show is one of the world's most renowned and prestigious flower and garden shows. We had the opportunity to visit the show on Tuesday 21st and saw all the latest trends, the amazing show gardens, and the best of the spring blooms.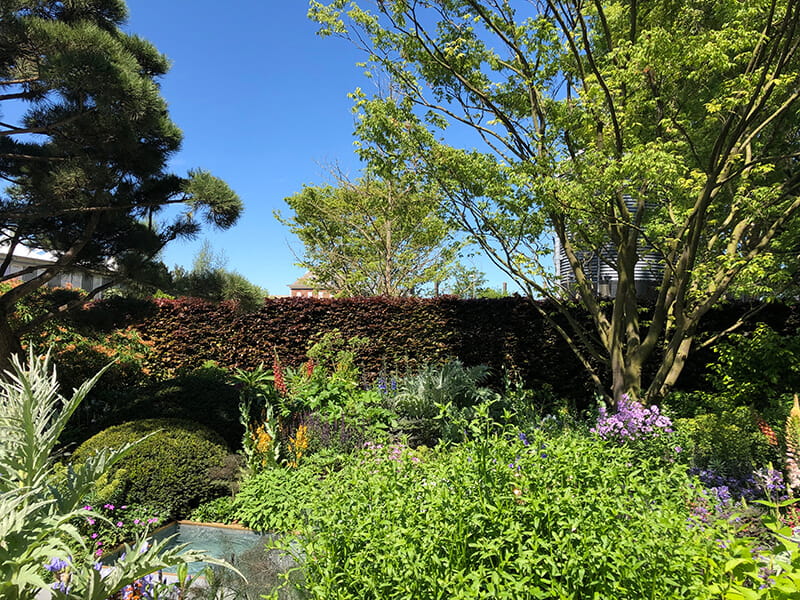 For 2019, natural landscapes, wild flowers and mini forests were all prominent features amongst the show gardens. Find out our take on the biggest trends and our favourite gardens - it's time to be inspired.
1. Water Features
Water featured heavily in almost all the show gardens this year; whether it was gentle flows of water throughout the various parts of the garden, or waterfalls cascading through the middle, the water elements added sound, texture and focal points to each garden.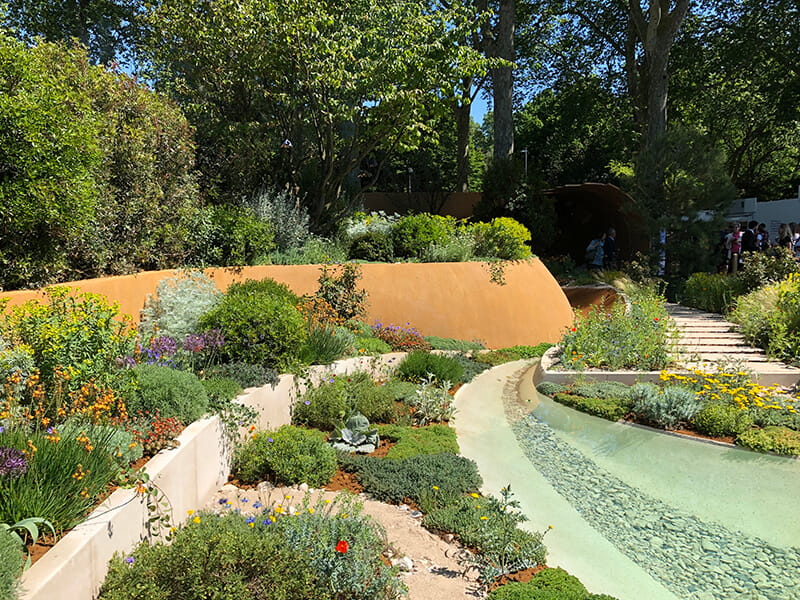 Mimicking this at home, the vast majority of us couldn't recreate a giant waterfall like Jonathan Snow's show garden, or create coastal waves like Joe Perkins, but you could integrate natural ponds or create flowing streams like Laurelie de le Salle in the 'Harmonious Garden of Life'. You can read how one Jacksons customer used Ungrooved Jakwall to create a water feature within their garden.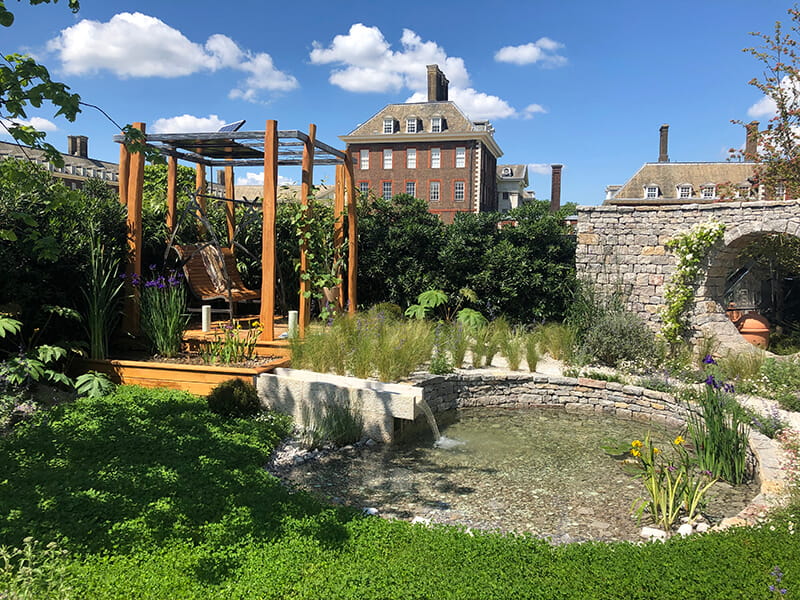 2. Woodlands
Amazingly, a lot of the show gardens featured a lot of mature trees creating woodland and forests throughout. One garden in particular caught our eye as designer Sarah Eberle FSGD used trees that are resilient to climate change in her garden 'Forest of the Future'. Filled with species such as hardy evergreen monkey puzzle and ancient ginkgo, these species thrive in habitats affected by climate change.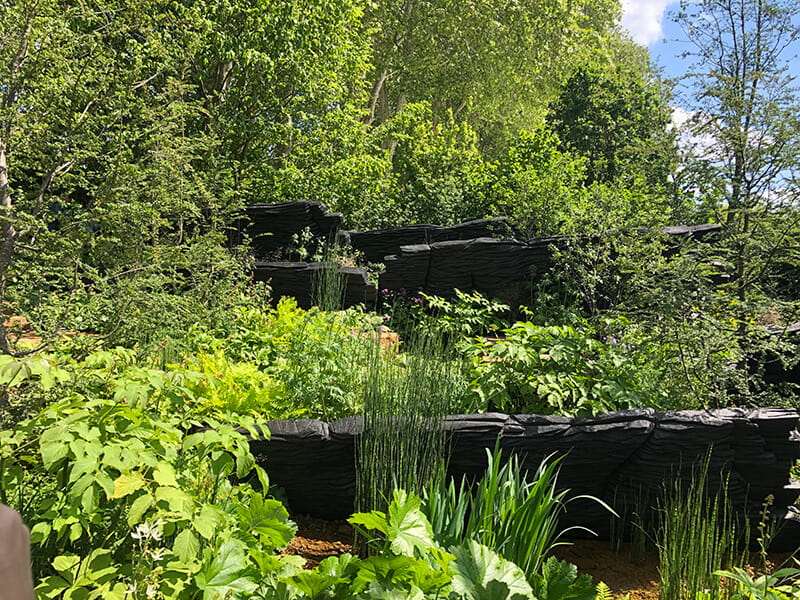 This trend suggests we may start to see small woodlands within many urban gardens across the UK. In urban areas especially, it is important to include as many hardy plants as possible to combat air pollution.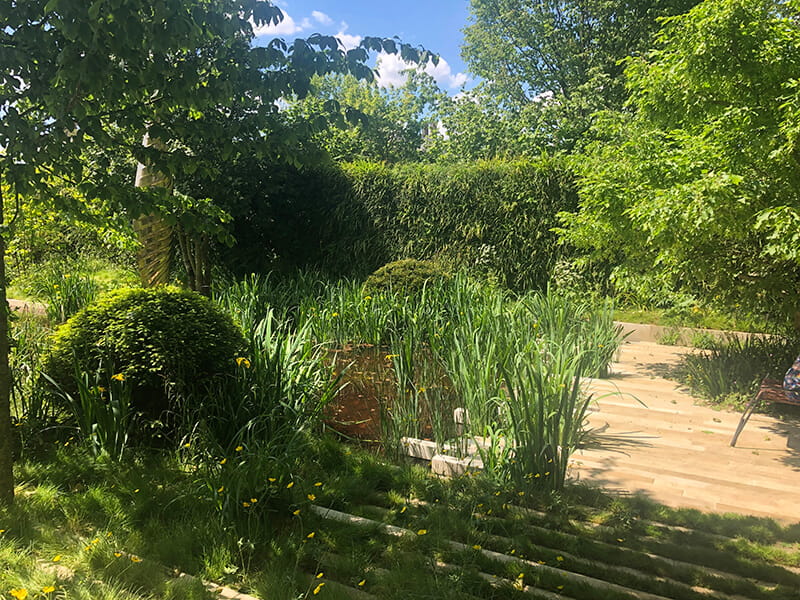 3. Garden Structures
Focal points within the garden often came from large architectural structures like the one in the image below taken from Jo Thompson's garden.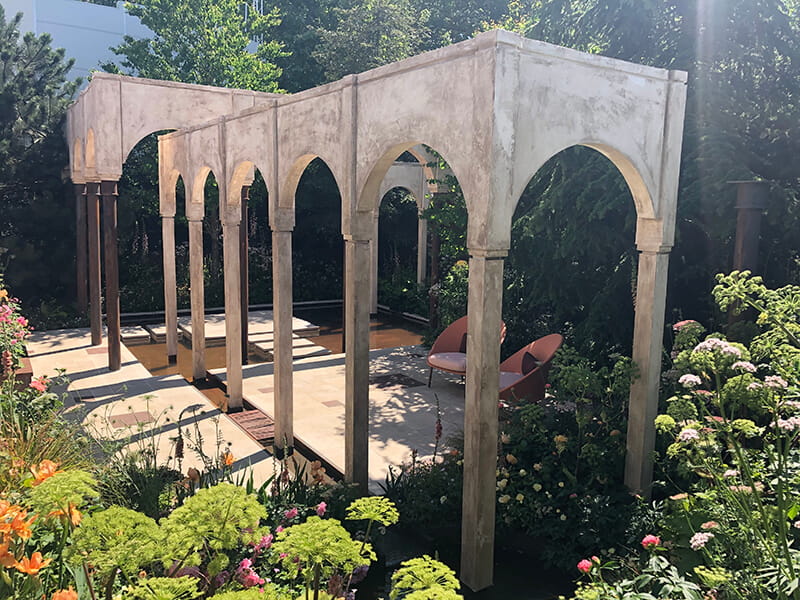 Inspired by classical architecture whilst living in Rome, Jo Thompson included a colonnade that framed the garden beautifully whilst also drawing the visitor's eye to other key features. One of which was the watercourse that flows through multiple levels, unifying the various areas of the garden.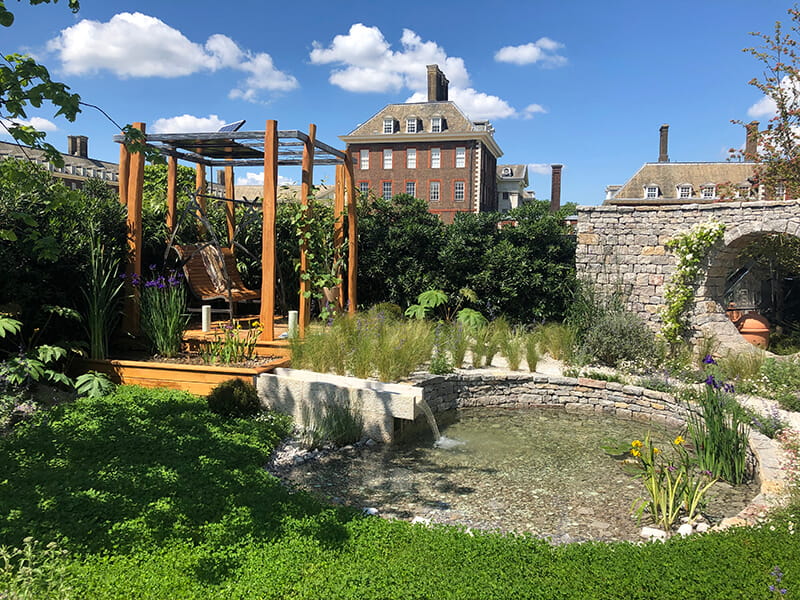 Garden structures can be easily added to your garden, providing that hint of Chelsea inspiration. Products like pergolas are a great source of structure and can frame and enhance parts of your garden.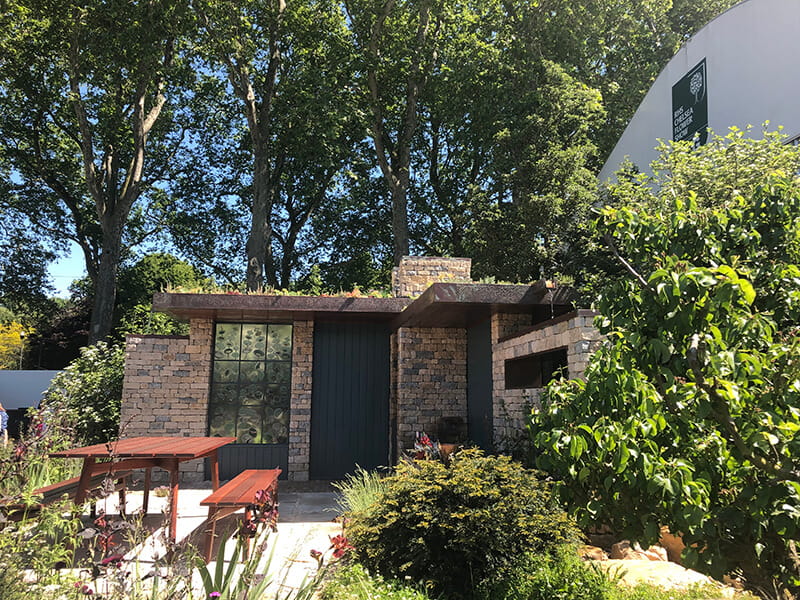 4. Colour Schemes
All garden designers will come up with a colour palette in which to plant to.
Within 'The Dubai Majlis Garden' designed by Tom Hoblyn, a muted palette of oranges and blues were used to embrace the beauty found in dry climates.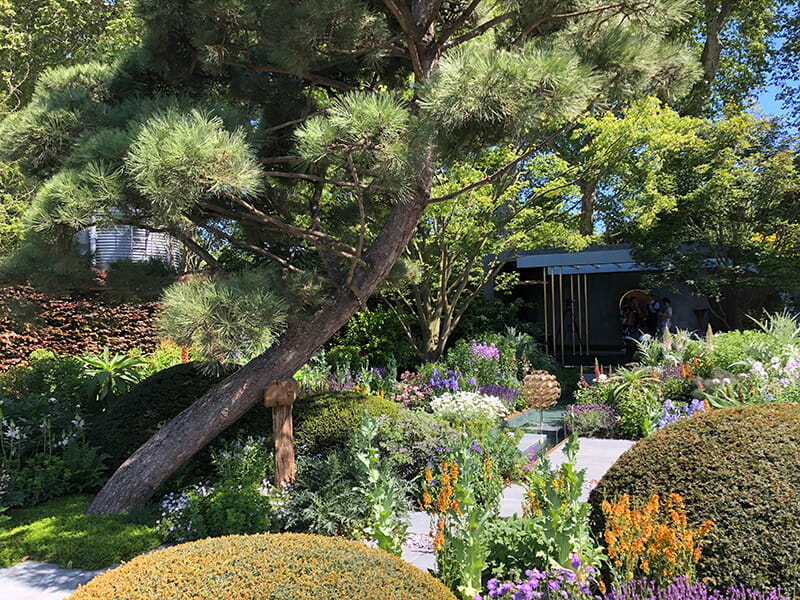 Jo Thompson's planting palette features soft lemons, cream and peach with accents of fresh green, zingy lime and rich deep claret.
When incorporating a palette into your garden, it's important to think of the colours you want to include before planting, and make sure the colour scheme is followed throughout the different planting areas in order to incorporate flow. Repeating in threes or more helps create links that encourages a viewer's eye to move over the garden.
5.
Edible planting
It was interesting to discover that so many designers had opted for edible plants over traditional, decorative flowers, creating more functional gardens. We noted in our 2019 garden trends feature that edible planting was going to become a prominent feature within UK gardens alongside the theme for the RHS gardening week theme – Edible Britain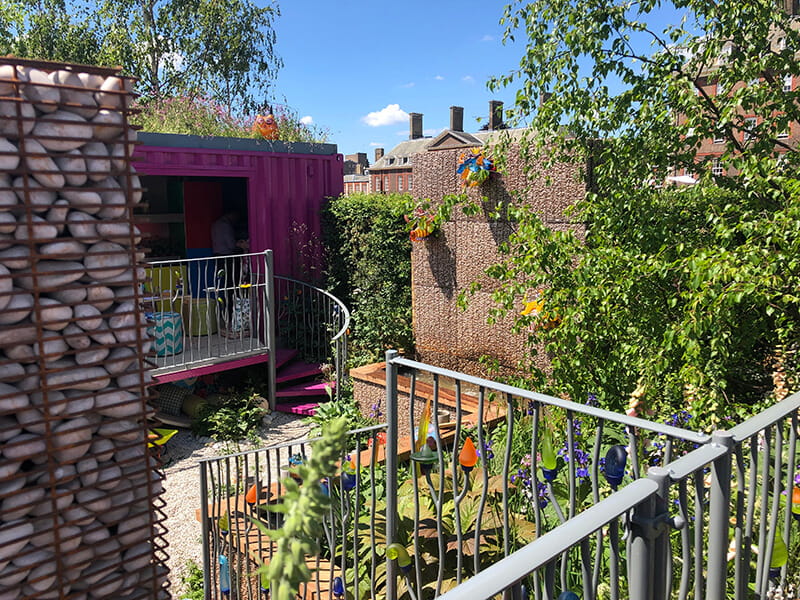 One of the most thought provoking and time relevant garden was the 'See Growth' garden with Camfed. Camfed the Campaign for Female Education, created a garden that showcased what is possible when you give African girls space to grow.
The garden centred around a typical Zimbabwean classroom, which was surrounded by plants and trees with edible fruit, leaves and roots that provide vital nutrition for school children.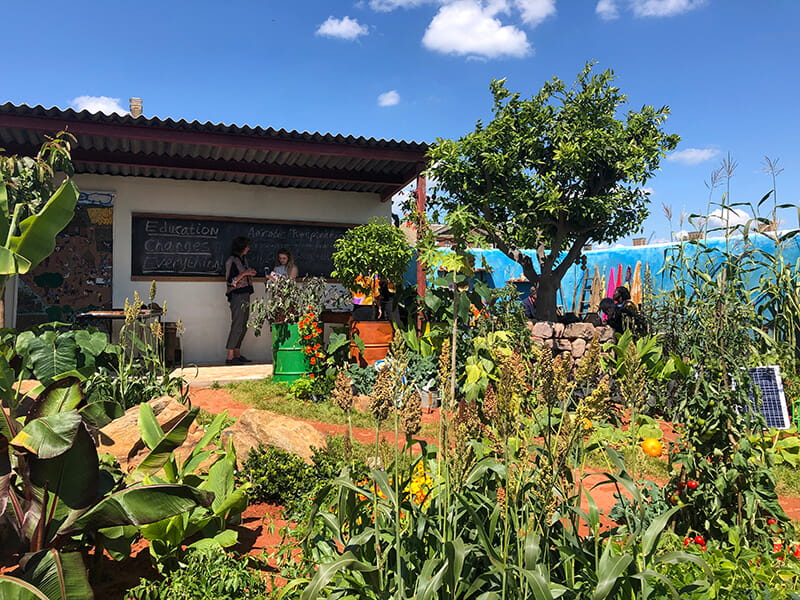 'The Yorkshire Garden' focused on the beauty of the natural and the cultivated and showcased this with natural flora and vegetable patches.