13/12/2021 12:00 AM
One of our Wiltshire based Approved Installers 1st Aid 4 Fencing completed this beautiful install of a custom-made Pergola along with Convex Tongue and Groove fence panels, topped with our curved framed Trellis in Melksham, Wiltshire.
The customer had contacted 1st Aid 4 Fencing asking for advice on how to spruce up their driveway and garden entrance. They specified that they would like to keep an arch type design for their entryway into the property but wanted something special and unique.
Previously a large hedge and trellis separated the garden from the driveway. However, as the trellis grew older and the hedge more unruly, the boundary was starting to look tired and messy. The new fencing needed to provide them with more privacy and offer a smarter looking entrance.
Knowing that they were able to modify Jacksons products, the Approved Installer suggested customising a double pergola by adding 430mm trellis infill panels for the sides. This was a relatively simple modification from a standard double pergola, with just the rails and cross members needing to be adapted.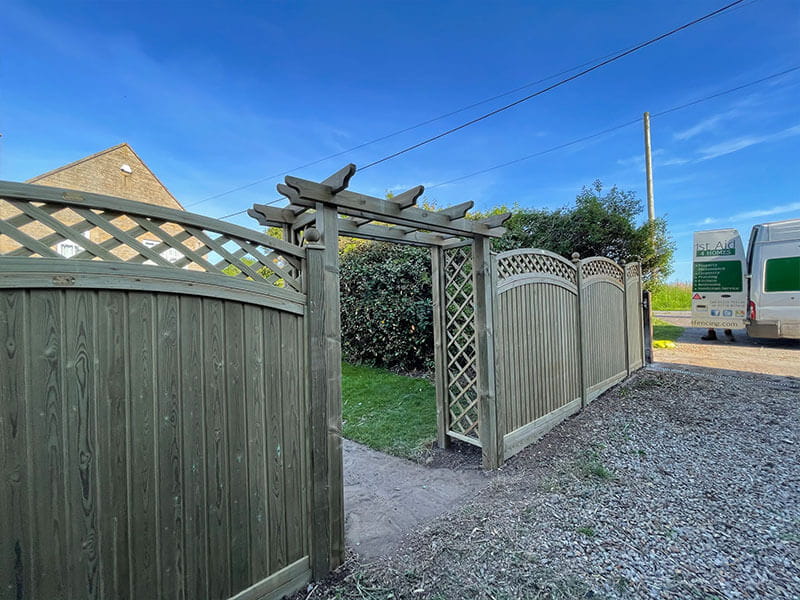 Driveway Fencing
Convex Tongue and Groove Effect fence panels create a decorative and smart looking fence, with the addition of a curved framed diamond trellis topper. The addition of Ball and Collar Post Caps help to provide an even more stylish finish but with a traditional feel. By using a diamond shaped trellis for the top of the fence and the sides of the pergola, this creates a cohesive design that brings the fence and pergola together to create one great entranceway.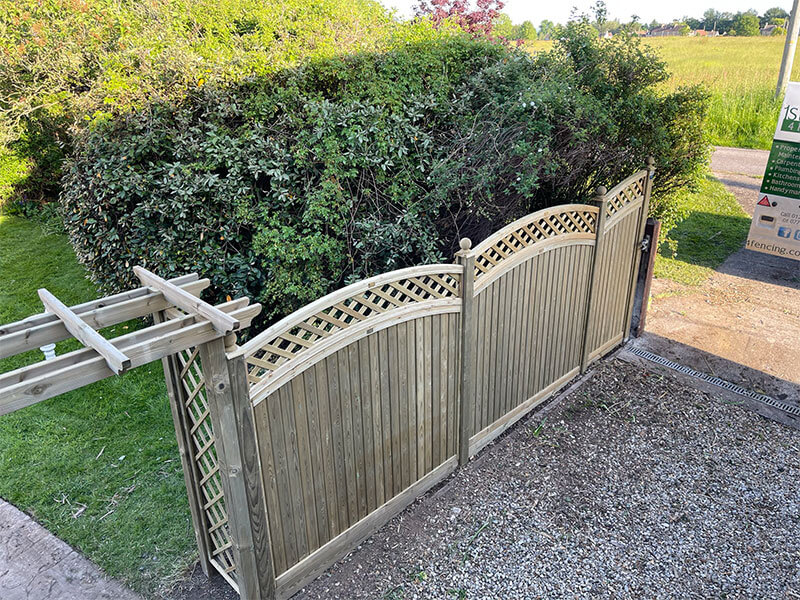 Project details
The fence panels are 1.5m high Convex Tongue and Groove Effect which are 1.83m wide as standard, complete with 300mm high curved top framed trellis panels, and elegantly finished with Ball and Collar finials on top of the posts. As the driveway is sloped, the first three panels had to be stepped to follow the gradient of the ground. In total there were two lengths of fencing, 4.8m and 6.8m long.
The overall height of the fence is 1.94 metres, and this was produced from a combination of the gravel board (140mm), panel (1500mm) and topper (300mm). The side frames of the pergola were made from our Premier Diamond Trellis, in total the arch was 1.4m wide x 430mm deep.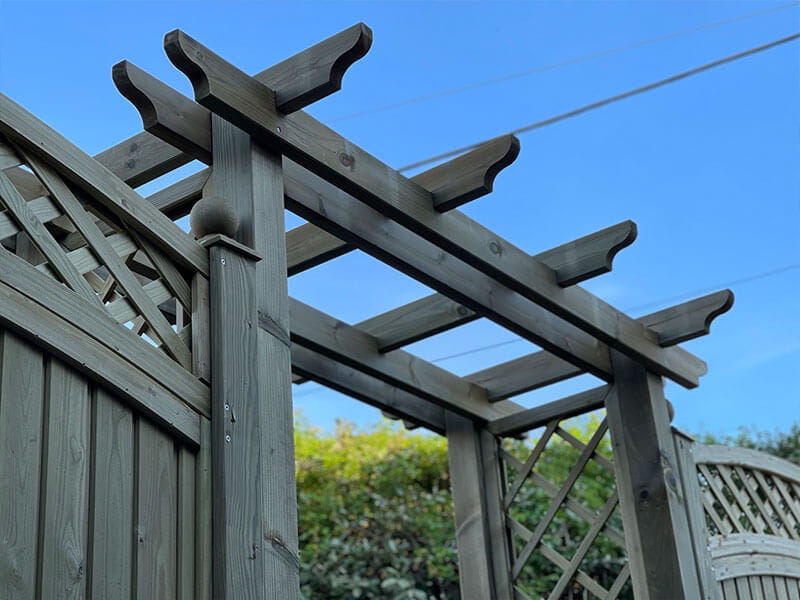 Why choose a custom design?
Our Approved Installers have a deep understanding and knowledge of our products and are always prepared to help a customer create their vision. We always love to see our customers and Approved Installers working together to use our products to achieve their own design ideas and achieve their garden design goals.
Custom designs of Jacksons' products can offer customers the chance to create something truly unique and different from what others may have. Creating your own design, can help you create a truly unique garden.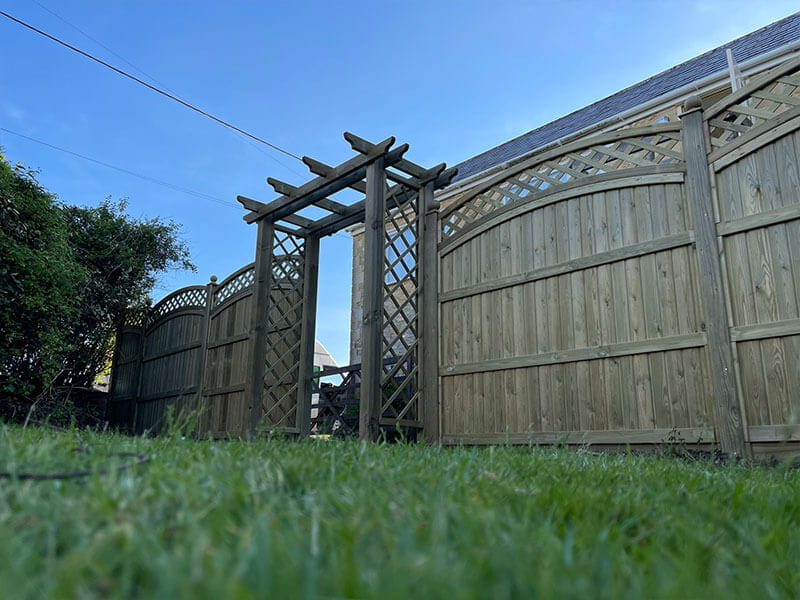 This does not mean that our standard products are not unique though - we have the largest range of fence panels on the market and our unique fence toppers like the curved framed trellis topper used in this project allow for customers to produce a truly unique fence.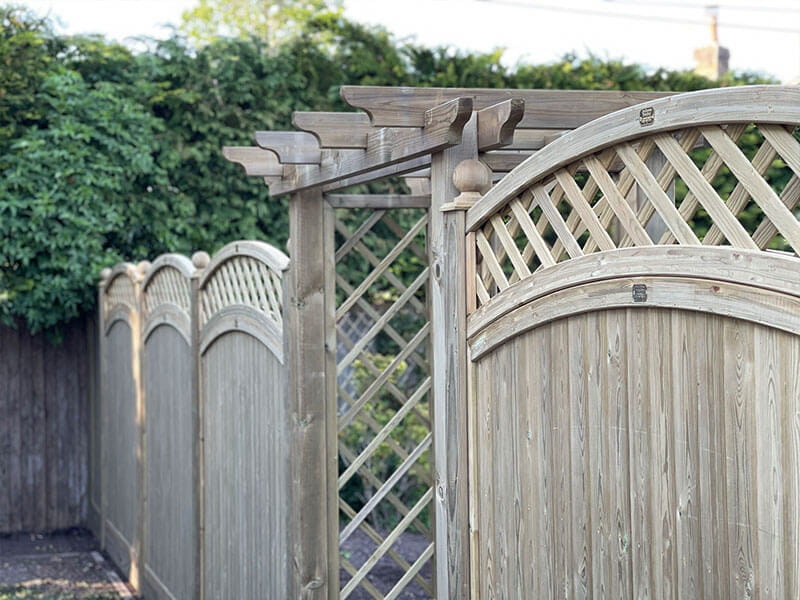 Custom Pergola as an entryway
Arches and pergolas create natural focal points and can be used in a variety of outdoor spaces, and for various applications from entryways to entertaining areas. They also bring practicality and function, as an entryway the pergola provides a natural transition from the outside to home.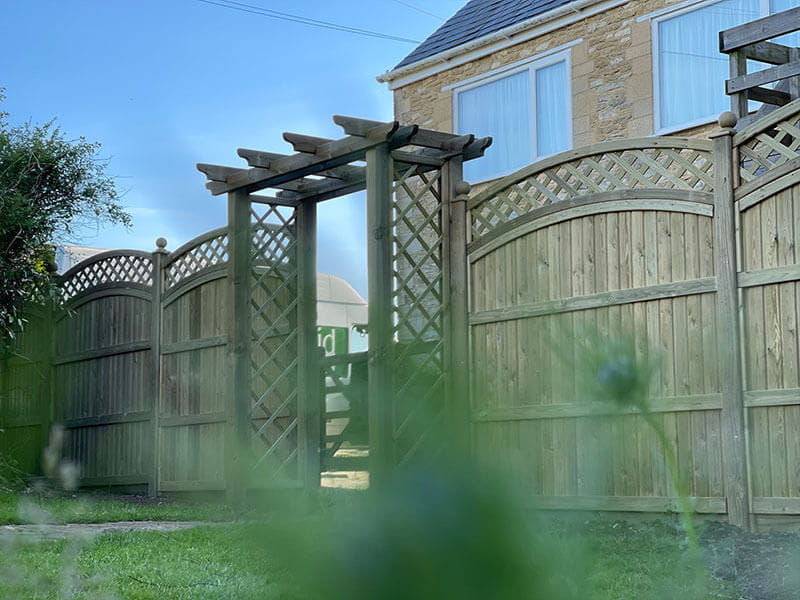 Approved Installer: 1st Aid 4 Fencing.
To enquire about your local Approved Installer fill out our web form by following the button link below:
To view the products found in this blog, please click the buttons below:
Convex Tongue And Groove Panels
Premier Diamond Trellis Panels