30/06/2022 12:23 PM
Whether you want to upgrade your outdoor space, extend your living space, or just create shelter from the summer sun, a garden shelter is definitely worth adding to your garden wish list.
Garden shelters are a great addition to your garden and are not just limited to one simple structure. Shelters can be created from stand-alone garden shelters or made from trellis and pergolas. Garden shelters provide you with a way to enjoy your outdoor space all year round.
We discuss garden shelter ideas that will hopefully inspire you to get your own.
Garden Shelter Ideas - Alfresco Dining
Take alfresco dining to another level by adding a garden shelter. Whether this is in the form of a garden shelter or just framing the space with slatted fencing. By adding 'walls' you create the feel of an outside room and add a bit of luxury to your entertaining space.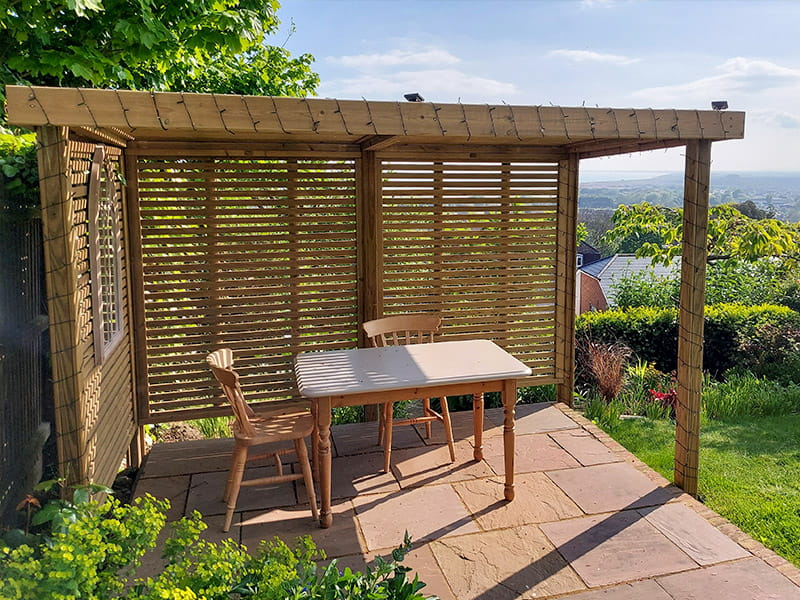 A garden shelter also provides shelter from the elements, which mean alfresco dinning does not have to be confined to the summer months.
Garden Shelter Ideas - Seating Areas
Shelter a seating area with trellis, pergola or provide shade from the sun with a garden shelter.
Pergolas will elevate a seating area and add height to create a focal point within the garden. Add a double pergola to create a frame to place your outside furniture. Consider covering a patio with a multiple bay pergola to give shelter from the sun across the whole entertaining area. Pergolas will also add additional privacy, but pair with climbing plants to increase the level of privacy and create an idyllic seating area.
Surrounding a seating area with slatted fencing will not only bring shelter from the wind, but will also frame the area to create a secluded spot.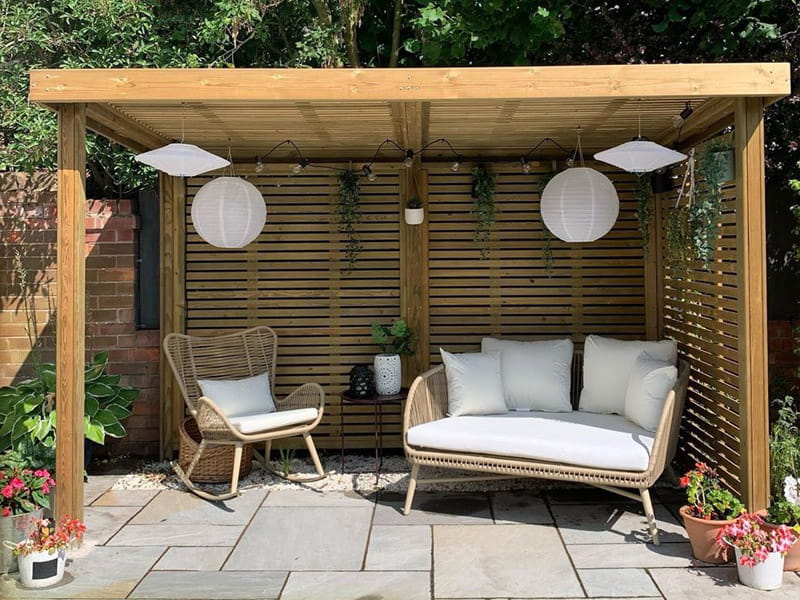 Garden Shelter Ideas - Outside Kitchen Area
Whether you are using a garden shelter to host your BBQ or creating a full-on outdoor kitchen, a garden shelter will allow you to cook come rain or shine.
If you want to keep the sun shining and keep the space open, you could add a pergola above. To add a back to the outdoor kitchen a slatted fence panel would be a good option.
To add a roof and keep the space sheltered from the rain, choose our garden shelter with additional polycarbonate roof to make it waterproof.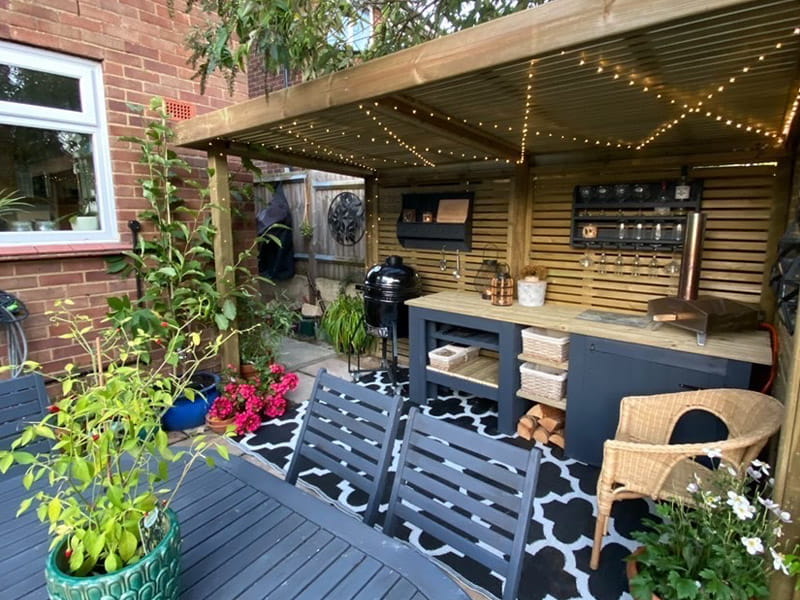 Garden Shelter Ideas - Shade On Sunny Days
Garden shelters can be free-standing structures, and therefore can be placed in a variety of locations across the garden to provide shade from the sun. Ideal for gardens without any natural shade from trees or tall plants, a pergola can create small amounts of shade but if you want to increase the levels of shade it provides, train climbing plants up and around the posts and rails.
If shade is your priority on warm sunny days, our woven garden shelter provides the most shelter from the sun. Made using our woven fence panels the thicker pales allow only small streams of light through. Panels are on one side and the rear of the shelter so place strategically within the garden to maximise shade.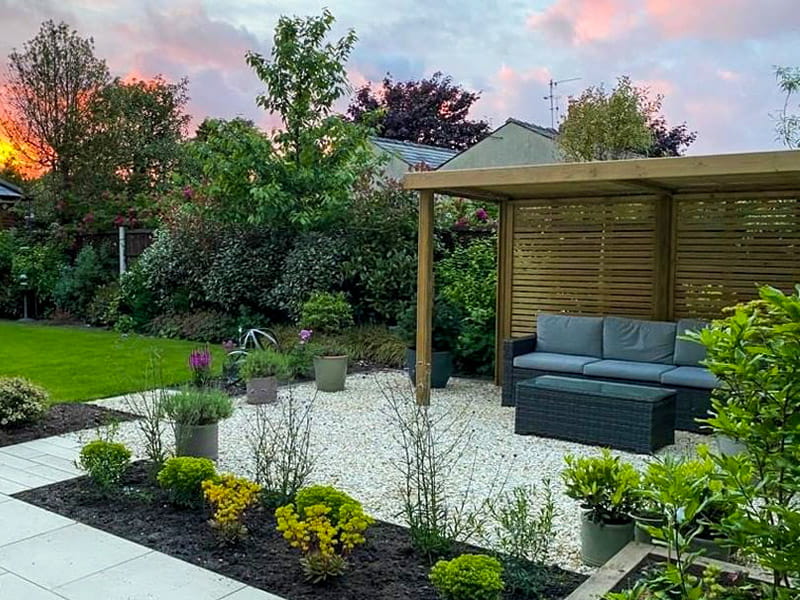 Garden Shelter Ideas - Garden Day Beds
Enjoy the sun with added luxury. Add the holiday vibes to your sun loungers with a designated pergola to great the perfect spot to work on your tan.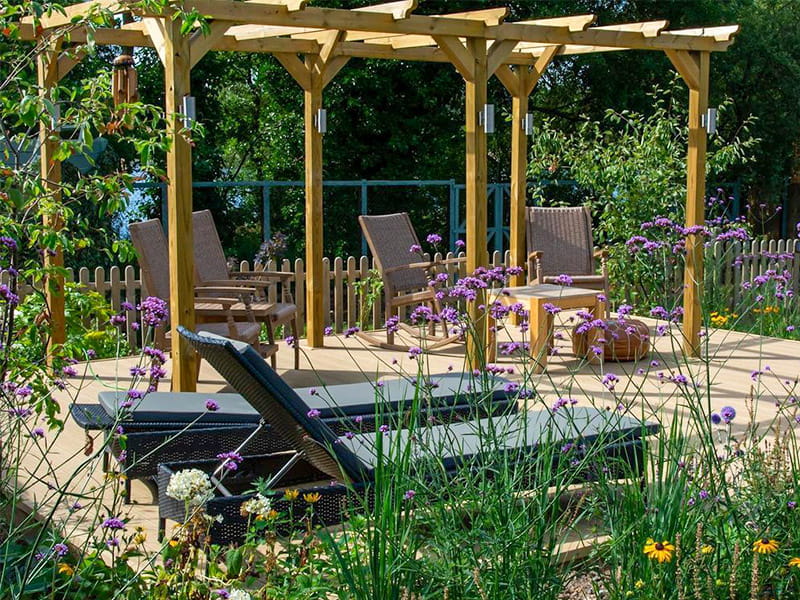 Garden Shelter Ideas - Shelter From The Elements
To gain the most shelter from all the British weather can throw at you, choosing a garden shelter with a roof and sides is the best option. The sides will stop the full force of the weather coming into the space whilst an additional waterproof material attached to the roof will prevent rain from coming through the top.
Adding sides in the form of fence panels will reduce the impact of wind on your seating or dining area. The more solid the fence panel the better protection it will provide.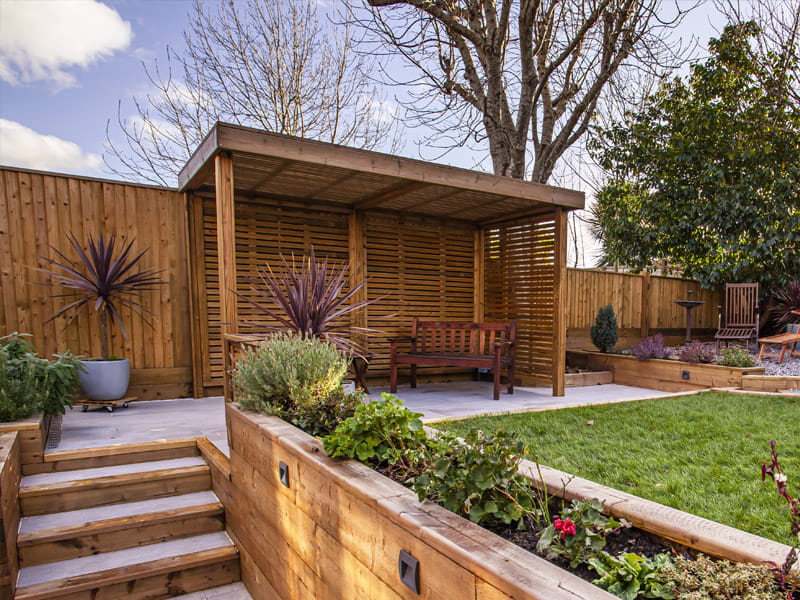 Garden Shelter Ideas - Combining Garden Shelters
If one product will not provide you with the level of shelter you require combining them is a great option. Trellis and pergolas create the perfect balance between sun and shelter from the wind.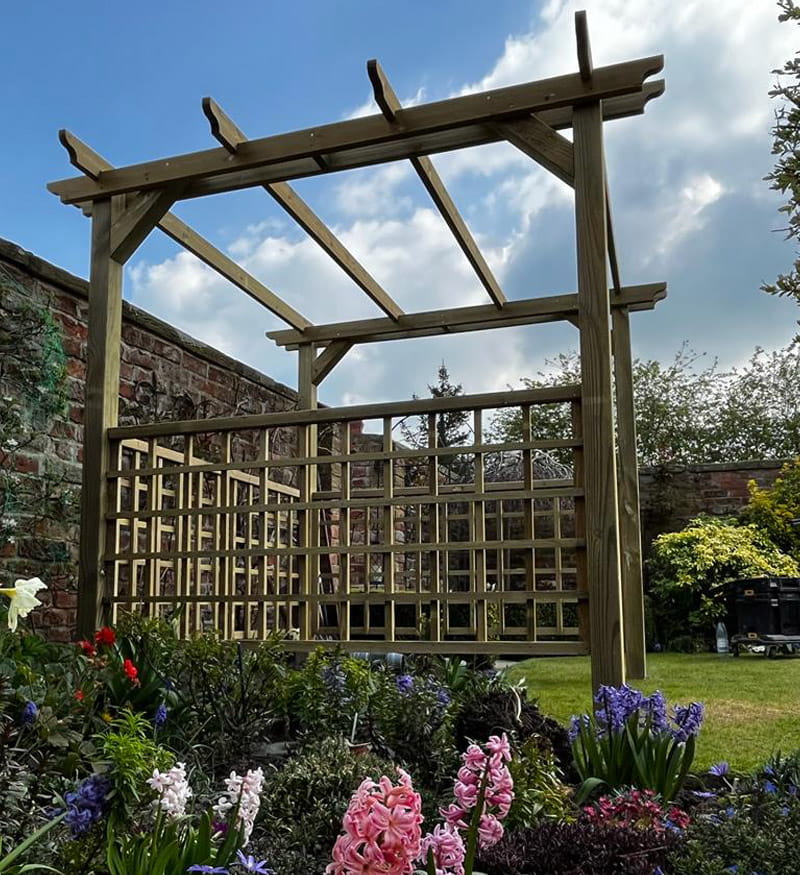 Jacksons Fencing Garden Shelters
Our contemporary designed garden shelters make a great addition to any outdoor space, allowing you to create your own luxurious area to escape to all year round. We use only high-quality softwood timber that is pressure treated with our own unique Jakcure timber treatment, which is guaranteed for 25-years.
Venetian Retreat Garden Shelter
Designed using Jacksons' popular Venetian panels for the sides and roof, the Venetian Garden Shelter offers a contemporary look for your outside space. Made from horizontal pales that create lines of light and shade to beautiful effect. The shelter is great for adding privacy in overlooked gardens.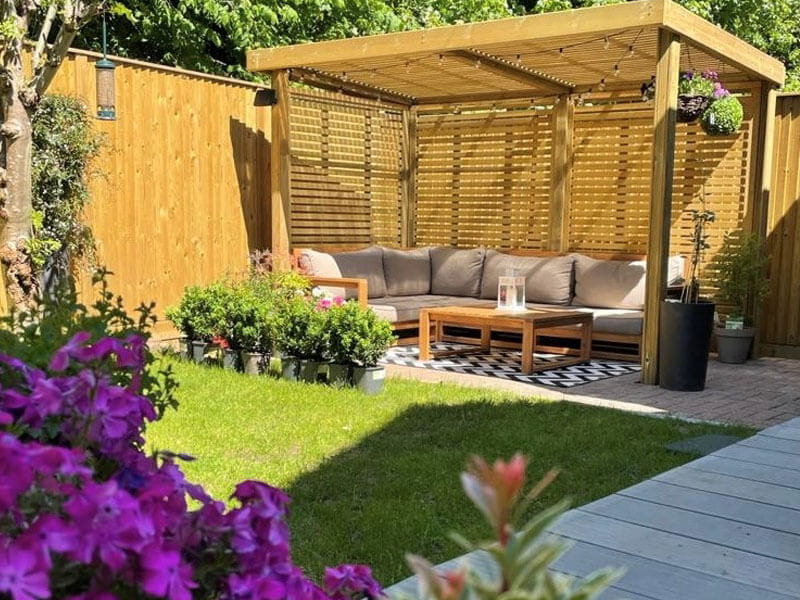 The Woven Retreat Garden Shelter
The Woven Garden Shelter uses Jacksons' Woven fence panels which is made up of interwoven timber slats. Due to the design on the panels that make up the sides and roof it gives even more protection from the weather. The interwoven timber slats will create dappled light within the shelter.
Make a Waterproof Garden Shelter
Both our Garden shelters can be supplied with additional polycarbonate. This is installed beneath the roof to stop the rain falling from above. Please note, rain can still penetrate the garden shelter through the sides on the semi solid fence panels.
VENETIAN RETREAT SHELTER WITH POLYCARBONATE ROOF
WOVEN RETREAT SHELTER WITH POLYCARBONATE ROOF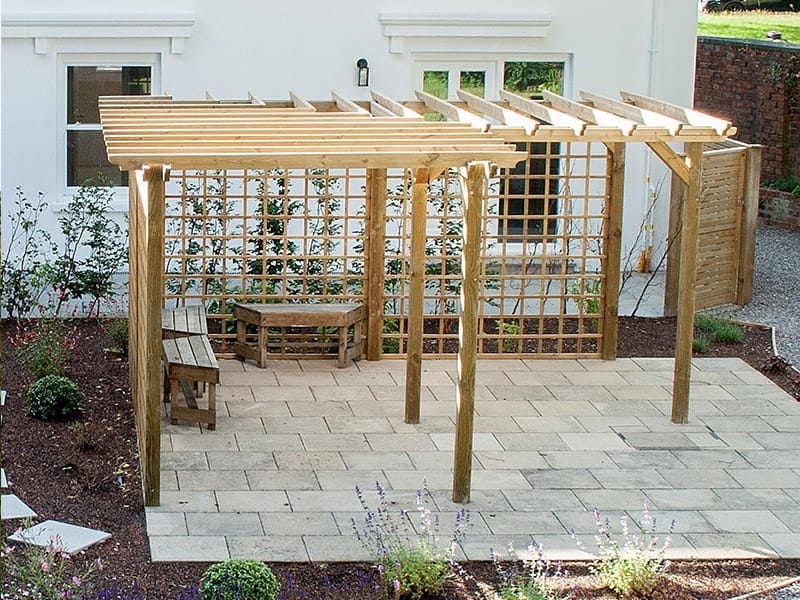 Why not pair your garden shelter with our slatted Venetian or Woven fence panels, completing the look and feel of your garden with a matching fence. Another great option is to use our double pergola combined with trellis fence panels to create a unique feature in your garden.