19/02/2021 10:29 AM
Here are our easy garden design ideas for you to take inspiration and try yourself.
1.Change up the lawn
One of the easiest ways to change up your garden design is to change the shape of the lawn. Circles are a great way to create depth and interest in a rectangular shaped plot. A circular lawn provides the option to introduce wider planting plots, rather than shallow rectangles following the edge of the garden. Another way to add shape into a square or rectangle garden is with raised beds. By using angled raised beds at various heights within a square garden, depth and flow has been added to what would have been just a square lawn.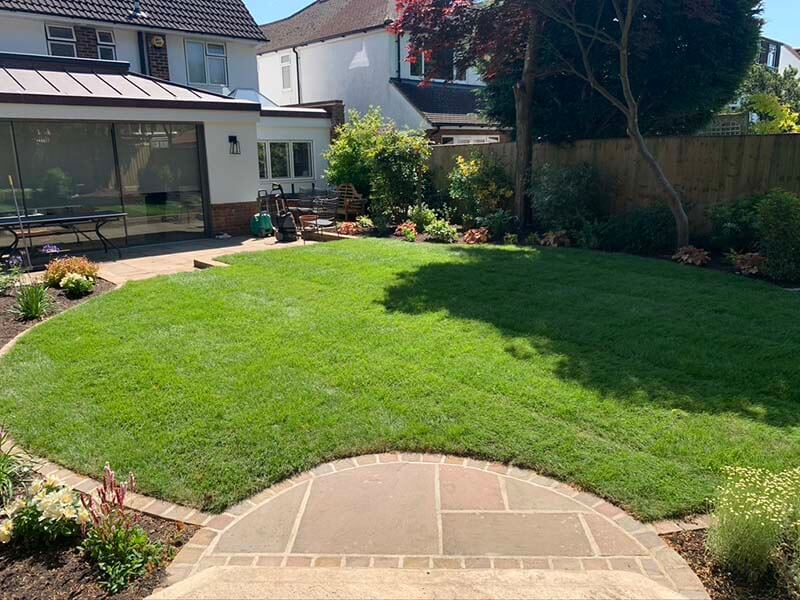 2.Create a Secluded Spot
You may think this is not an easy garden design idea but it's so simple to create privacy within your garden. Trellis or a slatted fence panel is perfect for the job as it won't make your garden feel smaller as you can still see through, but it will add a sense of privacy and create a cosy area behind.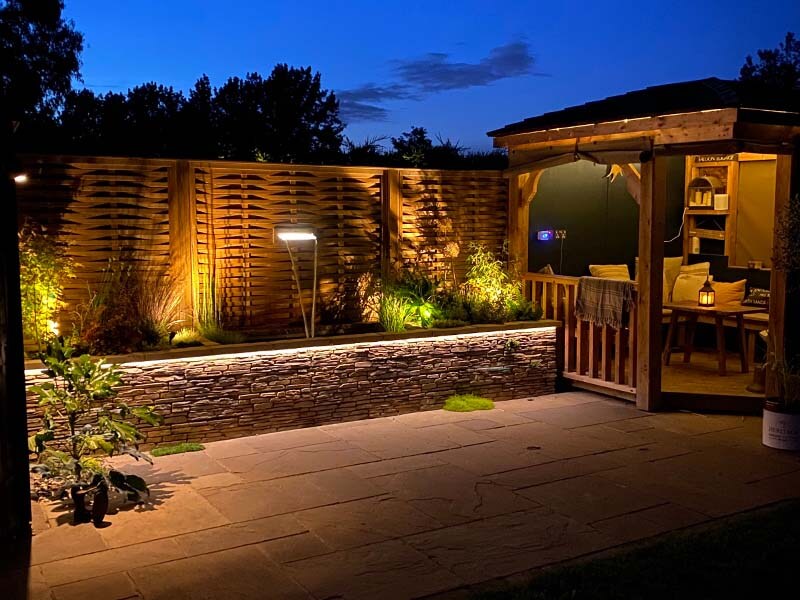 3.Add Light
Fixing lights to your fencing offers a quick and generally cheap way to elevate your outside space and not to mention make it look a lot more charming at night.
4.Add a Tree
Trees are great to add into your garden design and not to mention great for a lifetime full of interest. Every season will bring a new look and feel to your garden with the changing leaf colour. They are an investment the planet will thank you for.
5.Corner Pergolas
Don't underestimate the power of the pergola. Simple structures which immediately add height and dimension and are highly customisable. Corner Pergolas are an easy addition into a garden to frame a seating area or just add a focal point.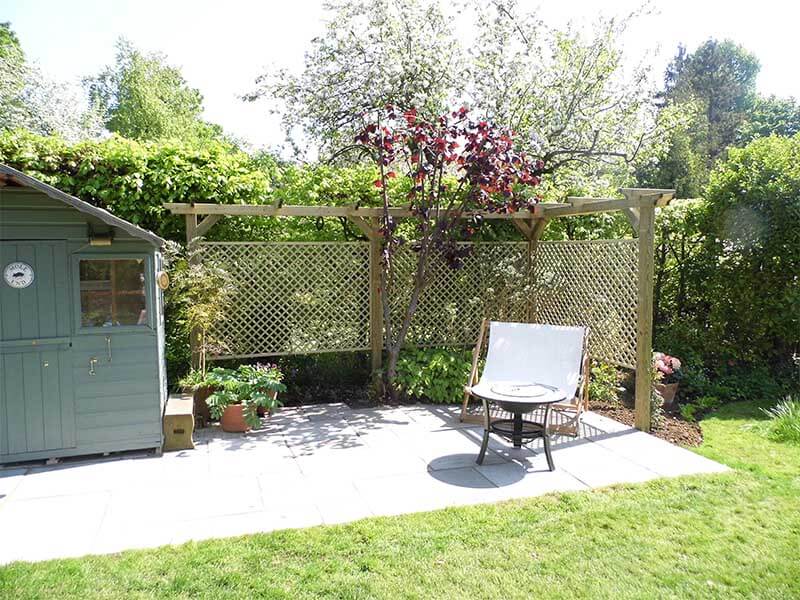 6.Garden Surfaces
Changing the surface within a garden can change the whole dynamic. By adding different surfaces, you add different textures and dimensions into the garden design. Decking is a great way to create a usable space throughout the year and offers an alternative surface to grass. Another way to elevate your surfaces is to lay them diagonally. Usually decking or paving will be laid at right angles; to change it up, lay surfaces diagonally.
7.Raised beds
Raised beds offer a wealth of advantages to a garden design. They can offer a stylish addition to a seating area or a practical solution for planting and growing your own produce.
8.Decorate your fencing
Attach pot plants to your fencing to add a decorative feature that each year will renew and revitalise your garden.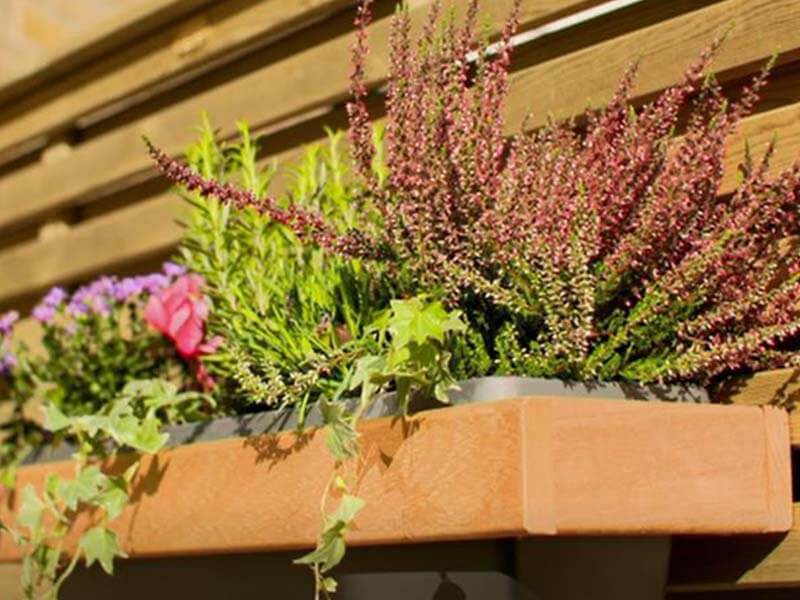 9.Grow Upwards
This does not take much effort from you, - leave it to the climbing plants. Add a slatted or trellis panel and place a climbing plant at the base. As the plant grows you may need to train branches and stems around the pales of the fence panel for support. Vertical growing makes great use of the previously unused space and create beautiful green screens and walls.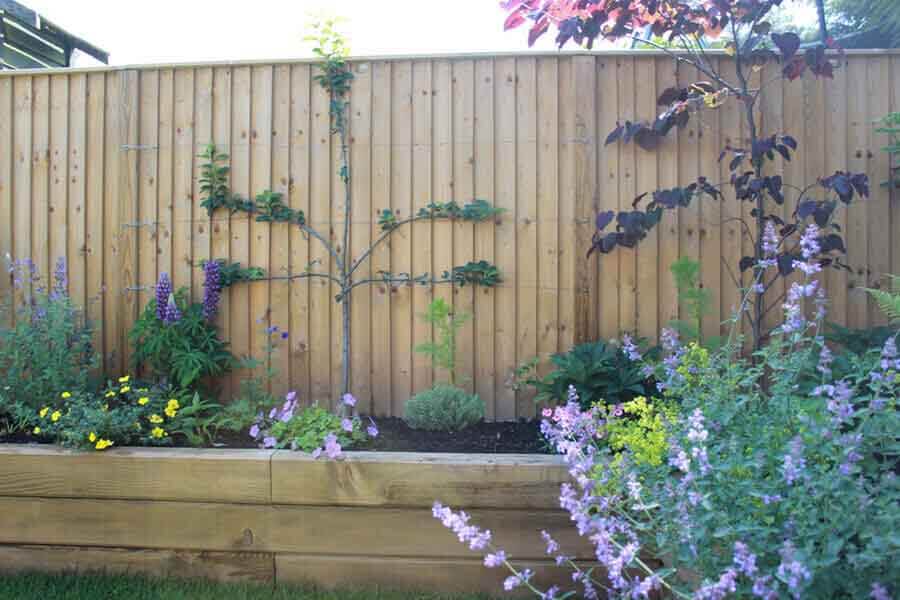 10. Upcycle things from your home
Whether it's an old basket that is past its best for the home, or some containers you don't have a need for anymore, use them in your garden to hold plants or water for wildlife.