16/02/2015 12:00 AM
Gardens that don't cost the earth.
Adopting a greener and more ethical lifestyle is becoming an increasingly important item on the agenda for the majority of UK citizens, which of course includes gardeners! According to the Green Shoots research undertaken by TNS UK in 2014,* 'participation in eco-friendly activities' doubled between 2007 and 2013, which is testament to the strong belief that exists that we can all play a part in helping to save our precious planet.
With this in mind, we've put together some suggestions for ways in which you can improve your 'eco credentials' in the home's greenest room of all – the garden!
Creating a garden that is sensitive to issues relating to climate change, ethical and social values and the economic impact of globalisation does not necessarily mean that you have to compromise on style to achieve these goals.
Recycling rocks
The recycling rage of the noughties continues and can easily be applied to the garden by using a range of different recycled materials in the outside room:
•
Recycled crushed glass can be given a whole new lease of life when moulded into chunky cubes, which can be used to form a safe barrier around a pool area. Coloured recycled glass also makes a great top dressing, mulch, or plant pot dressing and is can look particularly dramatic when teamed up with a water feature design. Wine connoisseurs can even make good use of their overflowing boxes of used wine bottles as these can be magically transformed to create a unique water feature! (for how to guidance, visit
www.youtube.com/watch?v=7s2BE2BuYxI
). Crushed CDs also add a dash of drama to borders or planters.
• If you're looking to devote a section of your garden for your kids to let off steam, it is worth considering installing some play equipment. It makes sense to put down a dedicated safe play surface to cushion the inevitable falls! Recycled aircraft and agriculture tyres (100% wire free) in a rubber chipping format represent an eco friendly option.
• Everyday packaging can be put to good use in the garden. Plastic cartons which have held pre-packed veg make excellent seed trays, cleaned out yoghurt pots can be used to raise seedlings and larger plastic bottles with the bottoms cut off can double as a makeshift cloche to protect young vulnerable plants.
• If you love to watch wild birds in the garden, with a bit of creative flair you can transform the iconic Slinky spring toy and a coat hanger into a stylish bird feeder! (visit www.apartmenttherapy.com/make-a-bird-feeder-from-an-old-161880). Hanging a pretty wreath, made of scraps of wool in the garden provides visiting birds with access to useful nest building materials.
• Rather than forking out for a roll of weed control membrane, try laying down a thick layer of cardboard in any raised beds to deter grass growing. Cardboard is safe to use and will decompose but not rot before killing any grass below it – and it also provides compost and food for worms at the same time.
Let nature nurture!
Grow bright flowers such as candytuft, sunflower and marigold to encourage beneficial insects into the garden such as ladybirds, hoverflies and lacewings. These helpful bugs will eat harmful aphids such as blackfly and prevent them decimating other flowers or crops in the garden. Blue, white, yellow and purple flowers attract honey bees that are responsible for 80% of all crop pollination (which is needed to move pollen from plant to plant). Great bee attracting plants include Aster, Bellflower, Pansy, Marigold, Calendula, Petunia, Zinnia and Viola.
Be water wise
Despite the recent flooding, it's hard not to forget the droughts and the hosepipe bans of previous years. Remember water still represents a finite resource and as such should not be wasted in the garden. The thousands of litres of rainwater that fall on the average roof every year can be collected in a water butt. Collecting this water and using it in the garden is better for the lawn and plants, as well as the environment. Loose mulches around established plants helps to stop water evaporating and will also stop weed seeds from taking a hold. Create your own mulch by collecting leaves to make leaf mould over the years, this will act as a great mulch in spring. Alternatively, use compost, bark or garden clippings that have been shredded.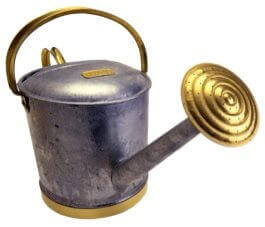 Good wood
Whether you're building a deck or fitting new fencing, the first rule for sustainable living converts is to stick to a source of wood which carries the FSC or PEFC label. This identifies products which have been responsibly sourced from well managed forests certified in accordance with the rules of the Forest Stewardship Council / Programme for the Endorsement of Forest Certification.
In addition it is important to consider the fact that timber fencing that is not adequately protected against rot or wood boring pest will potentially need replacing every five years, representing not only a drain on forest resources but also unnecessary costs in terms of labour and pressure on landfill sites (for disposal of concrete waste product) which encourages the release of further carbon emissions. The majority of Jacksons' timber fencing and gates is FSC or PEFC accredited and all products undergo the renowned Jakcure timber treatment process, delivering peace of mind that the timber will remain fit for purpose for 25+ years. Selecting a timber product with such a long service life is yet another significant step towards sustainability.