08/04/2019 12:30 PM
At Jacksons, we want every customer to be able to create their dream garden. No two gardens are the same, and some can be extra difficult to work with, which is why many of our products are made to order, as you might need that additional inch or two, or you may even want to create your own style entirely. When you've got a vision, it can be hard to settle for anything less.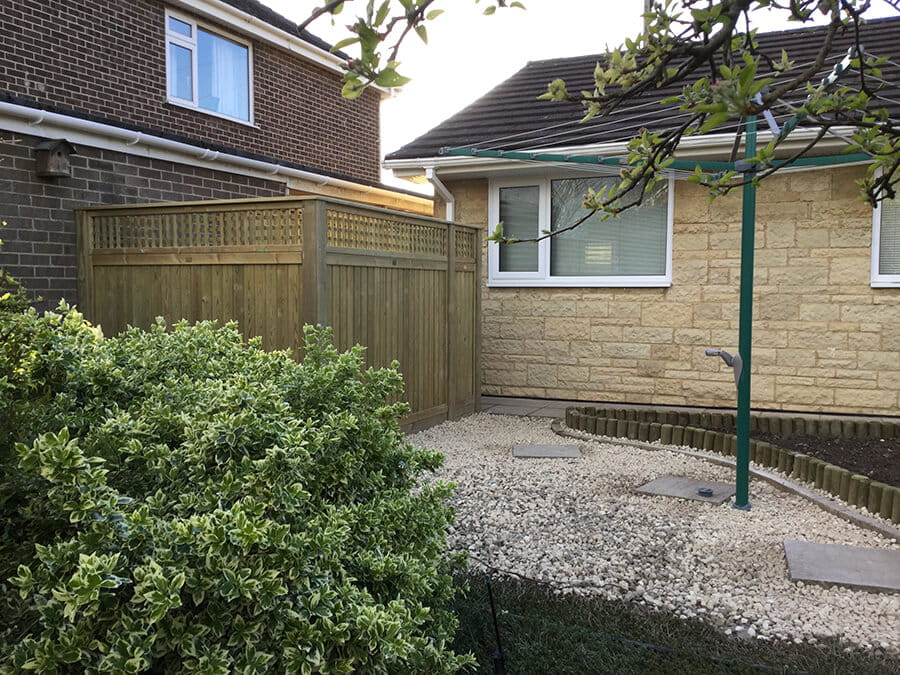 Made from the highest quality timber; our fencing and garden landscaping products come with a 25 year guarantee, providing you with the most economic, sustainable solutions for your home and garden.
One client of our Wiltshire based Approved Installer; 1st Aid 4 Fencing, was a returning Jacksons customer, and knew exactly what he wanted for his garden, including building a bin storage area, hiding a neighbour's ugly fence, and creating a large flowerbed. With our bespoke fencing solutions, he was able to order custom-made products to suit his garden design.
Custom-made timber stakes create flowerbed
To form the timber edging for the flowerbed, we manufactured bespoke 75mm diameter 600mm long stakes, which were screwed together using 100mm long timber screws, and set in the ground with concrete. Commonly, timber sleepers are placed horizontally to make timber edging, creating a smooth 'wall' that surrounds the border of the planting bed. By using tree stakes vertically, it creates an elegant design that really capitalises on the benefits of using timber. You can see the growth rings in the tree stakes, which gives each one a unique design, bringing the garden together with the planting of natural foliage and flowers.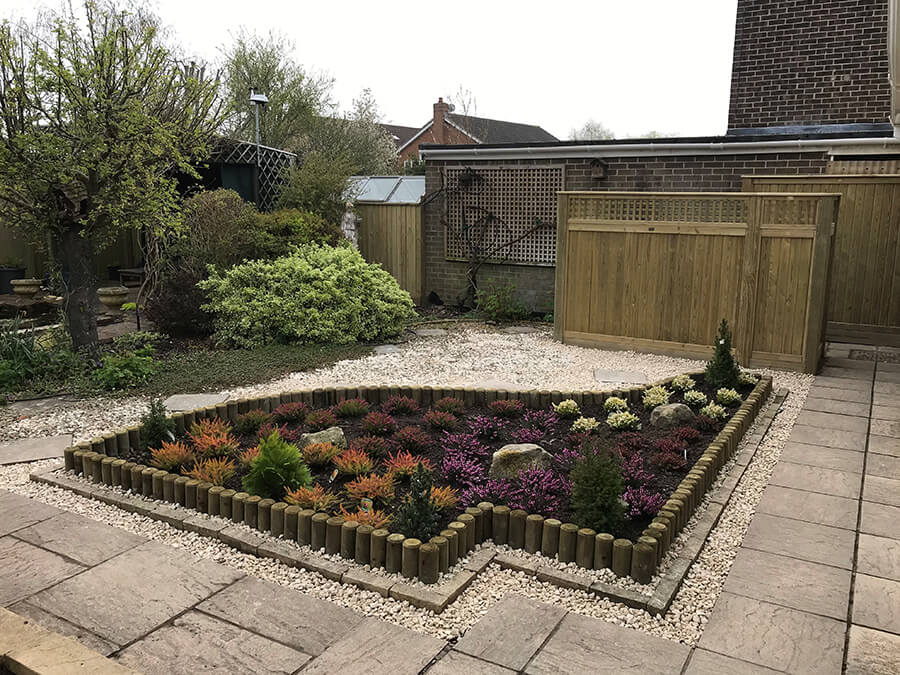 Made-to-measure gate provides secure entrance
The side-entrance into the garden was previously secured by an old gate that was past its best. We made a custom gate for the client in our Brook design, standing 1.8m high and 740mm wide. We manufacture three standard widths for these gates – 750mm, 900mm, and 1m. To ensure the perfect fit, the Approved Installer enquired with us about a special product that ensured the customer would be completely satisfied. The gate was fitted with a J-Lock, and two wall plates to attach it to the house. Brook gates match many styles of fencing with their simple, solid Tongue and Groove Effect design, they offer a stylish and secure solution for every garden.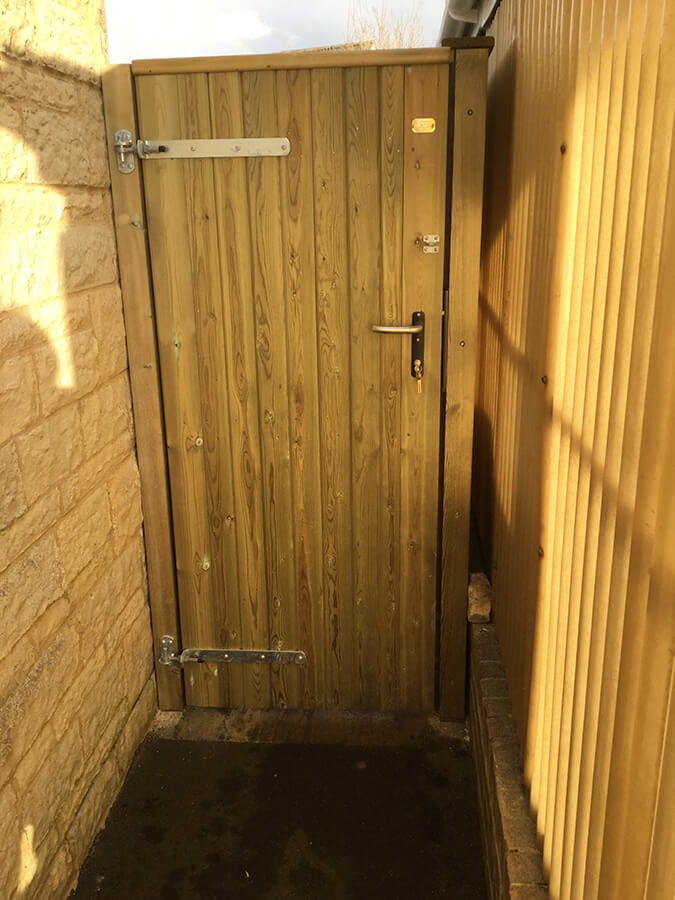 Fence panels hide unsightly objects
Along the side path to the garden, the neighbour's corrugated metal fence panel was a bit of an eyesore, so the customer decided to have a Tongue and Groove Effect fence panel installed in front to hide it. To match the design, he also opted for his current bin storage area to be replaced with Vertical Tongue and Groove Effect panels with Lattice Trellis Toppers. Trellis toppers are easy to install on top of fence panels. Using our slotted fence posts (Jakposts®), trellis panels slide in to stack on top of fence panels, and are secured with screws. Further along, the neighbour's old fence panel was covered by a 2.4m long run of 1.5m high Traditional Featherboard with capping rail.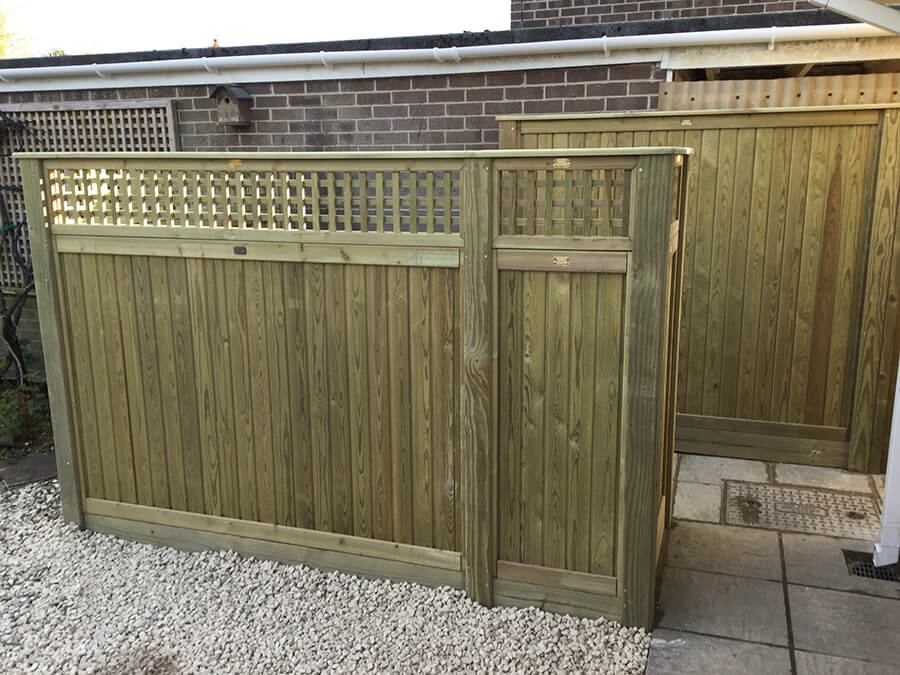 The client was very pleased with the finished garden design, ready just in time for Spring to start properly!
Please note: lead times are longer for bespoke products – we want to make sure we've got every last measurement right so that it will fit your garden perfectly.
Scroll through the photos below to see the transformation!